How to Move to San Diego, Southern California Relocation, American Building, US Architecture
How to Move to San Diego?
February 10, 2022
When we think of California and the prospect of living in it, oftentimes we just focus on LA and its surrounding areas. Truth be told, there is a whole lot more to California than just LA. If you were to travel just about a couple of hours in your southern direction, you will arrive in San Diego – a truly sun-drenched city in the whole of California.
To put it simply, San Diego is probably one of the most chilled out and laid back cities in the state while also being pretty scenic. In fact, a lot of people who do go to San Diego even once will at least think about living there, at the very least.
So, what brings you to this page? Maybe you are thinking about relocating to San Diego and have certain questions that need to be answered. Well, if that is the case, we are glad you are here. Read on to know more about San Diego and why it is considered to be one of the best places to live in California.
San Diego: What it offers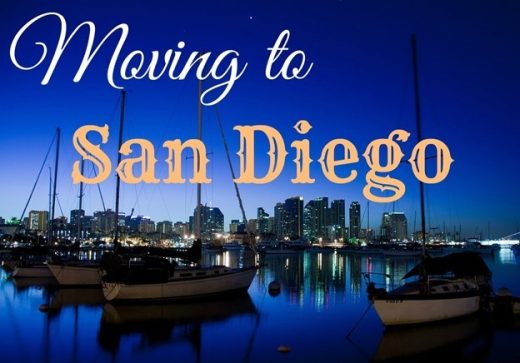 Schools and Education System
When you want to move to a place and you want to gauge the quality of life in that particular place, you should pay close attention to its educational system. San Diego really excels in this area with a plethora of absolutely world-class educational institutions located there.
If you are moving with kids, you will be happy to know that there are more than 113 schools at the elementary level right at your fingertips. Then there are also 23 high schools for juniors and about 28 for seniors. Charter schools also exist in San Diego with about 45 operating there currently.
When your children are done with high school, or if you ever want to change your particular career trajectory. you will be pleased to know that there are some really high-quality universities in San Diego as well.
The University of California, San Diego is a very prestigious institution and it ranks at about 37 at the national level. You will have this fantastic university right at your fingertips and even if you do not want to enroll in it, it still boasts an incredibly beautiful campus that you can visit.
There are also a lot of other private universities as well in San Diego. So, rest assured that you will be moving to a city that really prioritizes its educational system- that is a big indicator of a good overall quality of life available in the city.
Beaches
Who does not like going to the beach? We think it is safe to say, not many people. So, if you are someone who loves going to the beach, San Diego has plenty of those to offer you.
Point Loma
Point Loma is another spot in San Diego that you will adore if you are into boats. This particular neighborhood in San Diego really embraces the entire boating culture. It places a lot of emphasis on outdoor activities. There is another huge plus point to there being so many different kinds of water bodies in the city; you will be able to get a wide array of seafood and just more fish in general.
Fitness
Fitness facilities are another big factor for a lot of people when it comes to living in a place. Well, when it comes to San Diego, you will be pleased to know that you will never be short of options to up your fitness game. There are plenty of different types of fitness facilities available in San Diego, CA.
You get to start your day off with a run along the many beaches in San Diego and you can watch the sunrise. So, even if you are more into using the outdoors as your gym- well there are plenty of opportunities for you to do that in San Diego.
Public Transportation
San Diego, just like the other parts of California, is very well known for its incredibly robust transportation system and it's the public transportation we are talking about. You can easily explore the entire city with just a bus or you can even use one of the trolley systems. Both of these mediums of transportation are linked directly to the international airport in the city.
How to Move to San Diego – Final Words
If you are thinking about moving to San Diego, you are making a very wise decision. It does not matter if it is a corporate relocation or a family one. Either way, you are making a smart and practical decision. Not only is it an incredibly laid-back and scenic city, it is also one that can really offer you a very bright future.
Most of us know just how stressful moving and packing can be and when you add moving to a big city on top of that, then it is almost double the stress. One of the wisest things you can do is to contact a local moving company.
These people can really help you with the whole process of relocation. They are experts at what they do and this expertise can be hired. One of the best movers in the area is Starving Student Movers. You can contact them or visit their website and get an instantaneous quote of the whole process as well.
Comments on this How to Move to San Diego, California post are welcome
San Diego Buildings
Contemporary San Diego Buildings – recent selection:
The Rady Shell at Jacobs Park, Embarcadero, San Diego waterfront
Design: Tucker Sadler Architects ; performance shell design: Soundforms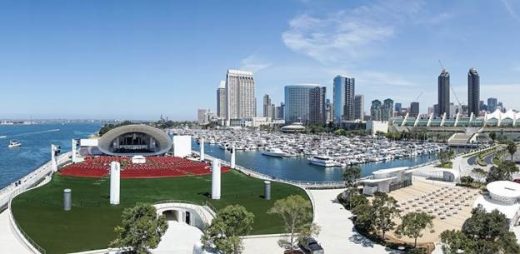 image courtesy of architects practice
The Rady Shell at Jacobs Park
Del Mar Civic Center, Del Mar, California, USA
Architects: Miller Hull Partnership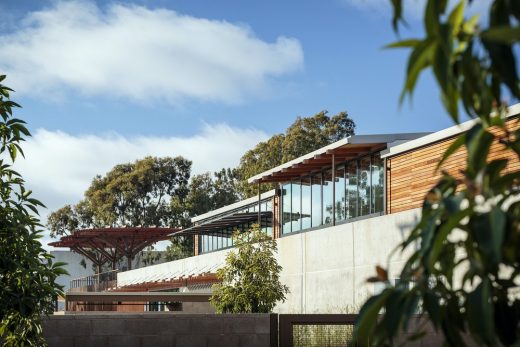 photography © Chipper Hatter
Del Mar Civic Center in San Diego County, California
US Fish and Wildlife Service Administrative Headquarters
Design: Line and Space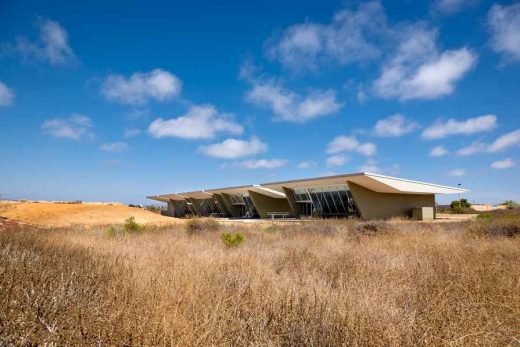 photo : Mike Torrey
San Diego National Wildlife Refuge Building
Architecture in California
Comments / photos for the How to Move to San Diego, Southern California, USA, page welcome