Mozambique Crèche Building, Article 25 Africa Project, Photo, News, Design, Property Image
Mozambique Buildings, Africa : Maputo Crèche
Maputo Buildings – African Education Architecture
30 Nov 2010
Mozambique Architecture
Luxury or lifeline : building crèches in Mozambique
'Article 25: the built environment's charity'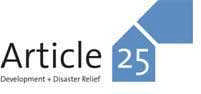 Monthly Report by Article 25
Written for www.e-architect.com
By James Earle, Article 25 Volunteer
In a country with a literacy rate of 48%, where half million people are living with HIV/Aids, and 90% of the population survive on less than $2 a day, you would think that a crèche would feature near the bottom of anyone's wish list. Yet in the run-down outskirts of Maputo, Mozambique's sprawling capital, Article 25 and Meninos de Moçambique are planning to build a crèche in order to provide shelter for 60 children, who are either too young to attend school or who have finished school for the day.
In a wealthy western society, a crèche seems somewhat of a comfort, like the idea of a nanny. It conjures up images of a 21st century mother leaving her children in the reassuring care of others whilst she is in the office, or perhaps of a housewife making the weekly shop more bearable by not having to shoulder another weight on top of the shopping bags. Surely a built environment charity, such as Article 25, when working in Mozambique, should be more concerned with addressing the needs of health and education by building safe schools or HIV/Aids clinics?
A brief walk, however, through Maputo's Luis Cabral barrio (township), where Article 25's crèche will be built, suggests this is far from an insensitive import of a superfluous western concept. Many of the standard sized plots contain more than just a family home: nestled amongst the run-down houses, rickety shelters made out of reeds and wood provide a tiny safe haven for children who have been dropped off by their mothers as they head out for a day of work. Clearly the inhabitants of this region believe that there are real benefits to be had as a result of such structures.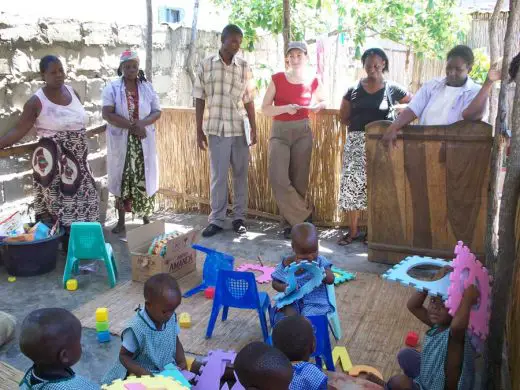 The architect Pierre D'Avoine, who partnered with Article 25 in the design of the crèche, explains what these benefits are: 'To understand the impact such a building can have, one needs to understand the narrative of the young mother within Mozambican society. For whatever reason, mothers might be on their own with young children in the barrio, and it's incredibly empowering if you can provide them with a facility where their babies and children are looked after to enable them to make something of their lives. I think that's as powerful as any hospital or school project, possibly even more so'.

Indeed, in Mozambique, the reasons that a mother might have to bring up her children alone are numerous. A brutal 16-year civil war ended in 1992, but evidence of its destructive effect on society can be seen in the centre of Maputo where around 250 children live on the street. The war tore apart the traditional family structure. Orphaned children and the suddenly redundant child soldiers had nowhere else to go.
Mothers lost their husbands, and in the extreme poverty, had little choice but to desert their children. Many of the girls who ended up living on the streets quickly turned to prostitution, which only added to the awful cycle, still playing out today. Though the civil war ended some 18 years ago, the HIV/Aids epidemic means that mothers continue to lose their husbands and that children are left to fend for themselves.

Meninos de Moçambique does much to help these street children, such as reintegrating them into families or paying their school fees, but unfortunately once the children have built their own gangs and networks on the streets it is often very difficult to bring them back into mainstream society. Meninos de Moçambique have therefore recognised that the best cure for the plight of street children in Maputo is prevention.
This is precisely what the crèche will provide. Mothers who need to make a living no longer need to desert their children but can leave them in a safe environment. What's more, Article 25's crèche will provide the opportunity for older children to learn employment skills such as hairdressing, carpentry and welding. With such skills, these children will be able to reduce the pressures of poverty on their own futures.
Pierre D'Avoine's design of the building truly fits its needs. The architect, who is best known for his innovative housing designs, employed his residential expertise for the benefit of the crèche. 'I see the crèche as rather like a large house' he explains. 'I've tried to invest it with all the properties of domesticity'.
Two key elements of the design convey such properties, providing the building with an appropriately welcoming and safe atmosphere: the large and protective central courtyard is a feature inspired by the haveli style of houses in India, where Pierre grew up, whilst the raised plinth creates a clear distinction between the public space outside the building and the privacy within.
A desire for domesticity is not all that governed the design. Much of it is a response to the environment, both in terms of vernacular architecture and hot climate. The courtyard will help to ventilate the building, whilst the acacia tree to be planted within it will provide additional shade. A roof terrace will be covered with a light roof, but not fully enclosed, thus providing a shaded, ventilated and waterproof space for the children to play.
The use of materials often employed in local vernacular architecture will mean that the crèche will fit into its surroundings, whilst being cost-effective and sustainable. The combination of reeds to frame the exterior of the building and concrete to provide the skeletal structure mirrors the use of concrete commonly seen in the centre of Maputo and the more traditional use of reeds or wood in the outskirts. The reed frame has the added benefit of not storing heat, allowing the building to cool rapidly in response to a drop in ambient temperature.
In Luis Cabral, where 46% of children are born to teenage mothers, without any form of child support, Article 25's crèche will address a very real need. Almost half of all children in this region are in very real danger of ending up on the streets. This crèche will relieve that danger and is as important a response to the problems plaguing Mozambique as any classroom or clinic.
Images (all sources: Article 25) Image 1 – Makeshift crèche in Luis Cabral. Image 2 – Street children in the centre of Maputo. Image 3 – Women at work in Maputo. Image 4 – Model of the Luis Cabral crèche. Image 5 – Aerial sketch of the Luis Cabral crèche. Image 6 – Typical Mozambican reed building. Image 7 – Concrete buildings in the centre of Maputo.
Mozambique Crèche Building images / information from Article 25
Location: Mozambique, Africa
African Buildings
Contemporary Architecture in Africa
African Building



image : Boogertman Urban Edge and Partners / Populous
Sierra Leone School – involvement of Article 25



image : Foster + Partners
Monthly Reports by Article 25
Democratic Republic of Congo Schools
Comments / photos for the Mozambique Building – Maputo Architecture page welcome