Cardiff Architecture Exhibition, Welsh Architecture Show, Design Projects, Photos, News
Captured Moments: Reflected Spaces Exhibition, Cardiff
Contemporary Architectural Show in south Wales by various architects + artists
9 Sep 2016
Captured Moments: Reflected Spaces Exhibition in Cardiff
'Captured Moments: Reflected Spaces' Exhibition
HASSELL / Dow Jones Architects / artist Rhian Hâf / Rhian Thomas / Victoria Coombs / Wayne Forster
Architectural exhibition explores our interaction with surroundings in a multi-faceted display
September 2016 – The work of renowned architects including HASSELL and Dow Jones Architects will be displayed as part of an exhibition, which launches in Cardiff this Saturday (10 September), offering an insight into how our everyday environments are designed.
The exhibition, Captured Moments: Reflected Spaces, explores the effects of texture, heat and light on our everyday surroundings. The display is a collaboration between the Design Commission for Wales and Ruthin Craft Centre, and also features work by artist Rhian Hâf, and architects Rhian Thomas, Victoria Coombs and Wayne Forster.
Rhian Hâf 6: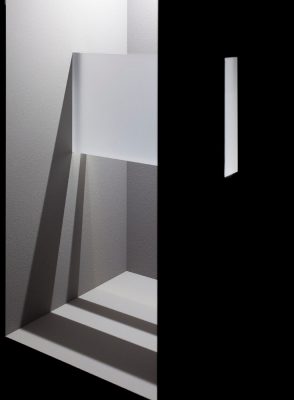 photo by Dewi Tannat Lloyd
HASSELL's sculptural installation records a series of journeys of recovery through a landscape where time, distance and topography take on a new significance.
While Dow Jones Architects interest is in how the careful manipulation of materials and light can elevate the apparent mundanity of the everyday into something more meaningful.
Glass artist Rhian Hâf looks at how light passes through glass and creates shadow. In her works, highly polished pieces of glass are mounted in viewing boxes and lit at different angles. The light is refracted through the glass and the shadows are captured allowing viewers to see what often goes unnoticed.
Architects Victoria Coombs and Wayne Forster consider some of the ways in which good design contributes to our enjoyment of day-to-day life through their studies of boundaries and of thermal control.
Through mapping of the Black Mountains landscape, architect Rhian Thomas explores architectural relationships with landscape and the shaping of landscape by human intervention.
HASSELL's sculptural installation records a series of journeys through a landscape: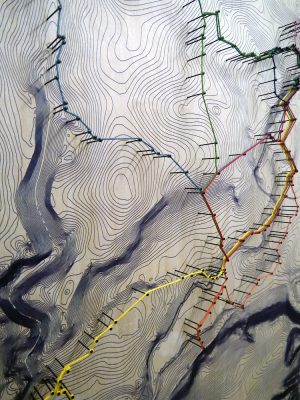 image courtesy HASSELL
Carole-Anne Davies, chief executive of Design Commission for Wales, said: "This exhibition features work by talented and acclaimed practitioners who, using their own techniques, explore the relationship between the places around us and our senses.
"The work considers landscape, texture, heat and light, and makes us question the effects of these materials on our everyday surroundings. The in-conversation event will be a great opportunity for people to learn more about the designers and their work."
Held at BayArt on Bute Street, the exhibition will be opened by Chris Loyn of Loyn and Co Architects, who are shortlisted for the RIBA Stirling Prize 2016, at 4pm this Saturday [10 September]. The exhibition will run until Saturday, 24 September 2016.
An in-conversation event with the artist and architects, hosted by Carole-Anne Davies, Chief Executive Design Commission for Wales, will be held at 5.30pm on Wednesday, 21 September.
Rhian Hâf 8: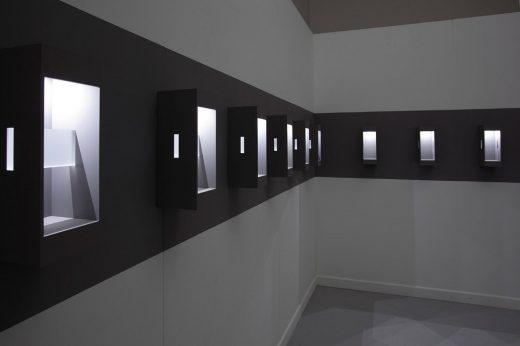 photo by Dewi Tannat Lloyd
For information go to http://bayart.org.uk or www.ruthincraftcentre.org.uk or http://dcfw.org
For further information about Rhian Hâf's work go to www.rhianhaf.com
Rhian Hâf studied Design and Applied Arts at Edinburgh College of Art. Specialising in glass, she went on to get a Distinction in her Masters at Swansea Metropolitan University in 2011 and has spent the last five years developing her practice and creating installations and sculptures in glass.
Captured Moments was recently selected for New Glass Review 36 (published by the Corning Museum of Glass in New York State, USA).
Captured Moments received a touring grant from the Arts Council for Wales to support the exhibition in Ruthin Arts Centre, Mission Gallery and BayArt.
In August 2015 Rhian Hâf won the Gold Medal for Craft and Design at the National Eisteddfod in Meifod, beating off competition from a strong and diverse field of competitors.
Additionally, Rhian and Phoenix Optical Technologies Limited received the Arts, Business & Employees Award at the 2015 Arts & Business Awards.
The Design Commission for Wales was established in 2002 by the Welsh Government and has four strategic aims:
 To champion high standards of design and architecture to the public and private sector in Wales by promoting wider understanding of design issues and the importance of good standards in enhancing the built environment across all sectors.
 To promote design practice that is compatible with the Welsh Government Sustainable Development Scheme, promoting best practice in energy efficiency, waste disposal and public transport.
 To promote design practice compatible with the highest standards in relation to equal opportunity and promoting social inclusion.
 Give due regard to promoting excellence in day to day developments, like housing estates and industrial units, as well as promoting excellence in prestige projects.
The Design Commission for Wales is a wholly controlled subsidiary of the Welsh Government.
Location: Cardiff, Wales
Welsh Architecture Designs – chronological list
Cardiff Building News
Cardiff Architecture – key posts below:
Hadyn Ellis Building Cardiff University
Design: IBI Nightingale
Hadyn Ellis Building Cardiff
Cardiff Central Masterplan
Design: HASSELL
Cardiff Central Masterplan
National Assembly for Wales
Design: Richard Rogers Partnership
National Assembly for Wales
Cardiff and Vale College
Design: BDP
Cardiff and Vale College
Maggie's Cardiff
Design: Dow Jones Architects
Maggies Cardiff
Royal Welsh College of Music & Drama
BFLS
Royal Welsh College of Music & Drama Development
UWIC School of Management
Austin-Smith:Lord LLP
UWIC School of Management
Cardiff Library Building
Design: BDP Architects
Cardiff Library Building
National Assembly for Wales Photos
Cardiff building : National Assembly for Wales – Sustainability
Welsh Architects Studios – design practice listing
The Parc Hotel
Rolfe Judd
The Parc Hotel Cardiff
Sleeperz Cardiff Hotel
Clash Associates
Sleeperz Cardiff Hotel
Teenage Cancer Trust Unit
ORMS Architects
Teenage Cancer Unit Cardiff
Welsh Theatre Building : Galeri Creative Enterprise Centre
Comments / photos for the Captured Moments: Reflected Spaces Exhibition Cardiff page welcome