Golden Hills Danang, Vietnamese Masterplan, Eco Urban Project, Design
Golden Hills Danang : Vietnam Master Plan
Golden Hills Vietnam – design by SOM, Architects
5 May 2011
Golden Hills Danang
Golden Hills Eco Urban Master Plan, Danang, Vietnam
SOM Awarded Commission for Eco-Urban Community in Danang, Vietnam
May 5, 2011 (London, UK) Skidmore, Owings & Merrill, LLP (SOM) has been awarded the Master Plan commission for Golden Hills, and Eco-Urban Community in Danang, Vietnam. SOM's preliminary plan for a sustainable residential community at the edge of the city looks to set a new benchmark for ecologically-sensitive development in Vietnam. SOM is now working closely with the city planning authorities to finalise the project's design and ensure its delivery. This is SOM's third recent project 'win' in the country and follows the firm's recent successes of Green Tech City in Hanoi and FPT City also in Danang.
The plan has been commissioned by Trugnam Group, an up-and-coming Vietnamese company specialising in real-estate, construction, and hydro-electric power. The project site covers an area of 375 hectares along the Cu De River at the northern edge of the City of Danang. The Plan incorporates a wide range of uses organised into a series of distinct districts, including a series of residential neighbourhoods, a Village Centre, a Business District, and an Education, Sports and Leisure District.
Located at the mouth of the river, the plan addresses the site's critical flood risk environment through a series of forward-looking storm water strategies which preserve existing watercourses and the natural landscape character of the site. A series of new terraced levels will integrate development into the site and enhance both existing and future landscapes to ensure flood protection during various critical storm events, including 1 in 10-year, 1 in 100-year and 1 in 200-year storms. In addition to taking into account tidal flooding and sea level rise in the South China Sea, the plan further incorporates international best practices for on-site stormwater management. As a result, the plan will set a new standard for environmental planning in Vietnam.
SOM's Master Plan expands and reinforces the local green character of Danang. The vision establishes a new waterfront eco-park which will be designed to restore, protect and enhance the wildlife habitat along 2.7km of river frontage. This open space is extended into a wider park network of linear greenways for recreation and stormwater management. This park system assists in managing flood control, preventing rainwater runoff into surrounding areas, filtering and cleansing grey water and providing a source for irrigating future landscape areas. These greenways link each neighbourhood directly to the revitalised riverfront. New public spaces are also provided at the heart of each neighbourhood area, ensuring that residents and workers alike are all within a short 3-minute walk to these shaded outdoor spaces.
The Master Plan further creates a new development vision for Danang based on its local cultural and urban heritage. The future community will have contrasting areas of lower and higher density residential neighbourhoods. To the north and integrated within the sensitive riverfront setting, quiet residential neighbourhoods feature meandering lanes and soft-edge waterways open and accessible for all. Towards the south and connected to the city, residential areas become more urban in density, articulated with landscaped avenues, tight city-like streets and urban greenways.
The plan also provides necessary community amenities to serve a future urban population in excess of 30,000 people. A complete eco-urban living environment will emerge on site, including a variety of housing types integrated with schools, kindergartens, healthcare clinics, a hospital, sports & leisure areas and other public facilities. A Village Centre is created at the heart of the community, animated with local shops and cafes surrounding a civic piazza, and establishes a vibrant meeting place for this part of the city.
The plan is also formed on key principles to reduce energy needs and carbon emissions by promoting best practices in mixed-use development in an emerging local context of luxury resorts and single-use residential communities. Instead, this Eco-Urban Community will promote a diverse living community with integrated local services accessed via sheltered and shaded walkable streets.
This eco-town is a significant addition to SOM's worldwide range of innovative and sustainable master plans and is one of four new large-scale plans being developed by SOM in Vietnam. This follows the firm's Saigon South Master Plan in Ho Chi Minh City, Vietnam which was completed in the late 1990's. The first major phases of development have recently been completed there, including the impressive new district of Phu My Hung. SOM's legacy of large scale city planning in the region continues, including the Baietan Master Plan in central Guangzhou, China, the Binhai New Area CBD in Tianjin, China and the Beijing Central Business District (CBD) East Extension Master Plan.
SOM's City Design Practice has planned major projects throughout the Americas, Europe, the Middle East, India and Asia. These include the master plan for Canary Wharf in London, the National Plan for the Kingdom of Bahrain and the redevelopment strategy for the historic Eastern Harbour of Alexandria, Egypt. SOM has focused on cities as the places where the strongest forces for change are at work and where there is the greatest need to address issues of liveability, function and growth. SOM has responded by creating long-range plans for whole cities, central city and waterfront districts, and urban neighbourhoods with key built projects that have become homes and places of work.
Golden Hills Danang images / information from SOM Architects
Location: Danang, Vietnam
Vietnam Architecture
Vietnam Architecture Design – chronological list
Another Vietnam project by Skidmore, Owings & Merrill LLP:
FPT City Danang
FPT City Danang
Another recent Vietnam design by SOM:
Green Tech City, Hanoi
Green Tech City Hanoi
Re-ainbow Community Facilities, Duc Tho, Ha Tinh Province
Design: H&P Architects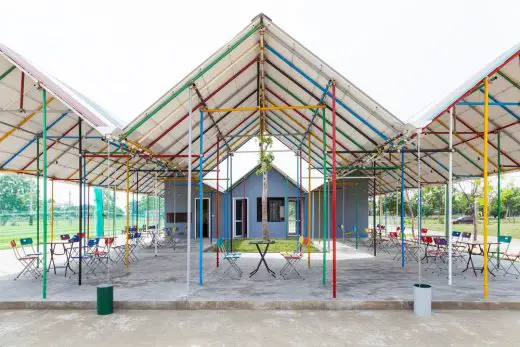 photo : Doan Thanh Ha
Re-ainbow Community Facilities in Duc Tho
Mành Mành Salon, Van Quan urban zone, Ha Dong district, Hanoi
Design: H&P Architects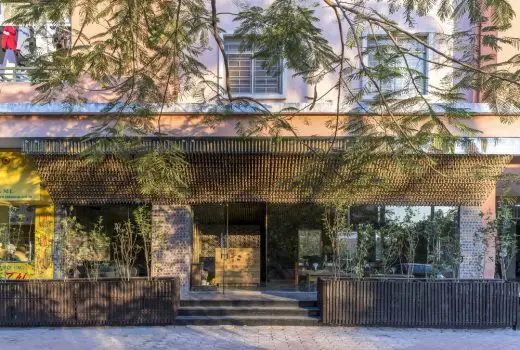 photo : Nguyen TienThanh
Mành Mành Salon in Hanoi
Comments / photos for the Golden Hills Vietnam Architecture page welcome
Golden Hills Danang Building