Infinity Kitchen, Venice Biennale 2016 Exhibition, Architecture, Images
Infinity Kitchen at Venice Biennale 2016
Interior Design Exhibition: Italy – design by MVRDV
27 May 2016
Infinity Kitchen
Design: MVRDV
Location: Venice, Italy
MVRDV present Infinity Kitchen at Venice Biennale 2016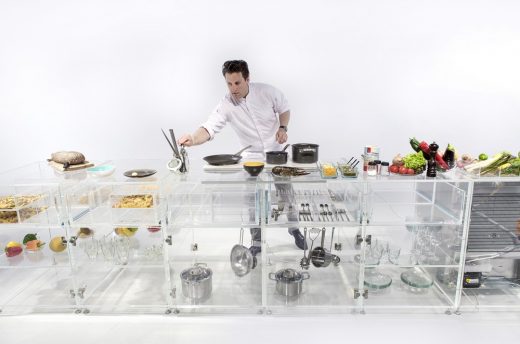 photo © Martin Rijpstra
MVRDV have designed a fully transparent kitchen as part of a satellite event for the Venice Biennale. The installation takes the typical modern day modular kitchen and looks at progressing the typology to improving the culinary experience and challenging the immense, yet generic, kitchen industry. The Infinity Kitchen wants to make better cuisine, better food preparation practices and it wants raise awareness for the one room that we all rely so heavily on, and the processes that go on inside of it. How much food do we have hidden away? How much waste is really been created? Is the kitchen really as clean as we like to think it is? But it also wants to do one main thing, celebrate food and cooking.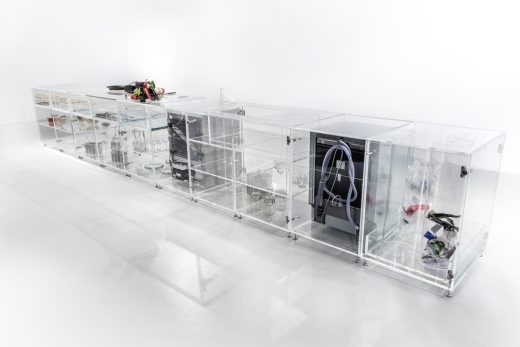 photo ©Martin Rijpstra
"If we imagine everything is transparent clear and clean, doesn't it mean that the only thing that is colourful and visible is our food," describes MVRDV co-founder Winy Maas. "Doesn't it then imply that we are encouraged to love the food, in that way, and that maybe it even becomes more healthy, if not sexy?"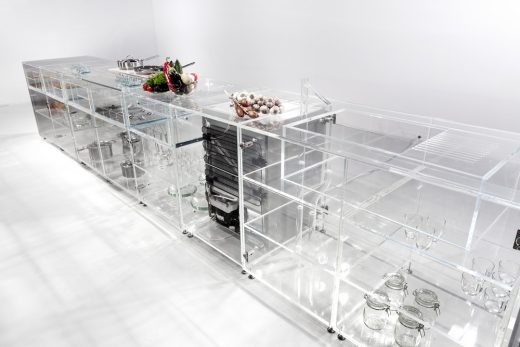 photo ©Martin Rijpstra
Transparent surfaces, shelves, cupboards, taps and utensils come together to give a new insight into food production, storage, and the processes that go on in our kitchens. Instead of hiding both the ugly and beautiful sides of food preparation, the Infinity Kitchen exposes all in a way to give more control to the user who can now monitor everything. MVRDV's design aims to act as a showcase to test the individual elements in the kitchen, visitors to the exhibition will be able to see how, through their invisibility, the entire kitchen catalogue functions.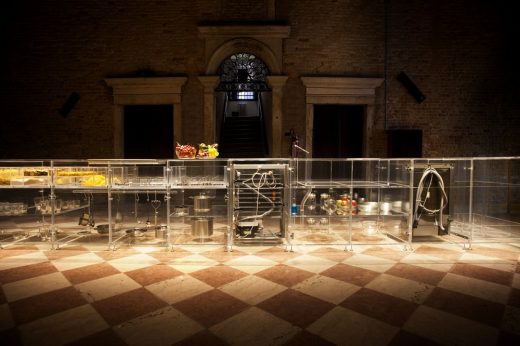 photo ©MVRDV
"I see this as part of a wider dream, this kitchen. It is part of an environment, if not a city, that is transparent and therefore accessible." Says Winy Maas, "Imagine if not only our kitchens were transparent, but the walls through to the neighbour and the next neighbour even. This would create infinite perspectives in our cities. It would make within our claustrophobic environments possibly a view, into the direction of the mountains or the sea."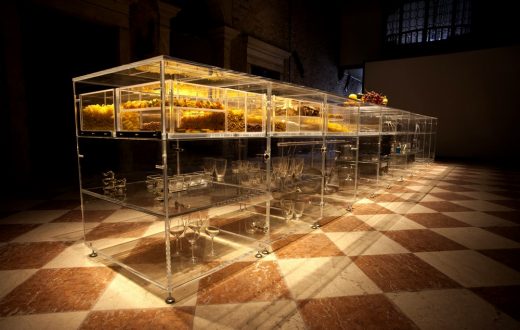 photo ©MVRDV
MVRDV's push for this vision has already materialised in recent projects such as Crystal Houses, a traditional façade built entirely from glass in Amsterdam, and an office with all glass interiors, furniture and equipment in Hong Kong which will be opened on the 1st June 2016.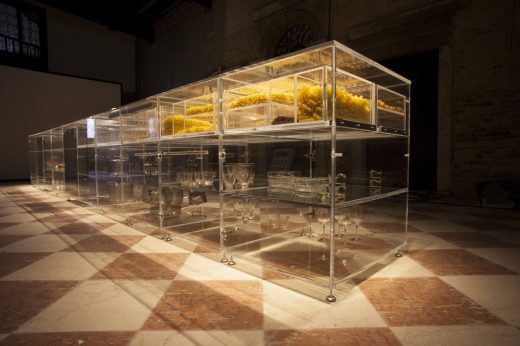 photo ©MVRDV
The Kitchen Home Project is an initiative which looks to imagine the next step of our living environments, taking the accepted norms of today and pushing these to find new and better solutions. MVRDV worked closely with Weng Ling from the Beijing Centre for the Arts and are participating in the event as part of their commitment to both Asian and European architecture. MVRDV and the BCA have had a long collaboration since 2002, focusing on urban environment and culture. Aside from the Infinity Kitchen, the exhibition also includes installations from Japanese architect Kengo Kuma, and Hong Kong based media artist Au Yeung Ying Chai.

photo ©MVRDV
MVRDV was set up in 1993 in Rotterdam, The Netherlands by Winy Maas, Jacob van Rijs and Nathalie de Vries. MVRDV engages globally in providing solutions to contemporary architectural and urban issues. A research based and highly collaborative design method engages experts from all fields, clients and stakeholders in the creative process. The results are exemplary and outspoken buildings, urban plans, studies and objects, which enable our cities and landscapes to develop towards a better future.
Early projects by the office, such as the headquarters for the Dutch Public Broadcaster VPRO and WoZoCo housing for the elderly in Amsterdam lead to international acclaim. MVRDV develops its work in a conceptual way in which the changing conditions are visualised and discussed through designs, sometimes literally through the design and construction of a diagram. The office continues to pursue its fascination for and methodical research on density using a method of shaping space using the complex amounts of data that accompany contemporary building and design processes.The work of MVRDV is exhibited and published worldwide and has received numerous international awards. 140 architects, designers and other staff develop projects in a multi-disciplinary, collaborative design process which involves rigorous technical and creative investigation.
MVRDV works with BIM and has official in-house BREEAM and LEED assessors. Together with Delft University of Technology, MVRDV runs The Why Factory, an independent think tank and research institute providing an agenda for architecture and urbanism by envisioning the city of the future.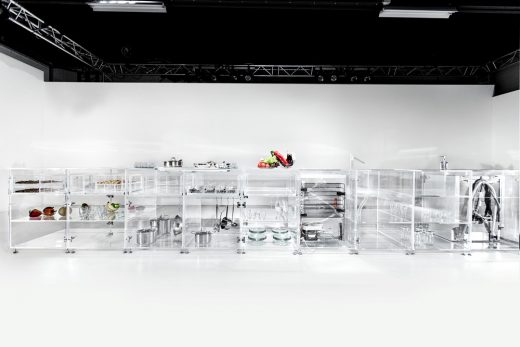 photo ©Martin Rijpstra
Infinity Kitchen at Venice Biennale 2016 images / information from MVRDV
Location: Venice, Italy
Venice Architecture
Venice Architecture Designs – chronological list
Venice Architecture Walking Tours
Venice Biennale Australian Pavilion
Website: Australian Pavilion Venice Biennale
Venice Biennale – Exhibitions, Designs, Images
Comments / photos for the Infinity Kitchen at Venice Biennale 2016 page welcome
Infinity Kitchen at Venice Biennale 2016
Website: MVRDV