Venice Architecture Biennale German Pavilion 2016, Architectural Exhibition Images, Design
German Pavilion at the Venice Biennale 2016
DAM: Deutsches Architekturmuseum Architectural Exhibition in Italy – La Biennale di Venezia, Italia
18 Feb 2016
German Pavilion at the Venice Biennale 2016 News
2016 German Pavilion in Venice – Making Heimat Exhibition
The Website: Deutsches Architekturmuseum (DAM) will be curating the German Pavilion exhibition, Making Heimat. Germany, Arrival Country, at the 15th Venice Architecture Biennale in 2016.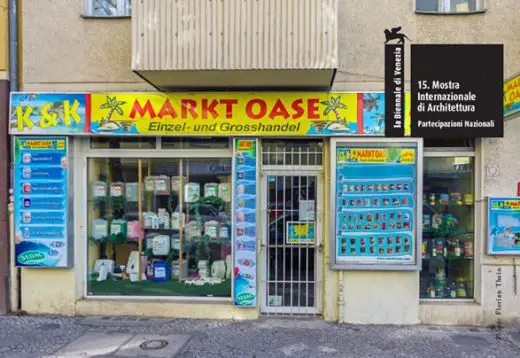 At the upcoming press conference, the curators will present their three-part concept for Germany's contribution to the Biennale for the first time:
1. An overview of the buildings currently used to house refugees, which the DAM has been gathering via a call for projects issued since October 2015. The new buildings and retrofits that have been made in Germany to house refugees will be presented on the website www.makingheimat.de, set to become active the day of the press conference. This "Refugee Housing Database" has been compiled collaboratively between the DAM and the architecture magazine Bauwelt.
2. A series of theses on the subject of the "Arrival City," developed in close collaboration with Doug Saunders, author of Arrival City: How the Largest Migration in History Is Reshaping Our World. The DAM hopes to pose the following question through this project: what conditions must we meet to make it possible for immigrants to integrate successfully into Germany?
3. The design concept behind the German Pavilion is meant to make a statement about the current political situation. "Something Fantastic," an interdisciplinary team from Berlin, will plan and stage the architectural presentation and graphic design. In a short presentation, they will discuss their working method and approach.
A conscious choice was made to host this press conference in Munich at the "Bellevue di Monaco." Since the fall of 2015, the city and its train station have become symbols for the mass arrival of refugees—and for how to cope with the associated challenges. Munich's public administration has learned from its experiences during the Balkan wars, and has been able to react quicker than other cities. The DAM team, architects and press will visit two examples of the city's building programme for housing refugees. The government hasn't been the only party to react.
The choice of "Bellevue di Monaco" for the conference is meant to stand in for the enormous efforts being made by everyday citizens, who are making their own contributions to ensure that integration is something conspicuous within the urban fabric. Finally, after the tour, interested journalists have the chance to participate in the workshop "Flucht nach Vorne – Built Solutions for Integrating Refugees into Our Community" organised by BDA Bayern and the Bundesstiftung Baukultur.
Speakers:
Angela Bauer, Bellevue di Monaco
The DAM Biennale team, represented by:
Peter Cachola Schmal, general commissioner and director of the DAM
Oliver Elser, curator
Anna Scheuermann, project coordinator
Elena Schütz, Julian Schubert, and Leonard Streich, Something Fantastic
Venice Architecture Biennale 2016
Venice Architecture Biennale 2016
Niall McLaughlin Architects: Ireland at Venice Architecture Biennale 2016
Parasite Pavilion la Biennale di Venezia fundamentals
Modernity in Scottish Architecture, Venice Biennale
XML contribution to 14th Venice Architecture Biennale
Venice Architecture Designs – chronological list
German Architecture
German Architectural Links – Selection
German Architecture Developments
Website: makingheimat.com
Location: Venice, Italy, southern Europe
Venice Architecture
Venice Architecture Designs – chronological list
Venice Architecture Walking Tours
Venice Biennale
Venice Biennale – Exhibitions, Designs, Images
Venice Architecture Biennale Danish Pavilion
Venice Architecture Biennale Irish Pavilion
Comments / photos for the Venice Biennale German Pavilion 2016 page welcome
Website: Visit Venice