Turkish Architect, Practices, Companies, Design Offices Turkey, Engineers Studios
Turkish Architect Offices
Turkey Architect Offices – Turkish Building Designers contact details information
post updated 8 April 2023
Turkish Design Practice Information – architecture studio contact details, alphabetical:
Turkish Architecture Studios
Architect
phone / fax
e-mail / website
address
Akyürek Elmas Mimarlik
+90 (212) 213 57 99
+90 (212) 213 77 86
can(at)akyurekelmas.com
www.akyurekelmas.com
Akyürek Elmas Mimarlik Ltd
Erdogan Özkardesler Sokak
Tayfun Apt. B Blok 15/4
Gayrettepe
34349 Istanbul, Turkey
Refik Saydam Caddesi
+90(0)212 293 2001
+90(0)212 293 2000
info(at)parmak-izi.com
www.parmak-izi.com
Refik Saydam Caddesi
167/ 8 Beyoglu
34430 Istanbul, Turkey
Turkish Architect Practices Listing
Architects + Landscape Architects + Structural Engineers with offices in Turkey
Turkish Architects Additions welcome: info(at)e-architect.com
The Turkey Architecture site aims to promote Turkish Architects as well as the country's architecture. The page is a good starting point for selecting an architect.
Turkish Architects' details are listed for an annual fee, likewise for Turkish Structural Engineers, etc.
Location: Turkey, eastern Europe / western Asia
Turkish Architecture
Turkish Architecture – Selection
Milas Bodrum International Airport, Bodrum, western Turkey
Design: Tabanlioglu Architects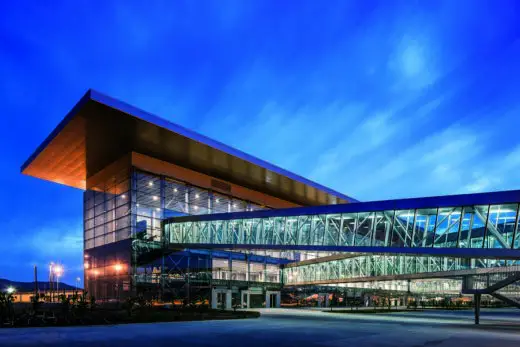 photograph : Murat Germen
Milas Bodrum International Airport
The building consists of two main structures, namely, the "air side", a transparent glass and steel linear scaffold to which the planes connect and the terminal building at the "land side". Two structures intersect where the passengers leave the "national" area, emphasizing the passage.
Lisette, Kuzu Effect Mall, Ankara, central Turkey
Design: Neowe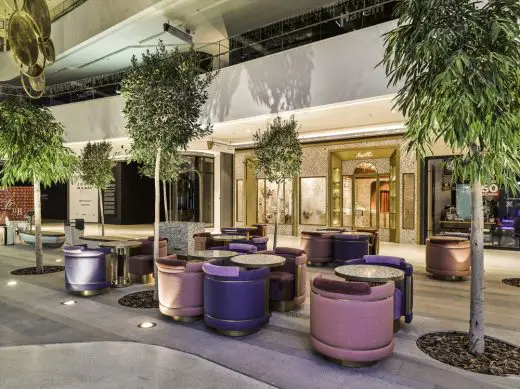 photograph : Ibrahim Ozbunar
Lisette Shop Interior in Kuzu Effect Mall, Ankara
Lisette, the newest member of Bemse Group, aims to catch the shining and lively colours of jewellery in a chocolate brand. Neowe designed and constructed the very first store of the brand in Kuzu Effect Mall, Ankara.
Vinero Winery and Hotel, Çanakkale, western Turkey
Design: CM Mimarlik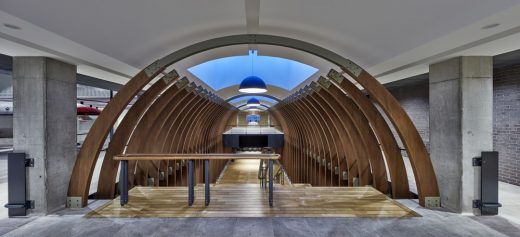 photograph : Cemal Emden
Vinero Winery and Hotel in Çanakkale
A winery, like all other factories, has to be designed to meet all the necessities of its existence, in the best way possible. The architectural practice's aim was to provide a design preventing any disruption of the organic process.
Aksemsettin Primary School, Küçükcekmece, Istanbul, north west Turkey
Design: Uygur Architects


photo : Cemal Emden
Aksemsettin Primary School
Aksemsettin Primary Schoo is just one of the schools within the scope of the package project "45 Public Buildings in Istanbul" designed and projected by Uygur. The schools, which were decided to be demolished and rebuilt in Istanbul within the scope of ISMEP (Istanbul's Seismic Risk Mitigation and Emergency Project), are designed in a unique way in their own context, on the same plot by increasing their capacity.
International Architectural Practices
Architects Studios – International Design Office Selection
Turkey
Turkey is a democratic, secular, unitary, constitutional republic with a diverse cultural heritage. The country's official language is Turkish, a Turkic language spoken natively by approximately 85% of the population. Turks constitute 70% to 75% of the population. Minorities include Kurds (18%) and others (7–12%).
The vast majority of the population is Muslim. Turkey is a member of the Council of Europe, NATO, OECD, OSCE and the G-20 major economies. Turkey began full membership negotiations with the European Union in 2005, having been an associate member of the European Economic Community since 1963 and having joined the EU Customs Union in 1995.
Source: wikipedia
Additions for the Turkish Architecture Studios on the e-architect website page welcome