Onsen Papawaqa Hotspring Hotel Taiwan, Holiday Accommodation Design, Images
Onsen Papawaqa Hotspring Hotel
Taiwan Residential Development – design by Tang-Huang Cheng, architects
15 Feb 2016
Onsen Papawaqa Hotspring Hotel in Taiwan
Design: Tang-Huang Cheng, architects
Location: Yuandun, Tai'an Township, Miaoli County, Taiwan, Republic of China
DESIGN NAME:
Onsen Papawaqa
PRIMARY FUNCTION:
Hotspring Hotel
INSPIRATION:
In the stress of today's world, it is imperative to find a place of relief of mental and emotional strain, a resting paradise. Hence, my urge to create an Eden in the modern world, a place of rest for the mind and soul, a place to enjoy the wondrous ambience that is nature. Thus, my inspiration to create a place like Onsen Papawaqa.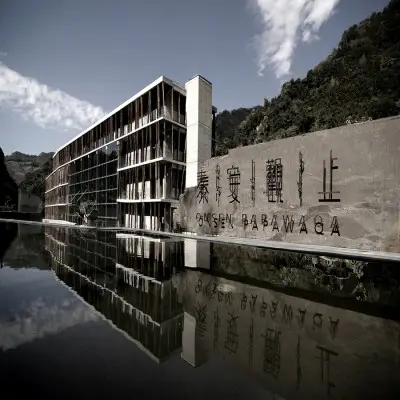 UNIQUE PROPERTIES / PROJECT DESCRIPTION:
Often times, nature's blueprint is subverted when man's design comes to take place, particularly with constructions of massive proportions, such as a hotel building. However, Onsen Papawaqa's very design and function has come to challenge this perception, in its place reflecting the flawless harmony of man with nature. It is a place to rest the mind, a place to once more pull away from congested urbanity, an asylum from the garish loudness of the city life. Onsen Papawaqa is a place to find rest, tranquility and relaxation in the absence of a contrived environment.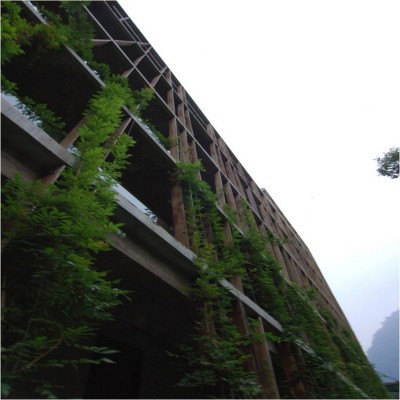 OPERATION / FLOW / INTERACTION:
In this project, if we are talking about the formation of a building, the linkage of some spaces and the details of a particular section, we should tell you what we have brought to this place, what we have chosen for users, and what we have continued… Many wish to leave town to commune with nature, but they cannot wait to be cut off from nature. This is the contradiction many leisure industries face inside scenic areas and who want to correspond to the market. For example, people are accustomed to hiding away from the rain and want to see something brilliant in the lobby on their vacations.
They cannot live in a room without air conditioning and cannot wait to turn on the TV as soon as they lie down in bed. There are too many things that they cannot give up, it is like they just change one place for another and continue on with their urban life. Instead of reducing stress, they take on more stress. It was supposed to be a day off, but they work even harder… Letting everything go and communing with nature is what we emphasize here. When you are holding an umbrella listening to the rain closely and looking at the splash on the floor, your interaction with nature has already started. These are unconscious feelings that can touch our soul.
PROJECT DURATION AND LOCATION:
The project started in 2002 in No.58, Yuandun, Tai'an Township, Miaoli County 36542, Taiwan (R.O.C.) and finished in 2006.
FITS BEST INTO CATEGORY:
Architecture, Building and Structure Design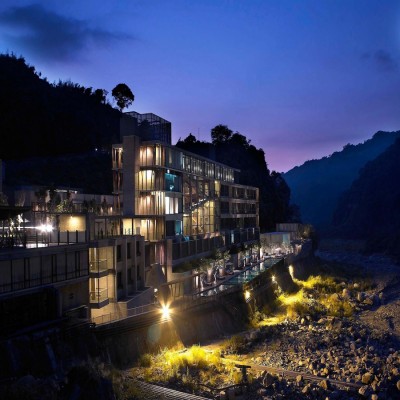 PRODUCTION / REALIZATION TECHNOLOGY:
The main materials employed for this project are fair-faced concrete and wood. What defines nobility and beauty? It is a common misconception that a first class hotel must be lavished with ostentatious marble embellishments. Nonetheless, Onsen Papawaqa's design professes beauty in simplicity. In much the same way, the project speaks of future sustainability. It is a secure, long-term plan; as the hotel ages it's appeal won't fade but its elegant beauty will endure. Time, in a sense of graceful aging, only contributes to the building's aesthetics. In a way, the building's design operates as 'performance base' artwork, constantly developing over time. The color of the concrete and the wood fades over time, and the creeper climbing up the wooden facades give the building life. The expression of the materials reflects external nature, taking aesthetics to a whole new level.
SPECIFICATIONS / TECHNICAL PROPERTIES:
13200㎡
TAGS:
ecology,simplicity,art,mountain,environmental protection,green architecture,leisure,irregular,time beauty,interate into nature,
RESEARCH ABSTRACT:
Moss grows naturally on the waterfront wall of the Onsen Papawaqa Spa Resort. After years, the entire building will look like an elegant ancient European castle. It is the same to the metal-wooden railings that will fade as time goes by. They look like wooden railings from outside, a screening wall from sides, but a long corridor from inside. The lobby linked up by the corridor is the third floor of the building, while a lawn on the slope is right in front of the first and second floors. In the daytime when the light is bright enough, or with the illumination of the projection light in the evening, the entire building looks as if it is rising from the lawn.
Looking through the corridor on whatever floor, you can always see the elegant scene and emerald mountain corridor as if looking at a landscape painting. Located at Chingshui Village, Taian Township, nearly 500m elevation, and surrounded by clouds, misty mountains and running water; blending to the river valley and mountain forest, where the biodiversity of the native Formosan flora is seen crisscrossing the rocks and roots of towering trees.
The seasonal change of flora is especially obvious in autumn and winter. The bleak and gorgeous scenes are sometimes like the smoky scene in regions south of the Yangtze River, and other times like the scenes on the Huangshan. Embracing fashion, nature, leisure and classic, Onsen Papawaqa Spa Resort can surely help urban visitors relieve their weary and busy life and to enjoy the totally relaxing rural life in a slow and leisure pace. In sum, Onsen Papawaqa Spa Resort is a green building using the minimalist construction methods to combine fashion, nature, leisure and classic together.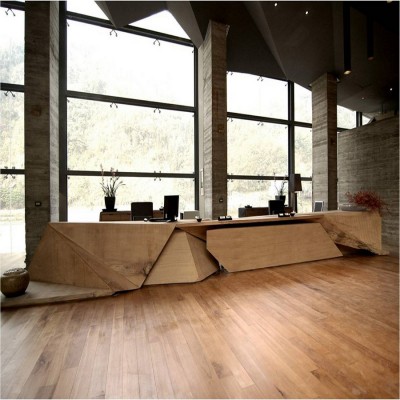 CHALLENGE:
we began to think; how can we pay more attention to the details in our environment: how people stop, hope people move on, how people rest, how people contact the outside world, and even how people meditate… These are very important because they are how we can feel abstract behaviors. Slow your pace, think more carefully, watch more closely; listen to the quiet, smell the freshness of nature or feel a friendly, deep touch. Finding the truth is the simple, clear goal of all metaphysical teachings.
Some thoughts arise spontaneously, such as when you see simple, unprocessed materials, or when you take a stroll along the sloped, stone path. Passing through the minimalist setting, there is a great green lobby. The focus changes as we look up. After a turn, there is an open hallway. Before you enter the room, let's take you back into the open air. Open your room door, and there is another luscious green scene. These scenes are no coincidence. Some may ask, "Why did we use clear water concrete and chrome-wooden railing façade?" This voice has been there ever since the very beginning. As a matter of fact, for social value, what does high-class and beauty mean? Many believe that a high-class hotel must have marble decorations.
The façade of this building looks unfinished. In fact, we were thinking about something else: completion and time. What does completion mean? Does completion mean a building whose construction and interior decoration works is completed? Or, is it more important to consider the sustainability of the building? Once the owner decided on the long-term operations of the hotel, what is needed here? A magnificent building that gets old as time goes by? Or a building where suitability, time and beauty are possible? When compared with the exterior of a completed building, a building that impresses people with its natural changes in the course of time is a more important reference. For example, the sedimentation of concrete, the fading patina of natural wood, the growth of green (climbing) plants etc. They may not be the "value" as perceived by society, but they faithfully reflect the reality of materials in nature, the pure aesthetics.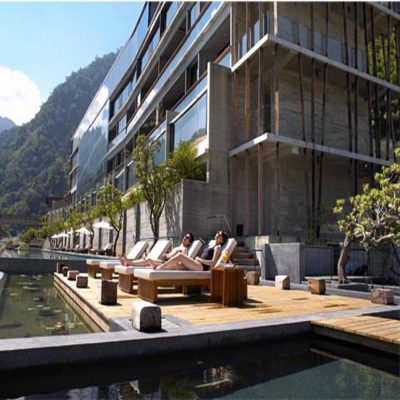 IMAGE CREDITS:
Tang-Huang Cheng, 2014.
Visit the following page to learn more: https://www.youtube.com/watch?v=JGtQALHi9NE
AWARD DETAILS
Winner:
Onsen Papawaqa Hotspring Hotel by Tang-Huang Cheng is Winner in Architecture, Building and Structure Design Category, 2014 – 2015.
Onsen Papawaqa Hotspring Hotel in Taiwan images / information fromA' Design Awards
Location: Miaoli County 36542, Taiwan
New Taiwan Architecture
Contemporary Taiwan Architectural Projects, chronological:
Taiwan Architecture Designs – chronological list
Taipei Architecture
Din-a-ka Residence, Taipei City
Architects: Wei Yi International Design Associates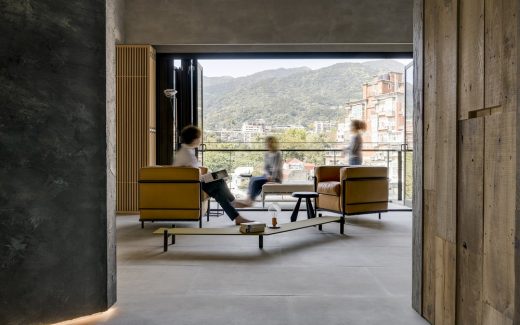 photograph : Dean Cheng
Taipei City House
Taipei Performing Arts Centre
OMA
Taipei Pop Music Center Building
Design: Reiser + Umemoto / ARUP
Taipei 101
C.Y. Lee & Partners
TED Taipei
BIG
World Design Rankings in Arts, Architecture and Design
A' Design Awards & Competition
Comments / photos for the Onsen Papawaqa Hotspring Hotelin Taiwan page welcome
Onsen Papawaqa Hotspring Hotel : page
Website: Onsen Papawaqa