Kaohsiung Port Station Competition, Architect, Picture, Building Design News
Kaohsiung Port Station Urban Design Competition, Taiwan
Taiwanese Architecture Contest design by AGER Group
1 Aug 2011
Kaohsiung Port Station Competition Winner
Design: AGER Group – Boston Studio
Kaohsiung Port Station Urban Design Competition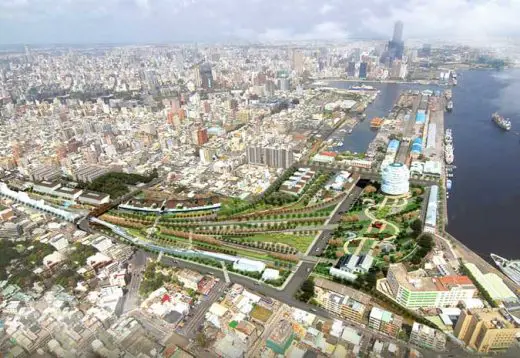 Rail-scape Urban Design
AGER Group's Boston Studio won an Excellence Award winning first prize for the Kaohsiung Port Station Urban Design competition initiated by the Urban Development Bureau of the Kaohsiung City Government in Taiwan.
The 15.42 hectare site is located between the Hamasen and Yenchen historic commercial centers of the 1920's and 40's and at the intersection of three of Kaohsiung's thriving neighborhoods home of the recent Maritime Music Center and Port Terminal competitions. The competition aimed at transforming the historic rail yard and port station into a new city destination, creating a progressive model for local urban renewal. The competition's dual goals of cultural preservation and urban development are achieved in AGER's proposal through a three phased development.
In phase one, AGER proposed three strategies to establish a new identity for the project. They include developing a transportation and industry museum, preserving key portions of the railway for public and special event use, and transforming other portions of the rail yard into an art exhibit/market and rail-scape park corridor. The corridor would be animated with outdoor sculpture, restaurants and retail in specially re-designed rail-cars, and the former sugar warehouses renovated into creative industry lofts.
In phase two, an iconic luxury hotel with conference center and executive apartments to be designed by a signature architect is proposed to attract additional visitors to the rail-scape park corridor development and transportation and industry museum. This iconic building would aim to bring additional recognition to the project and with it, investors to phase three of the project.
Phase three of the project, which lies at the north end of the site, is most intimately connected to the adjacent historic Hamasen urban fabric district. Consequently, Ager proposed a series of high-density mixed use residential buildings based on the Southeast Asian shophouse typology found in the Hamasen district and a high end commercial complex with public corridors and civic spaces that becomes the new hub to help bring together the existing neighborhoods.
Complimenting this three phased approach, AGER studied the economic trends of domestic consumer market growth, office and retail demand, housing demand, and the expected growth of Taiwan's tourism industry to propose a financially feasible design. Integrated in the study, was consideration of the brownfield soil conditions, building re-use, and disaster resilience to help form a sustainable strategy for the project over time.
Instead of developing a final picture or finished master plan with a predetermined end result for the p;roject, AGER's phased strategy for the re-use of the existing rail infrastructure used a variety of components (rail, walk, wall, ramp, plaza, building, program platform/ stage, landform, planting) to direct and capture the diverse forces and flows within the site to create flexible conditions for future events and program. The seemless relationship between landscape, architecture, and infrastructure allows for an increased level of habitation, protected circulation, and incremental response to a variety of weather conditions.
In particular the park corridor, the central network for movement in the project, is designed to encourage communication, exchange, and thus be adaptable over time based on behaviour and performance. It is the central stage for a series of events that are not pre-determined but rather catalyzed and amplified by the intersection of territory, varying intensities of activity and speeds of progression. From the point of view of the visitor this is a constantly shifting layered experience coordinated with their own movement.
Team Leader: Jessica Leete
Project Team: Thomas Paine, Molly Huang, Albert Chung, Winnie Lai, Shan Shan Lu, Claire Ji Kim
Location: 22˚ 37' 18.70" N 120˚ 16' 31.92" E
Kaohsiung Port Station Urban Design Competition images / information from AGER Group – Boston Studio
Another Kaohsiung Port Station Competition design:
13 Jul 2011
Kaohsiung Port Station Design Competition Winner
Design: De Architekten Cie.
Kaohsiung Port Station Urban Design Competition


image from architect
De Architekten Cie. has won the open international Kaohsiung Port Station Urban Design competition in Kaohsiung, Taiwan. The 15.42 hectare site, is the derelict Port Station Railyards of the old port of Kaohsiung is to be transformed into a vibrant, new urban district centered around a linear park which highlights the cultural and historical heritage of the site.
Kaohsiung Port Terminal Competition Winners
Design: Reiser + Umemoto



image from architect
Kaohsiung Port Terminal Competition
Location: Kaohsiung, Taiwan, east Asia
New Taiwan Architecture
Contemporary Taiwan Architectural Projects, chronological:
Taiwan Architecture Designs – chronological list
Taiwan Buildings – Selection
Kaohsiung Competition Designs
Kaohsiung Library Contest Design
Mak Architects Inc.
Kaohsiung Library Competition
Kaohsiung Maritime Cultural & Popular Music Center Competition Winners
Kaohsiung Maritime Cultural & Popular Music Center Competition
Kaohsiung Maritime Cultural & Popular Music Center – design
Kubota & Bachmann Architects
Kaohsiung Maritime Center
Kaohsiung Buildings
Star Place Kaohsiung – Taiwanese Retail
UNStudio
Kaohsiung Shopping Centre
Taiwan National Performing Arts Centre
Mecanoo architecten
Kaohsiung arts centre building : Architecture competition winner
Taiwan Buildings
Taipei Performing Arts Centre – Winner
OMA
Taipei Performing Arts Centre
Ching Fu Headquarters
Rogers Stirk Harbour & Partners
Ching Fu HQ Building
Taipei Pop Music Center Competition, Taiwan : Reiser + Umemoto Win
Idea for Action Kaohsiung International Competition
Comments / photos for the Kaohsiung Port Station Urban Design Competition design by AGER Group page welcome