Villa ZüV, Alicante Property, Elche Luxury Home, Contemporary Southern Spanish House, Images
Villa ZüV in Alicante
Contemporary Residence in Elche, Southern Spain – design by Tomás Amat Estudio de Arquitectura
25 Oct 2017
Villa ZüV
Design: Tomás Amat Estudio de Arquitectura
Location: Elche, Alicante, Spain
Villa ZüV: minimalist and contemporary balance in Alicante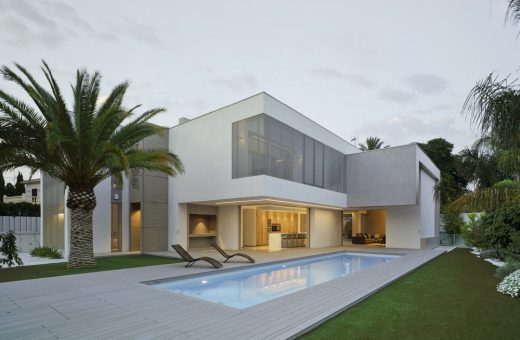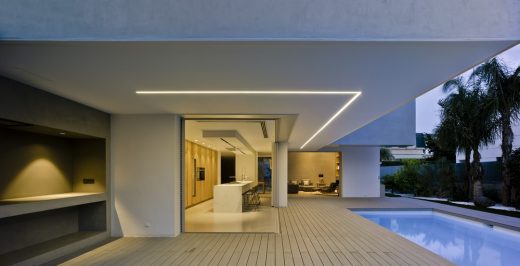 Villa ZüV, situated in Elche, Alicante, is this single family detached house with minimalist demeanour and a sculptural soul that has been designed and planned by Tomás Amat Estudio de Arquitectura, Pablo Belda + Tomás Amat.
The studio has resolved a complex and highly demanding needs program, both in terms of privacy as well as quality, for a couple with two kids that had from inception a very clear idea of what their new home should take into account and convey: simplicity, elegance and functionality.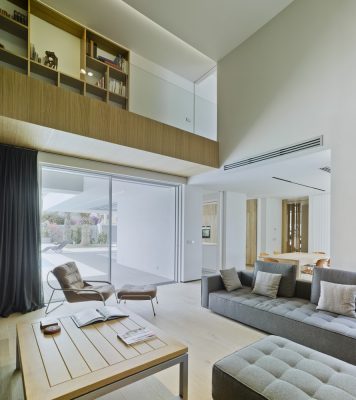 Located in a consolidated residential neighbourhood of the city and surrounded by other houses in three sides with dividing walls, this villa is framed in a 1.000 sqm plot with a total built area of 590 sqm.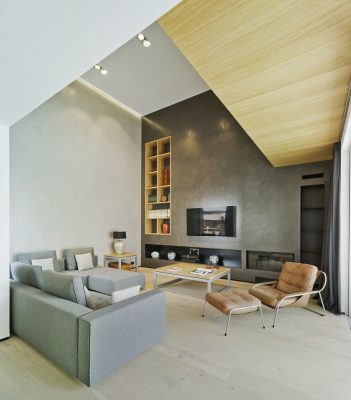 This is the starting point of a project that, as the architects say, "it has been defining its own footprint within the plot following the area's regulatory constraints and the aspect of the building main façade". Two factors, they say, "that have also had an influence when defining and articulating the house in three longitudinal volumes that confer a fragmented image, each one accommodating a different part of the needs program".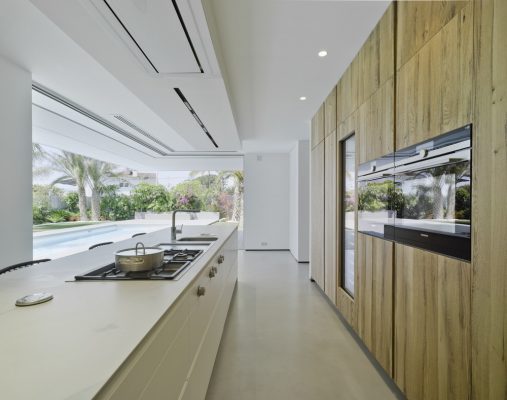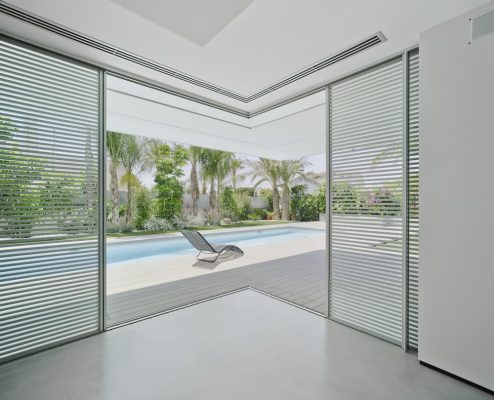 It's because of this that Villa ZüV is distributed into two floors above ground level and a basement. Immediately after entering the house, at street level, the kitchen, living-dining room, studio, guest room and toilet are located. The first two are widely opened towards the garden and are connected to it through a minimum profile and retractable aluminium carpentry that allows total outdoors-indoors connection. Its boundaries dilute without sacrificing privacy. Sliding horizontal aluminium systems protect the villa's inner life from prying eyes and attenuate the light of the setting sun. The panoramic views of the pool and garden areas are secured, and so is the privacy of Villa ZüV's inhabitants.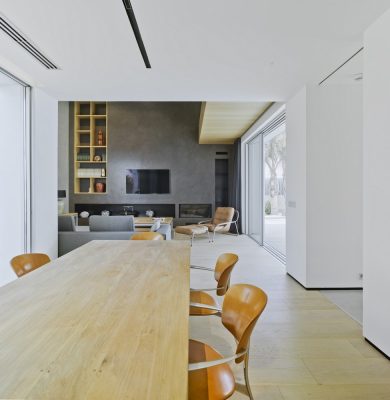 An impressive staircase of great dimensions stands out guiding the transit towards the first floor and the basement; the architects' intention was to give it a certain level of prominence. Its sight is almost sculptural and it has been designed, not only from a formal and structural point of view, but also to be enjoyed while passing by it. This central element of the house (the central core of it) offers a light and airy aesthetics even though it has been built with a concrete base. It is flanked by glass sheets and a protective structure of wooden boards and its design balances and shines with harmony by beautifully showcasing the contrast between the different aesthetic qualities of these noble, cold and warm materials.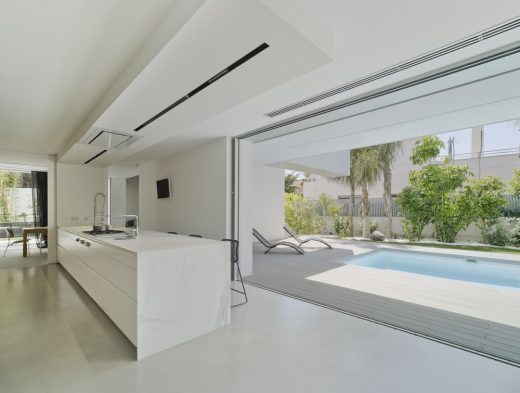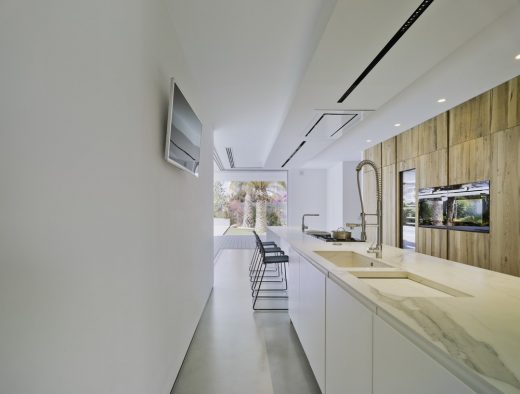 The natural sunlight penetrates the wooden boards panelling and sheds a more nuanced light towards the upper and lower level halls. The irregular layout of these wooden boards, that also resembles a sense of rhythm and movement, shines light beams and a scheme of a thousand shades over the floor.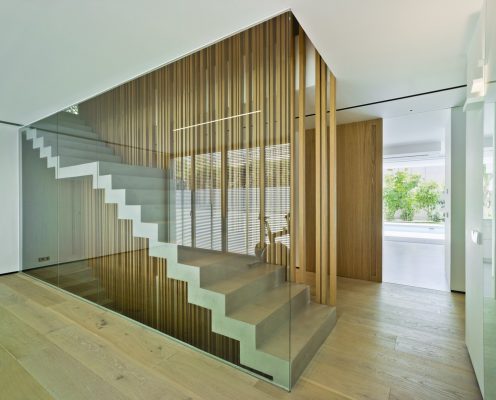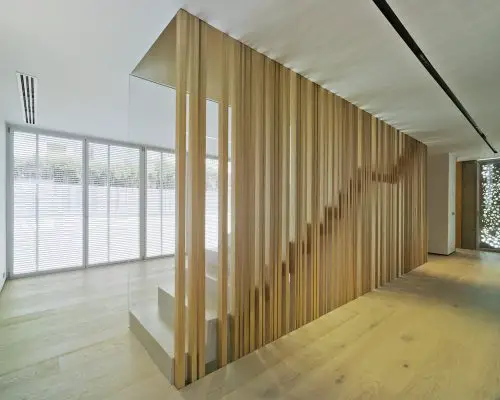 The upper floor of the house brings together a living room and a TV area, and also three large bedrooms. Each one of the bedrooms, with en-suite bathroom and private balcony, faces a different façade. All the rooms are connected and brought together by a distribution hall.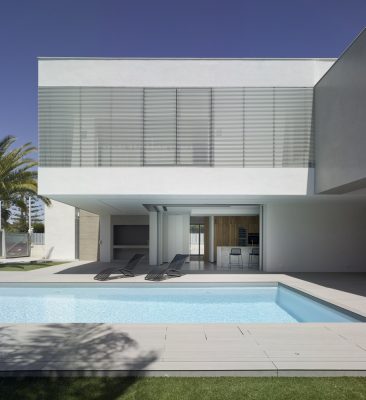 The basement level harbours the garage and the utility rooms saving, that way, useful floor area for the garden. This main external area has been planned around the rectangular pool, and the kitchen and sitting room also look towards this space. In the same way, there is a double-height large porch with a micro-concrete finishing that can be accessed from the sitting room and, as it functions like a terrace, it can foster the fractioned image of the villa. On the far end there is another area designated and prepared as a barbecue and other gastronomic events to be enjoyed with family and guest.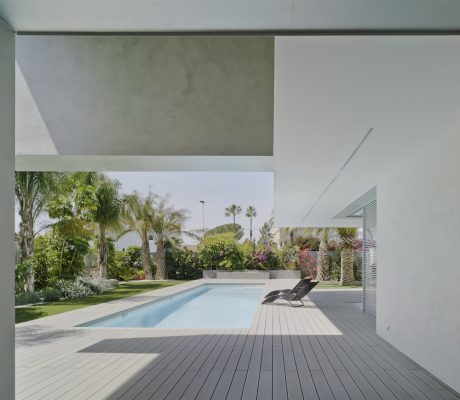 Green indigenous trees deserve special mentioned, especially the palm trees on the garden areas of Villa ZüV, as well as other imported plants that add an exotic and exuberant aspect to the outside of the house.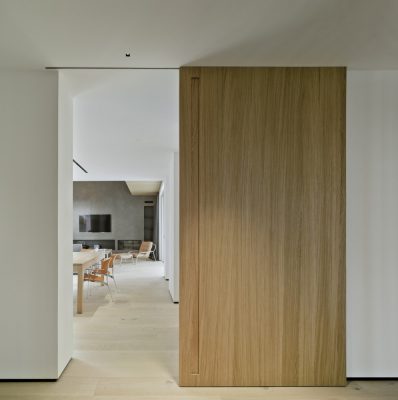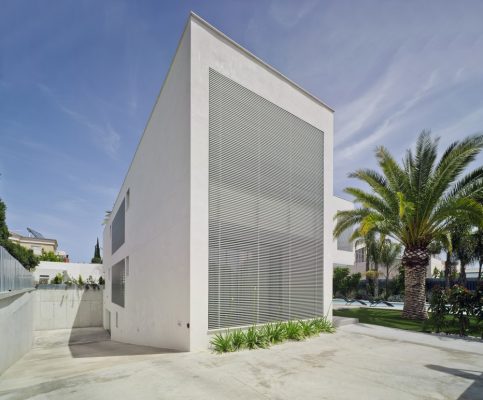 Noble materials and minimalist decor
In the planning and development of Villa ZüV, as well as in any residential project of this dimension, a commitment to use quality and high end materials in the interior design makes the difference. In this case, being specifically requested by the owners, it was a priority. They wanted high end, long lasting and timeless coatings and materials for a minimalist and contemporary design that would, at the same time, infuse the house with harmonious and cosy aesthetics.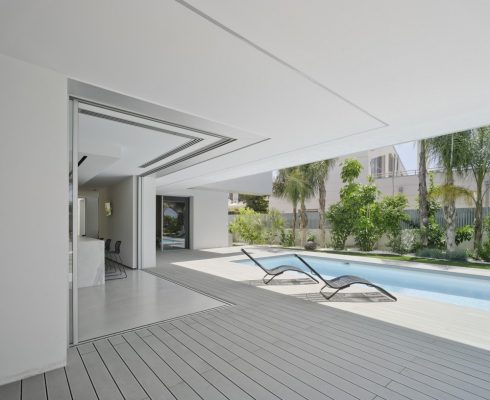 To achieve that, the Tomás Amat and Pablo Belda studio has predominantly opted for the use of concrete, micro-cement and natural wood for the interior of Villa ZüV. In the damp areas (kitchen and bathrooms) Techno-cement in grey 2 hue pavements have been installed. The bathrooms have been finished with Techno-cement vertical walls in different colours conferring the rooms a bigger sense of depth. In the kitchen, the use of rustic noble wood panelling for storage units, and the oven and wine storage units, stand out as well as the marble worktops on the kitchen isle.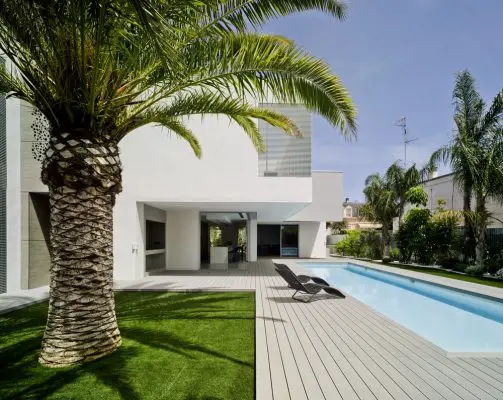 In the daily common rooms and transit areas (sitting room, dining room, recreational lounge area, corridors and distribution halls), as well as in private and night areas (bedrooms) natural aged oak wood flooring has been used. The main vertical walls in the master bedroom and double-height main living room, have been coated with black Techno-cement thus creating focal points of interest and filling these ample spaces with a unified connected language.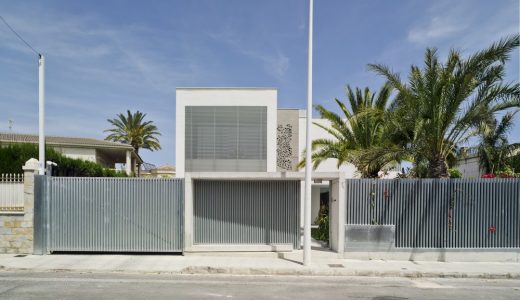 Hanged and embedded sliding doors created specifically for this house in natural oak wood and white lacquered wood are another element to add to the general decor that, in interior design terms, is marked by the sobriety and simplicity of the furniture. The chosen pieces of furniture are in sync and balance with the rooms that embrace them. Sofas, armchairs, tables, chairs, beds … each element with straight and clean lines in a neutral chromatic range (grey and earth shades scales) to bestow a hardly more tuned up final result.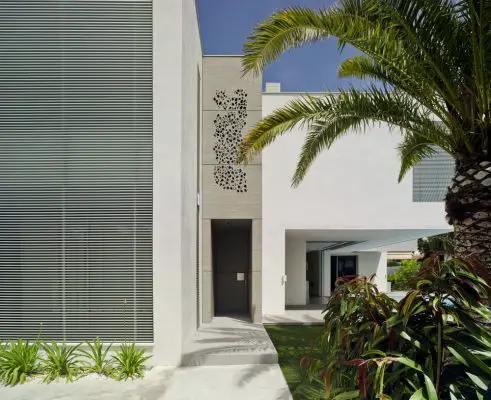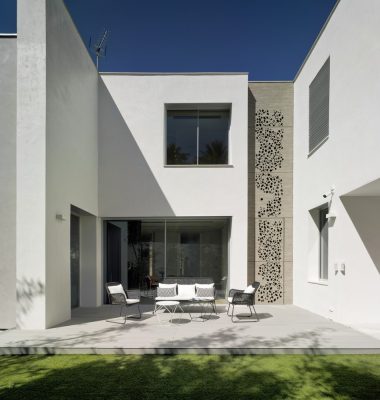 Villa ZüV in Alicante – Building Information
Architects: Tomás Amat Estudio de Arquitectura, Pablo Belda + Tomás Amat
Construction company: Sector Obra S.L.
Location: Elche, Alicante
Plot área: 1.000 sqm
Area built: 590m sqm
Finish date: 2017
Three floors + swimming pool and garden areas
Ground level floor: kitchen, living room and garden
First floor: 3 en-suite bedrooms and sitting room
Basement: garage and utility rooms
Main materials: concrete, micro-concrete, aluminium and wood.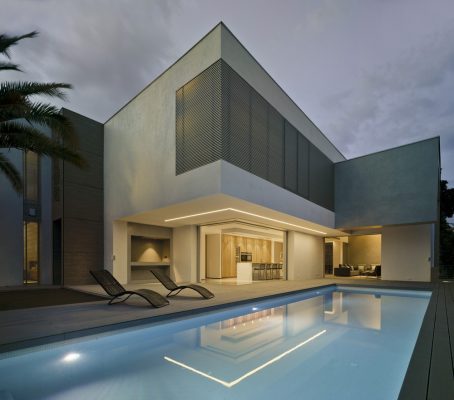 Photography: David Frutos
Villa ZüV in Alicante images / information received 251017
Location: Elche, Alicante, Spain
Architecture in Spain
Spanish Architecture Designs – chronological list
Contemporary Spanish Properties
Alicante Building
Oslo Residence, Alicante, Costa Blanca, southeastern Spain
Architects: Ramón Esteve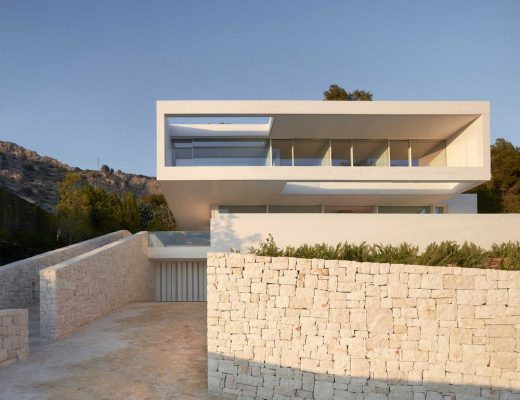 photography : Mariela Apollonio
New House in Alicante
Municipal Auditorium Teulada
Design: Francisco Mangado
Municipal Auditorium Teulada
Plaza in Onda
Design: Raichdelrio with RdL Arquitectos
Plaza in Onda
3D Athletics Track, Elda, near Alicante
Design: Subarquitectura
3D Athletics Track
New Spanish Architecture
Cerdanyavn Family House, Bellver de Cerdanya, Lleida, Catalonia, North East Spain
Design: Dom Arquitectura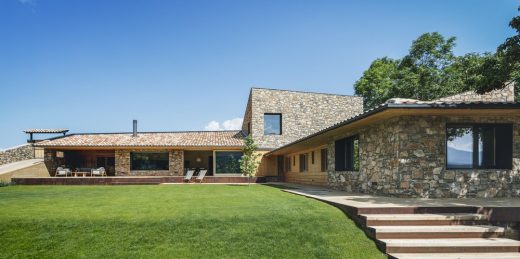 photo : Fotografía de Arquitectura Jordi Anguera
Family House in La Cerdanyav
Multi-use space in Tinglado
Fran Silvestre Arquitectos
Multi-use space in Tinglado
Buildings / photos for the Villa ZüV in Alicantepage welcome
Website: Tomás Amat Estudio de Arquitectura