Benavente Building, Spanish Town Hall Renovation, Photos, Architect, Design Images
Benavente Town Hall Building
Civic Architecture Project in Spain design by José Juan Barba Arquitectos
1 Sep 2008
Benavente Town Hall Renovation
Location: north west Spain
Date built: 2008
Design: José Juan Barba Arquitectos
Photographs: Ignacio Bisbal Grandal
English text (Scroll down for Spanish):
THE STORY OF A CURTAIN AND A STAIRCASE
Renovation of Benavente Town Hall, Spain
Nueva Arquitectura Española: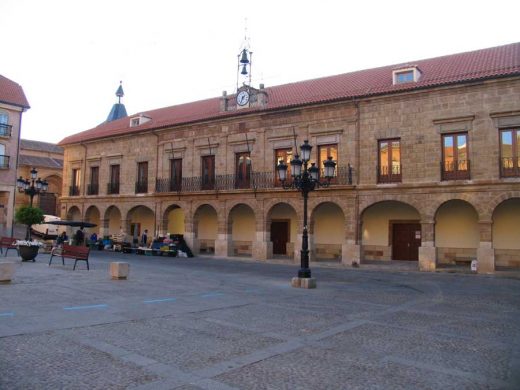 The project is a complete renovation of the interior of an old neoclassic building from the middle of the nineteenth century. Only the outer shell of the building is conserved. It is a Neotuscan-style structure consisting of a façade and a portico.
In the seventies renovations were carried out which completely destroyed the whole interior. After some years in disuse it recovered its function as a Town Hall.
The intervention revolves around very few materials and two pieces proposed in the project: a red curtain and the new staircase. With these two pieces the guidelines were set for the intervention. The space is defined by the flows of changing views and movements which its visitors will subsequently produce i.e. the new space does not depend on the perimeter structure formed by the walls of the old building.
a. The perception of both pieces depends on movement: in the case of the staircase its perception is only comprehensible while using it, going up and down it and penetrating it from the lift. Its flows vary not only in accordance with the program to which it responds but also to its obvious exposure to the changing light from the east and west.
Climbing it permits perceiving the vertical component of the space. As opposed to a process of horizontal spatial sequences, in a process of continuous narration, the climb to another space permits a discontinuity which causes the space to escape vertically, to leak. The staircase ceases to be merely an element of connection to become a vertical space.
b. The curtain was designed based on two memories. The most evident one is a reinterpretation of one of the least-known pieces of the Barcelona Pavilion by Mies van der Rohe, its red curtain, which is always closed over the access wall, and has a height of 3.10m. Its current location in the Barcelona Pavilion has caused its initial function to disappear.
It is placed at the beginning of all the routes. This prevents the visitor from seeing the shadows of the wall, where the curtain is protected and throws itself towards the brightness of the courtyard-lake where the statue of Geog Kolbe is.
The second memory, and the one which gives the curtain meaning, makes a reference to the mythical Penelope who wove and unravelled material as a metaphor of the changing narratives of history. The curtain envelops a space for meetings and decision-making for the local governing body, a space of contradictions and of impossible attempts to achieve a coherent meaning of the life of the town.
With the curtain the space becomes a place. The mobility of the curtain makes it opaque and transparent, not converting it into a box for administrative decisions but rather the box of some nightmares and a lot of dreams which come true.
José Juan Barba Dr Architect
Benavente Town Hall Renovation – Building Information
Date Project: Sep 2005
Date of Construction: Jan 2006 – Aug 2007 (1st phase)
Total built area: 1189.50 m2
Architect: José Juan Barba (Project and management of the works)
Collaborators: Andrés Ferrero, Rosa Pérez (civil engineer), Miguel A. Vecino (quantity surveyor), Daniel Juan (quantity surveyor)
Construction Company: Pedro Sanchez Rodríguez (civil works). Illione (furnishing), Terraconti (floors). E. Casas (lighting), Cristalería Nozal (glass), Talleres Fernandez (stainless steel), Fonbegas (installation of air conditioning), Heraclit (ceilings)
Developer: Benavente Town Council, Zamora
Photographs: Ignacio Bisbal Grandal
Spanish text:
FICHA TÉCNICA
REFORMA DE LA CASA CONSISTORIAL DE BENAVENTE.
Proyecto: Septiembre 2005
Construcción: Enero 2006 – Agosto 2007 (1ª fase)
Superficie construida: 1189,50 m2
Arquitecto: José Juan Barba (Proyecto y dirección de obra)
Colaboradores: Andrés Ferrero, Rosa Pérez (Ingeniero Técnico), Miguel A. Vecino (aparejador), Daniel Juan (aparejador)
Construcción: Pedro Sanchez Rodríguez (Obra civil). Illione (Mobiliario), Terraconti (Suelos continuos). E. Casas (Iluminación), Cristalería Nozal (Acristalamiento), Talleres Fernandez (Acero inoxidable), Fonbegas (Aire acondicionado), Heraclit (Techos)
Promotor: Ayuntamiento de Benavente, Zamora
Fotografía: Ignacio Bisbal Grandal
HISTORIA DE UNA CORTINA Y UNA ESCALERA
Reforma De La Casa Consistorial De Benavente
El proyecto es la reforma integral del interior de un antiguo edificio neoclásico de mediados del siglo XIX. Del mismo sólo se conserva el cascarón exterior, una estructura de fachada y pórtico en estilo neotoscano, ya que en los años 70 se realizaron reformas que destruyeron por completo todo el interior. Después de algunos años sin uso recupera su función como Casa Consistorial.
La intervención se articula en torno a muy pocos materiales y a dos piezas propuestas en el proyecto: una cortina roja y la nueva escalera. Con estas dos piezas se marcan las pautas de la intervención, el espacio se define por el flujo de visiones y movimientos cambiantes que posteriormente producirán sus visitante, es decir, el nuevo espacio no depende de la estructura perimetral formada por los muros del antiguo edificio.
a. La percepción de ambas piezas depende del movimiento: en el caso de la escalera su percepción sólo es entendible recorriéndola, subiéndola, bajándola y penetrándola desde el ascensor. Sus flujos varían no sólo en función del programa al que responde sino también por su evidente exposición a la luz cambiante del este y del oeste. La subida por la rampa permite apreciar la componente vertical del espacio. Frente a un processo de secuencias espaciales horizontales, en un processo de narración continua, la ascensión o el descenso entre plantas genera una discontinuidad que provoca que el espacio se escape vertical y horizontalmente, que se fugue. La escalera pasa de ser un mero elemento de conexión a convertirse en espacio vertical.
b. La cortina se diseña mediante dos recuerdos, el más evidente es una traslación de una de las piezas más desconocidas del pabellón de Barcelona de Mies van der Rohe, su cortina roja, siempre corrida sobre el muro del acceso, con una altura de 3,10 m. Su actual ubicación en el pabellón de Barcelona ha hecho que desaparezca su función inicial, se encuentra al inicio de todos los recorridos, lo que hace que el visitante ignore las sombras del muro donde la cortina se protege y se lance hacia la claridad del patio-estanque donde se encuentra la escultura de Georg Kolbe.
El segundo recuerdo, que es el que le da significado, hace referencia a la mítica Penélope que tejía y destejía su tela como metáfora de las narrativas cambiantes de la historia. La cortina envuelve un espacio de reunión, de toma de decisiones de la Junta de Gobierno Local, un espacio de contradicciones y de intentos imposibles por conseguir un sentido coherente de la vida de la ciudad. Con la cortina se consigue que el espacio se convierta en lugar. La movilidad de la cortina lo hace opaco y transparente, convirtiéndolo no en una caja de decisiones administrativas sino en la caja de algunas pesadillas y de muchos sueños que toman luz.
José Juan Barba, Dr. arquitecto.
JOSÉ JUAN BARBA, Dr. ARQUITECTO, CANARIAS 5 – 1º C. 28045 – MADRID. SPAIN
Spanish Town Hall Renovation photos / information from José Juan Barba Arquitectos 010908
Location: Benavente, Spain
Architecture in Spain
Spanish Architecture Designs – chronological list
Architecture Walking Tours by e-architect
Spanish Architecture – Selection
Seville University Library
Zaha Hadid Architects
Seville University Library
Agbar Tower
Jean Nouvel Architects
Agbar Tower
America's Cup Pavilion Valencia : Edificio Veles e Vents
David Chipperfield Architects with b720 (architects, Barcelona)
Americas Cup Pavilion Valencia
Comments / photos for the Benavente Town Hall Renovation Architecture page welcome