Murcia House, Home for Three Sisters, Spanish Rural Property, Cartagena Residence
House for Three Sisters, Murcia, Spain
Murcia Residence, near Cartagena – design by blancafort-reus arquitectura
17 Sep 2012
House for Three Sisters in Murcia
Spain
Design: blancafort-reus arquitectura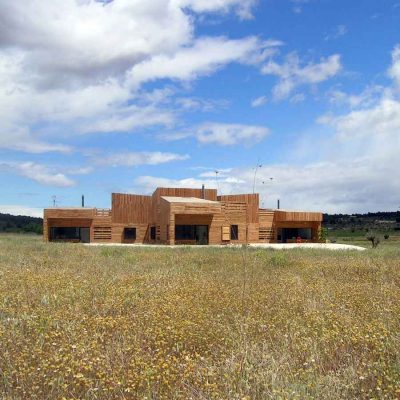 HOUSE FOR THREE SISTERS
"el meo sonho"
Long ago, in a beautiful Portuguese village, we saw a house in which threshold was read, "my dream."
Will there be something more inspiring that the challenge of making a dream come true?
This project sought to fulfill the wishes shared by three sisters: a home integrated wiith the landscape and tradition of the area, respectful of the environment and full of nooks to enjoy themselves.
This haven is construed as three separate units; three sisters and their families, three houses with beautiful views and good orientation but with certain intimacy between them as well, Three houses standing together but not intermingled, a garden, an olive grove and a shared courtyard, a place for all their cousins, a place for all their friends.
The architectural aim for the home was for it to merge with the surrounding landscape, a valley of vineyards and olive threes, clearly signaling an attitude more concerned with the contextual determinants than with itself through its confused geometry and a certain expectant materiality – an uninhibited architecture waiting for its transformation with the passing of time, for its façades to turn gray in the sun and bear witness to the marks of joyful lived lives as they appear.
This shared home strives to administer high doses of ethical and aesthetic coherence to offer Irene, Minuca and María Ángeles a place for relishing life.
Construction and Energy
It is a simple construction using materials and techniques from the area and with full and characteristic treated pine siding, ensuring that the raw material used comes from forest exploitation that is ecologically, economically and socially responsible.
Following analysis of the site's microclimate, with its cold winters and hot summers (with cool nights), and aware that Murcia is one of the regions with the most insolation in Europe, multiple strategies were employed to take advantage of these circumstances and adapt the home to the climatic environment where it is located, providing comfort and energy efficiency:
• the size of openings are designed in function of their orientation, so that the surface of these to North is of 15%, 5% to West, 10% to East and 70% to South (with appropriate solar protection)
• low emissivity glass and exterior jalousies are used to avoid heat loss in the winter and the entrance of solar radiation in summer
• cross ventilation is introduced and maximized with stratification systems that allow fast heat dissipation.
• energy expenditure is minimized by biomass heating, with some materials of high thermal inertia for the interior, big contribution of solar irradiation in winter and a wide and continuous thermal isolation by the outside that avoids the thermal bridges.
• there is also a system of rainwater collection for use in irrigating the fruit trees and the orchard.
All in all, this rural architecture is designed to make use of ancestral knowledge and to update some traditional building solutions.
House plans – ground floor ; first floor:




images : MuB foto
jaume blancafort and patricia reus
blancafort-reus arquitectura
Murcia House – Building Information
WORK: HOUSE FOR THREE SISTERS – "el meo sonho"
LOCATION: Camino del Portugalés,195, 30180 Bullas, Murcia, Spain
ARCHITECTS: blancafort-reus arquitectura – Jaume Blancafort + Patricia Reus, Barcelona, Spain
COLLABORATION
Interior design: Candy García
Structures: Ginés Sabater
Technical architect: Octavio Artés
Collaborators: Pepo Devesa Carrión, Arturo García Agüera, Tomás Larios Roca, Jose María Mateo Torres, Antonio J. Martínez Espinosa, Mario Méndez Cervantes
OWNER: Irene, Minuca i Mª Ángeles Carreño Hernández Gil
BUILDER: Construcciones Antonio Martínez
Wood work: Maderas Aguirre-Ecotraviesas
Tiles: Mosaicos del Sur
PLANNED COMPLETION: Oct 2008 – May 2010
DATE OF COMPLETION: Dec 2011
BUDGET: 355.000,00 Euros / 834,10 €/m2
AREA: 425,65 m2
MENTIONS AND AWARDS: Premi AJAC VII, BIENNALE DI VENEZIA
PHOTOGRAPHER: David Frutos, MuB foto.
House for Three Sisters images / information from blancafort-reus arquitectura
Location: Camino del Portugalés,195, 30180 Bullas, Murcia, Spain
Spanish Buildings
Contemporary Spanish Architectural Projects
Spanish Architectural Designs – chronological list
Spanish Architecture Practices
Murcia Building – Recent Project
Santa Lucía General University Hospital
CASA Sólo Arquitectos
Santa Lucía General University Hospital – added 27 Apr 2012
Murcia Architecture – Selection
Murcia Museum Building
Murcia Museum
Glorieta Juan Carlos I Mula, near Murcia, Spain
Mula Competition
Parque de Levante Murcia
Parque de Levante Murcia
Farmacia San Gines, Murcia
Farmacia San Gines
Comments / photos for the Murcia Home – House for Three Sisters page welcome