Maribor Building, Architect, Images, Architecture, Plans, Design, News
Maribor Development Proposal : Europan Slovenia
Slovenian Project design by ecosistema urbano Architects
8 Feb 2008
Maribor Development
Urban Amplification of Maribor
Design: ecosistema urbano arquitectos
europan 8 MARIBOR, SLOVENIA : 'softly'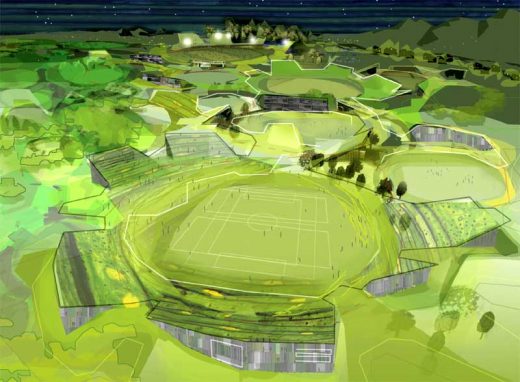 The site. Soft urbanism
The city of Maribor, counts with more than 70% of green or natural surface (green, agricultural, and forest areas). We propose a soft urbanism, able to blend landscape design, housing and facilities, with open air public green areas, all of it surrounded by a high quality landscape perception.
The site in the Pobrežje district of Maribor contains the municipal waste dumping area, currently in the phase of ecological re-naturalisation and rehabilitation, which will take several years to be consolidated. We take this temporary feature as the project's leit motif, since temporary processes are very close to architecture.
We understand architecture as a reversible process, that due to its slowness, requires capacity of anticipation and the use of a strategic thought, including the time dimension as a necessary project material. We think that the architectural project is a plan to manage the built object's life, so we are interested in architecture which is projected for construction and also for dismantling.
We occupy the site for a short period of time. For this, a temporary landscape is artificially built on the flat land, creating a new building level (+2,50m) on which it is possible to build temporary structures. This new topography generates different size enclosures or rings, on which perimeters different buildings are built. These rings contain open air green areas, sometimes dedicated to communal spaces linked to the residential dwellings, and others creating multipurpose venues of bigger size, ready to accommodate different public programmes (fairs, concerts, sport facilities, etc), linked to public services buildings.

Strategy of occupation
Temporary soil for temporary building.
Old Municipal waste dump.
Sealing of waste dump.
Ecological re-naturalisation
Non-permanent artificial topography.
Non-permanent infrastructure.
Non-permanent building.
Future development over 25 years:
a- Topography remains as an urban park.
b- Topography and housing remain and additional housing complete maximum density.
c- Topography lying. Available land, new buildings on rehabilitated soil.
Light Housing. Low energy consumption.
Building the new settlement in Pobrežje district, involves an ecological, sustainable and bioclimatical development.
Non-permanent building will be set on the non-permanent artificial topography, under green flaps constructed like earth shelters and closed by big glazed surfaces, taking the greenhouse architecture as a model for living. Typology diversity is easy to achieve due to the fact that all the houses are composed by 3D components, containing different home facilities (kitchen, bathroom, etc), and disposed in the way chosen by the owner.
Earth sheltered housing
Solar energy and earth embankment are introduced as design considerations, to reduce the energy input of the inhabitable space, and provide energy conservation in residential housing.
The earth sheltered solar house is characterized by thermal stability and energy efficiency.
Earth embankment moderates the adjacent environment, reducing the temperature drop, and decreasing the air infiltration through the perimeter walls.
Passive systems are compatible with the local Pannonian climate. Passive heating is possible, since there are 72% of sunny days during the year. A Greenhouse-façade is a double glazed plane, containing plants. The "greenhouse effect" will be used to warn living spaces, through mechanical systems.
Besides solar protection, Passive cooling is provided by a buried network (2m) of air pipes (s=300mm), which partially cools and dehumidifies summer ventilation air.
Mechanical systems as void solar collectors are used for both, space and water heating. They are also used for cooling in summertime provided by an absorption system (heat-cold).
Electrical fans help cooling and heating ventilation systems.
Bioclimatic resources

WINTER
A- Passive mode:
1- Earth cover moderates cold temperatures and reduces air infiltration, providing an optimum thermal isolation.
2- Direct solar gain is derived through the 80% of vertical glazed façade, facing S, SW, SE. through the "greenhouse effect" sunlight is converted in energy and trapped within the home. The insulated thermal mass absorbs and stores the heat, to release later in the night time.
B- Mechanical mode:
1- Void solar collectors provide floor heating system at low temperature.
2- Indirect solar gain is derived through the greenhouse-façade, which will store warm air during the daytime. This façade is served by a thermostatically controlled exhaust fan and ventilation louvers, which provide a convective loop, driving warm air taken from the façade, through the plenum located in the inner side of the roof, and drives warm air into the living areas.
SUMMER
A- Passive mode:
1- Evaporative cooling for the earth's surface cover has a cooling effect on the home's interior.
2- Eaves formed by collector panes provide enough sun protection, able to shade up to the 80% of sunlight striking the vertical glass surfaces of the facade.
3- Large vents are located on top of greenhouse-façade, to provide chimney effect and exhaust stratified warm air.
4- Passive cooling is provided by a buried (-2m) ventilation network of concrete pipes (s=300mm), which partially cools and dehumidifies summer ventilation air, taken from north faced exterior surface, where meadow earth's surface is loosing water by evaporation process. The air taken from exterior, comes cooler from the beginning.
B-Mechanical mode:
1- Void solar collectors provide cooling floor system.
2- Exhaust fan on top of the façade, helps -in case of necessity- to evacuate warm air, providing a chimney effect , and pulling cool air from buried ventilation system.
Pobrežje Service Area
1- The new site in the Pobrežje district [Maribor] transcends its limits, acting as a geographical attractor of regional interest. The motorway infrastructure will be used as a communication channel addressed to all the foreign visitors, who travel by car, and pass through Maribor, an important crossroad on the Barcelona-Kiev, international corridor.
People coming from Ljubljana (Slovenia) or Graz (Austria) will be tempted to join any activity announced on the highway signs.
2- The new Pobrežje complex will be a FIVE STAR SERVICE AREA, where travellers can find any kind of programmes, from hostelling to open air activities. Building growth will bring additional programmes – avoiding mono-functionality- and also additional visitors, in order to create more intense social relations and high quality urban areas, blended in with green public areas.
3- Visitors coming by car from the highway will be received in special peripheral parking areas, hidden from the residential and the open public areas. These can also be served by central service programmes as caravan parking, gas station, supermarket, and other built facilities, associated to car topics.
4- Maribor city centre is only 2 km away from the site. This means that the new service area will not only attract foreign visitors to the site, but also bring them to the city of Maribor. This fact is symmetrical, and means that Mariborians will count on the new Pobrežje complex as a local point of interest, where they can share diverse programmes in open space areas with other fellow citizens, or foreigners.
5- The new Pobrežje complex will be included into the local activities network. Sports and recreational areas will serve not only the Pobrežje district, but also the town of Maribor.
We propose linking the new settlement with the city centre, through a green corridor on the Drava riverside, served by a bicycle lane or pedestrian path, in order to value its landscape perception.
The site should be reached by the local public transport net, in order to avoid traffic jams at the city entrance.
6- The new Pobrežje complex will include collective residential units, set on artificial hills around green areas, so that they configure semi-enclosure spaces, easily controlled by the community landscape. Neighbours and inhabitants of the new settlement will use these enclosured spaces in a domestic way. Children will meet there, and play in front of their home, exchanging experiences with other children. As they grow up they will be attracted by different programmes.
7- Neighbours and inhabitants of the new settlement will meet Maribor citizens and foreign people, coming from far away, around their neighbourhood, sharing open air activities and exchanging experiences, which contribute to create a higher intensity of social relations. Fairs, concerts market and local festivals, will be set in enclosure venues, ready to receive anyone who comes to the Pobrežje complex.
Maribor Development images / information from ecosistema urbano Architects
Location: Maribor, Slovenia, central eastern Europe
Architecture in Slovenia
Slovenia Architecture Designs – chronological list
Architecture Walking Tours by e-architect
Slovenian Buildings – Selection
Football Stadium Maribor
Design: Ofis Arhitekti
Football Stadium Maribor
Ljubljana Administration Centre
Design: Ofis Arhitekti
City Municipality Ljubljana
Maribor Bridge Design Competition
Maribor Pedestrian Bridge Design
Comments / photos for the Maribor Architecture Design – Slovenian Building page welcome