Shanghai Expo 2010 Mexican Pavilion, Images, SLOT Architects, Chinese Design
Shanghai Expo Mexican Pavilion
Architecture Information China – design by SLOT, Architects, Mexico
26 May 2010
Mexican Pavilion at Shanghai Expo 2010
English text (scroll down for Spanish text):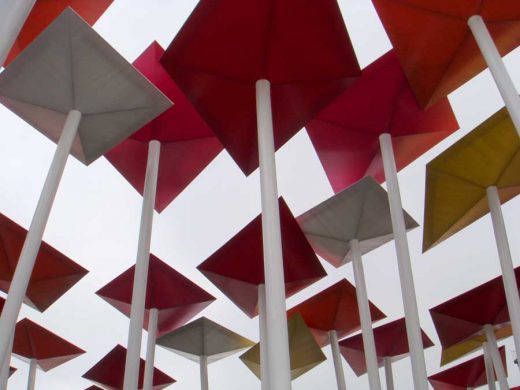 Context
The World Expo 2010, held in Shanghai, China, is expected to be the largest world expo to date. The theme of the exposition will be "Better City, Better Life," and the event is to take place from May 1 until October 31, 2010, with more than 192 participating countries to accommodate the 70 million expected visitors.




Shanghai Expo Mexican Pavilion images from SLOT
DESCRIPTION
The pavilion's design is born from the idea of representing Mexico through its traditional elements which haven't been exploited in these kinds of fairs. The proposal scheme is centered around the idea of creating a green space within the expo which at the same time represents our preoccupation to offer a better life standard for cities through the recovery of green areas rather than creating a protagonist building.
The Mexican pavilion is a volume defined by a talud (slope) which transforms itself into a plaza privileging public space as an urban gesture within the expo. Space is divided in three levels which represent three different moments of urban life in our country. The past is represented on the plinth, present time Mexico at the entrance level, and future on the platform.
The pavilion's main feature lies within the design of the papalotes (kites), a word that comes from the Nahuatl papalotl which means butterfly, used as a cultural meeting point between mexican and chinese cultures.
Our proposal is to look into a future with areas which are thought, destined and planned specifically for leisure, the recovery of parks and green areas, where new generations might meet in a city with a "better living".




Shanghai Expo Mexican Pavilion images from SLOT
HEADERS
Mexican architects SLOT have won an international competition to design the Mexican Pavilion for the Expo Shanghai 2010
SLOT was awarded first prize in an open design competition which included 156 entrants.
Project: Mexican Pavilion for the Universal Expo Shanghai 2010
Use: Exhibition space
Theme: Better City, Better Life
Site: Shanghai, China. Expo Fair, American pavilions area, zone C, number 8.
Total Area: 4,000m2
Built area: 3,500m2
Dimensions: 80m long X 50m wide
Client: Promexico
Completed: May 2010
CREDITS
Project Name: Mexican Pavilion for the Universal Expo Shanghai 2010
Design
SLOT: Juan Carlos González Vidals, Israel Alvarez Matamoros, Moritz Melchert, Mariana Tello Rodríguez, Edgar Octavio Ramírez Corrales
Collaborators
Michel Trejo, Aaron Hernández, Efraín Ovando, Jimena Gonzalez Pie, Jorge Pardo Torra



Shanghai Expo Mexican Pavilion images from SLOT
Spanish text:
DESCRIPCION
El diseño del pabellón parte de la idea de representar a México ante los ojos del mundo a través de elementos tradicionales mexicanos que no han sido explotados antes en este tipo de ferias. La propuesta se centra en no hacer un edificio protagonista si no mas bien de brindar un espacio verde dentro de la expo que represente a su vez nuestra preocupación e intención de brindar mejor calidad de vida a  las ciudades por medio de la recuperación de las áreas verdes.
El pabellón de México es un volumen definido por un talud que se convierte en una gran plaza privilegiando al espacio público como un gesto de urbanización dentro de la feria. El espacio físico dividido en tres niveles representa a su vez tres momentos distintos de la vida de las ciudades en nuestro país. El pasado en el basamento del pabellón, el México del presente a nivel de acceso y el futuro en la plataforma del talud.
El pabellón utiliza como elemento principal de diseño el papalote, palabra que viene del vocablo náhuatl "papálotl" que significa mariposa, utilizándolo como el elemento de unión entre las culturas mexicana y china.
La propuesta es mirar el futuro con espacios destinados, pensados y planeados específicamente al esparcimiento, la recuperación de parques y áreas verdes, donde nuevas generaciones puedan reconocerse dentro de una ciudad donde se puede vivir mejor".




Shanghai Expo Mexican Pavilion images from SLOT
TITULARES
Los arquitectos mexicanos SLOT resultaron ganadores del concurso para el diseño del Pabellón de México en la Expo Shanghai 2010
SLOT ganó el primer lugar del concurso abierto donde participaron 156 estudios de arquitectura.
Proyecto: Pabellón de México en la Expo Universal 2010 Shanghai
Uso: Espacio de exhibiciones
Tema: "Vivir Mejor"
Ubicación: Shanghai, China. Recinto ferial de la Expo, zona pabellones americanos, zona C, número 8.
Área total: 4,000 m2
Área de construcción: 3,500m2
Dimensiones: 80 m de largo X 50 m de ancho
Cliente: Promexico
Fecha de terminación: Mayo del 2010
CREDITOS
Nombre Proyecto
Pabellón de México en la Expo Universal 2010 Shanghai
Diseño
SLOT:
Juan Carlos González Vidals, Israel Alvarez Matamoros, Moritz Melchert, Mariana Tello Rodríguez, Edgar Octavio Ramírez Corrales
Colaboradores
Michel Trejo, Aaron Hernández, Efraín Ovando, Jimena Gonzalez Pie, Jorge Pardo Torra
Shanghai Expo Mexican Pavilion images / information from SLOT
Location: Shanghai, China
Shanghai Architecture
Shanghai Architecture Designs – chronological list
Shanghai Building – Expo Pavilion Selection
Korean Pavilion Building Design
Mass Studies, architects
Korean Pavilion Shanghai Expo 2010
Norwegian Pavilion Building
Helen&Hard, architects
Norwegian Pavilion Shanghai Expo
Austrian Pavilion Building design
SPAN & Zeytinoglu, architects
Austrian Pavilion Shanghai Expo
Netherlands Pavilion Building
John Körmeling, Architect
Shanghai Expo Dutch Pavilion
Comments / photos for the Shanghai Expo Mexican Pavilion 2010 Architecture page welcome