Shanghai Expo British Pavilion 2010, UK Architect Design News, Engineer, Chinese Project
British Pavilion Shanghai Expo Building
UK Building at the World Expo, Pu Dong, Shanghai, China
30 Mar 2010
Shanghai Expo
Around 191 countries and some 48 international organisations will participate in the World Expo in Shanghai, which will run from 1 May – 31 October 2010. An important event two years on from the Olympics in Beijing in 2008, it is estimated that over 70 million people will visit the Expo over the 6 months that it is open.
Shanghai Expo UK Pavilion
The Expo Park will occupy 5.3 square kilometres of land on the Pu Dong area of the city, on the south side of the Huangpu River and it will be the largest World Expo that has ever been staged. The theme for the Expo is Better City, Better Life. It will explore the full potential of urban life in the 21st century, a significant period in urban evolution. By 2010, 55% percent of the world's population is expected to live in cities.
The prospect of future urban life concerns all nations, developed or less developed and their people. The Expo will explore eco-friendly and sustainable approaches to human habitat, lifestyle and working conditions in the new century.
Shanghai Expo UK Pavilion – information from 30 Mar 2010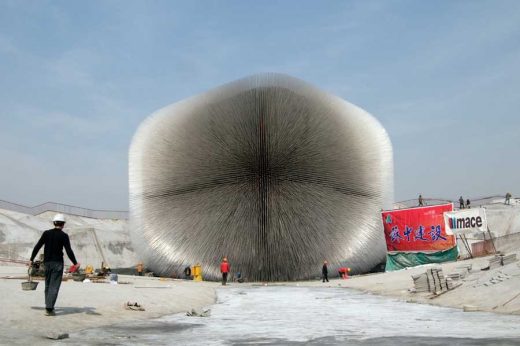 photo © Daniele Mattioli
Shanghai Expo UK Pavilion – information re RIBA visit, 23 Mar 2010


Expo and the UK
The first Expo, the Great Exhibition of Industries of All Nations, was held in London in 1851. Since then the World Expos have attained prominence as high profile international events for economic, scientific, technological, educational and cultural exchanges, serving as important platforms for displaying historical experience, exchanging innovative ideas, demonstrating esprit de corps and looking to the future. Modern day expos are managed by the Bureau International des Expositions organisation based in Paris. In 2007, leading British architecture and design practices were invited to propose a design for the Pavilion. The brief stated that the Pavilion had to be extraordinary – an iconic structure that offered a bold vision of the UK in the 21st Century as a creative, innovative and exciting country.
Structural and civil engineers: Adams Kara Taylor
Adams Kara Taylor is a progressive design led firm of Structural and Civil Engineering Consultants. The experience within the Practice is extensive, covering the commercial, residential, retail, leisure, educational, health and transportation sectors of the market. Our projects our based throughout the UK and other parts of the world, with contract values ranging from £100,000 to over £150 million. Adams Kara Taylor is part of the WYG Group.
Environmental and building service engineers: Atelier Ten
Atelier Ten are building services engineers and environmental design consultants
committed to the application of low-energy and sustainable design within the built environment. Founded in 1990, Atelier Ten deliver build solutions based on the cornerstones of sustainability, environmental integrity and economic viability. Significantly, Atelier Ten take a wider role in the design process than traditional Building Services Engineers and work with the design team to integrate environmental moderation and control into the fabric of the building as well
as providing efficient and well-integrated building services systems.
Mace
Mace Group provides the full range of consultancy and construction services to clients in the UK and overseas. The company's reputation and project portfolio reads like a roll call of iconic achievements; the BA London Eye, the London Bridge Shard, Terminal 5 at Heathrow, the GLA building. As one third of the CLM Delivery Partner, the consortium delivering London 2012, Mace is also working for a great sporting future for the city with regeneration projects that will improve east London for years to come.
Kew
The Royal Botanic Gardens, Kew is a world famous scientific organisation, internationally respected for its outstanding living collection of plants and world-class Herbarium as well as its scientific expertise in plant diversity, conservation and sustainable development in the UK and around the world. Kew Gardens is a major international visitor attraction. Its landscaped 132 hectares and RBG Kew's country estate, Wakehurst Place, attract nearly 2 million visitors every year. Kew was made a UNESCO World Heritage Site in July 2003 and celebrates its 250th anniversary in 2009. Wakehurst Place is home to Kew's Millennium Seed Bank, the largest wild plant seed bank in the world. By 2010, RBG Kew and its partners will have collected and conserved seed from 10 per cent of the world's wild flowering plant species (c.30, 000 species). The aim is to conserve 25% by 2020 and funds are being actively sought in order to continue this vital work.
Shanghai Expo Pavilion : Public Sector Founding Sponsors
Foreign and Commonwealth Office
The UK's security and prosperity depends on the Foreign & Commonwealth Office work with other nations – ranging from key issues such as climate change to health pandemics. The Foreign and Commonwealth Office's global network of staff, embassies and offices around the world serves all of UK Government. The Foreign and Commonwealth Office focuses on 4 policy goals: countering terrorism and weapons proliferation, and their causes; preventing and resolving conflict; promoting a low carbon, high growth, global economy and developing effective international institutions, especially the UN and EU.
UK Trade and Investment
UK Trade & Investment is the UK Government's international business development organisation, supporting businesses seeking to establish in the UK and helping UK companies grow internationally. The services offered by UK Trade & Investment bring together a network of business sector specialists and support teams across England and in British diplomatic posts in some 100 markets all around the world. UK Trade & Investment works with a wide range of partner organisations in the UK, including other Government departments, Regional Development Agencies and the Devolved Administrations, Business Links, Chambers of Commerce and trade associations.
British Council
Celebrating 75 years in 2009, the British Council is the UK's international organisation for educational opportunities and cultural relations. It works in over 100 countries worldwide to build engagement and trust for the UK through the exchange of knowledge and ideas between people. It works in the arts, education, science, sport and governance and last year reached over 128 million people. The British Council is a non-political organisation, which operates at arm's length from government. Total income in 2007/8 was £565 million, of which the grant-in-aid from the British government was £197 million.
Department of Business, Innovation and Skills
The Department for Business Innovation and Skills will promote open and competitive markets, proportionate regulation, an enterprise and innovation culture, skilled people, thriving universities, life-long learning and world-class science, technology and research.
Department of Communities and Local Government
Communities and Local Government is responsible for policy on local government, housing, urban regeneration, planning, fire and rescue, and race equality and community cohesion issues in England. It seeks to create thriving, sustainable, vibrant communities that improve everyone's quality of life. As the lead government department on cities and urban policy it sees the Shanghai Expo as a unique opportunity to support efforts by UK cities and regions to tap into the continuing growth of China, and other emerging economies, to benefit local economies. It plans to showcase the achievements of UK cities in urban regeneration and housing renewal, and their role in building stronger business and trade links with cities in China, through a major summit, workshops and other Expo events.
Department of Environment, Food and Rural Affairs
Defra is the UK government department responsible for the environment, for food and farming and for rural affairs. It works to secure a healthy environment in which future generations can prosper. Defra supports the building of a low carbon, resource efficient economy. The department helps people to adapt to a changing climate, deals with environmental risks and makes the most of the opportunity it now has to secure a sustainable society and a healthy environment and to ensure a thriving farming sector and a sustainable, healthy and secure food supply. This will help through the difficult economic times, volatile food and energy prices and a changing climate which all makes everyone more aware that the environment cannot be taken for granted.
England's Regional Development Agencies
The Regional Development Agencies are business-led organisations set up by Government in 1999 to promote sustainable economic development in England. They work with key public and private sector regional partners to increase the economic performance of the regions and reduce social and economic disparities within and between regions. Ten years on, independent evaluation shows the RDAs have a) Had a significant impact on the English economy, b) Generated economic benefits that substantially outweigh their overall costs, c) Put back an average of £4.50 of economic output (or GVA) into the regional economies for every £1 spent, and d) Produced over £23 billion in economic benefits per year during the past five years alone and e) have had a wider impact on people, places and businesses across the country that cannot be captured by figures alone.
The 5 founding corporate sponsors of UK Shanghai Expo are AstraZeneca, Barclays, BP, Diageo and GKN.
Shanghai Expo Pavilion : Private Sector Founding Sponsors
AstraZeneca
AstraZeneca is a major international healthcare business engaged in the research, development, manufacturing and marketing of meaningful prescription medicines and supplier for healthcare services. AstraZeneca is one of the world's leading pharmaceutical companies with healthcare sales of US$ 31.6 billion and is a leader in gastrointestinal, cardiovascular, neuroscience, respiratory, oncology and infectious disease medicines.
Barclays
Barclays is a major global financial services provider engaged in retail and commercial banking, credit cards, investment banking, wealth management and investment management services with an extensive international presence in Europe, the United States, Africa and Asia. With over 300 years of history and expertise in banking, Barclays operates in over 50 countries and employs over 150,000 people. Barclays moves, lends, invests and protects money for over 47 million customers and clients worldwide.
BP
BP is one of the world's largest oil and gas companies, serving millions of customers every day in more than 100 countries across six continents. BP's activities are Exploration and Production; Refining and Marketing; and Alternative Energy, its low-carbon and no-carbon energy business, and employs almost 100,000 people worldwide. Through these business, BP provides fuel for transportation; energy for heat and light; retail services; and petrochemicals products for textiles and packaging.
Diageo
Diageo is the world's leading premium drinks business with an outstanding collection of beverage alcohol brands across spirits, wines, and beer categories. These brands include Johnnie Walker, Guinness, Smirnoff, J&B, Baileys, Cuervo, Tanqueray, Captain Morgan, Crown Royal, Beaulieu Vineyard and Sterling Vineyards wines. Diageo is a global company, trading in more than 180 countries around the world. The company is listed on both the New York Stock Exchange (DEO) and the London Stock Exchange (DGE).
GKN
GKN technology and engineering is at the heart of the vehicles and aircraft produced by the world's leading automotive, off highway and aerospace manufacturers. From its origins in the valleys of South Wales 250 years ago, GKN now employs nearly 40,000 people in over 30 countries. Operating on a truly global basis, GKN aims to provide exceptional levels of service to its customers wherever they may be.
Quotes from UK Shanghai Expo Sponsors
David Brennan, Chief Executive, AstraZeneca, said:
"On my frequent visits to China I am struck not only by its rapid economic development but also by the energy of the people and the country's rich cultural heritage. AstraZeneca has been in China since 1993 and this long-term commitment is reflected in our increasing investment in research and manufacturing, as well as millions of Chinese people who have benefited from our life-changing medicines. AstraZeneca is proud to be a founding sponsor of the British Pavilion at Shanghai Expo 2010. We believe the UK Pavilion will be a great platform to showcase and build understanding of science and innovation, which chimes very well with our mission as a global leading innovative pharmaceutical company."
John Varley, Chief Executive, Barclays, said:
"Barclays sponsorship underlines our long-term and growing commitment to China; Expo 2010 provides a unique opportunity to support British business interests and to foster on-going partnerships between the UK and China not just in financial services but in many other fields as our clients and customers showcase the creativity and innovation of the UK in Shanghai."
Tony Hayward, Group Chief Executive, BP, said:
"BP celebrates its Centenary in 2009. The pioneering spirit that founded the company 100 years ago still drives BP forward. In our journey, BP has always sought new and better ways to do things, finding innovative solutions in exploration, production, refining, product development, supply and trading, and marketing – aiming to provide energy for heat, light and mobility for people around the world. Shanghai Expo 2010 serves as a great example for global partnerships – not only between countries but also between companies and teams of people in them. We hope that the UK Pavilion, which BP is sponsoring, will provide a platform to showcase the innovation, creativity and technology that exists in, and between, the UK and China, and to encourage global partnerships in order to address the sustainability challenges the world is facing today."
Paul Walsh, Chief Executive, Diageo, said:
"Diageo is committed to China for the long-term, and we are therefore delighted to be a founding sponsor of the UK Pavilion at the Shanghai World Expo 2010. Diageo is dedicated to promoting bilateral exchanges between China and the UK in the economic, social and cultural fields and to fulfilling our responsibilities as a corporate citizen. The theme of the Expo – Better City, Better Life – also perfectly aligns with our own purpose, to celebrate life every day, every where."
Sir Kevin Smith CBE, Chief Executive, GKN, said:
"In September 2009, GKN celebrates its 250th anniversary making it one of the world's oldest engineering companies. During that time GKN has seen many technology innovations, industrial cycles and the emergence of new markets. One such new market was China and, twenty years ago, GKN was the first automotive supplier to invest in the country. Today, GKN employs over 3500 people in China and is committed to a strategy of long term growth and investment. It is with great pride and pleasure that GKN is sponsoring the Shanghai Expo, which we hope will provide us with a unique opportunity to demonstrate our commitment to China and the city of Shanghai".
British Pavilion Shanghai 2010 – images / information from Heatherwick Studio 2009
Location: Shanghai, China
Shanghai Architecture
Shanghai Architecture Designs – chronological list
Shanghai Expo Building – British Pavilion : main page
Shanghai Architecture Walking Tours
Shanghai Building – Selection
Shanghai Expo 2010 Spanish Pavilion
Shanghai Expo 2010 Danish Pavilion
Comments / photos for the Shanghai Expo 2010 British Pavilion Architecture page welcome