Dream Cube Shanghai, Expo 2010 Chinese Pavilion Images, Atelier FCJZ Architects, ESI Design
The Dream Cube Shanghai Expo
Shanghai Expo, China – design by Atelier FCJZ Architects in collaboration with ESI Design
1 May 2010
Dream Cube
Design: Atelier FCJZ Architects in collaboration with ESI Design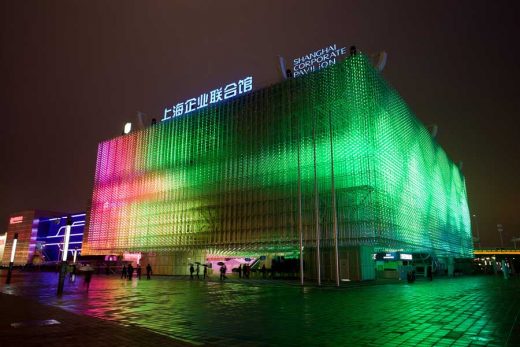 More information online soon
Dream Cube Shanghai Expo images / information from ESI Design
Previously:
16 Apr 2010
Dream Cube Shanghai
Overview
– As part of the World Expo in Shanghai, which opens May 1, the Shanghai Corporate Community (SCC) commissioned US-based ESI Design, led by principal designer, Ed Schlossberg, to create a 43,000 square-foot visitor experience for the Expo's Corporate Pavilion.
– Dubbed the "Dream Cube," the Shanghai Corporate Pavilion is backed by some of the best design, creative and technological professionals in various fields from both China and abroad (full list below).
– Built with the highest energy-efficiency standards in mind, the Dream Cube is a true collaboration as a result of a world-class team of designers, architects and producers working hand-in-hand
– The pavilion will showcase the world's most sophisticated energy-conservation and environmental protection technology.
– The pavilion is divided into four areas: a waiting area, a transition area, the Shanghai road and the journey into Shanghai's future. Visitors can experience these four areas in a 15-minute tour integrating advanced audio and visual effects.
– The Pavilion is guided by the concept of "My City, our Dreams."
Inspiration and Goals
– The architectural design of the pavilion is inspired by the concept of "maintaining harmony between nature and man."
– The goal of the project is to draw attention to the social responsibilities of the Shanghai corporate community while also celebrating the innovative and avant-garde design ideas of the many artists involved.
Behind the Design
– The Shanghai Corporate Pavilion did not engage a production or advertisement firm to develop the pavilion design and exhibition content, respectively. Instead, a search for architects, media designers, and artists began in May 2008 in an attempt to obtain fresh ideas from around the world.
– Ed Schlossberg and architect Yung Ho Chang collaborated from the very beginning of the project, working hand-in-hand to create this innovative experience which will also showcase crowd-sourced images of Shanghai uploaded by the public at the Dream Cube's website, as well as creative works based on themes related to science, engineering, humanity, the arts and human feelings.
– The interior spaces of the pavilion will be shaped as a series of free-flowing forms, and will not be enclosed by traditional walls, but rather a dense, cubic volume of infrastructural network. This will include LED lights and a mist system, which will change the appearance of the building from moment to moment, as programmed through a computer.
– The Dream Cube uses advanced media technologies to demonstrate the power of collaborative public action. Visitors will witness stories of Shanghai's past, present and future unfold through their participation, culminating at a 360-degree theatre experience where the visitors' collective movements trigger changes to millions of LED lights on the Dream Cube's façade.
– The design does not embrace technology for technology's sake. Rather, it seeks to convey visually the spirit of the Shanghai Corporate Pavilion; the dream of a brighter future through sophisticated technology and metamorphic architecture.
Green Efforts
– The Pavilion features a solar, heat-collecting tube screen on the roof. This screen can collect solar energy to produce hot water up to more than 200° F.
– The external facade materials of the Shanghai Corporate Pavilion will use polycarbonate transparent plastic tubes to create its dreamlike appearance. After the Expo, such plastic tubes can be easily recycled to reduce energy consumption.
– For the pavilion, rainwater will be collected and recycled. After such treatment as sedimentation, filtration and storage, rainwater can be used for daily purposes at the pavilion and for the "mist" in particular.
ESI Design Dream Cube Partners
ARCHITECT
Atelier FCJZ Architects / Professor Yung Ho Chang
MEDIA PRODUCER
Spinifex Group (Australia)
About– Spinifex Group provides marketing communications solutions. It engages in the production of corporate videos and commercials, international events and launches, and big screen shows. The company offers digital networked assets, a platform that provides solutions to weaknesses associated with corporate communications. Spinifex Group was formerly known as Spinifex Interactive. The company is based in Darlington, Australia.
LIGHTING
Full Flood (Los Angeles, CA USA)
About– Full Flood Incorporated is a consortium of award-winning lighting designers and directors of photography. Formed in 1990, the group has participated in some of the most celebrated television and live events. Garnering twenty-four Emmy Awards, including the 2010 statue for the Eighty Second Academy Awards broadcast
SYSTEMS INTEGRATORS
PRG (Production Resource Group, previously Procon)
About– Production Resource Group, L.L.C., (PRG) is the world's leading supplier of entertainment and event technology to a wide range of markets, including corporate and automotive events, concerts, special events, theatre, television and film, trade shows, and installations, such as theme parks, museums, retail stores and performing arts centers. PRG provides integrated services and equipment, including audio, video, lighting, rigging, staging, and scenery and automation systems, for these markets from more than 31 offices in North America, Europe, Africa and Asia.
EXHIBIT FABRICATION
Shanghai Pico Exhibition Services Co. (China)
About – Pico (Thailand) Public Co., Ltd., started out in 1981 as a joint venture between Thai investors led by Mr. Pised Chungyampin with Pico Art International Pte. Ltd. ("Pico Art") of Singapore. Pico Art is a member of Pico Group, a world leader in experiential marketing business. The original name was Pico Thai Exhibition Contractor Co. Ltd. Pico's service is aimed directly at the product owner and captures all stages of production from project conceptualization, design, construction and installation of the event. This comprehensive service package may include transportation. The customer's objective and message that need to be communicated to the target group which be divided into 4 main areas.
About ESI Design
"Collaboration is the New Communication"
ESI Design creates innovative social spaces and intuitive communication platforms that help clients and their audiences create value through the power of collaborative experiences.
Headquartered in New York City, ESI Design is one of the world's foremost experience design firms, creating innovative physical and virtual environments that connect audiences with today's leading cultural and commercial institutions. The firm was founded in 1977 by interactive pioneer Edwin Schlossberg with the mission to create informed conversations in public spaces that encourage participation, make people smarter, and empower action towards positive change.
Clients include GE, Best Buy, Mercy Corps, The Rock and Roll Hall of Fame, and the American Family Immigration History Center at Ellis Island.
Chinese Pavilion Shanghai 2010 – images / information received Apr 2010
Location: Shanghai, China
Shanghai Architecture
Shanghai Architecture Designs – chronological list
Expo Shanghai 2010 Megastructure – design by Knippers Helbig
UK Pavilion Shanghai Expo – design by Heatherwick Studios
Shanghai Expo 2010 Design – Spanish Pavilion
Shanghai Building – Selection
UAE Pavilion Shanghai Expo – design by Foster + Partners, architects
Shanghai Expo 2010 Pavilion : Denmark – design by BIG, architects
British Pavilion Shanghai Expo : further information
Comments / photos for the Dream Cube Shanghai Expo Architecture page welcome