The Hub Conference, RIAS Hub Conference, Big Debate Edinburgh, Scottish Architecture
RIAS Hub Conference Review
The Future of Scotland's Architecture : Conservation v Evolution Debate
RIAS Edinburgh Conference
Review of the Debate on 30 Nov 2001: The Hub, Edinburgh
Big Debate Review – by Isabelle Lomholt
Big Debate Review – by Adrian Welch
Article from Irish Times – by Frank McDonald
The Royal Incorporation of Architects in Scotland
RIAS Hub Conference in Edinburgh
In standing up for the past, does Historic Scotland compromise the interests of the future? The accusation is often and glibly made, usually by people unaware that they are echoing the modernist generation that gave us tower blocks and the St James Centre. This generation of architects and planners has itself passed into history; its best works being listed. In their place is a younger generation, more at home with the past, but no less committed to the future.
Richard Emerson, Chief Inspector of Historic Buildings, Historic Scotland
Imagine Edinburgh waking up to an orange and pink Ricardo Legorreta building or a slice of Zaha and you can almost hear the outcry: frisson sparks creativity.
The status quo of gentle insertions and timid tinkering could do with being punctured.
Adrian Welch, architect
Every decent thoughtful person knows that what we must conserve is not just 'objects', but the genius and context that evolved them. And all but the greatest of blockheads know that evolution is not unending destruction, but constant adaptation and innovation around conserved constants.
Malcolm Fraser, architect
the weight of history stands over us as an admonishing schoolmaster. When recognition of a historical context is called for any allegorical or poetic interpretation of our past is not permitted, merely the literal.
Gordon Murray, architect
Many people automatically oppose anything new. It's a knee-jerk reaction. There's a particular kind of New Town resident who will go to extraordinary lengths to stop things happening. They feel they're preserving and guarding the city. Unfortunately, they are stifling and smothering it…
… When it comes to new buildings some people will only support recreations of the past. It's fake history. It devalues real history. It's like putting a fake picture in the National Gallery
Richard Murphy, architect
Opposition to all change is no change: the forces of conservation. But the apparent power exercised by implacable conservationists and, particularly, by Historic Scotland, has led to a belief that negative and unhelpful conservation attitudes are restraining the country's ability to evolve…
Architects rarely accord an existing structure the same value as their own design that they superimpose upon it and often fail even to understand it. Yet just as they themselves are entitled to respect for their designs, so should they, likewise, respect the designs of their predecessors. Respect means neither imitation nor slavish obedience: respect means just that…
The underlying problem is our neurotic relationship with the past, and what role it should play in our future. A country without a past is amnesiac.
The past can enrich our future, and great architecture can be created from a fusion between the two.
Such a dialogue between the past and the future might be a sign that Scotland's cultural confidence was being well earned.
Professor Charles McKean, University of Dundee
Enric Miralles wanted to present the city and the country he loved with an architecture in forms of his own invention. He wanted to do this in what he considered the spirit of Scottish innovation. It is a tradition we are often prone to forget in these times of trying to "fit in" buildings in a style of bogus historical kitsch
Murray Grigor, filmmaker
Like almost all activities in the modern city – housing, commerce, industry, leisure, traffic – heritage was to be zoned, isolated from contamination by life. As a response to the filth of the industrial city, zoning made sense, but as a recipe for the future it was disastrous, and its consequences are now being challenged in the administration of most European cities.
It is time for this re-evaluation of the modernist legacy to be extended to the narrow-minded preservationism which still masquerades as conservation.
Professor Richard Weston, Welsh School of Architecture
Conservation versus/and/or/with Evolution
While there are many perspectives it is clear that all those concerned with the future of Scotland's architecture need to come together to develop a radical new agenda to counter the threat of a polarised conflict of minds.
How can this small, newly devolved country progress architecturally, respectful of but not stifled by its built heritage?
The Future of Scotland's Architecture will examine all the arguments and brings together some of the leading players from the architecture, planning, heritage and arts worlds.
Contributors
Dorothy Bell
Sir James Dunbar-Nasmith
Richard Emerson
Malcolm Fraser
Mike Galloway
Murray Grigor
Martin Hulse
Terry Levinthal
Frank McDonald
Professor Charles McKean
Richard Murphy
Gordon Murray
David Page
Charles Prosser
James Simpson
Sebastian Tombs
Ian Wall
Location: Edinburgh, Scotland
Architecture in Scotland
Contemporary Architecture in Scotland
Scottish Architecture Designs – chronological list
Abbotsford House Visitor Centre, Melrose, southern Scotland
Design: LDN Architects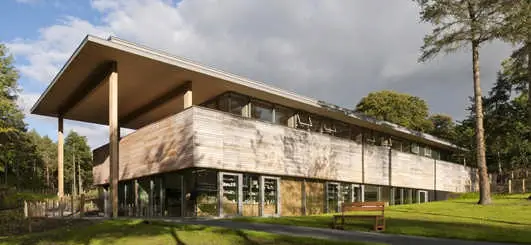 photograph © Paul Zanre
Abbotsford House Visitor Centre
Comments / photos for the RIAS Hub Conference Review from 2001 page welcome