Selkirk Forest, Scottish Borders Architecture, Building in southern Scotland
Selkirk Forest Pitch : Scottish Borders Building
Football in southern Scotland design by Gareth Hoskins Architects
20 Jun 2012
Rugby Brothers Play Key Role in Creating Soccer Pitch in Selkirk Forest
Location: Scottish Borders
Design: Gareth Hoskins Architects
Award-Winning Glasgow Architect in Top Scottish Cultural Olympiad Arts and Sports Project Forest
Chris Houston at the shelter: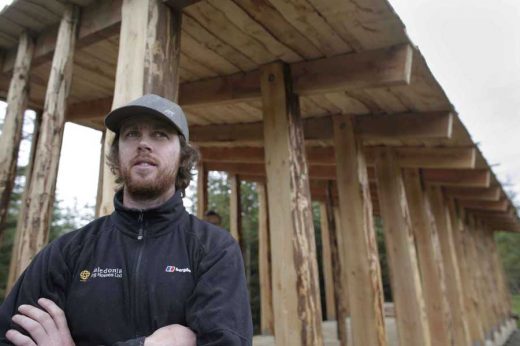 photo : Angie Catlin
Selkirk Forest Pitch
Brothers Chris and John Houston – both renowned for their rugby – are playing a vital role in the Forest Pitch arts and soccer project which is one of Scotland's main contributions to the Cultural Olympiad.
Their recently established Jedburgh-based company, Caledonia Log Homes Ltd., has built the striking log shelter at the football ground, which has been cut from the heart of a Selkirk spruce wood.
The shelter was designed by Glasgow's award-winning Gareth Hoskins Architects and incorporates trees from the site along with Douglas Firs from other nearby woodlands.
The shelter will provide a changing area and viewing platform for spectators during two highly unusual games which will be played on the pitch on 21 July. The four teams involved (two male and two female) will largely be made up of new Scots who have come to the country for reasons to do with safety, family, work or study and who wish to celebrate Scottish sport and culture.
After the matches are over the white lines of the pitch will be planted with native trees and will become a living sculpture, and provide an area for local people and visitors to enjoy for decades ahead.
John Houston:



photo from M. Shelley
Chris (30), who spent several years in Canada playing rugby for teams such as the Montreal Barbarians and learning his trade as a builder of handcrafted log structures, said: "It's a great project; the combination of art and sport is quite unique. And for us as a local start-up company it's been a fantastic opportunity to be involved with something inspiring and unusual.
"I'm really looking forward to coming back in the years ahead and seeing how the pitch is regenerating and turning into an area of native woodland."
Co-director of the company, John Houston (29), who plays professionally for Edinburgh Rugby, added: "Forest Pitch is fantastic and we are really pleased to be involved in something which is part of the 2012 Cultural Olympiad and which is a real celebration of Scotland's sporting culture. It's great to be able to support a project which is all about the original spirit of the Modern Olympics and which is taking place in the Borders."
Forest Pitch is one of several Scottish arts projects which form part of the UK-wide Cultural Olympiad (and London 2012 Festival), which runs in tandem with the 2012 Olympic Games. It is the work of Edinburgh artist, Craig Coulthard (31), who wanted to use sport to explore the nature of Scottish identity and culture at a time of unparalleled change and debate.
Craig said: "Chris and John have done a brilliant job of bringing to life the shelter design created by the architects. The whole idea was to use as many natural and locally sourced materials as possible and to create something that is really robust and will last for many years to come.
"The shelter has been designed to use tree trunks in a way that is in keeping with the surrounding woodland, but which also echoes the amazing main stand at the Gala Fairydean FC ground."
The Gala Fairydean stand was created in 1963 by modernist architect Peter Womersley and is now a listed building. It's famous for its dramatic geometric shape and its concrete solidity. The Forest Pitch playing surface has also been formed using soil from the pitch at the Borders football club, which is currently modernising its own pitch.
The wooden shelter was designed by architect Donald Simpson three years ago as part of the entry for the Artists in the Lead competition which Forest Pitch won ahead of around 90 other proposals.
He said: "Something imaginative like this was right up our street – it's such an interesting project. The idea of a pristine football pitch in the middle of a forest was just so unusual, so we really wanted to get involved.
"The idea was to create a structure using wedge shapes like the stand at Gala Fairydean, but using untreated natural wood – so in that way it is a complete contrast. There has also been a real emphasis on using locally sourced wood, including trees that were brought down by the recent storms. And it's very unusual because of the way that it uses wood which is very much in its raw state."
According to Donald, who describes himself as a fully paid up member of the Tartan Army, the project involved a great deal of personal as well as professional interest.
"As a football fan it has been fascinating to be involved. The Olympics and football have such an unusual relationship, and football is so much a part of Scottish culture. Bringing all these elements together on a pitch in a Borders forest raises so many questions about sport, art and society – it really is intriguing."
The shelter should last 25-30 years and is intended to spark people's curiosity when they suddenly come upon it while taking walks through the woodlands.
It will also be somewhere they can use as a viewing platform to see the pitch when it is replanted – and may also house interpretation panels to tell visitors about the project and the 2012 matches.
Location: Selkirk Forest, Scotland
Scottish Borders Building Designs
Scottish Borders Buildings – selection:
The Mill, Scottish Borders Steading
Design: WT Architecture, Architects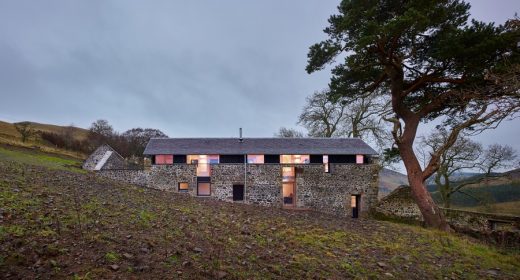 photograph © Andrew Lee
The Mill, Scottish Borders House
Abbotsford House Visitor Centre, Melrose
Design: LDN Architects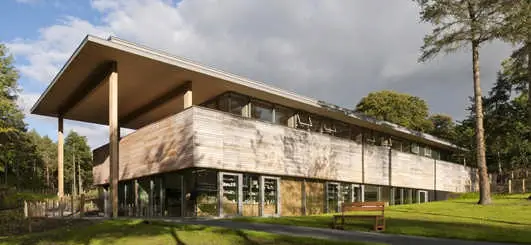 photograph © Paul Zanre
Abbotsford House Visitor Centre
Dean Cottage – Private House near Eddleston, Black Barony, Peeblesshire
Design: ICOSIS Architects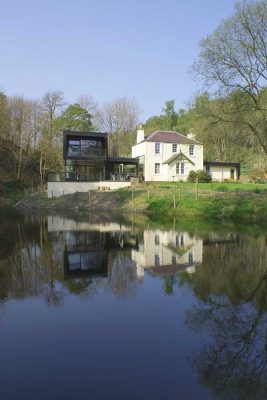 image from Saltire Awards
Eddleston House
Scottish Borders Building Design Awards 2018 News
Scottish Borders Building Design Awards 2018
Architecture in Scotland
Scottish Architecture Designs – chronological list
Scottish Borders Buildings
Fairydean Stadium, Galashiels
Peter Womersley Architect
Scottish Borders Stadium Building
Mellerstain House
Mellerstain House
Traquair, Scottish Borders
Traquair House
Scottish Borders 20th Century Buildings
Bernat Klein Studio – project, Selkirk
Peter Womersley ; Studio DuB
Klein Studio : house, by architect Peter Womersley
Dingleton Boiler House – redevelopment, Melrose
Peter Womersley ; Studio DuB
Dingleton Boiler House
Comments / photos for the Selkirk Forest Pitch page welcome