Crawick Multiverse Design, Land Art Scotland, Charles Jencks Sculpture Scottish Borders
Crawick Multiverse Upper Nithsdale
Upper Nithsdale Sculpture: Scottish Borders Land Art design by Charles Jencks artist, Scotland
6 May 2015
Crawick Multiverse Artland
Design: Charles Jencks, artist & architecture critic
Scottish 'Multiverse' Artland
Crawick Multiverse – New £1m Scottish 'Multiverse' artland is out of this world
6 May – A stunning new work of land art will be unveiled this summer in Dumfries & Galloway, created by world-renowned landscape artist Charles Jencks.
The Crawick Multiverse – a £1million project funded by the Duke of Buccleuch – sits on the site of a former open cast coal mine which is being transformed into a spectacular 55-acre artland, visitor attraction and public amenity.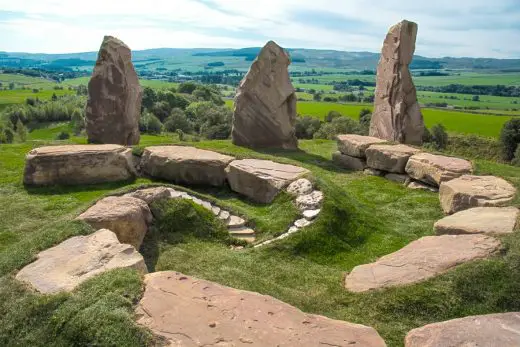 Materials found on the expansive site, from tonnes of earth to some 2,000 large boulders, were used to create the work of art in Upper Nithsdale in the heart of Dumfries and Galloway, which is expected to provide an economic boost to local communities as well as attracting international visitors.
This inspiring new landmark links the themes of space, astronomy and cosmology, with a network of paths navigating features and landforms which represent the Sun, universes, galaxies, comets, black holes and more.
Work on the Crawick Multiverse is nearing completion, with a public launch event scheduled for the summer solstice on June 21.
It is the latest in an impressive portfolio from Charles Jencks, a leading figure in landscape architecture who has created works across the globe, from the UK's 'Northumberlandia' and 'Garden of Cosmic Speculation' to Beijing Olympic Park's 'Black Hole Terrace', to name just a few.
The Duke of Buccleuch said: "Not only has Charles Jencks transformed a brutal eyesore into a landscape of awesome scale and beauty but he has also created something that just might be a catalyst for transformation in this neglected corner of rural Scotland.
"We are deeply grateful that an artist of his international reputation should have dedicated himself so passionately to this vision."
Charles Jencks added: "This former open cast coal site, nestled in a bowl of large rolling hills, never did produce enough black gold to keep digging. But it did, accidentally, create the bones of a marvellous ecology.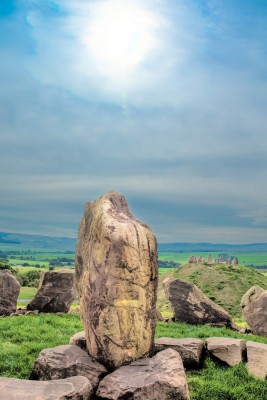 "The landscape had to be healed, it had to welcome the nearby communities of Sanquhar, Kelloholm and Kirkconnel, and help restore the locality both economically and ecologically – and so the Crawick Multiverse, a new version of an old scientific idea, was born.
"This work of land art, created primarily from earth and boulders on the site, celebrates the surrounding Scottish countryside and its landmarks, looking outwards and back in time."
The site is managed by the Crawick Artland Trust which includes trustees from the local communities surrounding the site.
Duncan Mackison, Director of Crawick Artland Trust, said: "We are very excited to see this ambitious, large scale project nearing completion and are confident it will prove to be a huge draw for visitors from both home and abroad.
"This fantastic artland will appeal to a diverse range of visitors, including art and design enthusiasts, families looking for a day out with a difference, schools who want an 'outdoor classroom' and local groups and organisations."
To find out more, visit the Crawick Multiverse Facebook page which will be updated with news and information ahead of the exciting June launch. More details are also available at www.crawickmultiverse.co.uk
Crawick Multiverse Artland images / information received May 2015
Location: Upper Nithsdale, Dumfries and Galloway, Scotland
Scottish Borders Sculpture
The Star of Caledonia Sculpture
Design: Cecil Balmond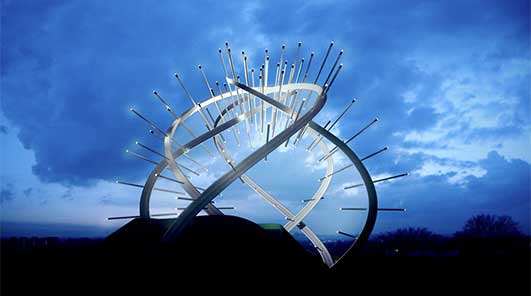 image from designer
Star of Caledonia – world class landmark, designed by world-leading artist/designer Cecil Balmond and Dumfriesshire's eminent land artist Charles Jencks, on the border between Scotland and England.


image from architect
Born out of an idea by Balmond to capture the powerful energy, scientific heritage and magnetic pull of Scotland, the design pays homage to Scottish innovation and particularly James Clerk Maxwell, the pre-eminent Scottish physicist and mathematician.
Charles Jencks (on left):



image from architect
Charles Jencks Projects
ueda – eskers on the lawn
Charles Jencks Landscape – Landform Scotland
No larger image



photo © Adrian Welch
Landform – or Earthworks, or Ueda – won the Gulbenkian Prize in May 2004
This Edinburgh project by world-renowned architecture critic and theoretician, Charles Jencks, (who lives in the Scottish Borders & London) and Terry Farrell & Partners has been followed on the site at the Scottish National Gallery of Modern Art from initial images to site shots and grand opening.
No larger image


photograph © Adrian Welch
Charles Jencks Landform, Scotland : photos
Landform is apparently influenced by Seurat's famous La Grande Jatte painting from Paris showing families relaxing amidst greenery and water in the heart of the city. Landform by Charles Jencks has proved to be very popular with many, especially children. However, Landform is occasionally closed due to the grass surface which takes some wear and tear, esp. in Winter.
Maggies Centres, UK
Charles Jencks sits on the selection committee with Maggies Centres founder Laura Lee: a key architect selected by Charles Jencks was a friend of the late Maggie Keswick-Jencks, Frank Gehry.
Charles Jencks
Charles Jencks was born in 1939 and although American has a house in London and Dumfriesshire, Scotland; the latter was the home of his wife, the late Maggie Keswick-Jencks, who sadly died of cancer. Maggie came from a notable Scottish family with links to the founding of Hong Kong.
Charles Jencks Books
The Iconic Building
The Language of Post-Modern Architecture
Towards a Symbolic Architecture
The Architecture of a Jumping Universe
Serpentine Pavilion, London, England
Rem Koolhaas with Cecil Balmond + Arup
Serpentine Pavilion
Comments / photos for the Crawick Multiverse – Scottish Borders Sculpture page welcome