Arup Scotland Office, Building West Lothian, Project, Interior, Design, Property Image
Arup Offices Scotland : Scotstoun House, South Queensferry
Office Development West Lothian, Scotland – by haa design
27 Oct 2010
Arup Offices Scotland
Arup Scotland – Project Description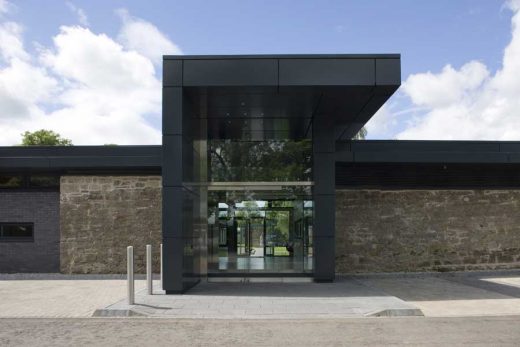 The refurbishment and extension of Scotstoun House may have been a relatively small project but it included many of the design issues which are particularly relevant today, namely: adaptation of an existing building, negotiations with Historic Scotland, particular attention to issues of sustainability and a careful understanding of new ways of working, to meet the needs of an informed and demanding client.
Scotstoun House was designed in 1962 by Peter Foggo of Arup Associates. Set in the remains of a walled garden it was conceived in the architectural tradition of a 'pavilion in the park'. As an elegant exercise in concrete, steel and glass it was also an exposition of Arup's design philosophy of the time.
Fifty years later however it had started to show the limitations of 1960's technology as well as become a constraint Arup's preferred way of working.




pictures : Jean Camplisson haa design
haa design were invited in the first instance to review the potential of the building in the light of changing styles of work. Fairly quickly this turned into the further challenge of finding a way of substantially modifying the building in the light of its spot listing by Historic Scotland.
Over and above this the project became an exercise for both Arup and haa design in "holistic sustainability" in demonstrating how an existing building (in the case of Scotstoun House one that fell radically short of current building standards) might be upgraded to meet the highest standards of sustainability at the same time as supporting the latest ideas on flexible working. As such it became as much an exposition of what Arup stood for in 2010 as it did back in 1960.


photograph : McAteer Photography
The eventual development option became a detailed balance in preserving the qualities of Scotstoun House at the same time as meeting the working requirements of Arup. This involved maximising Scotstoun House as working space and complimenting this with a new extension containing support functions. In the process this also created a useful intermediate zone for touch-down, group working and informal interaction.
In more detail the change implied stripping out toilets and enclosed offices and filling in the central courtyard, at the same time as creating 10,000sq.ft of new build to the side, hugging the old garden wall and re-defining the external courtyard as a more appropriately sized 'external room', now enlivened on two sides by the new working space.


photo : Fiona Linton haa design
From the start these concepts were balanced with maximising on passive heating, venting and cooling and providing a working environment that was pleasant, highly flexible, and challenging in the way that Arup might work in the future. At an aesthetic level the project posed the challenge of maintaining the qualities of the original building, it's simple modularity and 'garden wall' choice of materials and the need to adopt a new entry point into the building and one which still recognised the significance of the garden courtyard.
Specific features of the project include:-
– Refurbishment of Grade II Listed building and surrounding external features
– Modifications including infill of courtyard to create deep-plan but naturally lit and ventilated office space
– Solar tubes and wind catchers, thermally controlled windows and louvres
– Unprecedented BREEAM 'Excellent' certification for a refurbished building
– Incorporation of the listed garden wall into the new and old buildings
– Restoration of stable-block buildings and external works including provision of bio-fuel heat generation, bike storage, changing facilities etc
– Project completed on programme and within budget
Previously:
29 Apr 2009
New Office for Arup Scotland
haa design's proposals for an extension to Arup Scotland's new offices in South Queensferry are now on-site. The proposals include a full refurbishment to Arup's Grade B listed original building, designed in 1967 by Arup Associates' Peter Fogo, and a new 600m2 extension complementing the original building across the walled garden.
The Peter Foggo building, designed as a simple symmetrical pavilion, makes up what was the fourth wall of the original kitchen garden of old Scotstoun House. haa design's extension follows on from this, building right up against and "inhabiting" one of the listed walls. The pavilion building, cleared of outdated toilets and offices, and infilling the courtyard now forms simple open-plan office space. The new building contains a new reception, meeting rooms, toilets and other support functions.
The design of the new building was heavily influenced by what was acceptable to Planning and Historic Scotland, in terms of size, location and main elevation. Both the refurbishment of the main building and the design of the new building reflect Arup's priority that the design should meet the highest possible standards of sustainability and feature wind catchers, sola-tubes and a sophisticated BMS to maximise and regulate cross ventilation via the perimeter glazing and the central cupola built over the original central courtyard.
haa design are currently working on the fit-out of Arup Scotland's Glasgow office which will feature full open plan and a design aesthetic reflecting their recently completed London and Watford offices.
Refurbishment of and extension to Scotstoun House South Queensferry
Original building: 925m2
New building: 620m2
Coach house building: 95m2
Architect: haa design limited
Structural engineer / M&E engineer: Arup Scotland
Sustainability consultant / cost consultant: Neilson Binnie-McKenzie
Contractor: Ashwood Scotland Ltd
Cost of project: £3.5m (construction current) – Fit-out
haa design is a multi-disciplinary practice incorporating architecture, interior design and consultancy services. Established in 1994, the Glasgow based practice is headed by Hugh Anderson.
Location: South Queensferry, Scotland
Architecture in Scotland
Contemporary Scottish Architecture
Scottish Architecture Designs – chronological list
Arup Offices – London, UK
Carnegie Museum and Arts Centre Dunfermline Building
Design: Richard Murphy Architects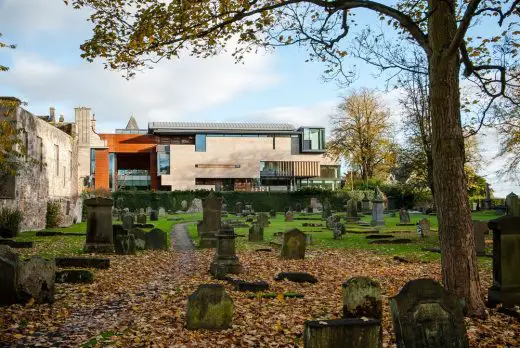 photo from architects practice
Dunfermline Museum
Arup Associates Unified Design Unit
Comments / photos for the Arup Scotland Office Architecture page welcome