Tyvek Membranes, DuPont Building Product Design, BS5534 Guideline, Code of practice for slating & tiling
Tyvek Breather Membranes
DuPont Building Products News – Wind Resistance Tests: BS5534
19 Mar 2015
BS5534: DuPont™ Tyvek® sails through new wind resistance tests
DuPont Tyvek Breather Membranes
March 2015 – As building regulations become ever more stringent, so DuPont™ Tyvek® keeps pace by virtue of its inherent quality, longevity and proven performance. Always at the leading edge of the industry, all DuPont™ Tyvek® roof underlays have passed the necessary tests for the new BS5534 guideline (Code of practice for slating and tiling) which sets strict new requirements for resistance to wind uplift in pitched roofs. Taking effect as of March 1, 2015, the new requirements are defined by different zones for wind exposure (from 1-5) and for varying installation and site conditions.
Three advanced breather membranes from DuPont have sailed through qualification for the new code, meeting the new criteria for all wind zones (including market leading DuPont™ Tyvek® Supro), thus offering a comprehensive range of BS5534 compliant membranes with full certification. DuPont is a world-class science company with a long-standing commitment to ensuring the fitness of its products in terms of performance, sustainability and safety – and these results confirm its leadership in the field.
DuPont™ Tyvek® Supro fitted to the Lethame House luxury housing project by Apex Developments Ltd in Strathaven, near Glasgow, Scotland, consisting of four spacious timber-frame, stone-clad, slate-roofed units featuring top quality materials: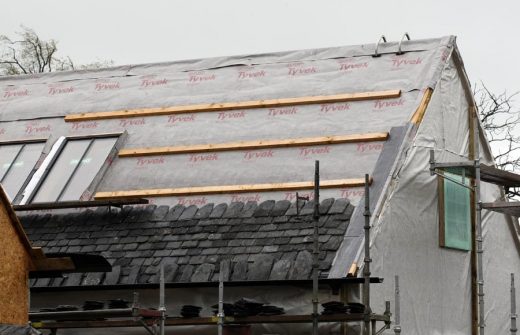 photo Simon Price for DuPont, all rights reserved
The BS5534 compliant membranes from DuPont Building Innovations are:
• DuPont™ Tyvek® Supro, the premiere breather membrane with an outstanding track record of protecting roofs against wind and rain, while also enhancing energy efficiency
• DuPont™ Tyvek® Supro Plus, which offers the above benefits together with an integral adhesive lap tape designed for use in the Tyvek® 'sealed roof system' for increased energy performance and now also for additional security against wind uplift.
• DuPont™ Tyvek® Enercor Roof, a metallised version of the vapour-open roofing membrane designed to optimise the thermal performance of a building, now leading the field for wind uplift resistance.
These membranes are suitable for use in pitched roof systems at maximum batten gauge in all five categorised wind zones, when the products are installed in line with BBA certificate 08/4548 and DuPont's own trusted technical guidance.
DuPont™ Tyvek® proposes a simple, practical and professional solution to meet the new wind uplift requirements, without the need for any special installation processes or accessories. All three versions of the renowned membrane have a BBA certificate, full CE marking and a Declaration of Performance (DoP) and each can be easily installed, the battens fixed, and details for general weather-tightness checked to offer an optimum solution to the multiple requirements of the modern building envelope.
For more information about DuPont™ Tyvek® in the UK please visit: www. tyvek.co.uk
or call 01275 879 770 (087 922 2740 in ROI)
About DuPont™ Tyvek® (www.tyvek.co.uk) – Invented by DuPont research and development laboratories in the late '60s as a premium material for personal protection and packaging, DuPont™ Tyvek® is manufactured using a unique, proprietary technology, and has, over time been discovered and developed as ideally suited to a variety of further applications and markets.
Around 1990, it was first adopted as a breather and water proof membrane for roofs and walls for building construction in certain countries in Europe. Today, DuPont™ Tyvek® is marketed in 35 countries in the Europe Middle East and Africa region, in addition to the USA, Canada and many other countries in the other regions. In 2005, the entire range of DuPont™ Tyvek® membranes achieved CE certification, the first to do so in the building membrane market.
About DuPont Building Innovations – DuPont™ Tyvek® is a product of DuPont Building Innovations. From innovative energy-saving systems to beautiful and long-lasting surfacing solutions, the extensive offering of DuPont Building Innovations delivers safety, durability, beauty and energy efficiency, providing a major contribution to the modern built environment – across the spectrum of building and architecture, roads, bridges and other infrastructure and also to landscaping and gardens, as well as to the preservation or the renovation of contemporary and historical constructions. The main products and brands managed by DuPont Building Innovations are DuPont™ Corian® (www.corian.com), DuPont™ Tyvek® and DuPont™ AirGuard® (www.construction.tyvek.com), DuPont™ Energain® (www.energain.co.uk), DuPont™ Typar® (www.typargeo.com) and DuPont™ Plantex® (www.plantexpro.dupont.com).
About DuPont – DuPont (NYSE: DD; www.dupont.com) has been bringing world-class science and engineering to the global marketplace in the form of innovative products, materials, and services since 1802. The company believes that by collaborating with customers, governments, non-governmental organizations, and thought leaders we can help find solutions to such global challenges as providing enough healthy food for people everywhere, decreasing dependence on fossil fuels, and protecting life and the environment.
Tyvek Breather Membranes images / information received 190315
An example of the application of DuPont™ Tyvek® Timberframe Solutions. BEEdomus®, an innovative concept of the passive house principle, protected by DuPont™ Tyvek® UV Façade advanced membrane: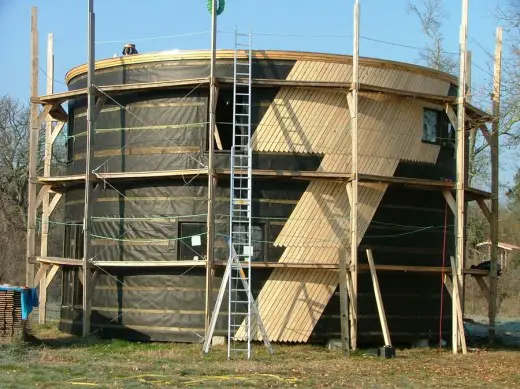 photo © BEEdomus®, all rights reserved
An example of the application of DuPont™ Tyvek® Timberframe Solutions. Lethame House luxury housing project by Apex Developments Ltd in Strathaven, near Glasgow: high standards of living and thermal efficiency.
Consisting of four spacious timber-frame, stone-clad, slate-roofed units, the houses feature top quality materials, including three high-performance building membranes from (DuPont™ AirGuard®, DuPont™ Tyvek® Reflex and DuPont™ Tyvek® Supro):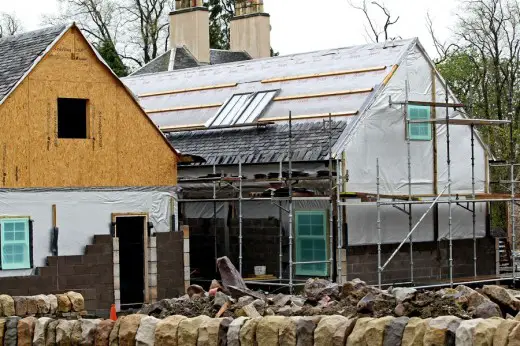 photo DuPont, all rights reserved
DuPont™ Tyvek® Timberframe Solutions
Timberframe Solutions
Location: Lethame House, Strathaven, Scotland, United Kingdom
DuPont® Links
Corian® High-Tech Surface
Corian® High-Tech Surface
Corian Sphere, England
DuPont Tyvek Roofing Underlays Tests
Selection of Architectural Products featured on e-architect
Libeskind House : Daniel Libeskind
Zaha Hadid Jewellery – Celeste Necklace
Comments / photos for the DuPont™ Tyvek Breather Membranes page welcome