The Advanced Breather Membrane, DuPont Tyvek Building Innovations, Sennen Cove Cornwall
The Advanced Breather Membrane
DuPont™ Tyvek® is cast as a reliable performer in Poldark country, south west England, UK
15 Oct 2015
The advanced breather membrane for modern building adds confidence in a dramatic, exposed setting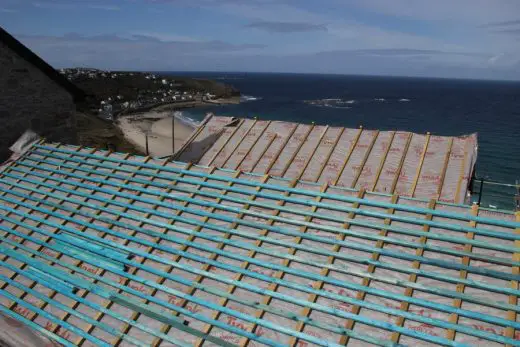 DuPont™ Tyvek® Supro, which offers unrestricted BS5534 compliance, is the favoured choice of Marnick Roofing Ltd and has been chosen for a development project in Cornwall's beautiful, windswept Sennen Cove. Photo Bradley Cameron for DuPont™ Tyvek® all rights reserved
The Advanced Breather Membrane – DuPont Tyvek
The windswept shore line of beautiful Sennen Cove in Cornwall offers both an inspiring outlook – and a particular set of challenges for building to contemporary codes. On a rugged rise overlooking the bay, a developer has completely renovated a 19th Century two-storey stone built cottage, while complementing it with a sympathetic addition to create one large, luxury, four-bedroom house with pool and terrace.
The renewed property is designed to the highest standards, and so concerns such as interior climate comfort were as much a consideration as was protecting the structure from the Cornish coastal weather. For the construction of the pitched, slated roofs, contractors Marnick Roofing Ltd of Falmouth chose to rely on the company's favoured underlay material: the advanced breather membrane DuPont™ Tyvek® Supro Plus.
Long established as a proven performer in terms of water-shedding, moisture management, airtightness and enhanced thermal efficiency, DuPont™ Tyvek® also offers unrestricted compliance with BS5534:2014 for all wind zones and at all altitudes. Considering the exposed location of the property, this wind-uplift resistance together with trouble-free installation, made DuPont™ Tyvek® a wise investment for a development designed to perform for the long term.
Paul Marks of Marnick Roofing Ltd says, "The choice was clear, not only in terms of the quality of the product, but also because we know we can depend on great service from DuPont. This is a high-spec project in a spectacular natural setting and we are proud to have been involved."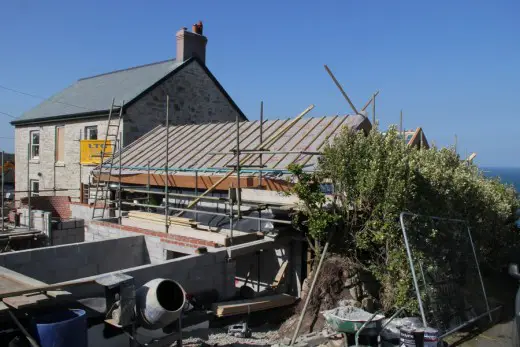 DuPont™ Tyvek® Supro, which offers unrestricted BS5534 compliance, is the favoured choice of Marnick Roofing Ltd and has been chosen for a development project in beautiful, windswept Sennen Cove. Photo Bradley Cameron for DuPont™ Tyvek® all rights reserved.
DuPont™ Tyvek® is unique in the market because of its high-quality single layer construction which is naturally vapour open but also wind and water-tight. This is due to its composition of millions of micro fibres bonded together to make a "maze" that's impermeable to air and moisture but which allows water vapour to pass through its natural pores.
In terms of wind-uplift resistance, all three BBA approved roofing underlays in the group: DuPont™ Tyvek® Supro, DuPont™ Tyvek® Supro Plus (with integral tape) and DuPont™ Tyvek® Enercor roof offer unrestricted application when tested in accordance with BS5534:2014 – and with no counter battens required in any zone. This allows contractors to be confident that they in are full compliance, not only with the code, but with all the weathering and thermal performance expectations of an advanced breather membrane.
DuPont™ Tyvek® Supro, which offers unrestricted BS5534 compliance, is the favoured choice of Marnick Roofing Ltd and has been chosen for a renovation project in Cornwall's beautiful, windswept Sennen Cove. Photos Bradley Cameron for DuPont™ Tyvek® all rights reserved.
For more information about DuPont™ Tyvek® in the UK please visit: www. tyvek.co.uk
or call 01275 337 660 (087 922 2740 in ROI)
About DuPont™ Tyvek® (www.tyvek.co.uk) – Invented by DuPont research and development laboratories in the late '60s as a premium material for personal protection and packaging, DuPont™ Tyvek® is manufactured using a unique, proprietary technology, and has, over time been discovered and developed as ideally suited to a variety of further applications and markets. Around 1990, it was first adopted as a breather and water proof membrane for roofs and walls for building construction in certain countries in Europe.
Between 1990 and 1995, it was introduced to the Nordic Countries (Scandinavia), Switzerland, Germany and then to the United Kingdom. Today, DuPont™ Tyvek® is marketed in 35 countries in the Europe Middle East and Africa region, in addition to the USA, Canada and many other countries in the other regions. In 2005, the entire range of DuPont™ Tyvek® membranes achieved CE certification, the first to do so in the building membrane market.
About DuPont Building Innovations – DuPont™ Tyvek® is a product of DuPont Building Innovations. From innovative energy-saving systems to beautiful and long-lasting surfacing solutions, the extensive offering of DuPont Building Innovations delivers safety, durability, beauty and energy efficiency, providing a major contribution to the modern built environment – across the spectrum of building and architecture, roads, bridges and other infrastructure and also to landscaping and gardens, as well as to the preservation or the renovation of contemporary and historical constructions.
The main products and brands managed by DuPont Building Innovations are DuPont™ Corian® (www.corian.com), DuPont™ Tyvek® and DuPont™ AirGuard® (www.construction.tyvek.com), DuPont™ Energain® (www.energain.co.uk), DuPont™ Typar® (www.typargeo.com) and DuPont™ Plantex® (www.plantexpro.dupont.com).
About DuPont – DuPont (NYSE: DD; www.dupont.com) has been bringing world-class science and engineering to the global marketplace in the form of innovative products, materials, and services since 1802. The company believes that by collaborating with customers, governments, non-governmental organizations, and thought leaders we can help find solutions to such global challenges as providing enough healthy food for people everywhere, decreasing dependence on fossil fuels, and protecting life and the environment.
The Advanced Breather Membrane – DuPont Tyvek images / information received 151015
Location: Sennen Cove, Cornwall, England, UK
English Building Designs
English Architecture
New English Architectural Designs : current, chronological list
Morlands Farm Dutch Barn, Sussex
Design: Sandy Rendel Architects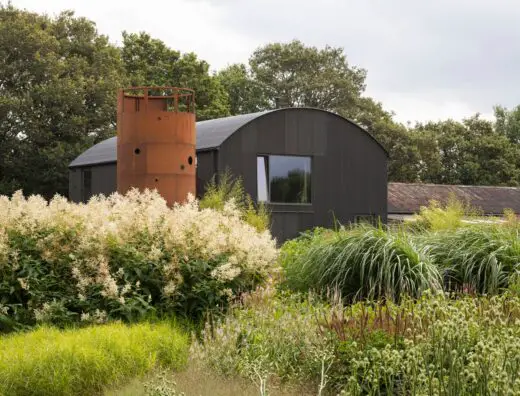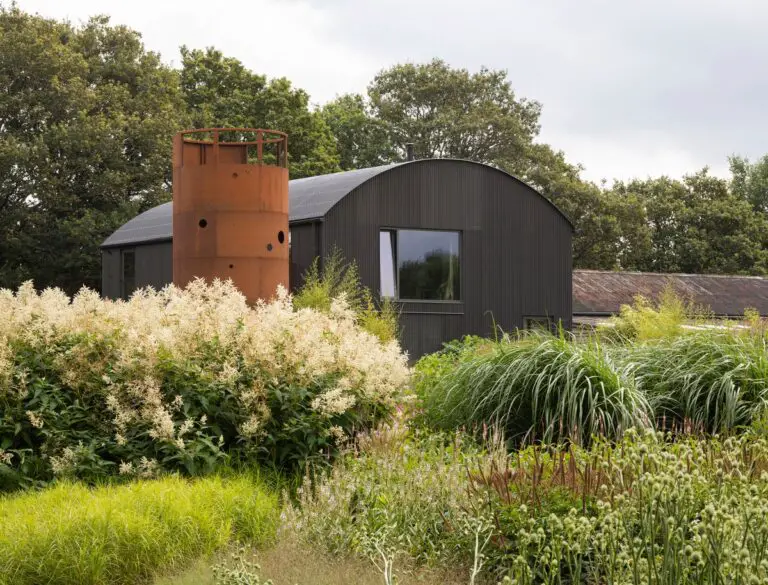 photograph : Richard Chivers
Morlands Farm Dutch Barn
Flimwell Park, Hawkhurst Rd, Flimwell, Ticehurst, Wadhurst, East Sussex
Design: The Architecture Ensemble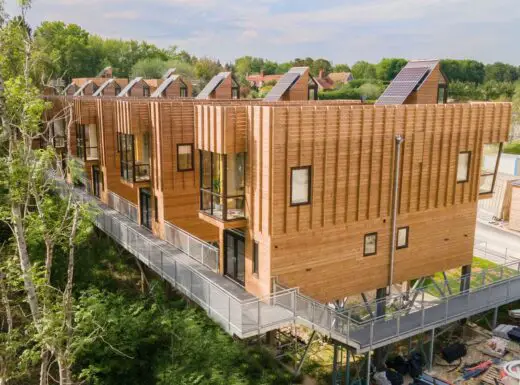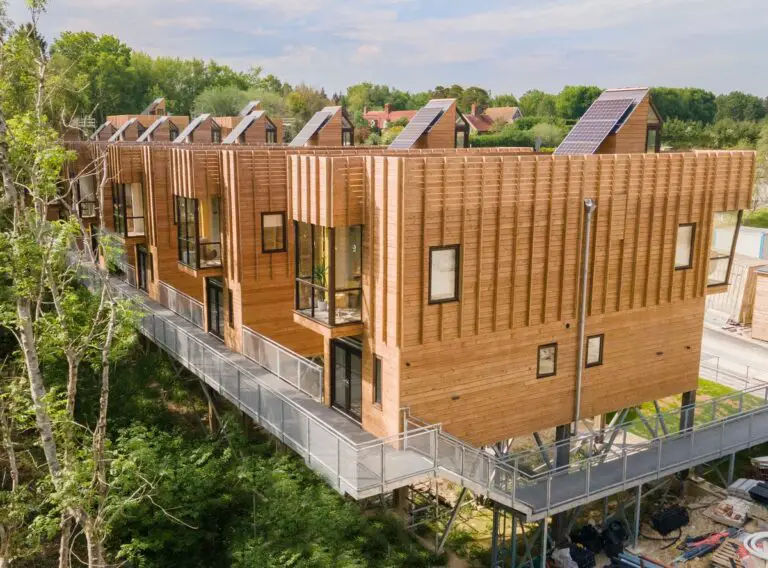 photo : The Shoot Lab
Flimwell Park
DuPont Corian
DuPont Product Links – Selection
Corian High-Tech Surface
Corian® High-Tech Surface
Corian Sphere, England
DuPont Tyvek Roofing Underlays Testing
Selection of Architectural Products featured on e-architect
Libeskind House : Daniel Libeskind
Zaha Hadid Jewellery – Celeste Necklace
Comments / photos for the The Advanced Breather Membrane – DuPont Tyvek page welcome