Masdar Institute Campus Abu Dhabi, UAE Building Screens Image, Plantation coconut palms, Architect Development
Masdar Institute Campus, Abu Dhabi Gates
Architectural Screens UAE by Palmwood
7 Feb 2011
Palmwood Gates Open To World's First Sustainable City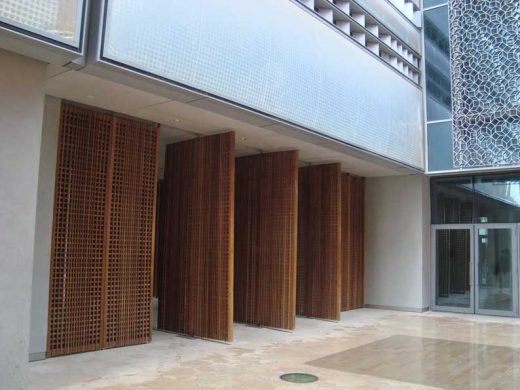 Masdar Institute Campus Screens
The gates have opened in the UAE on the initial phase of Masdar, the world's first carbon-neutral and zero-waste city. Those gates, along with external cladding and screens, were made from Palmwood®, the sustainable hardwood-substitute by Pacific Green.
Situated in Abu Dhabi desert, the Masdar Institute is a facility devoted to sustainable research. It sits at the heart of a masterplan developed by architects Foster + Partners. The Institute campus is powered entirely by solar energy and is pioneering sustainable technologies and products as a model example for future buildings.
Palmwood comes from plantation coconut palms, which are typically discarded when they stop bearing fruit. Twenty years ago, Pacific Green set up the world's first factory dedicated to the research and development of coconut palms. Using proprietary processing technology, it created a consumer-orientated product (Palmwood) that recycles the abundant plantation material, providing customers with a sustainable alternative to rainforest hardwood.
For the Masdar project, Pacific Green produced a range of external Palmwood architectural features specified for their environmental credentials and aesthetic appeal. Eight gates at the entrance routes act to filter the hot desert winds; 4-metre tall screens channel cooling air currents through the internal corridors and help to dissipate sunlight; and external louvers provide shade to exposed classrooms and glazed areas. Palmwood's durability makes it suitable for the desert setting.
Pacific Green's spokesman comments, "We were excited to be involved such an ambitious project, and to demonstrate the versatility and beauty of Palmwood in this context. It is encouraging to see international designers such as Fosters + Partners specify Palmwood as a model product for sustainable architecture."
About Pacific Green
Pacific Green is a manufacturer of furniture and architectural products. It is the global leader of coconut palm technology and produces Palmwood®, an ecologically-sustainable substitute to tropical hardwoods. The furniture design is inspired by the handcrafts and artefacts of indigenous societies. The architectural range includes cladding, flooring and columns. All products are handmade from quality materials by artisans. Pacific Green was invited to present its message at the World Expo 2010. Products are available at stores in over 80 international cities.
Contact Pacific Green
+44 7919 366 356 / [email protected]
www.pacificgreen.net
Masdar City, UAE
Design: Foster + Partners
Official opening of the Masdar Institute campus, first solar powered building at Masdar City Under the patronage of His Highness Sheikh Mohammed bin Zayed Al Nahyan, Crown Prince of Abu Dhabi and Deputy Supreme Commander of the UAE Armed Forces, His Highness Sheikh Mansour bin Zayed Al Nahyan, Deputy Prime Minister and Minister of Presidential Affairs officially inaugurated the Masdar Institute today, at which the architect Lord Foster was present. The Masdar Institute, devoted to researching sustainability, is the first building to be fully operational within Masdar City. The masterplan, by Foster + Partners, incorporates lessons which have evolved over centuries of traditional Arabian architecture. The Masdar Institute is the first building of its kind to be powered entirely by renewable solar energy. It will be used as a pilot test bed for the sustainable technologies that will be explored for implementation in future Masdar City buildings. The post graduate students are Masdar City's first resident community.
A 10 megawatt solar field within the masterplan site provides 60% more energy than is consumed by the Masdar Institute, the remaining energy is fed back to the Abu Dhabi grid. The campus, which consists of a main building, a knowledge centre and students' quarters, will use significantly less energy and water than average buildings in the UAE. In particular, the Institute and its facilities use 54 percent less potable water, 51 percent less electricity and are fully powered by solar energy. These reductions are based on comparisons to UAE standard baselines for buildings of similar size and specifications. Around 30 percent of the campus's energy will be covered by solar panels on the roof, with 75 percent of hot water also being heated by the sun.
Masdar Institute campus images : Nigel Young / Foster + Partners
Masdar Abu Dhabi
Masdar Abu Dhabi design : Foster + Partners


image © Foster + Partners
Masdar Design Competition : won by LAVA in Aug 2009
Masdar Headquarters design by AGi architects



image from architect
Masdar Institute of Science and Technology – MIST:



image © Foster + Partners
Masdar UAE
Masdaris Abu Dhabi's multi-faceted, multi-billion dollar investment in the development and commercialization of advanced and innovative technologies in renewable, alternative and sustainable energies as well as green design. By applying scale and leveraging Abu Dhabi's low-cost, tax-free manufacturing base, businesses will enjoy significant competitive advantages, allowing them to compete internationally and provide significant diversification to the Abu Dhabi economy. On February 9, 2008, Masdar broke ground for Masdar City, the world's first zero-carbon, zero-waste, car-free city.
The Masdar Institute's graduate-level programmes were established and accredited in collaboration with the Massachusetts Institute of Technology (MIT) in Boston and focus on scientific engineering and research in the core energy and sustainable technologies of the Masdar Initiative.
The buildings are oriented to provide optimum shade and reduce cooling loads and shaded colonnades at podium level bring benefits through high insulation and exposed thermal mass. Transitional thermal spaces are also integrated – these mediate between internal and external zones and are conditioned primarily by buoyancy-driven natural ventilation and the effects of thermal mass.
Location: Masdar, Abu Dhabi, UAE, the Middle East
UAE Building Designs
UAE Buildings by this architect
Masdar headquarters building designer : Adrian Smith + Gordon Gill Architecture
Abu Dhabi Investment Council Headquarters
Comments for the Masdar Institute Campus Building Screens by Palmwood page welcome
Website: https://masdar.ae/