Hamilton Grange National Memorial, Alexander Hamilton's House, Building Image, Architect
Hamilton Grange, Harlem, New York : Alexander Hamilton's Home
New York City Country Residence, NY, USA, design by John G Waite Associates
Sep 13, 2011
Hamilton Grange Harlem
Alexander Hamilton's Home, Relocated and Restored by John G Waite Associates, to Open in Harlem on September 17
Hamilton Grange National Memorial
Harlem, NY – Hamilton Grange, Alexander Hamilton's country residence, has been relocated and restored, and will officially open to the public on September 17. One of New York City's few free-standing, Federal style houses, its elegant period rooms now replicate those that were the center of Hamilton's family and professional life.
Officially called Hamilton Grange National Memorial, the c.1802 house, which is under the care of the National Park Service, will also offer exhibits on the ground floor that summarize his life and achievements. John G. Waite Associates, Architects (JGWA), its restoration architect, performed the detective and design work that brought back the building's structural and historic integrity.



pictures of Alexander Hamilton's Home
"For a seemingly straightforward house, this was a complex project," says John G. Waite, JGWA's senior principal, "because every aspect of its design, construction and use required our evaluation." The restoration is actually the final phase of a multi-phase project.
The first phase saw the moving of the house from a cramped location between a nearby Harlem church and apartment building to St. Nicholas Park, on a portion of Hamilton's original estate. Because its location had been tight, the two-story house had lost many important elements including its foundation and both front and rear porches. The entrance had been moved to one side of the building and interior spaces had been altered.
Now standing in parkland and surrounded by trees, the house itself is just as Hamilton knew it. The front and rear entrance porches as well as side "piazzas", which can be entered from the parlor and dining rooms, have been reconstructed and balustrades once again grace the roofline.
"We were fortunate that the exterior had been illustrated in engravings and also photographed in the mid-nineteenth century on its original site," says Nancy A. Rankin, JGWA's project manager for the Grange. "Those documents gave us some evidence of what it previously looked like. The interior provided more of a challenge."
Inside, the house's centerpiece is two adjoining octagonal rooms, the parlor and dining room, that were its social center. "While the rooms' shape and arrangement are unusual," says Rankin, "they would have worked very well for formal entertaining.
In particular, the dining room, which had three mirrored doors, would have had spectacular light and views in Hamilton's time." The interior furnishings in these rooms and in Hamilton's library are a mixture of pieces the family actually owned, reproductions of Hamilton's furniture that are in public collections, and period pieces similar to what he would have owned.
"Our knowledge of period decorative styles along with field investigations and review of historic documents helped us give the rooms an authentic tone," says Douglas G. Bucher, a JGWA specialist in building conservation. "We stayed aware of details that would suggest the greater picture."
This meant peeling away paint layers to get the original wall color, knowing what kinds of carpet patterns and materials were designed and fabricated during the period, looking at heavy-timber framing above the plaster ceiling beams to see if they had supported chandeliers, and being attuned to the delicate ornament in the leaded-glass sidelights and transom that frame the front door.
The house now rests on a new ground floor foundation that provides much needed structural support and accommodates an exhibition space and a small theater. "While we don't know exactly what uses this ground floor had," says Rankin, "we do know from evidence in the ceiling how the rooms were divided, and it's likely that informal family dinners would have been held here, near where the kitchen would have been" Now it will be used to provide an introduction to Hamilton's life and contributions to the United States.
Alexander Hamilton and the Grange
Alexander Hamilton was a Caribbean immigrant who served as an aide-decamp to General Washington during the Revolutionary War. As a lawyer, an author of the Federalist Papers, and later as the country's first Secretary of the Treasury, he became an influential figure in the economic and political development of the United States of America.
The Grange, as Hamilton called it, was meant to mark a new chapter in his life as a respected lawyer. He worked closely with the prominent architect John McComb, Jr., the designer of New York's City Hall, on its creation and construction. Set in 34 wooded acres, at a distance from what was then New York City, the house was Hamilton's home for just two years when he was killed in a duel with Aaron Burr. His widow lived in the house until 1833 when she moved to Washington, DC.
About John G.Waite Associates, Architects
JGWA is an architectural firm with offices in Albany and New York City, and is widely recognized for its work with the restoration and rehabilitation of historic buildings. The firm has been responsible for the preservation of some of the nation's most significant landmarks and historic public buildings, utilizing sustainable design solutions and state-of-the-art preservation technology. For more information about JGWA please visit www.jgwaarchitects.com.
Location: Harlem, New York City, USA
New York City Architecture
Contemporary New York Buildings
NYC Architecture Designs – chronological list
New York City Architecture Tours by e-architect
Another key American house restoration on e-architect:
Holly Grove Mansion, Charleston, West Virginia
Holly Grove Mansion : historic mansion located on the State Capitol grounds adjacent to the Governor's Mansion
A recent Harlem building design on e-architect:
Madison Square Boys & Girls Club New Flagship Facility in Harlem
Design: Rogers Partners Architects + Urban Designers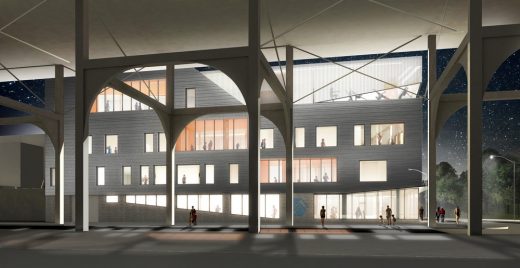 rendering Courtesy Rogers Partners
Madison Boys & Girls Club Harlem
Another Harlem building on e-architect:
Harlem Park
Swanke Hayden Connell Architects
Harlem Park
Freedom Tower skyscraper
23 East 22nd Street, Flatiron district
OMA
23 East 22nd Street
One Bryant Park – Bank of America Tower
Cook + Fox Architects
One Bryant Park
Comments / photos for the Hamilton Grange – Harlem Architecture page welcome