Aviator's Villa, Duchess County, New York Building, Architect, US Home Project, Image
Aviator's Villa, Duchess County House
New York Residence, United States of America – design by Urban Office Architecture, architects
Feb 3, 2016
Aviator's Villa in Duchess County
Design: Urban Office Architecture, architects
New Residence in Duchess County
This project explores the idea of flight as a powerful motivator for architectural darings. The house is designed as a minimal sequence of three primary spaces: the large 30 feet tall living/study and kitchen/dining area and the cantilevered 40 feet bedroom, and the Library.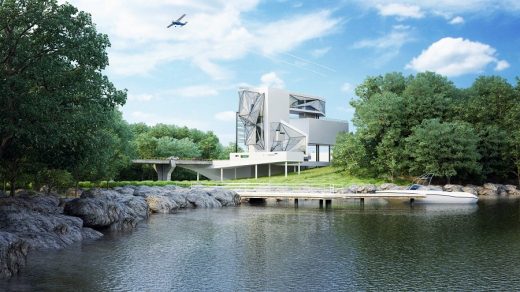 The house for an airplane pilot (the aviator) is both expressive and simple in its architectural morphology.
A series of hidden spaces are tucked between the two main spaces and are revealed through the monumental circulatory staircase ascending to the bedroom at the top.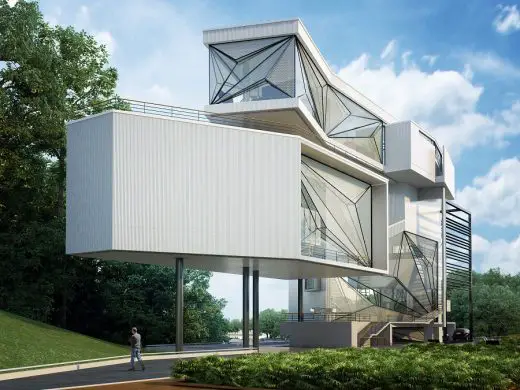 This house was designed for a retired Pilot, the Aviator. It is organised as a continuum of dis-assembled flight components. Similarly to how the 'Air Body' wraps an airplane, so the House is 'exposed' to air on all its sides, in an orbital fashion.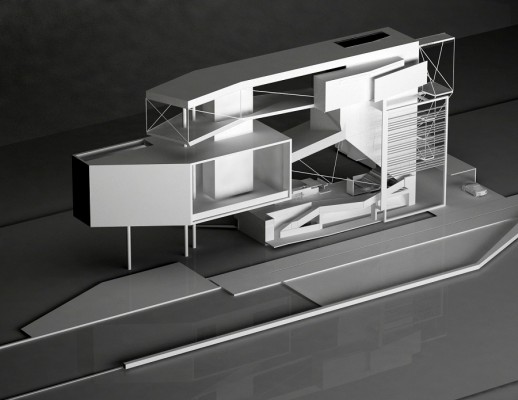 The House, sited on a hilly parcel of land next to a small lake in the New York area of Duchess County, also plays on the concept of being fully surrounded by water, as the swimming pool to the south side of the house mirrors the water body of the lake on the north side. The Architecture is thus imagined as a floating piece between two bodies of water and surrounded by air.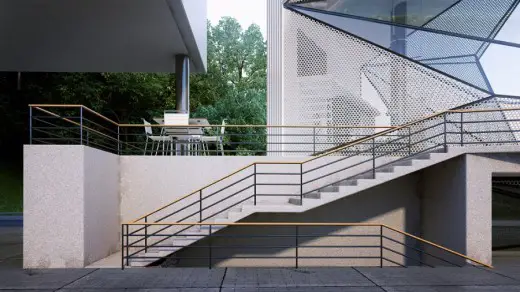 Similarly to how a plane would steer and point through currents, simultaneously aimed at its destination and navigating the prevalent currents, the House turns and torques to face both the sky, the surrounding views and water. The House looks south, north and west predominantly.
Articulated as a vertically extending volume and a cantilevered prow, the main house is oriented to allow maximum daylight in. Large open glazed panes are mounted on riveted metal frames, further screened by perforated metal panelling. These elements are meant to replicate the texture of clouds of one plane fending through the skies, while mitigating the high sun rays and producing soothing shadows within the home interiors.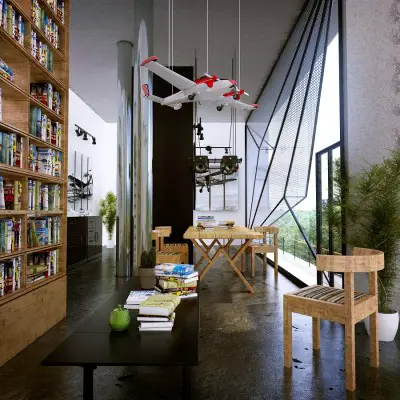 Accessible only through and directly from the Bedroom, the Library is thought both of as a container of memorabilia of the owner's past, as well as a space for reflection and study. Its large window opening faces the wooded areas outside, while a more secluded area in the rear is lit by a skylight whose view is directed to the cantilevered volume of the bedroom above.
Website: Aviator's Villa in Duchess County
Location: Duchess County, NY, USA
New York State Buildings
New York State Architecture Designs – NY State
Comments / photos for the Aviator's Villa – Duchess County House – NY Real Estate page welcome
Website: Dutchess County, New York