Google Office Munich, German building by DEGW, Architect, Development, Bavaria workplace news
Google Offices Munich : Architecture
New Building Interior in Germany, Europe: Workplace Design by DEGW
11 Oct 2008
Google's Global Workplace Strategy Presented in Berlin with Workplace Partner Dr. Andrew Laing of DEGW
A first-time peek at Google's successful workplace strategies was the highlight of an international conference for corporate real estate professionals in Europe and beyond.
Google Offices Germany
NEW YORK, 14 October 2008 – The global strategic design consultancy DEGW announced that its Managing Director for North America, Dr. Andrew Laing, spoke at the 2008 CoreNet Global Summit in Berlin with Jason Harper, an executive from Google Germany. The subject: Why Google's global workplace strategy has been so successful.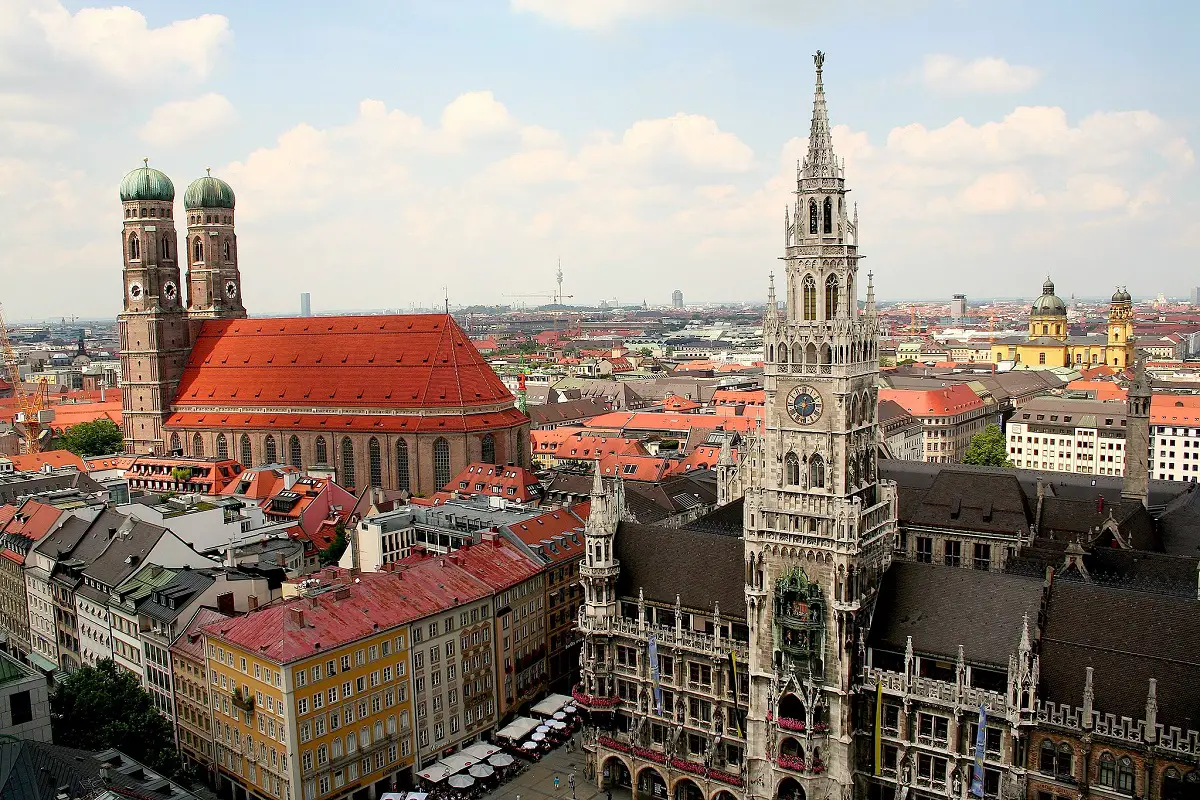 photo : David Kostner, CC BY-SA 2.0 DE, via Wikimedia Commons
The presentation, called "The Total Workplace at Google," was a highlight of the conference, which brought together global business leaders and corporate real estate professionals from Sept. 21-23 in Berlin, Germany. Titled "The Productivity Puzzle: Redefining the Work Environment," the summit focused on critical issues relating to today's fast-changing global workplace environment.
Dr. Laing presented the strategic concepts and workplace innovations behind Google's new offices along with Jason Harper, facilities manager for Google Germany GmbH. In particular, the two discussed the solutions implemented for Google's Munich offices, as well as the Global Design Guidelines developed by DEGW in partnership with Google to enable integration of strategic and sustainable design solutions at different sites.
DEGW Google Case Study at CoreNet PAGE 2 "The Google campus in Munich is the embodiment of redefining the corporate workplace. The organization understands the need to support innovative thinking, experimentation, creativity, and effective teamwork," says Laing.
Achieving "Google-ness" Globally
The collaboration between Google and DEGW began in 2004, when George Salah, Google's Director of Real Estate and Workplace Services, brought DEGW on board as the company was planning its continued explosive growth. Familiar with DEGW's founder, workplace guru Dr. Frank Duffy, Salah recognized that the firm's ideas were consistent with Google's vision.
DEGW researched the design performance of Google's offices in Mountain View, California, as well as in London, Dublin, Zurich, and Beijing. DEGW also designed offices for Google in London, Paris, Milan, and Madrid. They then developed Webbased global design guidelines to be used by the company's architects, project managers, and facility managers worldwide.
Dr. Laing, who oversaw the design and buildout of Google's hybrid model, stressed that the purpose of these tools was "not to dictate, but to illustrate" various configurations depending upon the specifics of the building. "We created a giant toolbox on Google's internal Web site so that project managers, facilities managers, or architects can access design guidance at any scale – from workspace or team space to the building or the campus," he explained.
"DEGW's research and recommendations provided us with the framework to create a global work culture that allows regional work styles to flourish," Salah recalled. "They helped us to quantify how we could better organize our space for optimal efficiency, then translated this information into guiding tools that are accessible and searchable, just like Google."
Google Deutschland
In CoreNet's program brochure, the presentation on Google was described as a look at "productive, flexible, collaborative, engaging, sustainable" workplaces. "These are the functions and attributes of successful workplaces," read the description. "Most DEGW Google Case Study at CoreNet PAGE 3 corporations have achieved at least one of these, but what would happen if they all came together at the same time?"
According to CoreNet, Google's new workplace in Munich "is flexible enough to accommodate rapid growth, successfully houses two disparate business units, incorporates Google's sustainability strategies, and is a tool for attracting and retaining the best talent." Not only that, but CoreNet and other local observers also added that DEGW helped Google accomplish this while integrating the local culture and flavor, resulting in "an office that is uniquely Google Munich."
About DEGW
DEGW is a leading strategic design consultancy, operating from twelve offices in Europe, Asia Pacific, and North America. Clients use DEGW's international expertise to find appropriate local solutions that achieve their objectives and deliver measurable business benefits. DEGW enjoys a solid reputation for helping clients align physical space and workplace with organizational objectives.
Best known for work consulting on high-performance workspaces for Fortune 500 companies, DEGW's range of experience is actually much broader. For example, the consultancy has strategically assessed large complex sites and entire city plans to meet business, social, or economic goals. Further, DEGW has become a leader in sustainable accommodation – green buildings and interiors concepts focused on occupant well-being and effectiveness.
The firm leads numerous market sectors that rely on the powerful integration of technology, human behaviors, and the built environment, working with clients in the corporate, retail, governmental, and educational spheres around the world since 1973. Whether working with corporate clients, government, city planners or real estate developers, DEGW's focus is on "design for change." Visit www.degw.com.
About Google
Google is a public and profitable company focused on search services, and the creator and operator of web sites at many international domains, with the most traf f icked being www.google.com. Google is widely recognized as the "world's best search engine" because it is fast, accurate and easy to use.
The company also serves corporate clients, including advertisers, content publishers and site managers with cost-ef fective advertising and a wide range of revenue-generating search services. Google's breakthrough technology and continued innovation serve the company's mission of "organizing the world's information and making it universally accessible and useful." Visit www.google.com.
About the CoreNet Global Summit The 2008 CoreNet Global European Summit in Berlin, a meeting of corporate leaders, business strategists, and real estate experts, explores issues affecting today's workforce, including cultural diversity, integrating.
About Dr. Andrew Laing Managing Director of DEGW's North America operations, Dr. Andrew Laing's expertise lies in research into the design and use of the workplace. Dr. Laing is involved with many significant DEGW clients, including Accenture, Cisco, Deutsche Bank, Fidelity Investments, GSA, Google, Microsoft, GSK, Macquarie, and Pfizer.
Dr. Laing is the co-author of New Environments for Working and The Responsible Workplace. He has published articles in the Journal of Corporate Real Estate and Properties magazine and speaks regularly at conferences on workplace performance and sustainability. generational differences, and the impact of today's increasingly remote, global workforce.
Google Office Munich information from CC Sullivan 161008
Location: Munich, Bavaria, Germany, Europe
Munich Architecture Developments
Contemporary Munich Architecture Designs
Munich Architecture Design – chronological list
Munich Architecture Walking Tours – architectural walks by e-architect – experienced building guides
Google Architecture
Google EMEA Engineering Hub in Zurich
Google Office Tel Aviv Interior
Google Complex in Mountain View, California
Google Campus Dublin, Republic of Ireland
Architects: Evolution Design with Henry J. Lyons Architects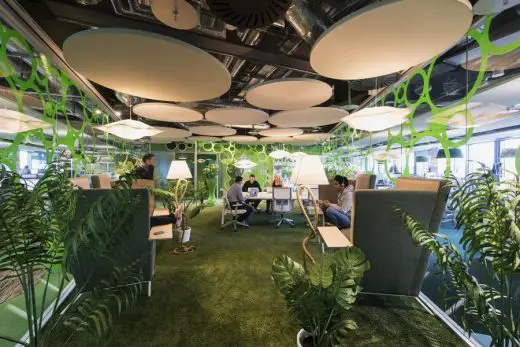 image from architect
Google Offices Dublin – European HQ
Google Zurich architects : Camenzind Evolution
Baramundi Headquarters, Augsburg Innovation Park, Augsburg, Swabia, Bavaria, southern Germany
Architects: HENN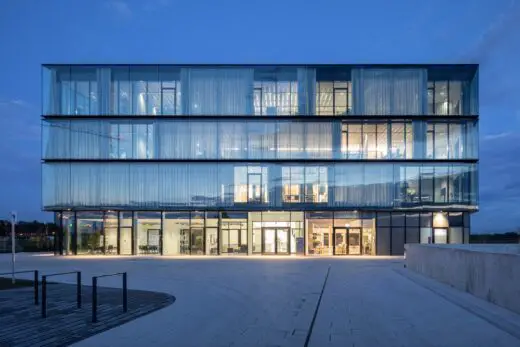 photo : Laurian Ghinitoiu
Baramundi Headquarters
Climate-neutral Event Arena
Design: Populous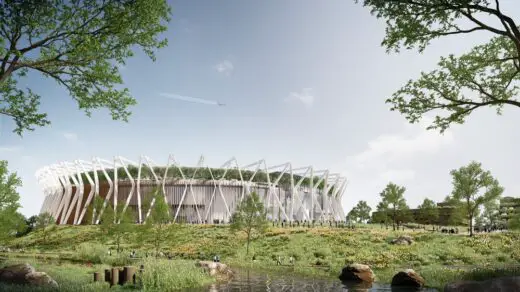 render © Populous
Climate-neutral Event Arena Munich
Comments / photos for this Google Office Munich Building design by DEGW page welcome.