The Young At Art | Museum, Broward County Library in Davie, Florida, Architects, Building
Young at Art Museum Broward County Library
C, Florida, USA – design by Glavovic Studio Inc and AECOM
Dec 19, 2013
The Young At Art | Museum
Glavovic Studio Designs Young at Art Museum Broward County Library
Florida, USA
Design: Glavovic Studio Inc and AECOM
Davie, FL – Glavovic Studio and AECOM have designed a new building for The Young At Art | Museum Broward County Library in Davie, Florida. Conceived as infrastructure and landscape, the LEED Gold Certified building is the first museum and the first children's museum to achieve LEED Gold Certification ranking in Florida and is one of only three children's museums to be LEED Gold certified in the United States. The building has recently won the Urban Land Institute (ULI) Southeast Florida/Caribbean 2013 Vision Awards Project of the Year.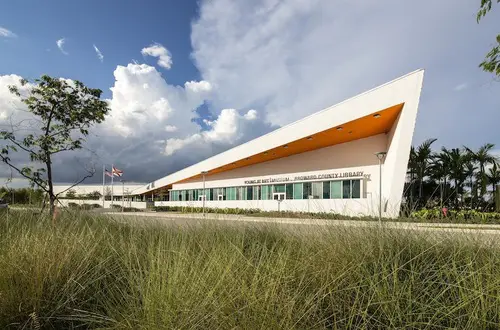 photo : AECOM
The program for the 55,000 square-foot building creates an extraordinary holistic experience through innovative use of space, materials and resources. The child and the child's experience of this particular place in South Florida have inspired the design concept. The design incorporates the relationship of space to the child and the interaction of the child in the production of ideas and the ongoing interaction of art with the user.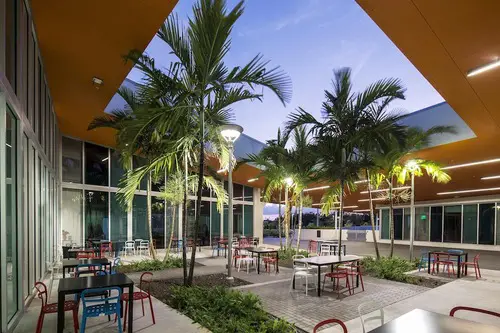 photo : AECOM
The museum, which offers a singular and enriching arts-based learning experience, has four major exhibit areas, an art institute including art studios for 2D visual arts, ceramics, 3D graphics and photography. In addition there is a library, a teen center, café, conference areas and a reading room.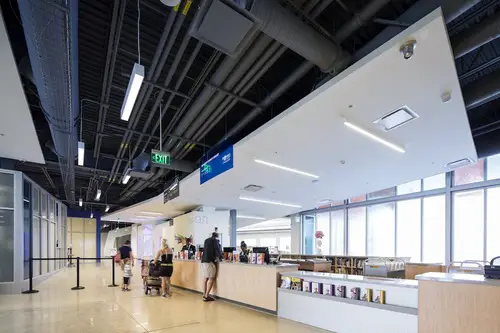 photo : AECOM
Key green features include a reflective, white TPO butterfly roof, exposed structural, mechanical, and infrastructural systems throughout the interior, maximized natural light roof, adequate solar orientation and high performance glass, built-in methods of efficient energy use and rainwater collection through an above ground cistern.

photo : AECOM
Attributions
Project Architects: Glavovic Studio & AECOM; MEP Engineers: AECOM & Hammond & Associates, Inc.; Civil Engineer: Craven Thompson and Associates, Inc.; Structural Engineer: AECOM; Landscape Architect: Curtis + Rogers Design Studio; Contractors: Pirtle Construction Company; Public Artists: Roberto Behar & Rosario Marquardt.
May 2, 2012
Glavovic Studio – Latest Building
Young at Art Museum / Broward County Library
YOUNG AT ART | MUSEUM BROWARD COUNTY LIBRARY
FORT LAUDERDALE – May 1, 2012 – Glavovic Studio is proud to announce the grand opening of the new Young at Art | Museum Broward County Library taking place this Saturday, May 5th, 2012.
The new 55,000 square-foot museum and library, designed by Glavovic Studio (design architect) and AECOM (architect of record), is located in Davie, South Florida and will be the first GOLD LEED-certified museum in Broward County, Florida. The project, initially envisioned in 2001, aims to provide a regional and national model for children oriented learning environments where the architecture takes careful consideration of the relationship of space to the child and the child's experience.
Aiming at becoming the epicenter of cultural arts education for children and families in Broward County, the new museum includes four major exhibit areas in addition to an Art Institute with art studios for 2D visual arts, ceramics, 3D graphics and photography. Also included is a 10,000 square-foot children's, adult and teen library, a reading room, a teen center, café, YAA store and conference areas. Throughout the building the Architecture is legible and through this demonstrates the mission of creativity and sustainability. Structural, mechanical and infrastructural and other systems are exposed throughout the building in a visually appealing way to enhance the space while offering opportunities to extend one's imagination and learn about the green building practices employed. Dedication and Ribbon Cutting Ceremony will take place at 9am, followed by the grand opening for general audience at 12pm. Address: 751 SW 121 Avenue, Davie, Florida 33325. For more info visit youngatartmuseum.com
Young at Art | Museum and Broward County Library is a project made possible through the partnership of Young at Art, a leading not-for-profit children's art museum, and the Broward County Libraries Division.
The new Young At Art Children's Museum and Library Complex focuses on arts and learning in Broward County and South Florida.
Located at 751 SW 121 Ave, Davie, FL.
Through an extraordinary public/private partnership with Broward County, Young At Art Museum is proud to present its new 55,000 square-foot, Gold LEED-certified permanent facility. The new YAA is a project of social inventiveness for families. The new museum has been envisioned as the first art museum experience for children – nurturing the child from birth through teens and into adulthood – creating a no-fail, arts-based learning environment that will transform the way children embrace the arts, become tomorrow's patrons of the arts and develop into future advocates and supporters of the arts.
Years of extensive planning have gone into the visualization of the new Young At Art Museum. Experts from some of the nation's finest museums including The Getty, Museum of Modern Art in New York, Noguchi Museum, Museum for African Art, Chicago Children's Museum and Brooklyn Museum of Art convened in a symposium to inform the content and context of our Exhibit Master Plan. Parents, educators, artists, cultural groups, children and teens from across South Florida contributed their insights as well. A nationwide search for architects and exhibit designers resulted in the selection of an exceptional design team – AECOM of Miami and Glavovic Studios of Fort Lauderdale as architects; Architecture Is Fun of Chicago as exhibit designer; Redbox Workshop of Chicago as exhibit fabricator.
The new YAA is a place where families can gather; where children can build a sense of identity through art, architecture, history and culture; where artists can teach their aesthetics; where teachers can develop new art-integrated classroom skills; and where teens can expand their potential, whether through CD production in our Teen Center's recording studio or through volunteer opportunities throughout the museum.
The new YAA embraces art reflective of the cultural diversity of South Florida, enabling children and adults of diverse ethnicities to build bridges of understanding. Through art children will discover themselves and their role in society.
Above all, children and teens, adults and seniors, teachers and students will have fun – exploring, experiencing, discovering and learning by creating art that explores our diverse and complicated world and helps us understand the broad range of human experience.
The Young At Art | Museum images / information from Glavovic Studio
Location: 751 SW 121 Ave, Davie, Florida, USA
Miami, Florida, USA
Miami Architecture
Contemporary Miami Architecture
Miami Architectural Designs – chronological list
Architecture Tours Miami by e-architect : exclusive guided walks
Miami Architecture Offices : Studio Listings
Glavovic Studio – Key Projects
Kennedy Homes Affordable Housing, Florida, USA
The ArtsPark at Young Circle, Hollywood, Florida, USA
The Girls Club Gallery, Fort Lauderdale, Florida, USA
Comments / photos for the The Young At Art | Museum page welcome