Stephen Bittel Terranova Corp Chairman, Coral Gables' Miracle Mile, Florida Destination
Stephen Bittel's Terranova – Coral Gables' Miracle Mile
14 July 2020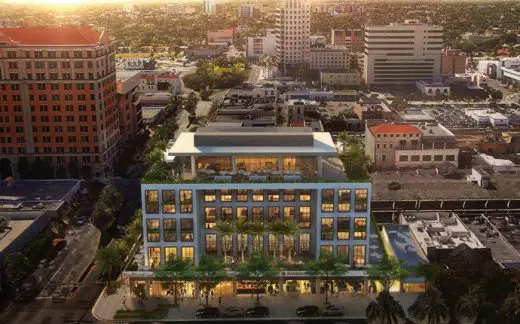 image courtesy of architects
Stephen Bittel's Terranova And The Evolution Of Coral Gables' Miracle Mile
Nestled among palm trees, sunny Coral Gables has long enjoyed a reputation as being a favorite destination for native Floridians looking for an immersive experience, and out-of-town guests alike. Evolving through time to meet increasing consumer demands, resident desires, and population growth, Coral Gables' infrastructure has expanded to include a robust Downtown section.
With ongoing development of desirable urban living, local amenities for residents, and commercial spaces to drive growing industry, Downtown Coral Gables has enjoyed continued expansion, including the famed Miracle Mile. According to leading Florida-based commercial real estate developer, Stephen Bittel, who has witnessed the evolution of Coral Gables throughout his 40 year career, these innovative expansions are proof of the power of urban retail, and the hyper-local "live-work-play" community type.
What Is Miracle Mile?
Spanning through a half-mile stretch of Coral Way (between LeJeune Road and Douglas Road), Miracle Mile acts as the quintessential connector throughout Downtown Coral Gables' central business district, leading to the landmark Coral Gables City Hall. With access via roadways, and through the Miami metrorail and subsequent trolley, accessibility has allowed for this hub to become one of Southern Florida's most coveted shopping destinations.
Inaugurated in 1922, the Downtown Coral Gables district was designed by developer George Merrick. As one of the first planned communities, the masterful design of Coral Gables, including the Miracle Mile sector, served as a benchmark for future developers, investors, and commercial real estate professionals. For Stephen Bittel, this initial consideration of the importance of growing commerce was an early indicator of the same principles of growth implemented by Bittel in his own commercial real estate development ventures.
Post-World War 2, commercial investment in the area allowed for complete rebranding. In 1955, the term Miracle Mile was born, showcasing the pivot to an innovative shopping destination. During this time, increased commerce necessitated growing public-use infrastructure, including the development of parking garages, and other amenities.
In 2016, Miracle Mile began to undergo an extensive streetscape redesign, aimed at providing an aesthetically pleasing immersive experience for the growing live-work-play community that has risen from the previously shopping-driven area. For Bittel, the continued increase of residential interest has warranted the need for newly revamped public-use amenities, which he cites as being crucial to maintaining urban residential interest.
Terranova's Mixed-Use Hotel & Reshaped Commerce
After the completion of the aforementioned $21 million streetscape project, the beautification efforts paid off in terms of increased tourism, local revenue, residential components, and commerce. A long-time proponent of championing urban retail through commercial real estate development, Terranova CEO Stephen Bittel submitted a proposal for a forward-thinking mixed-use structure at 220 Miracle Mile. Dubbed the Mile Hotel and Shops, this 120-key development would feature seven stories of mixed-use space.
With 15,000 square feet of ground space dedicated for retail, and restaurant space, the proposed Mile Hotel and Shops would highlight hospitality and business through an expansive outside-facing shopping experience. Above, the second floor would feature office space for local tenants, followed by hotel rooms on floors three to six.
Bittel's proposed top floor would feature an enclosed 4,000 square foot restaurant and bar, and rooftop pool. The proposed $20 million project would provide pivotal hotel amenities for the growing local tourism industry, and would highlight the beautifully designed commerce space that has lent a stellar reputation for Miracle Mile.
With the city's addition of pedestrian-friendly amenities via the completed streetscape project, Stephen Bittel recognizes the potential change in behavior of visitors. Rather than parking in a desired location, completing a task, and leaving the area, the newly created amenities welcome leisurely strolls, an immersive experience, and a desire to explore Miracle Mile in its entirety. 
For the growing number of local residents, these comprehensive improvements will assist in evolving the hyper-local economy. Through the development of newly constructed urban dwelling areas, public-use infrastructure, and authentic local food and commerce spaces, residents have increased options for hyper-local community spending. According to Bittel, this creates a cycle of prosperity in a thriving live-work-play hyper-local community.
Who is Stephen Bittel?
As the Founder, and CEO, of Terranova Corporation, Stephen Bittel is involved in the Florida commercial real estate development juggernaut's daily operations. Bittel founded the company in 1980 as an operation for a single commercial property. Since inception, he has been working to build an impressive portfolio, and bespoke services. Through a dedication to customer service, and a vision for the future of commercial real estate investment, Bittel's Terranova now controls over $1 billion in assets.
Today, Terranova is the owner of a vast array of commercial real estate properties, and the operator of various commercial destinations. The company's comprehensive services include leasing and property management, acquisition and joint ventures, tenant representation, financing, and development and construction management. Through these services, Bittel's Terranova has amassed an array of renowned retail tenants, and partnerships with various leading companies.
Prior to launching Terranova in 1980, the Miami native held various pertinent leadership positions. In 1978, Bittel graduated magna cum laude from Bowdoin College, and in 1982, he earned his law degree from the University of Miami School of Law. Deeply involved in championing local organizations and city groups, Stephen Bittel led the Greater Miami Jewish Federation's Washington Mission, and served on the Board of the Miami chapter of Teach For America and Achieve Miami.
Bittel has served as the chairman of the YPO Miami Chapter, and co-chairman of the YPO Miami Gold Chapter. His ongoing commitment to his community is manifested through Bittel's participation in various organizations, and his championing of local economies through commercial real estate development.
Follow Stephen Bittel on Medium and ThriveGlobal.
Comments on this guide to Stephen Bittel's Terranova And The Evolution Of Coral Gables' Miracle Mile article are welcome.
Property Articles
Comments / photos for the Stephen Bittel's Terranova – Miracle Mile Coral Gables Shopping District, FL Guide page welcome