Manchester Museum Galleries, South Asia Exhibition, Northwest England Building Development Photos
Manchester Museum Galleries Design
31 October 2022
Manchester Museum reopens to the public in February 2023 following major redevelopment
Original neo-Gothic building design: architect Alfred Waterhouse
Design: Purcell ; Studio C102 with Mobile Studio Architects
Location: 250 Oxford Road, Manchester, England, UK
Manchester Museum new extension building: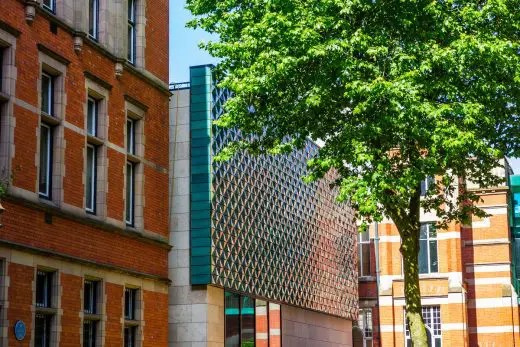 Photos by Chris Bull, www.chrisbullphotographer.com, unless stated otherwise
Manchester Museum Building News
● Manchester Museum, part of the University of Manchester, is to reopen to the public on 18 February 2023 following its most ambitious transformation in a generation
● The £15 million transformation is supported by public funding from Arts Council England, The National Lottery Heritage Fund, The University of Manchester, and numerous philanthropic supporters
● Architectural practice Purcell has designed a new modern two-storey extension increasing the capacity of the museum and revealing new exhibition spaces and a contemporary entrance along with new inclusive facilities
● Committed to building better understanding between cultures and foregrounding inclusive perspectives, the Museum will offer visitors the opportunity to experience never-before-displayed collections, unique co-curated galleries and extraordinary projects and research.
T Rex at Manchester Museum, photo by Manchester Museum: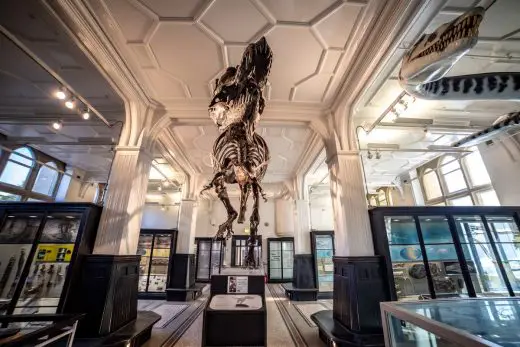 February 2023 marks the reopening of Manchester Museum, following its ambitious £15 million transformation. The museum reopens its doors with the aim to build greater understanding between cultures, a more sustainable world and to bring to life the lived experience of diverse communities through the Museum's historic collections and new displays.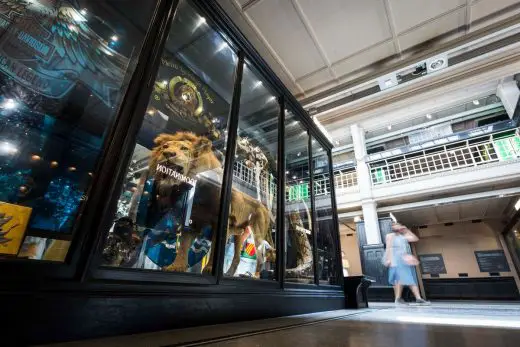 Esme Ward, Museum Director of Manchester Museum, says: "February 2023 will mark a huge moment in Manchester Museum's rich history as we open our doors following a major transformation. We have extended the building, making room for more joy and learning and evolving into the museum Manchester needs. Beautiful new galleries and exhibitions will showcase the best of the museum's historic collections, as well as addressing the urgencies of the present day and highlighting the complexities of our world. We have also listened to advocates with lived experience, and inclusive new spaces and features are incorporated throughout. We can't wait to welcome our visitors back."
Manchester Museum new extension facade: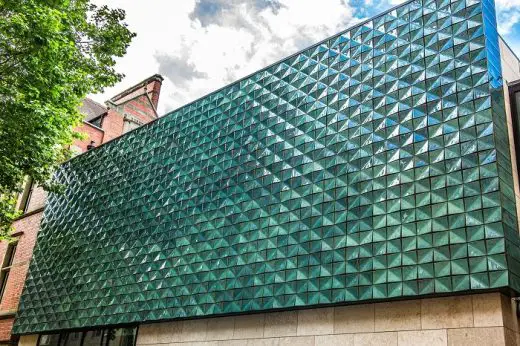 The public will be invited to new galleries including the South Asia Gallery, a British Museum partnership and the UK's first permanent space to explore the lived experience of South Asian diaspora communities.
There will also be a new Lee Kai Hung Chinese Culture Gallery, the Belonging Gallery, a brand new Dinosaur display and Golden Mummies of Egypt, its first blockbuster exhibition opening in the new Exhibition Hall.
Manchester Museum on Oxford Road before transformation: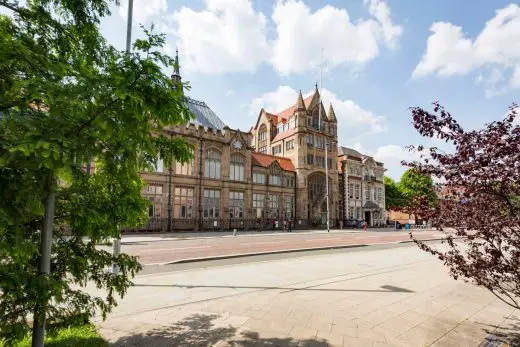 Manchester Museum, part of The University of Manchester, first opened in 1890 and is recognised as one of the largest university museums in the UK. The original neo-Gothic building, designed by renowned architect Alfred Waterhouse (1830–1905), is home to around 4.5 million objects from natural sciences and human cultures. Proud to be the world's first Carbon Literate Museum, the museum has recycled and reused as much material within the museum during renovation works.
Manchester Museum Galleries Fossils Gallery: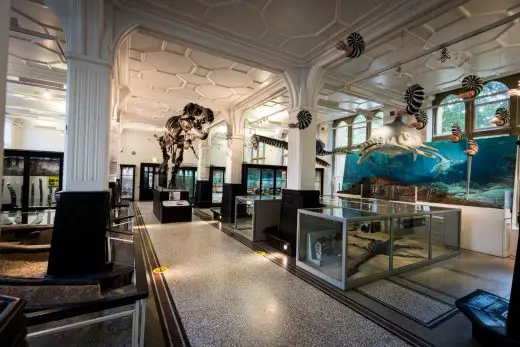 Purcell has designed a modern two-storey extension housing a major new Exhibition Hall and South Asia Gallery, alongside a new accessible entrance from Oxford Road and a new cafe and shop. The extension is clad in green-glazed terracotta tiles and pays homage to craftsmanship as well as Victorian and Edwardian period buildings in Manchester.
Other new features include a Changing Places toilet, prayer room, quiet room, picnic area and therapy room.
Manchester Museum – Living Worlds Gallery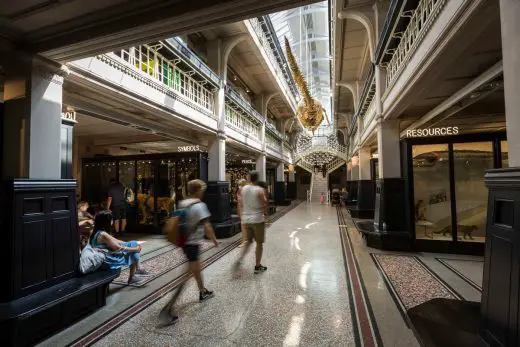 Exhibition Hall
The Exhibition Hall is home to ambitious shows that explore past, present and future and
engage with global and local narratives. The opening exhibition, Golden Mummies of Egypt, will
offer visitors unparalleled access to the Museum's world-class Egypt and Sudan collection and
aims to challenge Victorian narratives of 'ancient Egypt' through new research from the
University of Manchester. Featuring more than 100 objects and 8 mummies, the UK debut
follows a hugely popular tour across USA and China and will present a rich perspective on
beliefs about the afterlife during Egypt's Graeco-Roman Period (332 BC -395 AD), with
highlights including elaborately decorated mummies known as 'Fayum Portraits'.
South Asia Gallery, a British Museum partnership
The South Asia Gallery, a British Museum partnership, is the first permanent gallery in the UK
to celebrate the lived experiences and contributions of the South Asian diaspora. Co-curated
with the South Asia Gallery Collective, a group that includes community leaders, educators and
artists, the gallery will explore the connection between South Asia and Britain and the legacy of
Empire alongside contemporary South Asian culture and creativity, perspectives that have not
been presented before. Divided into 6 anthologies, the Collective has grappled with a range of
subjects through 140 artefacts, including one of the collective's great-grandfather's World War I
uniform, a rickshaw imported from Bangladesh and decorated by communities in Manchester, a
new commissioned mural from British artists, The Singh Twins – an emotional map of South
Asian diaspora experience – and a Cartier brooch containing a repurposed carved emerald
from the Mughal Empire. At the heart of the gallery is also a dedicated space for performance,
film and participatory activities.
Lee Kai Hung Chinese Culture Gallery
The Lee Kai Hung Chinese Culture Gallery highlights personal stories of migration, friendships and
collaboration to inspire empathy and build understanding. Developed in partnership with the
University's Manchester China Institute, it draws on historical and contemporary links between
Manchester and China. Showcasing rarely and never-displayed collections from cultural
partners across the city, visitors will delve through personal stories and objects such as a late
Qing dynasty (1636–1912) 'Manchu' headdress decorated with blue kingfisher feathers, a
20-metre scroll showing Emperor Kangxi's birthday procession through the streets of Beijing in
the 18th century and a taxidermy milu deer, once on the brink of extinction but now thriving in
China after decades of transnational conservation efforts. A night sky constellation – our
shared sky – also encourages people to gather and connect through cultural exchange and
performances.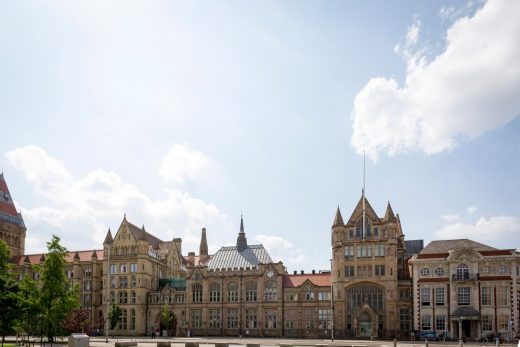 Dinosaur Display
Palaeontology enthusiasts will learn what it means to think like a palaeontologist at the
brand-new Dinosaur display next to the historic Fossils Gallery. Visitors can meet with
prehistoric giants Stan the Tyrannosaurus rex, one of the museum's most visited exhibits, and
its new addition, April the Tenontosaurus. The museum worked with a team of Earth Science
students from the University of Manchester, who's new research and several years of
cataloguing have allowed April's skeleton, dating back to the Cretaceous period and found in
Montana, USA, to stand on all fours again. Our changing world is a focal point throughout, with
featured objects such as fragmented rock showing the moment the asteroid hit Earth, relating
to our understanding of evolution, climate change and outer space.
Belonging Gallery
Alexandra P. Alberda is the first ever Curator of Indigenous Perspectives at Manchester
Museum. She was appointed to take forward the innovative 'Indigenising Manchester Museum'
programme, funded by the John Ellerman Foundation, which sets Indigenous perspectives at
the heart of the museum. The new Belonging Gallery – the first of the permanent galleries
visitors will see – captures the welcoming spirit of the museum and has been led by Alberda. It
draws upon the museum's collections and diverse cultural perspectives to reflect on what it
means to belong. Following an open call, the exhibition presents the work of multiple visual
storytellers, who bring their own life experience to comic art to rewrite the past and inspire new
futures, including Indigenous Futurism and African Futurism, which is explored alongside
artefacts and natural history specimens. The works tell stories including the climate migration
of the first people to Britain during the last Ice Age, and the poignant story of a Syrian refugee's
life jacket, collected in 2017.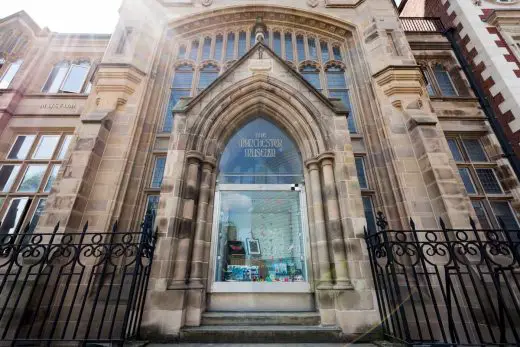 To find out more about the project and upcoming exhibitions, visit: manchester.ac.uk/museum
Previously on e-architect:
10 Aug 2021
Manchester Museum South Asia Gallery Building
Design: Studio C102 with Mobile Studio Architects
Location: 250 Oxford Road, Manchester, England, UK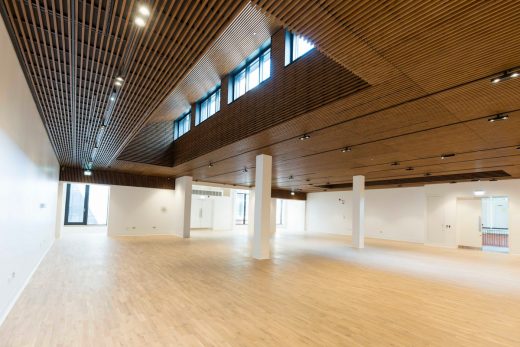 Manchester Museum South Asia Gallery
Manchester Museum Courtyard Project
Design: Purcell
Manchester Museum Courtyard Project
Location: 250 Oxford Road, Manchester, M13, Northwest England, UK
Manchester Buildings
Contemporary Manchester Architecture
Manchester Architectural Designs – chronological list
Manchester Architecture Walking Tours
Manchester Engineering Campus Development News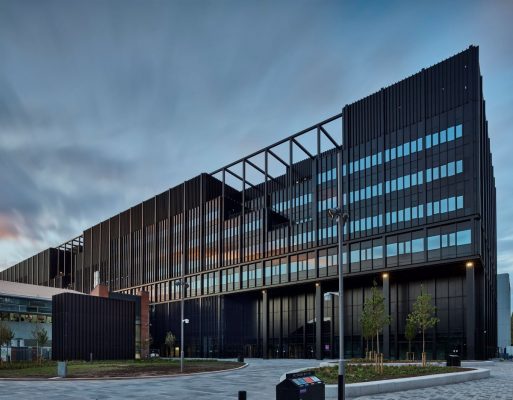 photo : Balfour Beatty
Manchester Engineering Campus Development
Space Studios
Design: PRP Architects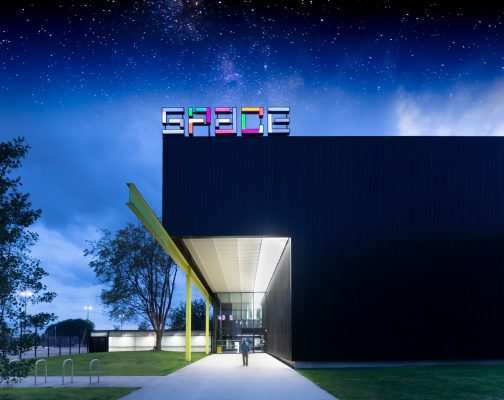 image courtesy of architecture practice
Space Studios
Hulme Living Leaf Street Housing
Design: Mecanoo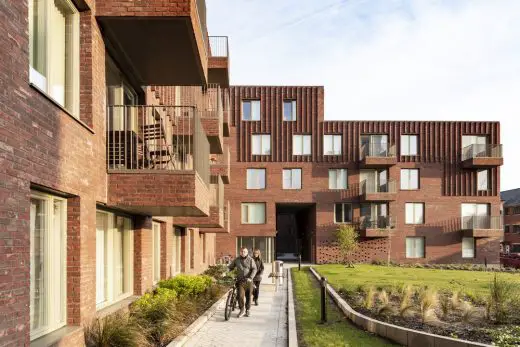 photo : Greg Holmes
Hulme Living Leaf Street Housing
Manchester Science Museum building
Comments / images for the Manchester Museum Galleries: Building Renewal design news page welcome