Confluence Institute for Innovation and Creative Strategies in Architecture Lyon, French Building
Confluence Institute for Innovation and Creative Strategies in Architecture, Lyon
Building in southern France – design by Studio Odile DECQ architectes urbanistes
10 Apr 2014
Confluence Institute for Innovation and Creative Strategies in Architecture
Design: Studio Odile DECQ architectes urbanistes
CONFLUENCE Institute for Innovation and Creative Strategies in Architecture
The Confluence is a new institution for architectural education and research based on an evolving and radical understanding of research, experimentation and trans-disciplinarity. It will bring together "Architects, critics, artists, thinkers, philosophers, film-makers, scientists, engineers and manufacturers" in order to develop an architecture that develops ideas unconstrained by "stylistic prejudice or ideology."
International and independent, the Confluence is located in the heart of Europe in Lyon, France.
Project – Courtesy of Studio Odile DECQ architectes urbanistes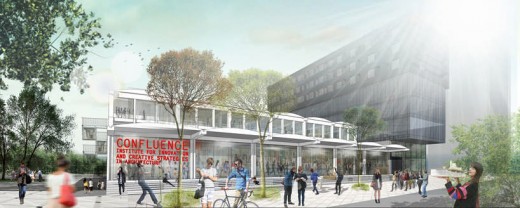 image Courtesy of Studio Odile DECQ architectes urbanistes
The Confluence: an educational approach that is open, alternative, collaborative and innovative.
The Confluence proposes:
• To construct an unparalleled understanding of architecture at the intersection of disciplines,
• To cross prospective and experimental visions,
• To create an appetite for engagement,
• To generate unforeseen alternatives,
• To resist the uniformity of production and imposed standards,
• To question and go beyond the implicit limits of architecture in order to create unimaginable opportunities.
On the picture, from Left to right:
Philippe Barrière, Sony Devabhaktuni, Odile Decq, Jean Christophe-Quinton, Matteo Cainer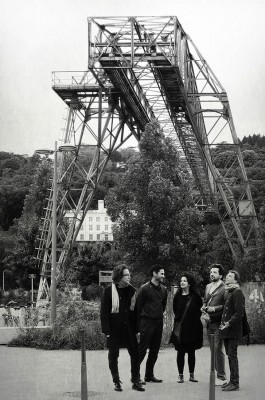 Courtesy of Confluence Institute for Innovation and Creative Strategies in Architecture
Anchored in the economy of the world, the Confluence is a site of synergies, a site of hybridization.
Architects, critics, artists, thinkers, philosophers, film-makers, scientists, engineers and manufacturers work together to share knowledge and discoveries. Without stylistic prejudice or ideology, a diversity of cultures, knowledge and practices makes it possible to develop ideas and projects in order to imagine all that is possible.
Intuition, analysis, confrontation, reaction, beginnings, destabilization, emulation, convergence – the Confluence.
Founders
Odile Decq- Architect Urbanist, Paris
Philippe Barrière- Architect Teacher, Quebec
Matteo Cainer- Architect Curator, Paris/London
Sony Devabhaktuni- Architect Researcher, Paris /Lausanne
Jean Christophe-Quinton- Architect Teacher, Paris
Advisory Board
Hitoshi Abe
Beatriz Colomina
Sir Peter Cook
Cynthia Davidson
Peter Eisenman
Kristin Feireiss
Anna Heringer
Dominique Hervieu
Francine M.J. Houben
Sarah Ichioka
Irina Korobina
Anupama Kundoo
Xiangning Li
Kent Martinussen
Eric Owen Moss
Antoine Picon
Monica Ponce de Leon
Jacques Sautereau
Aaron Sprecher
Kazuo Sejima
Carin Smuts
Benedetta Tagliabue
Georges Teyssot
Martha Thorne
Sarah Whiting
The curriculum at Confluence will be organized around five thematic fields – Neuroscience, New technologies, Social Action, Visual Art, and Physics – taught in transversal and non-hierarchical ways. Teaching is structured around contemporary questions that respond to social concerns; students are given the autonomy to construct their own research programs based upon their interests/preoccupations.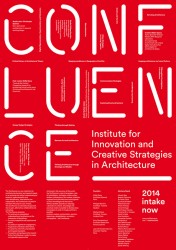 Courtesy of Confluence Institute for Innovation and Creative Strategies in Architecture
POST – MASTER
Post – Master Odile Decq
-Towards the Horizon- Prospective research for envisioning future-human ways of living and architecture's role tomorrow.
Post- Master Peter Cook
-Enjoy the enthusiasm of Peter Cook's teaching- Life, Style and the city…meaning: ideas- things- your take on the future.
STUDIOS
Studio – Philippe Barrière
– Information technology- A new paradigm shift to rethink planning and architecture. 'Impossibilities in question or the questioning of possibilities'.
Studio – Matteo Cainer
-Protesi- Redefining Urban Dysfunctions: Recovering, connecting and implementing new hybrid and experimental environments.
Studio – Jean-Christophe Quinton
– Non-permanent architecture: a seasonal, evolving design.
SEMINARS AND COURSES
Thinking Architecture through Drawings and Models
Between Art and Architecture
Society and the City
Mapping Landforms: A Geography of the City
Critical History of Architectural Theory
Material Imagination, Desire and Innovation in Architecture
Thinking through Making
Exploring Structural Systems
Construction Management
Philosophical Investigations in Architecture
Narrating Architecture
Urban Strategies for Living Together
Ethics/Aesthetics
Imaging architecture and visual Culture
Digital Representation, Experimentation and Fabrication
Energy Design Strategies
Communication Strategies
Creative Maker Space
Aaron Sprecher-Director McGill LIPHE Research Laboratory
An experimental environment with unique digital manufacturing technologies for architectural design.
Admissions are open now for the fall
www.confluence.eu
[email protected]
Tel: +33661449369
You can also find us on:
Linkedin, Instagram (confluence_arch)
http://www.facebook.com/Confluence.Architecture
Graphic identity by Studio Mjolk
Confluence Institute for Innovation and Creative Strategies in Architecture in Lyon image / information from Matteo Cainer
Location: Rue Casimir-Perier, Lyon, France
Lyon Buildings
Contemporary Lyon Architecture
Lyon Architecture Designs – chronological list
Lyon Confluence Buildings
Musée des Confluences
Design: COOP HIMMELB(L)AU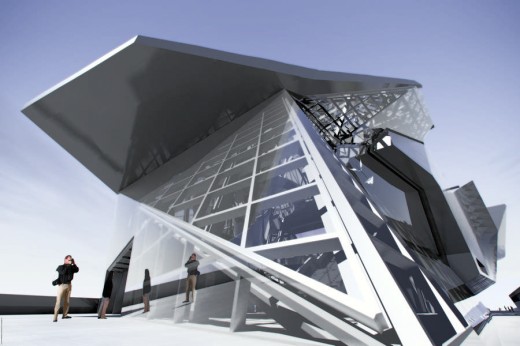 image © COOP HIMMELB(L)AU
Musée des Confluences
Le Monolithe – Lyon Confluence
MVRDV>
Le Monolithe Lyon Confluence
Monolith in Lyon
Designed by Erick van Egeraat
Monolith in Lyon
Recent Lyon buildings:
The Orange Cube
Architects: Jakob + Macfarlane
The Orange Cube Lyon
Docks Quay Rambaud
Odile Decq Benoît Cornette
Lyons Docks building
Comments / photos for the Confluence Institute for Innovation and Creative Strategies in Architecture, Lyon page welcome