London Tower Bridge Talks: 125 Years Celebration, River Thames Architecture News
Tower Bridge Talks in London
Bascule and Suspension over River Thames, England, UK – 125 Years Celebration
6 Sep 2019
Tower Bridge London Talks
Tower Bridge to host series of one-off talks to celebrate history spanning 125 years
• Tower Bridge is to open its doors after hours to host a series of one-off talks to celebrate 125 years of history
• Each event explores 125 years of history through the eyes of an expert
• Takes place across September-December
• Arrive: 7.00pm for a 7.30pm start. Each event lasts approximately 1 hour
• Events take place in the brand new Learning Space based in the high up inside the iconic South Tower
• Limited availability https://towerbridge.recreatex.be/Exhibitions/Overview
Tower Bridge, London's defining landmark, is opening its doors after hours for an exclusive series of one-off talks: all from one of the capital's most famous river crossings.
From a chance to sample Victorian delicacies to a special screening of the 1959 screen classic The Boy on the Bridge, the series will illustrate 125 years of history alongside fascinating tales behind the people at the heart of one of the capital's best-loved landmarks.
Held in Tower Bridge's brand new Learning Space, the talks form part of the year-long 125th anniversary celebration that saw record-breaking visitors to the Bridge in June.
Tower Bridge London – High Level Walkways: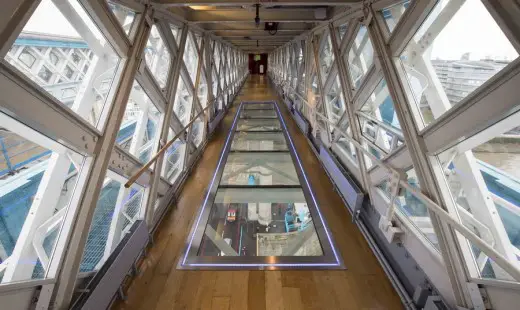 photo © Tower Bridge Exhibition and The Monument
Illuminated River Project
• Thursday 5 September 2019
• £20 per person (includes a welcome drink and a return ticket to visit Tower Bridge within 12 months)
• Arrive: 7.00pm for a 7.30pm start
The Illuminated River Project is a London wide public art commission that will transform the capital at night, lighting up 15 bridges across the River Thames. Once complete, the project will be the longest public art project in the world, seen over 130 million times a year during its record 10-year lifespan. Join Director Sarah Gaventa and Project Architect Chris Waite at the Bridge to explore the ambitious decade-long public art project and how the historic bridge will shine in its role.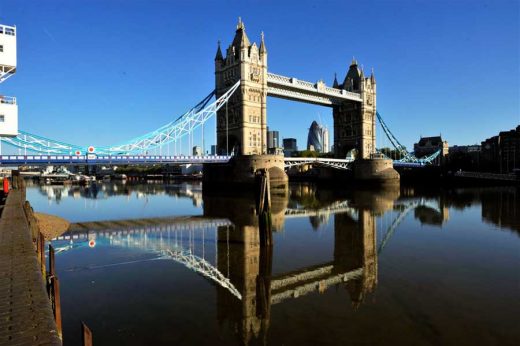 photo © Nick Weall
Sir Horace Jones and the Architecture of Tower Bridge
• Thursday 12 September 2019
• £20 per person
• Arrive: 7.00pm for a 7.30pm start
Dr Jennifer Freeman, architectural historian and writer, and a specialist in 'at risk' conservation buildings will guide guests through the extraordinary life of Tower Bridge architect Sir Horace Jones. A specialist on the man behind a number of London's most iconic buildings, including Smithfield Market and Billingsgate Market, Jennifer will not only explore Jones' legacy and his innovations as a designer and planner, but the architectural marvel Tower Bridge remains as to this day.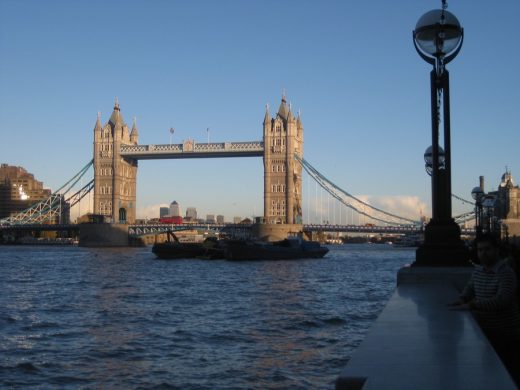 photo © Adrian Welch
Tower Bridge Eats: Cooking and Dining with the Denizens of Tower Bridge in 1894
• Thursday 17 October 2019
• £20 per person
• Arrive: 7.00pm for a 7.30pm start
Don your kitchen whites and test your taste buds to explore the past century through an exclusive tasting talk with food historian Dr Annie Gray. Dr. Gray will take foodies on a whistle-stop tour of 125 years of gastronomic history at Tower Bridge.
An Illustrated Construction of Tower Bridge
• Thursday 7 November 2019
• £20 per person
• Arrive: 7.00pm for a 7.30pm start
From the fanciful to the downright farcical, explore some of the alternative river crossing designs presented to the City of London's special committee in 1876. Tom Furber, Engagement and Learning Officer with the London Metropolitan Archive offers a fascinating insight into some of the weird and whacky designs submitted for the design competition, as well as the ground-breaking construction of Tower Bridge.
Tower Bridge & the Thames on Film
• Thursday 5 December 2019
• £20 per person
• Arrive: 7.00pm for a 7.30pm start. Please note this event will finish later due to the film screening
This illustrated talk by British Film Institute curator Simon McCallum will give a flavour of the BFI National Archive's unparalleled collection of film and TV about London, with a particular focus on life along the Thames. Drawing on a rich array of newsreel footage, documentaries and home movies, this archive tour will include glimpses of the majestic Bridge itself across the past century. These films are part of the Britain on Film initiative, with thousands of newly digitised titles from the BFI and partner archives around the UK now free to explore on BFI Player. Simon's talk will be complemented by a screening of the classic 1959 film The Boy on The Bridge, made possible by the estate of Director Kevin McClory.
Tickets are £20 per person and can be booked now through towerbridge.org.uk.
Talks will take place in the Tower Bridge Learning Space.
High Level Walkways: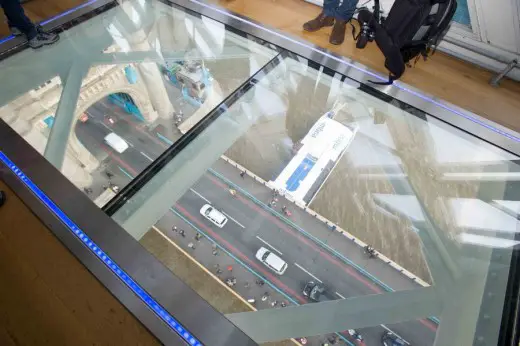 photo © Tower Bridge Exhibition and The Monument
Tower Bridge Talks 2019
Background
Sarah Gaventa M.A. (RCA), is a public space and place-making expert who recently founded Made Public projects. She has been chair of the Elephant & Castle Regeneration Forum for the past five years and was the interim Director of the Architecture Foundation. Sarah was the director of CABE Space from 2006 until 2011; she was also the Director of Seachange, a £40 million capital programme for the cultural regeneration of seaside resorts. In 2010 Sarah was made an Honorary Fellow of the Landscape Institute for her outstanding contribution to landscape. She is the author of New Public Spaces.
Chris Waite MEng, BArch, ARB is Associate Director of Lifschutz Davidson Sandilands. Chris worked as a façade engineer before completing his architectural training at the University of Liverpool. Since joining Lifschutz Davidson Sandilands in 2005 he has worked on many retail, office, residential and mixed-use developments in the U.K. and abroad, at all design stages. The broad nature of his experience suitably qualified him to lead the architectural team working with the American artist Leo Villareal to deliver the Illuminated River, one of the most prodigious public art and public realm schemes ever conceived.
Jennifer Freeman is an architectural historian and writer. A specialist in building conservation, she runs her own small development company that concentrates on listed buildings considered 'at risk', she was also Director of the Historic Chapels Trust from 1992-2012. Jennifer has a long involvement with the City of London and was co-author and project coordinator of Save the City, a Conservation Study of the City of London. She wrote a thesis on Sir Horace Jones and is considered a specialist on the historic architect, giving evidence in a number of public inquiries in the City, including those that saved Billingsgate Market and Smithfield Market.
Dr Annie Gray is one of Britain's leading food historians. She works as a consultant, broadcaster, writer and speaker, specialising in food and dining from c.1650 to 1950. Her voice will be familiar from Radio 4's The Kitchen Cabinet, and her face from many TV documentaries, including Victorian Bakers, Victoria and Albert: The Wedding and James Martin's Saturday Morning. She is the author of The Greedy Queen: Eating with Victoria, and the forthcoming book Victory in the Kitchen: The Story of Churchill's Cook.
Tom Furber, Engagement and Learning Office with the London Metropolitan Archives, where he delivers regular talks on the history of London's people and places.
Simon McCallum is Archive Projects Curator at the BFI. Working across the BFI's digital platforms, and with filmmakers on special events, Simon is passionate about bringing the riches of the BFI National Archive to a wider audience.
Tower Bridge London
• Tower Bridge was the creation of architect Sir Horace Jones and civil engineer Sir John Wolfe Barry. It took eight years to complete and was officially opened on 30 June 1894 by the Prince and Princess of Wales (the future King Edward VII and Queen Alexandra)
• Tower Bridge opening hours: 09:30 – 17:00 (last admission)
• Admission prices for Tower Bridge:
• Adults: £9.80
• Children aged 5-15: £4.20
• Groups of 10 or more adults: £8.30
• Concessions: £6.80
• Family tickets from £15.30
• Under 5s free
• A special community ticket of £1 is now available for residents of Southwark, Tower Hamlets and the City
• The nearest underground stations are London Bridge or Tower Hill
• Visit the Glass Floor up on the high-level Walkways, which gives visitors a unique perspective of London 42 metres above the Thames. "Look up on London" – a mirror installed over the West Walkway's Glass Floor offers visitors a dizzying experience of the city. Guests are able to tread on the glass floor panels whilst traffic passes beneath their feet. It can withstand the weight equivalent to one elephant or two London Black Cabs.
• Download the Family Trail app to explore the structure like never before with an innovative app and activity packed booklet for 5-10 year olds.
• Offering refreshed collections and bespoke ranges of gifts and souvenirs, the Tower Bridge Gift Shop reopened to the public in November 2016 following a 6-week redevelopment. In 2018 the shop won the Museums + Heritage Award for 'Best shop with a turnover more than £500k'. Now in its 16th year, the Museums + Heritage Awards recognise projects of excellence, and innovative groundbreaking initiatives from galleries and visitor attractions from across the globe.
• Winner of the 2016 Sandford Award for Heritage Education. This prestigious award recognizes the importance of formal, curriculum-linked education opportunities offered to schools by heritage sites.
• one of only 20 UK attractions to receive the Visit England Gold Attractions Accolade in both 2018 and 2019. The accolade recognises quality visitor experiences on offer and is awarded to attractions that go the extra mile to provide a high quality day out.
• recognised as London's defining landmark and is a proud supporter of the City Bridge Trust, generating over £6m a year, which goes towards helping charitable causes across London.
• The City of London Corporation is the governing body of the Square Mile dedicated to a vibrant and thriving City, supporting a diverse and sustainable London within a globally successful UK. www.cityoflondon.gov.uk
• The City Corporation, which owns and manages the structure, is the fourth largest funder of heritage and cultural activities in the UK and invests over £100m every year. The City Corporation is also developing Culture Mile between Farringdon and Moorgate – a multi-million-pound investment which will create a new cultural and creative destination for London over the next 10 to 15 years.
#InsideTowerBridge
Tower Bridge London Talks information from Kallaway
Previously on e-architect:
Tower Bridge London News
Purcell completes Tower Bridge High Level Walkways
Design: Purcell
Glass floor inserted 42 metres above the Thames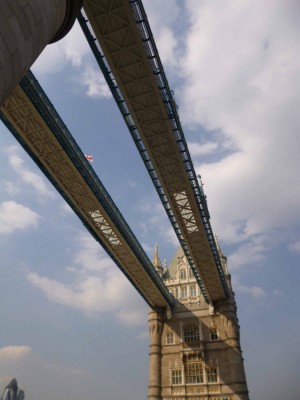 photo © Barksy Media
Tower Bridge High Level Walkways
Tower Bridge
Design: Horace Jones
Date: 1894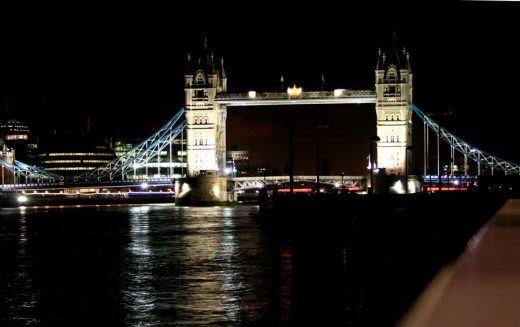 photo © Keepclicking
Tower Bridge
Location: Tower Bridge, London, England, UK
Architecture in London
Contemporary Architecture in London
London Architecture Links – chronological list
London Architectural Tour by e-architect
Potters Field Towers by Ian Ritchie
Comments / photos for the Tower Bridge Talks – River Thames Architecture page welcome