John Soanes Museum London, Lincoln's Inn Fields, Architecture Exhibition 2020, Architect
Sir John Soane's Museum Exhibitions
30 Sep 2020
Sir John Soane's Museum Reopening News
Sir John Soane's Museum reopens to the public
& announces upcoming exhibition programme
Tomorrow, 1 October 2020, Sir John Soane's Museum in London reopens to the public with an extension of Langlands & Bell: Degrees of Truth, a solo exhibition from artists Langlands & Bell. The Museum also announces its future exhibitions including The Romance of Ruins: The Search for Ancient Ionia, 1764, featuring works by William Pars from the British Museum's Collection, an exhibition depicting Sir John Soane's architectural legacy, and the annual Architecture Drawing Prize.
Sir John Soane's Museum Building
30th September 2020 – Visitors will be welcomed back through the doors of Sir John Soane's Museum, to explore the house and museum of one of the foremost architects of the Regency era, as well as the collection of eccentrically-displayed paintings, sculpture, architectural fragments and models, books, drawings and furniture.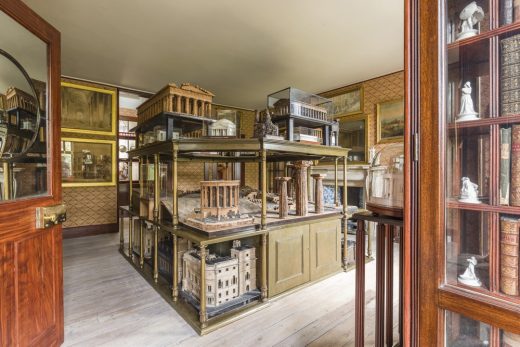 photo © Gareth Gardner
Due to the nature and layout of the Museum, a number of changes have been implemented upon opening to ensure the safety and wellbeing of visitors, staff and volunteers. These include a one-way route around the collection, an initial reduction in opening hours to three days a week, reduced visitor numbers, and free timed ticketed entry. Visit information is at https://www.soane.org/your-visit.
Bruce Boucher, Deborah Loeb Brice Director, Sir John Soane's Museum, said:
Following our temporary closure, we are delighted that visitors can once again enjoy the collections and spaces of Sir John Soane's Museum. We reopen with the perceptive exhibition by Langlands & Bell, which, together with our upcoming programme reaffirms the Museum's commitment to continue Soane's mission, exploring his approach to design, architecture and culture, and that of his contemporaries, as well as the legacy of his innovations in the work of artists today.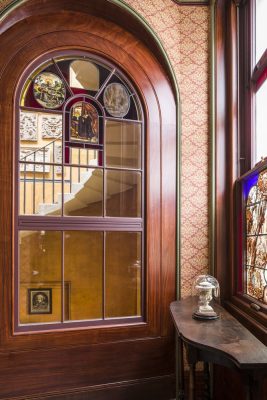 photo © Gareth Gardner
The safety of our visitors and staff is our priority as we reopen, and we have thoroughly implemented measures to allow visitors to maintain social distancing and enjoy their return to the Museum. In many ways, the reduced numbers will allow for an appreciation of how the museum was originally viewed, with smaller visitor groups recreating the nineteenth and earlier twentieth century visitor experience.
Langlands & Bell: Degrees of Truth
1 October 2020 – 3 January 2021
Visitors will have the opportunity to visit Langlands & Bell: Degrees of Truth, which temporarily closed with the Museum in March. The exhibition reflects on the capacities of architecture to bear witness to the social, cultural, political, economic and technological relationships that define contemporary society. Artworks spanning four-decades of the artists' career are displayed throughout the Museum in dialogue with its historic interiors.
This exhibition has been made possible thanks to the support of Pomellato and Christian & Florence Levett.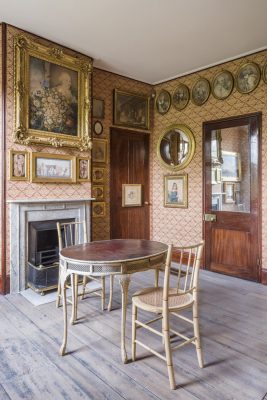 photo © Gareth Gardner
Upcoming Exhibitions
Sir John Soane's Museum today also announces upcoming exhibitions including:
The Romance of Ruins: The Search for Ancient Ionia, 1764.
3 March – 31 May 2021
Produced in collaboration with the British Museum, this exhibition showcases drawings made by the young artist William Pars in connection with the Society of Dilettanti's 1764 expedition to ancient sites in Ionia (modern Turkey). These images represent Enlightenment themes of travel and discovery. They are powerful and poetic, embodying often melancholy reflections on the passing of the great age of antiquity and the reduction of its monuments. They capture the spirit of Edward Gibbon's reflection on the fall of civilizations and in so doing they portray the romance of ruins.
Soane in Italy
3 March – 31 May 2021
As a young man, Sir John Soane was awarded a travelling scholarship to Italy. Setting out in 1778 and returning in 1780, the ancient ruins and buildings he encountered on this tour were to have a profound influence on his later work. Included in this display are the guidebooks which Soane carried with him and annotated, his own sketchbooks, and drawings done in-situ of iconic buildings including the Pantheon in Rome, the Temple of Vesta at Tivoli and recently uncovered sites at Pompeii. Soane's impressive lecture drawings and designs for buildings, including the Bank of England, demonstrate the lasting impact of this trip on his work. These works resonate with the Romance of Ruins exhibition in demonstrating the influence of ancient architecture on British buildings.
Grand Designs: Sir John Soane's Legacy
23 June – 19 September 2021
Sir John Soane dreamt of leaving a rich architectural legacy, constructing monumental civic buildings which would become urban landmarks in London. This exhibition focuses on drawings commissioned by Soane to illustrate his projects. These works bring buildings that were never built to life in dramatic, monumental fashion, showcase Soane's finest achievements, and depict his great buildings as romantic ruins.
The Museum will also host the fourth annual exhibition of works from The Architecture Drawing Prize (13 Jan – 14 Feb 2021). In partnership with the World Architecture Festival, Make Architects and Sir John Soane's Museum, the prize is conceived to celebrate and showcase the art and skill of architectural drawing.
Louise Stewart, Curator of Exhibitions, Sir John Soane's Museum, said:
We are delighted to be reopening with an exciting programme of contemporary and historic exhibitions, from Langlands & Bell's meditations on the relationships between buildings, power and technology, to the powerful images of ruins by William Pars. These exhibitions focus on the relationship between people and architecture, highlighting its power to inspire and transport us, as well as showing the importance of the spaces we inhabit, which has been thrown into relief during lockdown.
Please see the website for further details of the procedures that will be in place, in line with the latest Government guidelines.
Previously on e-architect:
Sir John Soane's Museum Exhibition
Location: Sir John Soane's Museum, 13 Lincoln's Inn Fields, London WC2A 3BP, UK
Inspirational exhibition to Sir John Soane's Museum
'Stadia : Sport and Vision in Architecture' from 6 Jul – 22 Sep 2012
Soane Office Royal Academy Lecture drawing plan of the colosseum Rome pen and pencil and watercolour SM 20_5_4: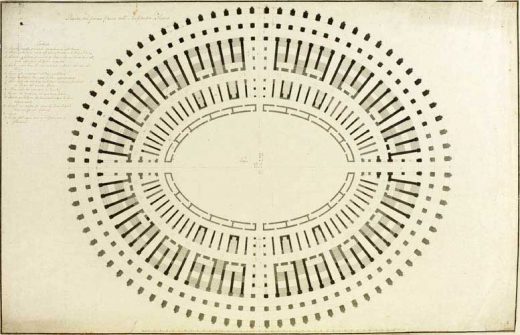 image from Sir John Soane's Museum
Sir John Soane's Museum Exhibition
Sir John Soane's House
Dates built: 1812-34
Design: John Soane Architect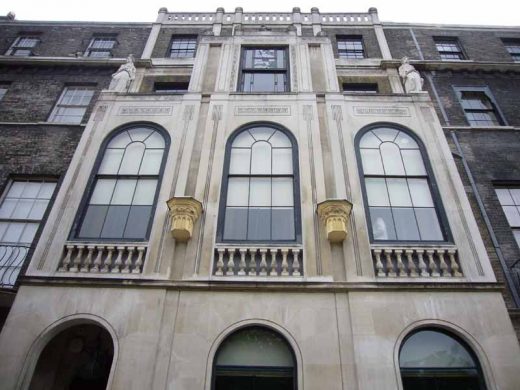 photo © Adrian Welch
Sir John Soane Museum
Location: Sir John Soane Museum, Lincoln's Inn, London, England, UK
Architecture in London
Contemporary Architecture in London
London Architecture Designs – chronological list
Buildings close by to Sir John Soane's Museum include:
Comments / photos for the Sir John Soane's Museum Reopening Architecture page welcome