Mentmore Terrace London, Hackney Residential Building, New Property Design
Mentmore Terrace Hackney
Contemporary Property in north east London, England, UK – design by USE Architects
30 Jul 2014
Mentmore Terrace house
Location: Hackney, east London, UK
Design: USE Architects
New Hackney Property
Facing the Future – USE Architects breathe new life into Hackney with the help of rain-screen cladding made from DuPont™ Corian®
July 2014 – In one of the earliest major applications in the UK for DuPont™ Corian® high tech surface as a structural façade, architectural practice USE has created a distinctive new residential building in an area of London experiencing significant regeneration. As evidence of both the revival of its Hackney neighbourhood and the attractions of this pioneering design, every apartment in the development was sold off plan long before the building was complete.
Standing proud and pristine, in contemporary juxtaposition to the Victorian railway arches of London Fields, Mentmore Terrace makes an impressive addition to the local landscape – and has delighted its neighbours, according to the architect, by gently reflecting the light with its smooth, pale and elegant finish. Formed entirely from DuPont™ Corian®, which is fast becoming a favoured façade material for discerning developers, this high-performance weather screen promises to maintain its subtle and sophisticated beauty for the long-term.
USE Architects has transformed Mentmore Terrace in London's Hackney with a new residential building featuring an innovative façade with panels in a 4.5.1 ratio, made from DuPont™ Corian® hi-tech surface: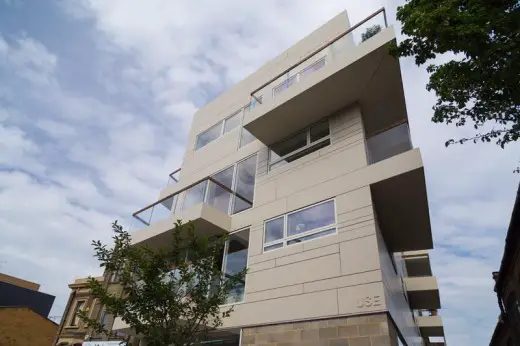 photograph : James Dryden for DuPont™ Corian®, all rights reserved
Architect Jo Hagan, who has been keenly involved for many years in the regeneration of local neighbourhoods such as his own community of Hackney, describes the concept behind the project: "There is certainly an element of homage to the Bauhaus in the overall design, and the façade and its relationship to the windows and balconies is the only element of decoration. The concept is inspired by the book Fahrenheit 451 by Raymond Bradbury and so we have used a 4.5.1. ratio for the various panels."
Mentmore Terrace Hackney residential building design by USE Architects uses innovative façade with panels made from Corian hi-tech surface: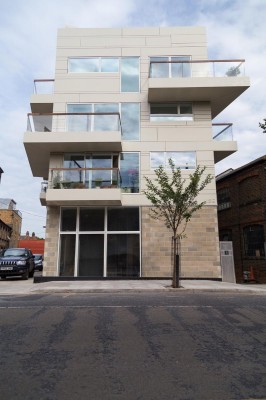 photo : James Dryden for DuPont™ Corian®, all rights reserved
Jo says that he has thought about using DuPont™ Corian® for exterior cladding for quite some time, as he has the material in his own kitchen and has long admired its performance and aesthetic qualities. However, it wasn't until the opportunities presented by this project that the notion became a reality – partly because Jo co-owns the building (his practice has moved from an older building next door to new premises on the ground floor) and thus, by also being 'the client' he had considerably more freedom to innovate.
"I've always wanted to cover a building in Corian®," explains Jo, "But it needed a leap of imagination as it has not been used in this way, on a larger scale, in this country before. By working with the 4.5.1 ratio this allowed for a certain economy while visually breaking up the mass of what is otherwise a very simple structure. The design is both an abstract aesthetic and yet practical in that it offers more variety to the vertical elements and makes a stronger pattern with the shadow gaps, while also having the appearance of a solid mass from afar."
Mentmore Terrace in Hackney property design by USE Architects: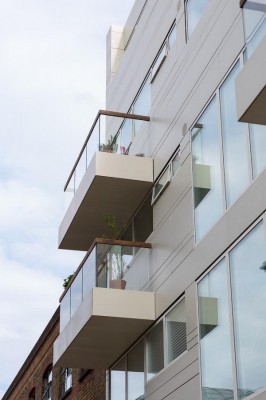 photo : James Dryden for DuPont™ Corian®, all rights reserved
The individual panels of DuPont™ Corian® that form the façade were fabricated and fitted with expert workmanship by specialists Urbana Exteriores from Spain, and have been installed using a Kiel fixing system to a Hilti frame. The structure also benefits from the installation of DuPont™ Tyvek® UV Façade a version of the renowned advanced breather membrane that has been created specifically to allow greater design freedom, reliable protection and enhanced energy performance for open-jointed facades.
Indeed, sustainability has been a key aspect of the design, which has been built to very high U-values. A heat exchange system recirculates through the building and grills have been routed out directly into the DuPont™ Corian® panels to assist this process. "Today, architecture becomes radical through technology," states Jo, "By using the skin of the building to retain heat, there is pure articulation thanks to the inventiveness of industry."
Rather than opt for one of the bright whites within the sophisticated colour palette for Corian®, Jo chose to go with a whisper of colour in the form of Private Grey, a discreet hue that transforms with the variable UK light it has a subtle quality, which according to Jo Hagan, "can make the building appear to float." Thirty seven colours of DuPont™ Corian® are recommended for façade applications, offering a refined choice for cladding design, which together the notable versatility of the material, allows for an inspiring vista of decorative effects.
Completely homogenous and non-porous, DuPont™ Corian® is easy to clean and maintain, it is fire rated, resistant to graffiti, UV and climatic conditions – and should any damage occur – that material is repairable. DuPont™ Corian® Exterior Cladding is compatible with a 'secret' fix undercut anchor system and its lightweight, workable properties mean that fabrication and fitting run smoothly both off and on site. Whether creating an apparently seamless monolithic look, puzzle-like patterns or engraved, textured and backlit effects, DuPont™ Corian® offers a facade solution like no other.
Mentmore Terrace property design by USE Architects: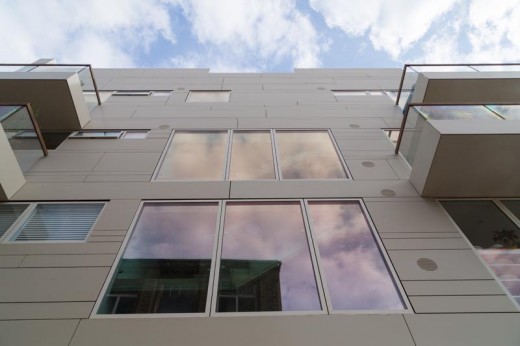 photo : James Dryden for DuPont™ Corian®, all rights reserved
DuPont™ Corian® is the solid surface with the broadest range of international certification for facade applications and has passed a series of fundamental tests for its application to the exterior of buildings. These include freeze/thaw cycling resistance, standards proving the material's resistance to exterior environmental substances, fire performance tests, and tests for abuse resistance. Further information about these tests and certificates are available on request from DuPont.
In the UK, DuPont™ Corian® sponsors a RIBA approved CPD seminar on Solid Surfaces for Rainscreen Facades. (To book this CPD seminar please call: 0800 962 116 or email: [email protected])
About USE Architects: Use have provided Urbane and Sophisticated Environments for discerning clients since 1995, informed and inspired by contemporary culture and ranging in scale from individual furniture commissions to urban and green field masterplanning. Material technology, consumption of energy and taste drive all our cultural and architectural decisions, and augmented with inclusive research and development, the client becomes an integral member of the design team producing a shared, complex and informed product. Driven by an enthusiastic embracing of both the leisure and production principle we make spaces to ponder, consume, create, recreate and relax. www.usearchitects.com
About DuPont™ Corian® (www.corian.co.uk) – First created as a high performance material for kitchen and bathroom worktops, DuPont™ Corian® – thanks to its unique combination of functionality, versatility and beauty – is now a leading global brand in surfacing materials for interior design and architecture. Over the years, DuPont™ Corian® solid surface has become an exceptional design tool for every application one can imagine. Kitchens, bathrooms, lighting, furnishing, facades, radiators, home automation, touch control surfaces: today, DuPont™ Corian® can be found extensively in commercial, residential and public spaces.
To know more, and stay in touch with DuPont™ Corian®
www.corian.co.uk / www.endlessevolution.corian.com / Facebook.com/CorianDesign
Twitter.com/CorianDesign / Youtube.com/CorianDesign / Pinterest.com/CorianDesign
DuPont – DuPont has been bringing world-class science and engineering to the global marketplace in the form of innovative products, materials, and services since 1802. The company believes that by collaborating with customers, governments, NGOs, and thought leaders we can help find solutions to such global challenges as providing enough healthy food for people everywhere, decreasing dependence on fossil fuels, and protecting life and the environment. For additional information about DuPont and its commitment to inclusive innovation, please visit www.dupont.com.
The DuPont oval logo, DuPont™, Corian®, DeepColour™, Endless Evolution and the Endless Evolution logo are registered trademarks or trademarks or copyrighted material of E. I. du Pont de Nemours and Company or its affiliates. Other logos, trademarks and registered trademarks are a property of their respective owners.
Mentmore Terrace house design by USE Architects: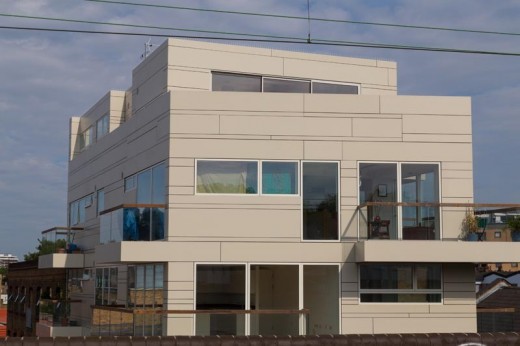 photo : James Dryden for DuPont™ Corian®, all rights reserved
Mentmore Terrace Hackney images / information received 300714
Location: Mentmore Terrace, Hackney, London, England, UK
Hackney Buildings
New Hackney Property
Design: Platform 5 Architects



images from architects
Hackney House
Overall Winner in NLA's 'Don't Move, Improve' London House Extension competition
Architecture in London
Contemporary Architecture in London
London Architecture Links – chronological list
Comments / photos for the Mentmore Terrace London – Contemporary House in Hackney page welcome