London Design Festival 2019 Events, Musicity x Low Line, LDF Architecture Design, Bankside Artists
London Design Festival Events 2019
LDF & Bankside, part of London Festival of Architecture, England, UK
9 Sep 2019
London Design Festival 2019 Events
'Musicity x Low Line', the Fora design talks, the Africa Centre event and the Bankside late night on 18th Sept.
London Design Festival events at Bankside Design District
banksidedesigndistrict.co.uk
@bankside_london
#LDF19 #BanksideDesign
londondesignfestival.com/bankside-design-district
LONDON DESIGN FESTIVAL 2019 – BANKSIDE ARTISTS AND DESIGNERS CELEBRATE 'LONDON'S OTHER SIDE'
• Notorious historic home of outsider art is 21st century cauldron of creativity
• Walk the Low Line with music inspired by the streets, discover The Africa Centre's pan-African design vision and join Fora x Better Bankside's rebelliously creative talks
• Venues include Bankside's latest opening, The Hoxton, Southwark, Tate Edit, Bankside Hotel and Oxo Tower Wharf
• Special late night events across Bankside on Wednesday 18 September
Take Courage sign, Bankside: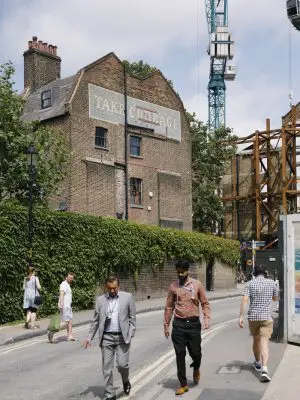 This year's London Design Festival (LDF) – 14-22 September – will celebrate the modern creativity and enduring independent spirit of Bankside, an area of London which, for centuries, was a rebellious home to outsider artists and 'indecent' entertainers. Now home to London's oldest theatres, the world's most popular art gallery and thriving creative and design industries, for centuries Bankside was the playground for outsider entertainers and free thinkers existing away from the mainstream.
A diverse programme of free events throughout London Design Festival will illustrate how a bold and independent spirit continues to inspire creative thinking across Bankside Design District, an area which runs east to west along the Thames from Borough Market to Oxo Tower Wharf. Bankside's LDF programme includes an invitation to walk along the Low Line with a specially-composed soundtrack, to join design industry figures for creative discussions high above the neighbourhood and to experience the district after-hours with parties and launches at the Bankside Late Night.
When known as 'Banksyde' in the 16th century, the area's location outside the walls of the City made it a natural landing place for outsiders and dissenters. It became London's lively pleasure quarter, home to theatres, brothels, gambling dens and taverns. The area's richness in art, entertainment and culture 500 years on (Tate Modern, Shakespeare's Globe and Borough Market being three obvious examples), is a reflection of Bankside's anarchic, artistic roots; its network of mediaeval streets continues to encourage curiosity and it retains an 'otherness' that inspires creative thinking.
BANKSIDE DESIGN DISTRICT EVENTS FOR LONDON DESIGN FESTIVAL 2019
Musicity x Low Line
Dates: 14 –22 September 2019. Venue: Multiple locations. FREE.
More info: musicity.com
Musicity x Low Line sees fifteen sites along the mighty Victorian railway viaduct, spanning Bankside, London Bridge and Bermondsey, come alive with new music created especially for each site. Created by Nick Luscombe, presenter of BBC Radio 3's greatly-loved Late Junction music show, Musicity gives buildings and spaces their own new soundtrack. Fifteen musicians and recording artists have created fifteen audio tracks responding to fifteen locations in and around the railways arches which form the Low Line. Each composition can be streamed and downloaded free of charge but only by visiting each location with a smartphone, finding musicityglobal.com and taking in the architecture and neighbourhood that inspired it.
Among the buildings, streets and spaces along the Low Line being given their own soundtrack are Old Union Yard Arches, Ewer Street, Borough Market, Southwark Cathedral, Bermondsey Street Tunnel, Vinegar Yard, The Biscuit Factory, Underdog Gallery and London Bridge Station. Musicity x Low Line is now a permanent fixture in Bankside, with each building and its soundtrack waiting to be discovered.
Fora x Better Bankside Design Talks
Dates: 17, 18, 20 September. Venue: Fora Borough, 180 Borough High Street, SE1 1LB.
FREE – book tickets at bit.ly/ForaBankside
Fora Design Talks: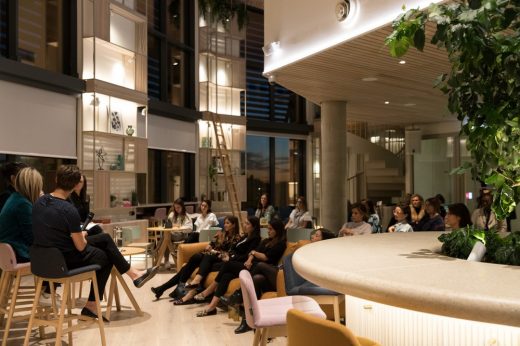 photos courtesy of LDF
Fora and Better Bankside have united the design district's experts to bring a programme of talks, interactive workshops and lively panel discussions, celebrating the area's thriving creative and design industries. Hear about creative processes and topical issues impacting the design community.
• Mobile Sculpture Workshop with Volume Creative
Date: 17 September, 1-2pm.
Meet the designers behind this year's LDF Special Project, the Take the Plunge installation at Oxo Tower Wharf and make your own recycled paper sculpture.
• Wild Cards: 100 creative questions to challenge your brand
Date: 18 September, 6.30-8.30pm. More info: theclearing.co.uk/wildcards/#/
Bankside brand consultancy, The Clearing, in collaboration with The School of Life, has designed a set of 100 provocative questions, designed to get you thinking more creatively. Used with brands such as Google, McLaren, Ocado, Curzon and Ascot, the cards include questions such as 'do your colleagues see your brand the same way as your customers?', 'which person at work is best at sabotaging your brand?' and 'what disappoints you about your competitors?'. This time, the questions will be fired at the design world and a panel of creative directors; then it's over to the audience for an interactive session, as part of the Bankside Late programme.
• Designing a sustainable Bankside
Date: 20 September, 9-10.30am. A string of Bankside-based architects and designers, including Allies & Morrison, Fagerhult, TP Bennett, Tranquil City and Wayward Studio, present work and ideas on sustainability in the public realm, building design and air quality interventions. The session involves Pecha Kucha-style presentations to set a dynamic scene, with audience Q&A.
Designing an Africa Centre for the 21st Century
Date: 18 September, 6pm – 9pm. FREE. Tickets: events.ticketsforgood.co.uk
Venue: The Africa Centre, Arch 28, Union Yard Arches, 229 Union Street, SE1 0LR.
Designing an Africa Centre for the 21st Century: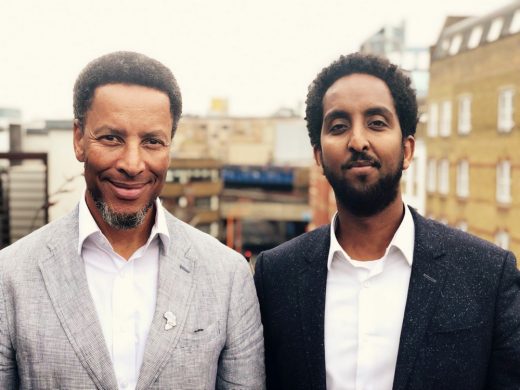 What thoughts and sensibilities underpin a pan-African design vision? Join Africa Centre Director, Kenneth Tharp and architect Jonathan Hagos, Director of FREEHAUS as they discuss the challenges and opportunities in developing a landmark building in Southwark. The Africa Centre opened in 1964, becoming a vibrant 'home-away-from-home' and cultural hub for the African diaspora in London. Having moved from its Covent Garden location, the organisation is now based in the London borough with the largest 'black-African' population. The Centre promotes the diversity of Africa and its diaspora, by highlighting creativity and innovation in African thought, art, culture, business and entrepreneurship.
Oxo Tower Wharf events
Special events across Oxo Tower Wharf as part of the Bankside Design District. Oxo Tower Wharf is home to over 25 designer-maker studios, many of whom will be hosting workshops, demonstrations and special displays throughout the festival. FREE. More info: oxotower.co.uk
• Connected – The Makers' Art
Dates: 11-22 September, 11am – 6pm. Venue: gallery@oxo
A showcase of works from some of the UK's finest emerging craft and designer-makers – a collective of 20 MA graduates from the University for the Creative Arts, Farnham.
• Take the Plunge
Dates: 14-22 September, 11am – 6pm. Venue: Bargehouse
Volume Creative presents an immersive experience, depicting the beauty of our oceans. Discover the sounds of waves that stimulate emotions surrounding the detrimental changes happening to our seas and the rapid deterioration of ocean life.
• Assembling Reciprocity
Dates: 14 – 22 September, 8am – 8pm. Venue: Courtyard
An innovative installation by students at The Bartlett School of Architecture UCL. The installation utilises a self-supporting reciprocal timber design, made using advanced digital tools.
• wagumi: Brilliant Corners and Folds
Dates: 19-21 September, 11am-6pm. Venue: Unit 1.08 [First Floor, Riverside]
Inkaren paper artists of Tokyo present the folds, pierces, ring binding, letterpress and techniques that create their work.
• Studio Fusion: Material Movement
Dates: 13 Sept – 20 October, 11am-6pm. Venue: Unit 1.06 [First Floor, Riverside].
Private View + Talk: 13 Sept 5pm. A collaborative exhibition exploring the concept of movement by four artists working in ceramics, jewellery, painting and silversmithing: Gareth Jones, Ria Lins, Tal Batit and Naama Haneman.
• JeDeCo: From JeDeCo with Love
Dates: 14-22 September, 11am-6pm (12noon-5 pm on Sat).
Venue: Unit 1.10 [First Floor, Riverside]
In anticipation of next year's No Time To Die, jewellery collective JeDeCo pays tribute to all things James Bond with each designer creating a piece inspired by the film series.
• Victoria Eggs: Special LDF Discount
Dates: 18 September, 4-8pm. Venue: Victoria Eggs Studio [First Floor, Courtyard Side]
Homeware and gifts studio, Victoria Eggs will be open for an evening of shopping, offering 30% off everything in store and 10% off trade orders placed during this time. The Victoria Eggs studio is also open daily 11am-6pm.
• Innermost: BUD 321 Giveaway
Dates: 14 – 22 September, 11am-6pm. Venue: Unit 2.02 [Second Floor, Courtyard Side]
Bankside Late Opening + Giveaway: Wednesday 18 September, 6pm
To celebrate the arrival of Bud, its new cordless lamp, Innermost will run special promotions throughout LDF. At its late opening event, the first 3 visitors through the door at 6pm take away a free Bud! All other visitors receive 50% off Bud throughout LDF by visiting the Innermost Showroom (as well as popping in for a Ginnermost & tonic)!
—
Here, Now and Then – Bankside Hotel
Dates: 14-22 September, 10am – 8pm.
Venue: Bankside Hotel, 2 Blackfriars Road, Upper Ground, SE1 9JU. FREE.
More info: banksidehotel.com
Bankside Hotel, in collaboration with Contemporary Collective, hosts an open studio with renowned artists The Cummings Twins. Mark and Paul Cummings will present a series of events on their 'Here, Now and Then' exhibition, including art talks, digital installations and performances.
Tate Edit x Plantations
Dates: 14-22 September (10am-6pm Sun-Thurs; 10am-10pm, Fri & Sat).
Venue: Tate Modern, Bankside, SE1 9TG. More info: tate.org.uk
Tate Edit will feature a display of Plantations by Alicja Patanowska for London Design Festival 2019. Find limited editions, objects for the home, and artists' products – from classic design pieces to objects created especially for Tate, along with furniture, cutlery, glass and tableware used in Tate restaurants and Members Rooms.
#BetterAir: Creating a clean air corridor for Bankside
Dates: 14 – 22 September. Multiple locations. FREE. More info: betterbankside.co.uk
Air pollution is an important public health issue facing Londoners. Better Bankside is encouraging use of low emission routes by animating its quieter streets and spaces. Keep an eye out for the Better Air benches and living letters on Borough High Street and other locations that are designed to raise awareness of flora which can disrupt dirty air.
DesignSpace London – Cooking with BORA
Date: 18 September, 6-9pm. Venue: DesignSpace London, 120 Webber Street. SE1 0QL. FREE.
More info: designspacelondon.com & [email protected]
DesignSpace London hosts a cooking experience with state-of-the-art BORA cooktops in its inspirational architectural kitchen showroom. Chef Sarah Gardiner demonstrates new culinary techniques using surface induction and the new stainless steel tepan, complete with integrated downdraft extraction.
Emergence: Service/Social/Sustainable Design – London College of Communication
Dates: 14 September-16 October.
Venue: London College of Communication, Elephant and Castle, SE1 6SB. FREE.
More info: emergenceshow.com
What can we do together that we cannot do alone? Emergence celebrates the creativity and activism of LCC Design School students and staff in an exhibition and events programme featuring projects for service design, social innovation and sustainable futures.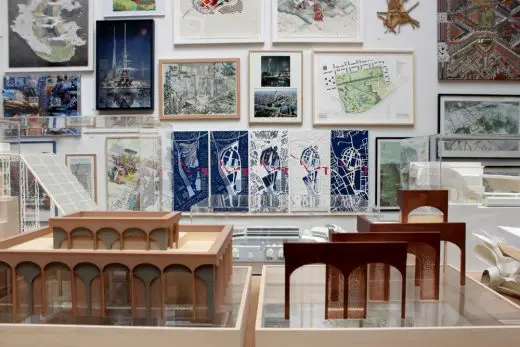 Allies & Morrison – Masterplanning King's Cross
Dates: 14-22 September, 10am – 5pm.
Venue: Allies & Morrison, 85 Southwark Street, SE1 0HX. FREE.
More info: alliesandmorrison.com
Bankside-based architects and masterplanners for King's Cross, Allies and Morrison, display a pentaptych model exploring the evolution of King's Cross. The model was also exhibited at this year's Royal Academy Summer Exhibition.
Minerva House – Handmade Brick: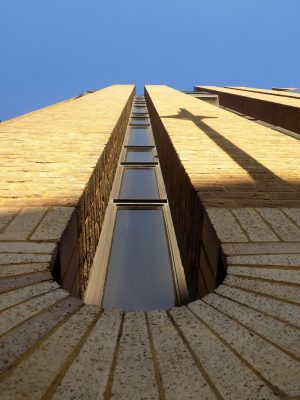 London's Identity in Brickwork; a walking tour of Bankside
Date: 17 September, 5pm; 19 September, 12.30pm.
FREE – book tickets at eventbrite.co.uk
Learn about the history of London architecture, the origins of brickwork in London and the history of the London stock. Join the team at Taylor Maxwell on a walking tour of Bankside and London Bridge to see examples of the London stock in use on historical landmarks and striking buildings.
The Hoxton, Southwark's best design events
The district's latest opening, The Hoxton, Southwark presents talks and workshops to celebrate its launch and London Design Festival.
Venue: The Hoxton, Southwark, 40 Blackfriars Road SE1 8PB.
More info & tickets: https://thehoxton.com/hoxtown/events
Railway brick arch in London: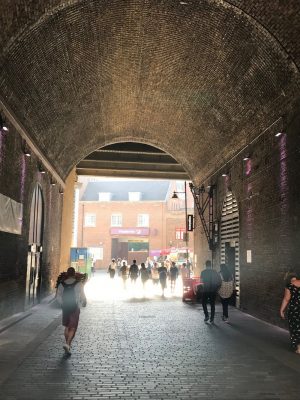 • Spotlight on Southwark with Dezeen
Date: 11 September, 6-10pm. Tickets £7
Join The Hoxton's Dezeen-led panel as it shines a spotlight on Southwark's architecture. Designers, architects, historians and cultural critics will discuss the area's character and how it's changing.
• Life Drawing Brunch with Alexandria Coe
Date: 15 September, 11am–2pm. Tickets £7
Join The Hoxton for a morning of creativity, starting with a delicious brunch to fuel your inner artist, followed by a relaxing life drawing class. Alexandria will guide you through simple techniques to draw the female nude using her minimalist line-drawing style. The class is open to all levels – including beginners – just bring an open mind. All materials provided.
• World's Favourite Colour with G.F Smith
Date: 16 September, 6.30-10pm. Tickets £7
G. F Smith is a company obsessed with the limitless possibilities of paper; its 51-colour range has become the benchmark collection for creatives industries in Britain and beyond. Uncover its seminal global study, mapping out colours and their emotional and cultural meaning.
• Terrazzo Coasters Workshop with Katie Gillies
Date: 17 September, 6.30-9pm. Tickets £7
Join surface designer Katie Gillies and learn how to make your own bespoke pair of Jesmonite terrazzo coasters. You'll mix Jesmonite material, cast it into silicone moulds and customise your coasters by playing with different colour flecks. Once dried and cured, they'll be sanded down and sent out to you the following week. –
—
Eat and Drink – present an official London Design Festival guide to redeem these exclusive offers, available 14 – 22 September.
• Roasting Plant Coffee
The world's first ever immersive roaster – watch the coffee beans roast in front of you and enjoy 10% off any in-store purchase.
• Hixter Bankside
Head downstairs to Mark's Bar for their seasonal cocktail menu championing British producers and get 30% off your bill (4 people maximum).
• tibits
With over 40 homemade vegan and vegetarian dishes, enjoy 10% off food at tibits Bankside throughout the Festival.
• The Rake
The Rake at Borough Market specialises in craft beer and Festival goers can redeem 10% off draught or 15% off can purchases.
• Caravan Bankside
Known for their delicious brews and food, enjoy 10% off
21 May 2019
Musicity x Low Line London Architecture
MUSICITY x LOW LINE
Musicity x Low Line is launching as part of London Festival of Architecture in June 2019.
Bankside – Union Yard Arches: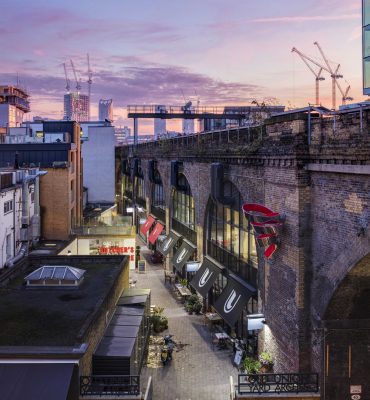 photo : Adam Parker
Vinegar Yard: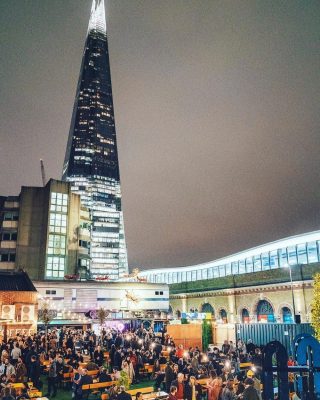 photo : @vinegaryardLDN
#LowLineLDN
musicityglobal.com
Vinegar Yard event: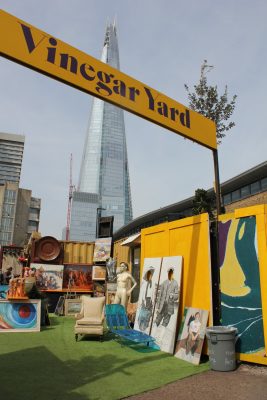 photo courtesy Musicity
The Low Line will be a new walking destination for London along the length of the Victorian rail viaducts spanning Bankside, London Bridge and Bermondsey. It will connect diverse neighbourhoods and communities in south London, creating new hubs of creativity, entertainment, and industry along its course. The Low Line celebrates the heritage of the railway arches which have been a part of the area for over 150 years, shaping places of interest along the way and unlocking their potential.
Among the buildings, streets and spaces along the Low Line being given their own soundtrack are Old Union Yard Arches (a new stretch of the Low Line, featuring the Union Theatre, the Spanish Theatre Company's Cervantes Theatre and the Africa Centre), Ewer Street (a secret part of Bankside just a stone's throw from Tate Modern), Borough Market, Southwark Cathedral, Bermondsey Street Tunnel, Vinegar Yard, The Biscuit Factory, Underdog Gallery and London Bridge Station.
Vinegar Yard: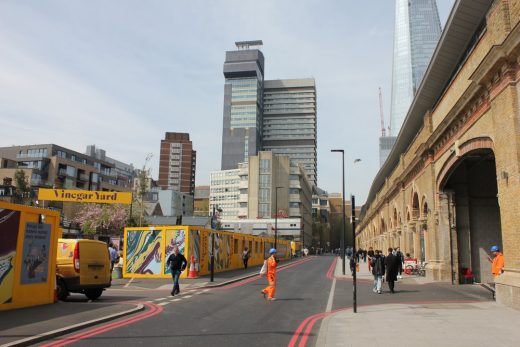 photo courtesy Musicity
Participating artists include multi-instrumentalist Erland Cooper; London-based French composer, artist and musician Lola de la Mata; electro-acoustic composer Thomas Stone; ethereal vocalist Szjerdene; live Jungle and Drum & Bass mash-up artist Suitman Jungle; and Japanese-born, classically trained violinist and composer Chihiro Ono.
Full list of artists and their chosen Low Line locations:
Lola de la Mata – Old Union Yard Arches
Thomas Stone – Ewer Street
Szjerdene – Wardens Grove
The Memory Band – Flat Iron Square
Nabihah Iqbal aka Throwing Shade – Borough Market
Lossy – Southwark Cathedral
Suitman Jungle – London Bridge Station
William Doyle – The Shard
Gestalt – Vinegar Yard
Chihiro Ono – Bermondsey Street Tunnel
Tom Szirtes – Holyrood Street
Erland Cooper – Underdog Gallery
James Alec Hardy – Druid Street Wildflower Meadow
Frog Morris – Blue Bermondsey
Cunning Folk – Biscuit Factory
Musicity 2019: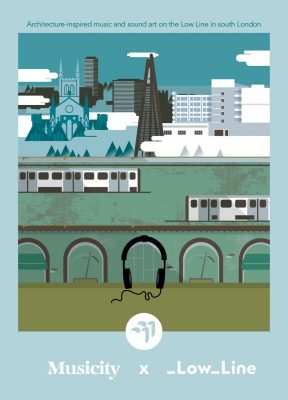 picture courtesy Musicity
MUSICITY x LOW LINE
Special free public event hosted by BBC Radio 3 Late Junction's Nick Luscombe
Date: Tuesday 4 June 2019 at The Underdog Gallery. From 5pm til late.
An evening of music and conversation, featuring London-based French composer and musician Lola de la Mata; live Jungle and Drum & Bass mash-up artist Suitman Jungle; deep house producer, composer, digital artist and jazz pianist Tom Szirties; musician, storyteller and supremo of the Southeast London Folklore Society, Cunning Folk; experimental soundscape creators and visual artists Gestalt; Japanese-born violinist Chihiro Ono; electro-acoustic composer Thomas Stone; audio-visual performance artist James Alec Hardy; and artist, curator, comedian, designer, stage manager, magic lanternist and bingo caller, Frog Morris.
Venue: The Underdog Gallery, Arch 6, Crucifix Lane, London Bridge SE1 3JW.
theunderdog.london
Musicity x The Low Line is being launched as part of the London Festival of Architecture, the world's largest architecture festival, which will see over 400 diverse, challenging and engaging events taking place across the capital.
Nick Luscombe, BBC Radio 3 Late Junction presenter and Musicity founder, said, "It's a joy to be bringing new music to such a culturally rich part of the city. I'm particularly pleased that we're celebrating world famous locations such as Borough Market, the Shard and London Bridge Station, alongside the intriguing, less well-known likes of Old Union Yard Arches, Wardens Grove, Bermondsey Street Tunnel and Underdog Gallery. Following the Low Line is a fascinating, surprising way of seeing an intriguing part of London. We're encouraging audiences to venture out, explore architecture, neighbourhoods and the urban environment with a bespoke soundtrack."
Ellie Beedham, Team London Bridge Director of Arts, said, "Musicity is a remarkably innovative way of introducing the Low Line with its many fascinating arches and curious corners to everybody with an interest in music, architecture, and history. This important link between Bankside, London Bridge and Bermondsey is to become a new walking destination for London, and what better way to connect the idiosyncratic places and spaces along the route than with 15 tracks inspired by these hand-picked locations."
Musicity x Low Line has been commissioned by Better Bankside, Team London Bridge and Blue Bermondsey.
Background
The Low Line has developed through a group of initial partners including Better Bankside, Team London Bridge, Blue Bermondsey, Southwark Council, The Arch Company, and Borough Market who are steering the initial scoping, planning and communication of the project.
About Musicity:
Founded in 2010 by Nick Luscombe, Musicity invites musicians and recording artists to compose tracks in response to buildings and locations in cities around the world. In an age when so much music is available in an instant via streaming services, Musicity wants to bring back the joy of seeking it out and collecting it, encouraging the audience to venture out, to be active listeners of contemporary music, to explore cities, and to experience the urban environment in new and unexpected ways.
To date Musicity Global has commissioned over 100 tracks from a diverse selection of international artists. It has taken its programme of events to Tokyo, Singapore, Oslo, Tallinn, Seoul, Beijing, Shanghai and Shenzhen and in London with many iterations of the project over the past 8 years – from large scale events across The City of London and Southwark as well as numerous talks and screening events, working with a variety of partners including Arts Council of England, The British Council, RIBA, LG, the PRSF and British Land.
Musicity has brought together a highly trained and multi-disciplinary team of music, architecture and cultural management professionals, exceptionally skilled in liaising with city officials and artists alike. Musicity is: Nick Luscombe (Founder – BBC Radio 3 Late Junction host, DJ, broadcaster, sound collector), Paul Bavister (Researcher – Senior Associate Director R&D at Flanagan Lawrence Architects, member of sound art group Audialsense, PhD candidate at The Bartlett School of Architecture), Dr Cara Courage (Researcher – Head of Tate Exchange, author of Arts in Place: The Arts, the Urban and Social Practice, Routledge 2017), Solen Fluzin (Researcher – Architect, Artist and Label Management Assistant at nonclassical record label), Iram Quraishi (Programme Director – previously with Information is Beautiful and London Design Festival).
About Better Bankside
Better Bankside is a Business Improvement District (BID) which exists to make Bankside a better place to work, live and visit. It is a company owned, funded and led by employers in the Bankside area of London.
@betterbankside Betterbankside.co.uk
About Team London Bridge
Working with partners and 400+ business members, Team London Bridge's vision is to ensure London Bridge excels as a leading place for global commerce and continues to develop as a pioneering local centre for enterprise, culture and entertainment.
@TeamLondonBdg  Teamlondonbridge.co.uk
About Blue Bermondsey
Blue Bermondsey BID is funded and led by local business for the benefit of local businesses. Activities are geared to address the issues that concern them and offer services to help reduce costs and represent businesses through a unified voice, to enable a better stake in the future of their trading environment.
@bluebermondsey Bluebermondsey.co.uk
London Festival of Architecture
The London Festival of Architecture is the world's largest annual architecture festival. In June 2019 it will celebrate 15 years of innovation and design, through a programme that celebrates London as a global architectural hub and promotes positive change to its public realm. The theme for the 2019 event, which runs from 1-30 June across the capital, is 'Boundaries'. London Bridge is a focus area for this year's Festival and will be hosting over 60 events through the month.
@LFArchitecture  londonfestivalofarchitecture.org
Musicity London images / information received May 2018
Previously on e-architect:
Musicity London Event
Musicity London Event in July 2018
A special Musicity London launch event to mark the introduction of seven new songs to seven buildings, including Southwark Cathedral, the Hopton's Almshouses, Tate Switch House and Faraday Memorial.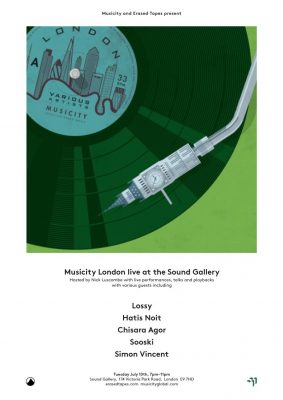 Sooski – Siobhan Davies Studios, St George's Road – at Musicity London 2018: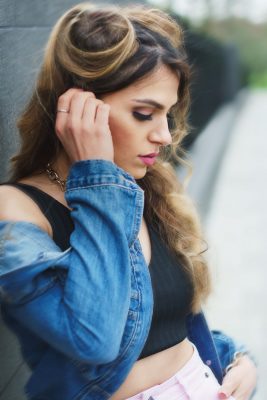 Langham Research Centre – The Switch House extension to the Tate Modern building at Bankside: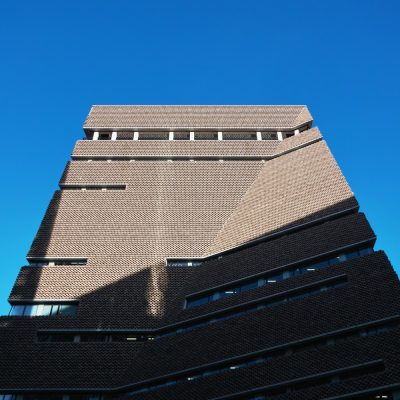 Hatis Noit – White Cube, Bermondsey Street: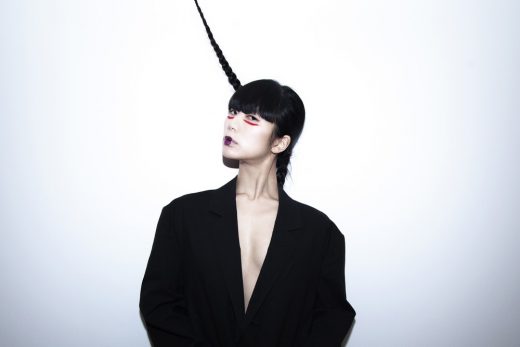 photo by Özge Cöne
Musicity London Architecture information received May 2017
Location: London, UK
Architecture in London
Contemporary Architecture in London
London Architecture Links – chronological list
Comments / photos for the London Design Festival 2019 Events – Musicity London Architecture page welcome