Yorkshire Flexible Housing Competition for Great Places Lakes & Dales Partnership Winners, England
Lakes and Dales RIBA Architecture Competition UK
GPLD Homes Development in Yorkshire, UK: Royal Institute of British Architects Contest News
8 + 7 Aug 2019
Lakes and Dales RIBA Architecture Competition Winners News
Location: Yorkshire, Northern England, UK
McMullan Studios – Horton-in-Ribblesdale in Craven
Outpost – Burneside site in the South Lakes
Winners for RIBA flexible housing competition for Great Places Lakes & Dales Partnership (GPLD)
7th August 2019 – Designs taking their inspiration from the longhouses and farmsteads of the past are the winners in an architecture competition for affordable homes which encourage young people to stay in the Lakes and Dales.
McMullan Studios has been chosen to design homes for Horton-in-Ribblesdale in Craven and Outpost as winners for the Burneside site in the South Lakes.
Horton-in-Ribblesdale in Craven design by McMullan Studios: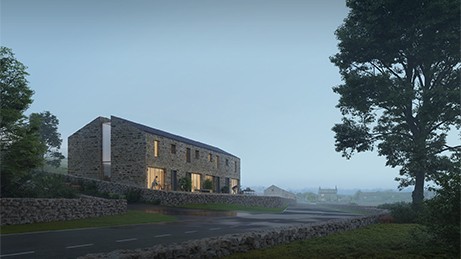 image courtesy of McMullan Studios
Burneside site in the South Lakes design by Outpost: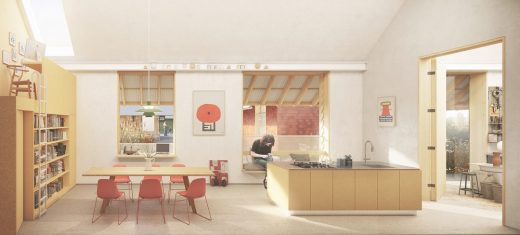 image courtesy of Outpost
A panel of experts in design and planning, including local authorities and landowners, chose the best from the shortlists of three for each of the two sites. The competition was run by the Royal Institute of British Architects (RIBA) and Great Place: Lakes and Dales, the Arts Council England and National Lottery Heritage Funded programme to encourage more under 35s to live and work in the area.
McMullan Studios (Horton-in-Ribblesdale winner) proposed 'The Flexstead' – a farmstead-style design with use of space giving a nod to both ancient Dales farmsteads and loft-style living.
Outpost (Burneside winner) came up with a series of longhouses for the location, offering a modern interpretation of the Cumbrian vernacular of the past.
The judges were particularly impressed with the way each winner appealed to younger people, especially with the flexibility of the homes for live/work purposes and affordability. Important factors were also the attention given to environmentally friendly construction and, in the case of the Burneside site, the inclusion of a community building.
Richard Dowson, consultant with GPLD, said: "We are delighted with the outcome of our RIBA competition. We asked for cutting edge designs for flexible, affordable housing which would appeal to the under 35s and that is exactly what we got. It was about housing that will appeal to returners and young people already living in the area.
"Our winners both gave really impressive presentations, explaining their ideas with passion and understanding of the issues faced.
"The standard of entries in the competition – which was open to all architects whether they were local, national or international – was exceptional. It was very tough to choose our shortlist of three, and from there to pick our winners."
The judges also took into account feedback from the public via the RIBA website and from locally-held exhibitions. Consultations with planning officers and authorities as well as feedback from GPLD's Creative Champions* was also considered.
David Roberts of igloo Regeneration, development managers for the Burneside sites said: "We have seen this competition provide a good opportunity to explore ideas that could be of interest to Burneside and generate discussions about what kind ofhomes work best for the future of the village."
Both sites will now be subject to further consultation between the architects, site developers and local residents to see how they can be progressed, as each would require planning permission before they could be built.
David Smurthwaite, strategic manager of Craven District Council and chairman of Great Place Lakes and Dales, said: "This competition aimed to see how architects, when given the time and space, can address the issue of providing housing for young people that is exciting, flexible and carbon efficient. We are very pleased that two young practices have won with designs that meet the aspiration of the Great Place programme and fit with their particular sensitive locations."
The judging panel is made up of local authority officers from Craven District Council and South Lakeland District Council, design experts, a RIBA agent and landowners. Its members include Wayne Hemingway (Hemingway Design), Nathan Cornish (Urban Splash), Mark Cropper (James Cropper), David Roberts (igloo), David Smurthwaite (CDC), Ian Hassall (SLDC) and Sasha Bhavan (RIBA).
The other finalists, who were all commended by the judges, were: Horton-in-Ribblesdale – McGinlay Bell Architects and Patalab; Burneside – Hawkins Brown and Weston Williamson.
*Creative Champions are locally-based young creative entrepreneurs working within the arts, culture and heritage who are supporting GPLD.
Great Place: Lakes and Dales
Great Place: Lakes and Dales is one of 16 pilot projects in England funded by the National Lottery Heritage Fund and Arts Council England and is focused on the rural corridor linking Skipton in the south and Grasmere in the north, including the market towns and rural hinterlands, extending into both the Yorkshire Dales and Lake District National Parks.
The programme is managed via the Consortium of Partnership Organisations, which is made up of additional funding partners including Craven District Council (lead authority), South Lakeland District Council, Yorkshire Dales National Park Authority and Lake District National Park Authority. A Creative Board, which includes additional cultural organisations, manages the strategic delivery.
The programme is funded from August 2017 – March 2020 and its main purpose is to understand the reasons for fewer 16 to 34-year olds than the national average living and working in the area and seek to address them, using arts, heritage and culture as the catalyst for economic, social and environmental change.
Previously on e-architect:
8 Jun 2019
RIBA Flexible Housing Competition Shortlist
Location: Yorkshire, Northern England, UK
Shortlist announced for Great Places Lakes & Dales Partnership (GPLD) flexible housing competition
Great Places Lakes & Dales Partnership (GPLD) flexible housing competition
The 3 shortlisted teams for the Horton-in-Ribblesdale site are:
• McGinlay Bell
• McMullan Studio
• Patalab Architecture
The 3 shortlisted teams for the Burneside site are:
• Hawkins Brown
• Outpost with Giles Miller Studio
• Weston Williamson + Partners
Location: Yorkshire, northern England, UK
Buildings in Yorkshire
Yorkshire Architectural Projects
York Castle Museum Redevelopment
York Theatre Royal Building
Design: De Matos Ryan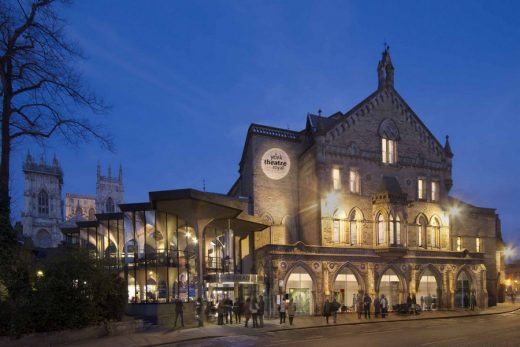 Artists' Impression : De Matos Ryan
Creative Centre at York St. John University Building
Design: Tate Harmer, Architects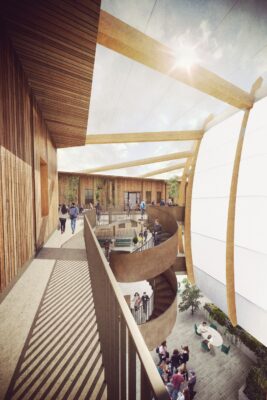 image courtesy of architects
RIBA Architectural News
Leeds Architectural Designs – chronological list
Comments / photos for the Lakes and Dales RIBA Architecture Competition Winners page welcome
Website: Lakes & Dales: Great Place