EXPO-2017 in Astana Netherlands Pavilion, Kazakhstan Building Images, Architect, Design News
Netherlands Pavilion at EXPO-2017 Astana
Holland Building – Kazakhstan Architecture for the Dutch Ministry of Foreign Affairs
12 Jun 2017
Astana Expo City – Pavilion of the Netherlands
Innovative Pavilion of the Netherlands at Expo 2017
Hypsos presents the world premiere of Media & Holography technology as Main Show
Hypsos in Soesterberg, June, 2017 – Hypsos was selected to execute the Pavilion of the Netherlands at the Astana 2017 Expo in Kazakhstan for the Dutch Ministry of Foreign Affairs. Hypsos has final responsibility, as general contractor, for the concept, design and realisation of this Pavilion.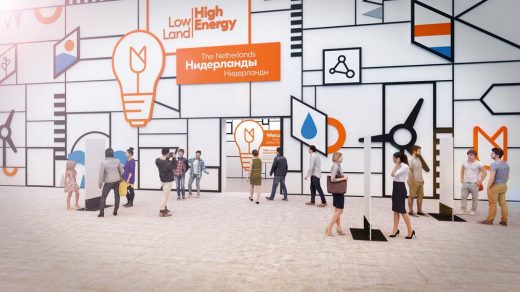 Following an extensive tendering procedure, Hypsos was chosen by the Ministry of Foreign Affairs and the Netherlands Enterprise Agency. The surprising design by Hypsos and Partner for creative services was decisive in this. Under the leadership of creative director Melle Pama and his team at Expo Pavilion Group / gestalt, a distinctive and eye-catching pavilion has been designed. The visitor is immersed in a spatial representation of the character of the Netherlands; a visual language has been developed, which refers to Dutch icons, Dutch thinking and Dutch Design.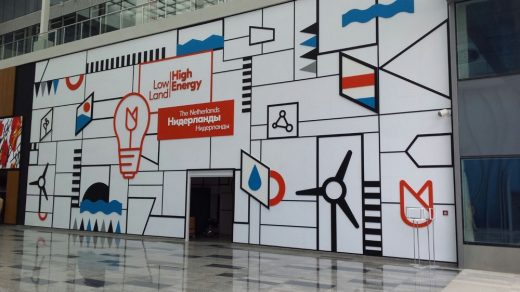 The theme of 'Low Land, High Energy' of the Dutch entry enables all its visitors to get to know the typical 'Dutch Mindset', how this mindset has driven the Dutch to innovate, and to discover which role their country plays in the energy transition. Subjects covered in the pavilion include climate change, reducing CO2 emissions, new types of energy, such as renewable energy and energy efficiency, energy certainty, energy generation and storage, and sustainably generated energy.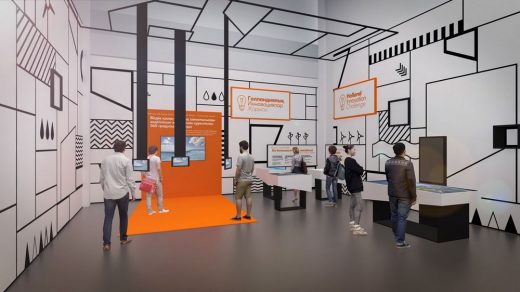 Background
In cooperation with its partners, Hypsos developed the video production for the Pavilion of the Netherlands. This immersive visitor journey, using innovative technical solutions such as multilayer 3-D holographic projection, has been designed to offer the visitor a memorable experience. The core message will certainly take root among the huge quantity of experiences and information typically on offer at the Expo.
Heide Agne, strategy director at Hypsos: "We worked with a multidisciplinary team of content writers, designers and specialists in the areas of AV, VR, holography and projections, on what we see as a new type of pavilion. The story about the 'Dutch Mindset' originated from the customer, via Amsterdam based agency Conspiracy Sinc developed into a storyline. Creatively translating the storyline into a fantastic and feasible visitor experience is something Hypsos excels in. The revolutionary NovaLine screen technology, based on nanotechnology, ensures holographic projection by MANN CG with an unprecedented depth effect."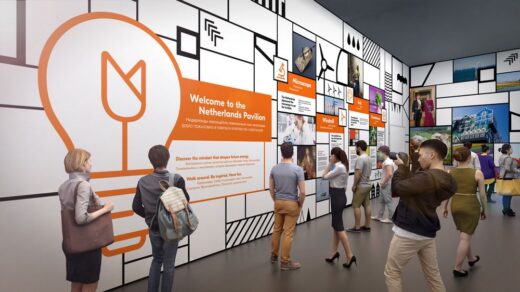 Realisation
Hypsos is well known for its strength in design development, and for flawless realisation of its projects. A strong project management team, a decentral organisation structure and seamless cooperation with local partners from its own network are essential aspects in achieving this. According to Eric Beekmans, responsible project manager at Hypsos: "The right interpretation of the creative design, the so called design development, is an extremely essential link to move from a creative design to a clear and realisable plan for the local production partners." As with the Olympic Games and the football World Cup, the cyclical nature of Expo takes our team to new countries and cultures each time. The cultural bridge for Expo 2017 has been built by Jan Spiers, Managing Director of Hypsos in Moscow and his team in Astana.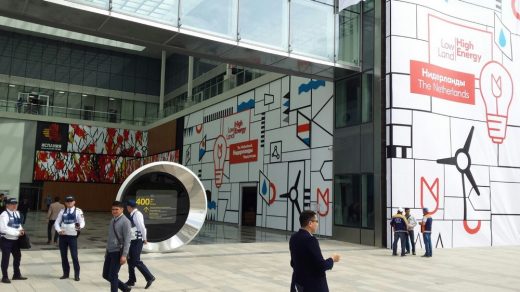 Expo 2017 Astana
The Expo 2017 world fair, in which around 115 countries and 22 international organisations will be taking part, is being held in Astana, Kazakhstan. The overall theme of this Expo is 'Future Energy'. The main objective of the exhibition is invoking responsibility which promotes a discussion and stimulates the development of knowledge, with which people can get energy consumption on our planet under control and are able to minimise damage to the environment. It is expected that up to 5 million people worldwide will visit Expo 2017. The 25-hectare site features an impressive array of buildings that will be further utilized by local authorities and institutions after the close of the Expo.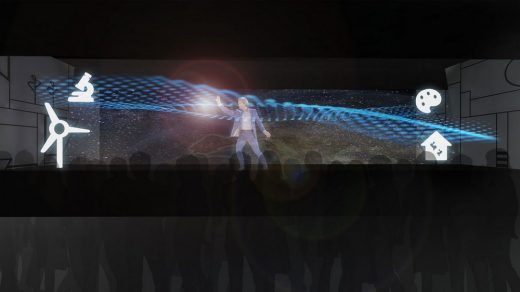 Saudi Arabia Pavilion at EXPO-2017 Astana
Algeria Pavilion at Expo 2017
Design: Hypsos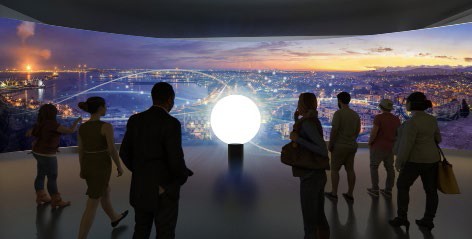 image from architecture studio
Algeria Pavilion at EXPO-2017 Astana
12 Mar 2017
Astana Expo City
Astana Expo City, Kazakhstan
Design: Adrian Smith + Gordon Gill Architecture (AS+GG)
EXPO-2017 in Astana
The theme for the upcoming Expo in Astana, the capital of Kazakhstan, is "Future Energy."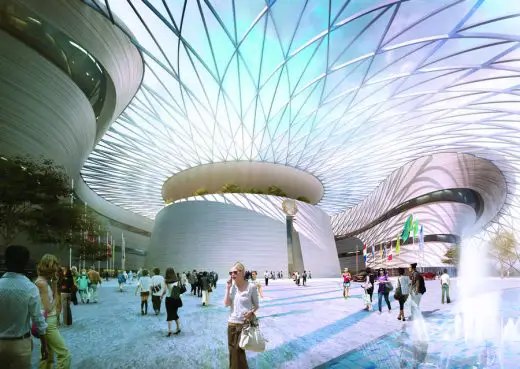 It's a prime opportunity for the former Soviet republic to make an impression on an international stage.
But the Expo, set to open June 10, has faced several daunting hurdles, chief among them corruption, economic woes, and just four years to complete a $3 billion, 18 million-sqft city by Adrian Smith + Gordon Gill (AS+GG).
Remarkably—with just three months until opening day—construction on the Expo grounds is nearing completion. And, says AS+GG founding partner Gordon Gill, the contractors "have fought really hard for the integrity of our design and have maintained the quality of the architecture."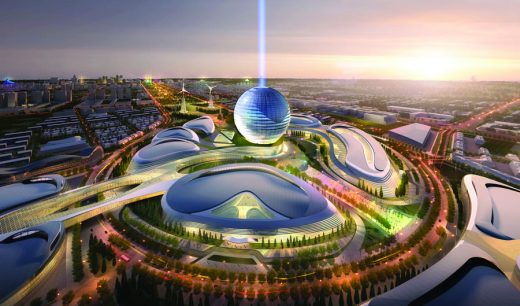 Split into two phases, the 174 ha project will feature exhibition and cultural pavilions (118,620 sm); a residential development (686,000 sm); service areas including shopping, socio-cultural, educational and civic facilities; parks (72,000 sm); and parking, according to the architects.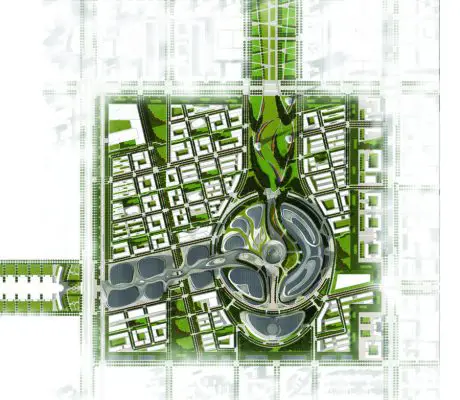 The "Future Energy" theme is aimed at finding ways to achieve qualitative changes in the energy sector, primarily for the development of alternative sources of energy and new ways of transportation. Finding sustainable energy supplies is a critical and growing global concern. The solution to these concerns ensures economic growth and improved social standards while reducing the burden on the environment.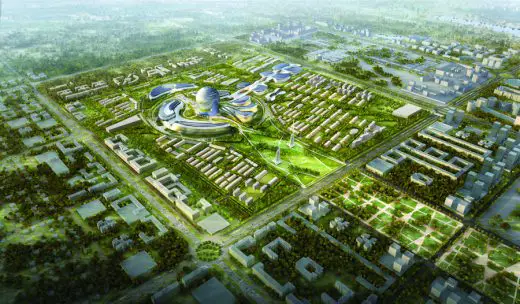 Website: Astana Expo City in Kazakhstan
1 Nov 2013
EXPO-2017 in Astana
EXPO-2017 in Astana, Kazakhstan
Design: Adrian Smith + Gordon Gill Architecture (AS+GG)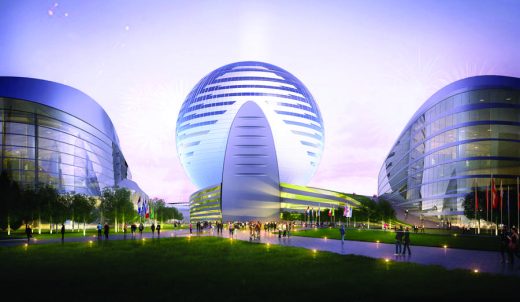 image © Adrian Smith + Gordon Gill Architecture (AS+GG)
Adrian Smith + Gordon Gill Architecture (AS+GG)
Location: Astana, Kazakhstan, Central Asia
Kazakhstan Architecture Designs
Contemporary Kazakhstan Architectural Selection
Kazakhstan Architecture Designs – chronological list
Astana Stadium Building
Design: Populous+ Tabanlioglu Architects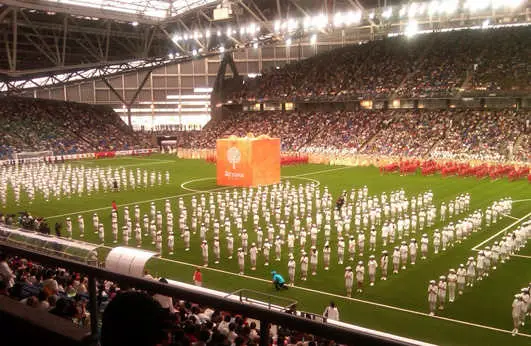 image from architect
Astana Arena
Astana Kazakhstan State Auditorium
Architect: Manfredi Nicoletti and Luca Nicoletti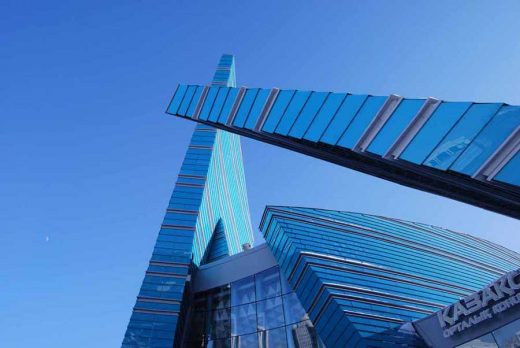 photo © Studio Nicoletti Associati, photograph: Simone Levi
Astana Kazakhstan State Auditorium building
Khan Shatyry Entertainment Centre, Astana
Design: Foster + Partners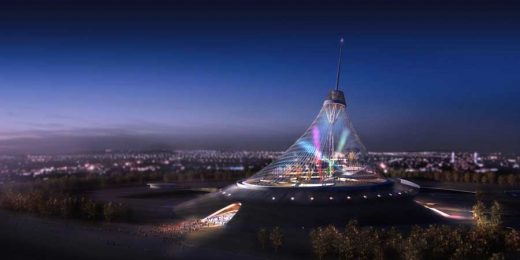 image : Foster + Partners
Khan Shatyry Astana
Comments / images for the Netherlands Pavilion at EXPO-2017 Astana page welcome
Website: Astana Expo 2017