Otsu City Residence, Shiga Home, Japan House Pictures, Architect, Building, Property Photos
T Residence, Otsu-shi : House in Shiga
Contemporary Japanese House – design by EASTERN design office, Japan
1 Mar 2012
T residence Otsu-shi
Design: EASTERN design office
1. A ghost and a samurai residence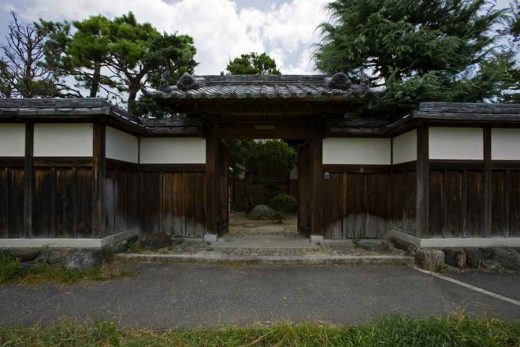 photograph : Koichi Torimrua
"I'm scared, scared. This house is haunted by a ghost." This is what my kids said when they saw the house before remodeling.
I am their mom. I am a client, not an architect. I am going to tell you a story of the renovation of this old house.
The site is at Mano area in Otsu city and this house is situated within only a hundred steps from Lake Biwa, the largest lake in Japan. In ancient times it was called the "sea."
This house is built in the same style as a samurai residence. At first glance I felt the nobility of this building. However this house was so gloomy that I could not help but believing in the presence of a ghost.
I cannot forget the darkness of this house. All the rooms were occupied with kimonos, a big Buddhist altar, the desk decorated by the mother-of-pearl, fans and sashes, hanging scrolls, and all this prevented the light to come in. Over excessiveness of these extravagant things, in reverse, made me feel as if this house was deserted by everything.
It was my brother who knew from a real estate agent that this house was on sale and introduced us this property, because it is a very good location.
Conclusively we bought this house. You may wonder how we were inspired to buy such a house? We think so, too.
Before moving to this house, we lived in an apartment house. I am in the thirties, married and have three children.
The site is wonderful. It takes only one hundred steps from the house to the lake. We can swim at the lakeshore. We can observe the extended wide lake and mountains. But it was not an easy decision to buy this house. I was worried whether changing the school of our sensitive children would have a negative result. The house was too old and it is not my desire that my children might be scared. I hate to have a dark life.
When I met the two architects of Eastern Design Office, I dared to say to them, "Did my brother deceive us? What do you think?"
I asked them how about security, parking lot, floor heating and drainage? Was the mechanical equipment too old to work properly? Is the water safe? How about the kitchen? Can we get enough rooms for children in accordance with their growth? Will the children stop to be frightened? Isn't it too cold? Can I have clean bath and toilet rooms? Is it safe for earthquakes?
It seems a ghost will surely appear in this house.
I said to the architects with bitter smile that we would be new comers staying with the ghost, a longtime inhabitant of this old house, if a complete remolding would not be made.
Our architects said, "You cannot expect everything, but at least we can expel ghosts as ghost busters do." and laughed.
2. Ghost busters
Now I am going to tell you how our remolding was carried out.
The policy of Eastern Design Office is:
■ To star a new life, the number of things necessary can be counted easily.
■ The same can be said about the house: Let shed the light on what is really important to this house.
→ And what I did to pursue this is to throw away unnecessary things I had in my apartment house one after another.
When I move to this house, I will play with the waves, walk by the lakeshore and come back to my house. Anything that would prevent me from pursuing the new image of me as a person is not necessary. This simple concept contributes to make this old house alive again, and this enabled me to have a clear picture.
The image of a beautiful but simple forgotten summerhouse, standing alone at the edge of the sea: this is what I am.
・The floor level should be placed so that we can easily get in when we come back from the sea and it would not cause problems if the sand attached to the body may fall down.
・Windows should be easy to open, and should enable us to go back and forth between inside the house and the waves outside.
Watching the light from an area in deep shadow. Maintaining this essence of the window, and accentuating it, this house is designed. These are what Eastern Design said. A spacious floor, four glass windows with wooden frame, an old garden and the white color; this house is composed of only these four elements.
Since this house was built in the same style as a samurai residence: it was rather formal and the screens created small rooms, which were somewhat gloomy. I had the idea of having a new living room on the south side. But Eastern Design did the opposite. They said that it is the north side where spacious room is available for everyone to gather with a minimum of renovation. That was where once the Buddhist altar room and drawing room facing to the north garden were placed.
Unlike the common sense of our age, some old Japanese houses had a cherished garden and spacious rooms to look at the garden on its north side. The reason for this is: Sunlight coming from the south, shines on the trees planted in the wide north yard. Looking at the light from the deep shade and shadow that is created under the eaves. This is a style the ancient Japanese once loved and appreciated its beauty.
Our architects were not bothered with details such as lattice, transom, alcove nor the Buddhist altar room. Such things were taken away. Then something substantial appears which is a timeless component of the samurai residence style.
When every construction element was striped, this naked house reminds me of a samurai who is in strain to listen with self-annihilation sitting in an empty tatami room near by the seashore.
The kitchen was placed where once the alcove and a Buddhist altar were. The threshold of interior space and engawa (veranda) were taken away. The opening facing the garden was extended and four wooden framed glass windows were placed there.
The interior was designed in white for white can reflect even the fewest light. It is for sure a house for going to the lake to play.
The white is the color to brighten the space under the deep eaves. It also is the white of the lakeside. A spacious floor, four wooden framed glass windows, an old garden and white. This house is built with these four elements.


photograph by Client
3. The sound of lake
I am going to tell you about my present daily life: I go the "sea" as if I go to the next room. The house situated at one hundred steps away from the "sea."
A house easy to step in and easy to go out. Everybody can easily come back from the sand beach just to have a glass of juice and go back to the sea again. They do not care for my calling. They just leave their voices and scattering sand behind me. When I lie on the floor mumuring "I'm tired", I find the ceiling lit in white. I notice that it is the same color as the sand.
There are waves in Lake Biwa. Perhaps you know wind causes waves.
No pretention is the good point of this house. Even we mess up the rooms, they keep their balance without any disturbance. You can leave baggage, school bags and socks at your mood.
■ It is not our intention to reproduce glory of the past.
■ Cinderella's shoes do not have to match to us.
Here at this house nobody uses the entrance door to come and go to the "sea". When I lived at the apartment house, I could not help but locking the door with a chain. Now the door is always open. I am surprised myself at this fact.
This is a place where a nearby grand mother and her grandson may come to the yard at their please and play with our dogs with a toy(a ball made by used socks), and use our children's slide.
My boy will go outside even at night by bicycle when he was scolded. The same boy who once could not go to toilet at night alone.
My husband takes off his cloth at home and goes to the lake to swim. A "communal way", connecting our house and the "sea" runs on the south side of our yard. I can see him passing this way form here.
One year later after moving to this house, I have started working as a nursery school teacher again. I am away from home form morning to evening, sometimes late at night on weekdays. This is unimaginable in my previous life. I was so anxious to leave my eyes from my children even a minute and could not help keeping my eyes on them. It is not a big deal now. Our children are three brothers and sisters and even I am not there, they forget the time and play happily at the house.
In spring, my husband was greeted his way home by ticker-tape prepared by children on his birthday. To tell the truth, my husband is an engineer developing a security system. He does not care for the security camera now, which was once one of his obsessions. He now lives free and easy without locking the door and leaving the entrance gate open.
This house helps me to build up a new relationship with my family and give me time to be alone. I can overhear the weasel running, not the voices of ghost but good spirits now.
This house is a gift given by the lake.
My eldest son complains that it is a shame that papa swims in underpants. I reply " I do not care for it at all." I do not regret moving here.
I hear the sound of ripples of the lake with the voices of my children in the distance.
The house prior to redevelopment by EASTERN design office:



photograph by EASTERN design office
"T residence" – Building Information
Location: Otsu-shi, Shiga
Plot: 439.50 sqm
Building area: 114.40 sqm
Building coverage: 144.53 sqm
Structure: Wooden structure
Scale: 2 floors
Usage: Residence
Builder: Minobe Lize Planning, Inc.
T residence Otsu-shi Shiga images / information from EASTERN design office
Location: Otsu, Shiga, Japan
Japanese Architecture
Japanese Architectural Designs – chronological list
Japanese Architecture – key projects
EASTERN design office – Recent Japanese house designs
Japanese Houses – Selection
Hafye House, Odawara City, Kanagawa
Architect: CUBO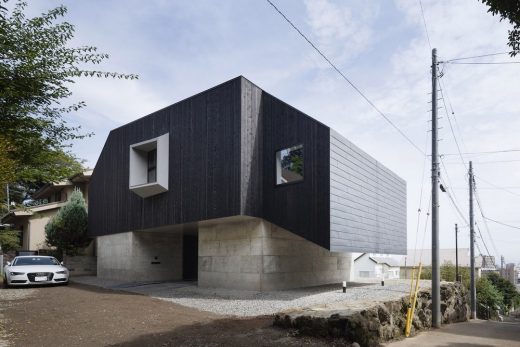 photo : Hiroshi Ueda
Hafye House in Odawara City
House Wago, Shizuoka
Design: msd-office, architects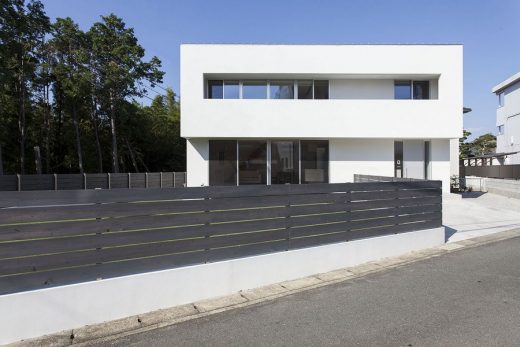 photos : Tadafumi Masuda / msd-office, Yasutaka Shimizu / NINE SENSE
Contemporary House in Shizuoka
House In Nagata, Kobe-city, Hyogo Prefecture
Japanese house design, Tokyo
Contemporary Houses : Designs + Images from around the world
Comments / photos for the Otsu City Residence – Shiga Home page welcome