Shimogamo Yakocho House, Japanese Residential Design, Property Japan, Home, Architect
Shimogamo Yakocho House
New Sakyoku Home – Japanese property design by Edward Suzuki Associates, Japan
12 May 2010
Shimogamo Yakocho House, Japan
Design: Edward Suzuki Associates





photos from Edward Suzuki Associates
"To be able to see green from every room"—such was all that the client requested.
In order to meet this demand as well as to enable the residents to feel a sense of spaciousness in the rather small 360 square meter corner lot tightly flanked on two sides by neighboring houses, the long applied concept of "Interface" was again used here.
A brief explanation of Interface is in order.
Over the years, the practice of "borrowing the landscape" has been prevalent in Japan as a way of life. However, this practice has been declining recently on account of the ever crowding urban development. On the contrary, more often than not, one has to put up a wall or a fence of sorts in order to protect one's self from the increasingly undesirable surroundings. This is when and where Interface comes to the rescue.





photos from Edward Suzuki Associates
Generally, Interface is comprised of a peripheral screen behind which would be a zone of green. This combination of screen and green constitutes Interface that acts as a filter, a buffer zone, a cushion that lubricates communication between the inside and the outside of a house or a building. A good example of Interface from the traditional Japanese design vocabulary is "Engawa," or peripheral corridor, of the old-style Japanese house. Engawa is both an outside and an inside space. It is the dual intermediate space between the outside and the inside proper. At times, for instance in the winter, it separates the two, while at other times, for instance in the summer, it fuses the two. It is that blurred, fuzzy situation that so typifies Japanese culture in terms of human-human as well as human-Nature relationships.




photos from Edward Suzuki Associates
Two kinds of screen of such Interface have been applied in this project. One is the circular, frosted glass screen enveloping and protecting the second story on the North-East. Reminiscent of the traditional Japanese paper screen, or "Shoji," this translucent mask affords abundance of soft, natural light to penetrate while securing complete privacy within the house.
The other is the vertically louvered, smoked bamboo screen. While affording some level of privacy, this screen retains the silhouette of the houses next door and allows the residents of the new house to be aware of the neighbors. Thus, it respects the surrounding landscape by filtering and not totally closing it off. It allows the world outside to be "sensed" but not clearly "seen." Inside this screen is a cushion of green, mostly of tall bamboos with a low bedding of grass and shrubs typical of Kyoto.
The plan of the house is comprised of two bedrooms and related water closets on the ground level, a family room and a Japanese room flanking a sunken patio in an L-shape in the basement along with a study, a guestroom, and related sanitary rooms, a one-room style living, dining, and kitchen boasting over a 3-meter high ceiling on the second level, and a pergola-clad moon-gazing terrace up on the rooftop with a panorama of the hills of Kyoto all around.





photos from Edward Suzuki Associates
In this project, the architect was asked to select every furniture, furnishing, and equipment including even artwork. To this end, instead of two-dimensional art, three-dimensional models of the house floor-plans were made to order and displayed at respective floors and stair landings as showpieces. Furthermore, every one of the four water closets boasts a sink that is a work of art created by four different artists using different media.
The façade of the house is masked by a circular screen of frosted glass. Flanking this rather cold, high-tech expression are warm, natural, smoked bamboo louvers to strike a pleasant contrast between the industrialized material. The entrance approach and car parking area is lined with a paving of rusty granite, within which are planted bamboos and imbedded with accents of low-rise shrubbery and grass.
Traditional Japanese design vocabulary such as of "Engawa," "Shoji," "Tsubo-niwa (very small Patio)," "Naka-niwa (Patio)," "Hisashi (Eaves)," "Tsukimidai (Moon-gazing Terrace)," Azumaya (Pavilion)," as well as vernacular materials such as bamboo (floors, doors, furniture, screens), stone (exterior and interior floors and walls), Japanese plaster and paper (interior walls, ceilings, and partitions, respectively) were used abundantly to communicate the spirit of Japan in a modern setting.





photos from Edward Suzuki Associates
At night, the whole house illuminates as one large "Andon," or Japanese candle lamp, to shed warm light to the neighborhood.
Shimogamo Yakocho House – Building Information
Building Site: Shimogamo Yakocho, Sakyoku, Kyoto, Japan
Site Area: 367.14 sqm
Building Area: 183.5 sqm
Floor Area: 461.95 sqm
Each Floor: 2F 122.97 sqm, 1F 171.38 sqm, B1F 167.6 sqm
Completion Date: 2006 May
Shimogamo Yakocho House images / information from Edward Suzuki Associates
Location: Sakyoku, Kyoto, Japan
Japanese Architecture
Japanese Architectural Designs – chronological list
Recent Japanese house featured – design by Edward Suzuki Associates:
House like a Museum, Japan
Recent Japanese house featured – design by Daigo Ishii + Future-scape Architects:
White Blue Black, Tokyo
Japanese Architecture – key projects
Japanese Houses
Concrete Square Tube House, Kyoto City
Architect: Eastern Design Office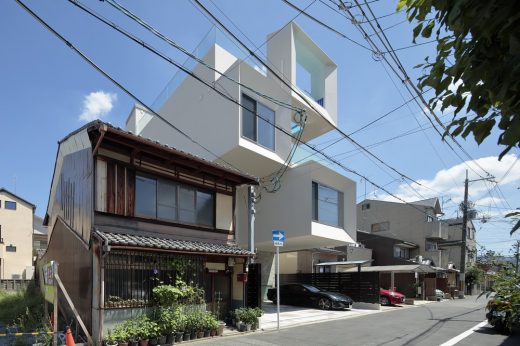 photograph : Koichi Torimura
New House in Kyoto City
Le 49 Residence, Mount Kamakura, Kanagawa, southeast Japan
Design: APOLLO Architects & Associates Co., Ltd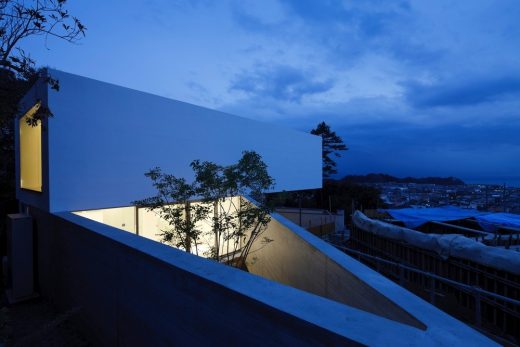 photography : Masao Nishikawa
Residence on Mount Kamakura in Kanagawa
Parabola
Atelier Tekuto
Parabola house
House in Kurakuen II
K.Associates
Kurakuen II House
Crystal brick house – housing, Tokyo
Atelier Tekuto
Japanese housing
Comments / photos for the Shimogamo Yakocho House Japan page welcome
Website: Visit Japan