Mumbai Building, Vidyalankar Institute of Technology, Wadala Design Images, Indian Architect
Vidyalankar Institute of Technology, Wadala Architecture
Contemporary Bombay Building design by Planet 3 Studios Architecture, India
8 Aug 2008
Vidyalankar Institute of Technology Wadala
Location: Mumbai, India
Date built: 2008
Architect: Planet 3 Studios Architecture Pvt. Ltd.
Photographs: Mrigank Sharma – IndiaSutra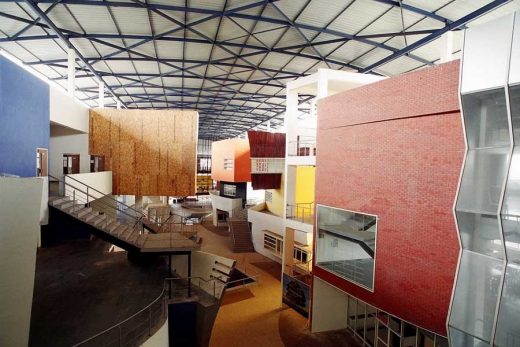 Vidyalankar Institute of Technology India
Context:
Mumbai is a city of myriad architectural styles all screaming for our attention. The induced aesthetic fatigue makes us vary of any new efforts at remapping our design landscape. In this cacophony, the city struggles to find a contemporary voice. The dilemma for us as designers is to contribute architectural marvels in a steadily deteriorating environment.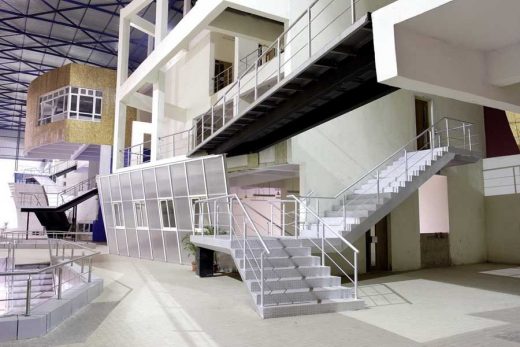 The site offered an opportunity to energize an urban area that had long been unappealing. It demanded a transformative vision of invigorating its decrepit urban presence. The site also provided us a rich industrial metaphor capable of being mined for its valuables and refreshed with new design thinking.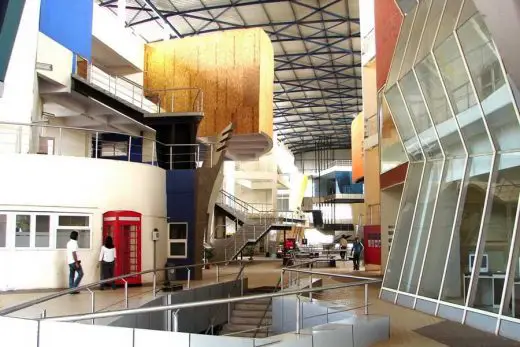 Vidyalankar as an Institution had the vision to look beyond default modernist box architecture and did not find it necessary to measure our success in our ability to built the largest possible enclosure in least amount of money. Their proposed college building had to express the will of the institution to enable progress in a progressive environment; to build a campus that best embodied its cherished values. The institution and we are bound to this project by an ethical trust we share.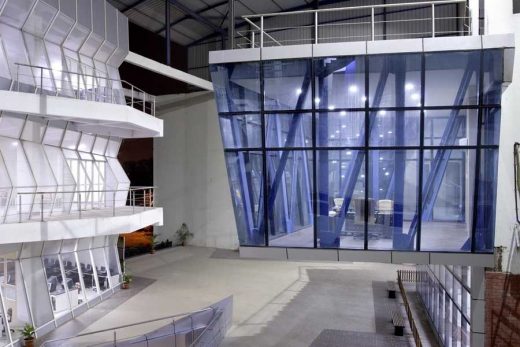 Our shared design sensibilities helped us avoid decisions that smacked of expediency. We agreed on preeminence of architecture as one of the most important aspects of campus life not to be sacrificed to short-term economies. When we took the leap of faith, they were right there with us.
Sometimes we need to look back to move forward. Historically, university campus developments have either followed the Oxford or the Cambridge model. The Oxford model allowed learning within close confines of a monolithic structure with controlled access to the surrounding city. The Cambridge model on the other hand allowed for learning centers at various locations within the city. Our preferred model needed to have the best of both.
This project needed ability to engage a complex design program. The challenge was in articulating the requirements of four distinct faculties within the same building and establishing network accesses to shared amenities. The design had to be simple and intuitive, of equitable use, have flexibility, involve low physical effort, should work within context and constraint, communicate ideas visually, be experimentally satisfying and most importantly, conform to restrictive building codes.
We initiated the design process with the audacious premise of re-engineering the basic campus build. This 'Un-Campus' is to be a beta site for prototype testing and therefore carry the burden of proof. Eschewing monumental verticality, we chose instead to experiment with horizontal urbanism. The hunt for options became an experimental, inventive, lateral thinking game. We were in to challenge pre-conceptions and affect a great perceptual shift. We wished to emerge from the modernist ghettos with fresh insights into the city.
Concept and Design:
In an oxygenated moment of released tension, we hit on the idea of an educational village built within an industrial container. This literal minded 'Village' would have various groupings of similar requirements in clearly definable structures with a main street as the central organizing device as well as hospitable site for spontaneous student interactions. This complex of open public spaces, enclosed semi public spaces and private areas would have the spatial connectivity of open plan interiors encouraging egalitarian, communal learning experience. The act of appropriation of the public spaces by the students could become a source of cultural energy.
We designed a visually kinesthetic experience of walking through asymmetric spaces, an escape from orthogonal rigidity, polymorphically exciting rather platonically correct. Overhanging structures defy gravity, challenging us to suspend preset notions of structural stability. Unleashed intuitive energies crafted expressionistic neo-baroque forms, voluptuous curves and a continuum of mutating spaces, a self-guiding promenade. Spatial maneuvering of sculpturally insistent forms, juxtaposing familiar with unfamiliar for provocative and dynamic result. Yet intimacy of human scale is not compromised at the inner street. Fragility and stability in constant counterpoint!
Uses of materials in raw form intensify the sense of space. A rich palate of materials, colours and textures engage and excite, spark the senses. Carnal Materiality with lofty aspirations!
The building's public face is a deceptively quiet, porous polycarbonate skin evoking the metaphor of its industrial neighborhood. This understated gift-wrapping subtly conceals the Avant Garde, playful forms inside. The skin is engineered to ease glare and yet allow the building to be naturally aerated.
An oversized sunroof brings in the sky and shields the inside from inclement weather. Thermal reduction coating on multi-wall polycarbonate panels ensures abundant natural light minus the corresponding heat load.
After word:
We hope this design to be an assertion of the fact that powerful design can affect human psyche and duly contribute to building a great institution. This significant physical artifact will challenge future campus architecture. With the commitment expressed by Vidyalankar Trust, we are confident that the dynamic forged in the original designs will not be subverted.
Ultimately, our clients are the students & the faculty and only once they populate and embrace the institution as we have imagined, would we be truly successful in the endeavor.
Vidyalankar Institute of Technology – Building Information
Client: Vidyalankar Dnanapeeth Trust
Architect: Planet 3 Studios Architecture Pvt. Ltd.
Interior Design: Planet 3 Studios Architecture Pvt. Ltd.
Municipal Approvals: John Dantas
Structural designer: S.N. Bhobe & Associates
Project Management Consultancy: S.N. Bhobe & Associates
Civil Contract: Nagarjuna Constructions
Electrical Consultant: Synergy
Services Consultant: Sunil Services
Built Area: 195,000 sqft
Project Cost: 16 Crores
Design team: Kalhan Mattoo, Santha Gour Mattoo, Jainish Jani, Sawant Kaul
Vidyalankar Institute of Technology Mumbai images / information from Planet 3 Studios Architecture Pvt. Ltd. 080808
Location: Vidyalankar Institute of Technology, Mumbai, India, South Asia
Architecture in India
Indian Architecture Designs – chronological list
New Delhi Architecture Walking Tours by e-architect
Indian Architect : architecture practice contact details
Planet 3 Studios Architecture Pvt.Ltd. based in Kandivali (E), Mumbai 101, India
Vidyalankar Institute of Technology : More info
Comments / photos for the Vidyalankar Institute of Technology Architecture page welcome