Zaha Hadid Architects Vertical Urbanism Exhibition Hong Kong, HKDI Architecture Show, China Images
Zaha Hadid Architects Vertical Urbanism Exhibition, HK
17 February 2022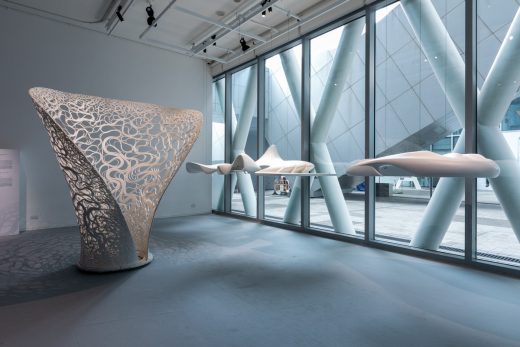 Zaha Hadid Architects Vertical Urbanism Exhibition now online
Hong Kong Design Institute (HKDI) until 3rd April 2022
Hong Kong Design Institute (HKDI) and Hong Kong Institute of Vocational Education (IVE) (Lee Wai Lee), together with its affiliated HKDI Gallery present its flagship exhibition of the year "Zaha Hadid Architects: Vertical Urbanism" as part of their 'Essence of Design' programme.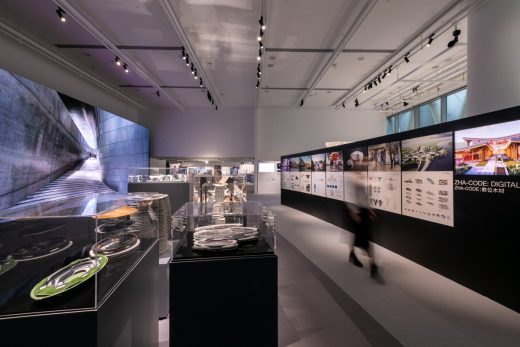 "Zaha Hadid Architects: Vertical Urbanism" at the HKDI Gallery and presented virtually until 3 April 2022, showcases Zaha Hadid Architects' (ZHA) innovations in architecture through a variety of project documentation tools – from technical drawings and diagrams, computer-generated visualisations, and architectural models, to video projections and virtual reality experiences. The immersive online exhibition builds upon the gallery's popular program of digital exhibitions in contemporary design, enabling a wider audience to journey through ZHA's formative projects, zoom in to details of architectural models and experience the multimedia exhibition.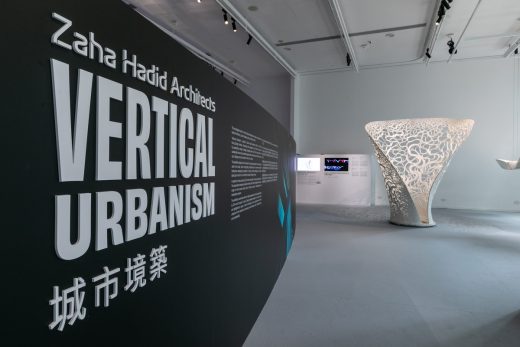 The exhibition presents the variety of approaches undertaken by ZHA in their development of vibrant and sustainable community-orientated spaces within dense urban conditions. It also explores ZHA's ongoing research, detailing the pioneering innovation inscribed within the studio's architecture.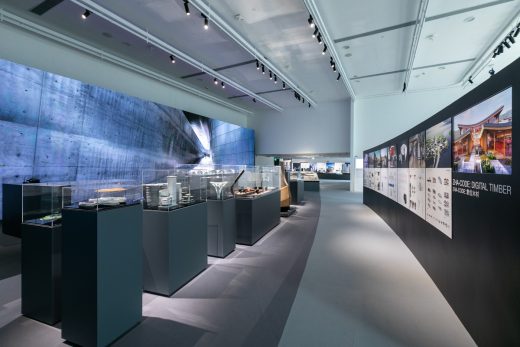 The late architect Zaha Hadid (1950 – 2016) injected a new level of dynamism into architecture. Her vision has been explosive, fluid and boundless, forcefully questioning the need for urban fortifications in her drive to establish a continuous, active ground-plane. The investigative spirit on which Hadid based her career continues in ZHA's ground-breaking work around the world.
Beijing Leeza SOHO, China, design by ZHA ; Miami One Thousand Museum, Florida, USA, design by ZHA: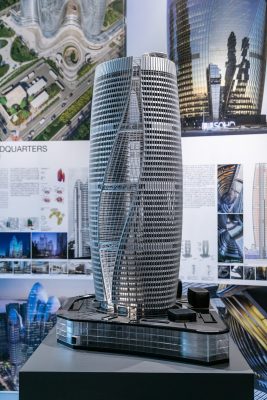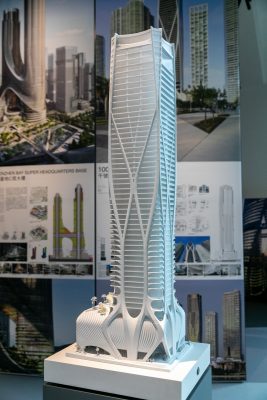 HKDI is committed to promoting design education and facilitating dialogue among industry experts, students and design enthusiasts through partnerships with international museums, design institutions and designers. "We are excited to collaborate with ZHA and present the 'Zaha Hadid Architects: Vertical Urbanism' exhibition as part of HKDI's interdisciplinary programme," says Dr Lay Lian ONG, Principal of HKDI & IVE (Lee Wai Lee). "Zaha Hadid was a radical innovator who has left an imprint on modern architecture and design that will endure for many years to come. This exhibition celebrates the ingenuity of ZHA, showcasing the depth of experience of one of the most renowned architecture firms in the world. We hope that this exhibition will provide insight for students and the public alike into the stunning vision of one of the most important architects of our time."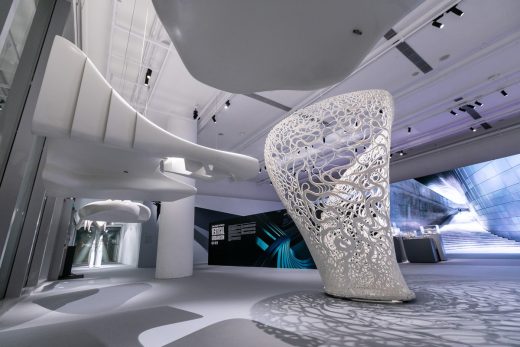 Explaining the exhibition's curatorial direction, Patrik Schumacher, Principal of ZHA, says, "The agenda of communicative intensification within and between densely spaced high-rise structures, via the combined strategies of clustering, bridges and atria, will articulate a new paradigm for the design of high-rise urbanism. On this basis, the tower typology will receive a new lease of life in the central metropolitan societies, where the desire for connectivity drives urban density. In the future, even more than is evident already now, this super-dense build up will be a mixed-use build up, where multiple life-processes intersect. These life-processes need to be ordered in intricate ways that nevertheless remain legible and thereby empowering."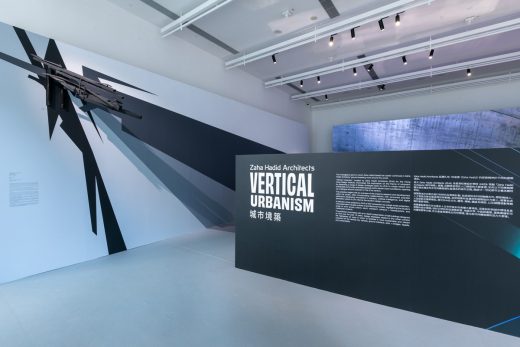 Curated especially for the Institutes, the exhibition is thematically structured around three aspects of ZHA's work: expounding on the research of ZHA's Computation & Design research group (ZHA CODE); exploring the studio's designs for towers in cities around the world; and showcasing ZHA's seminal projects in the region.
ZHA CODE
ZHA CODE collaborates with the world's leading scientific institutions to develop innovations in robotics, artificial intelligence and digital fabrication which, in turn, inform ZHA's design process. Building a comprehensive understanding of local supply chains, materials, craftsmanship and manufacturing, ZHA CODE develops design and logistical strategies with new construction technologies that ensure each project is fundamentally sustainable by using as little material and energy as possible in its assembly and operations.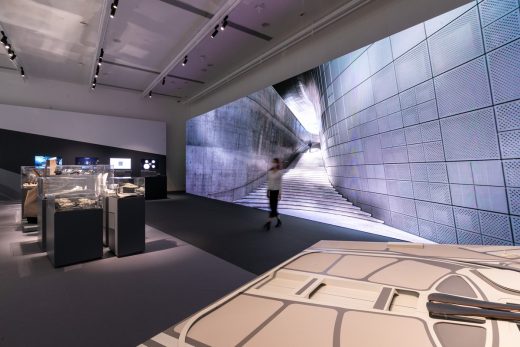 Vertical Urbanism
ZHA is delivering vertical urban architecture with experiential and communicative value. Incorporating a selection of the studio's renowned tower projects from around the world, this section  of the exhibition examines the studio's innovations in moving beyond the existing paradigm of tower design to enhance urbanism in the 21st century.
In his formative essay for the exhibition, Patrik Schumacher outlines five critical components of 21st century tower design that are explored within the exhibition: Density; Atria + Bridges; Façade; Ground Interface; and Sustainability. "The skyscraper seems locked in the bygone Fordist paradigm of segregating segmentation and serial repetition. The tower typology is the last bastion of this bygone era. The time is ripe to challenge the standard tower typology and demand that it too participates in the general societal restructuring from Fordism to Post-Fordism," explains Schumacher.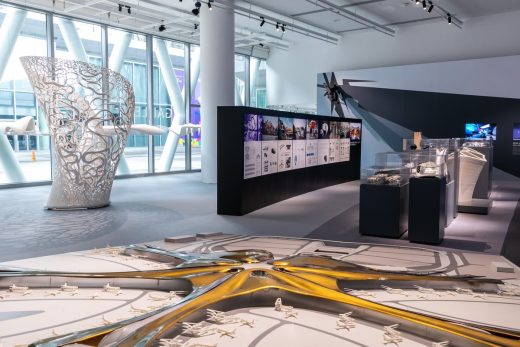 Regional Highlights
The exhibition begins with a significant work of Zaha Hadid, The Peak club (1982-1983) in Hong Kong. Though never built, the project was considered Hadid's breakthrough project, metaphorically flipping Hong Kong's iconic skyscrapers to generate a horizontal cluster of beams, with a large public void carved out between the geological intervention. The design won Hadid global attention and offered an early glimpse into the concepts and methodologies within ZHA's work, as showcased in the exhibition – from the experimentation on structures that push the traditional boundaries, to floating fluid forms, as well as the integration of public spaces within dense urban environments.
The exhibition also presents two award-winning projects in the region that encapsulate ZHA's vision: the Morpheus Hotel at City of Dreams Macau as well as The Henderson tower currently under construction in the Central district of Hong Kong.
The world's first free-form high-rise exo-skeleton, the Morpheus Hotel at City of Dreams Macau opened in 2018 and was designed as a vertical extrusion of the site's existing abandoned foundations. The 40-storey building of two internal vertical circulation cores connected at podium and roof levels to define its central atrium.
The Henderson in Hong Kong creates an urban oasis. The 36-storey design reinterprets the structural forms and layering of a Bauhinia bud about to blossom. Sheltering new civic plazas enveloped by nature, The Henderson connects with the adjacent public gardens that seamlessly connect with the tower's interior spaces.
As part of the comprehensive exhibition programme, a lecture by Patrik Schumacher in addition to industry panel discussions will be available online, exploring the exhibition's theme of vertical urbanism and examining the agenda of the tower typology that will re-structure metropolitan societies in the 21st century.
The online exhibition of "Zaha Hadid Architects: Vertical Urbanism"
Zaha Hadid Architects Vertical Urbanism Exhibition, Hong Kong Design Institute
"Zaha Hadid Architects: Vertical Urbanism" exhibition
Hong Kong Design Institute (HKDI)
3 King Ling Road, Tseung Kwan O, Hong Kong, China
Exhibition Period: From now until 3 April 2022
FB & IG: @hkdi.gallery
Enquiries: [email protected]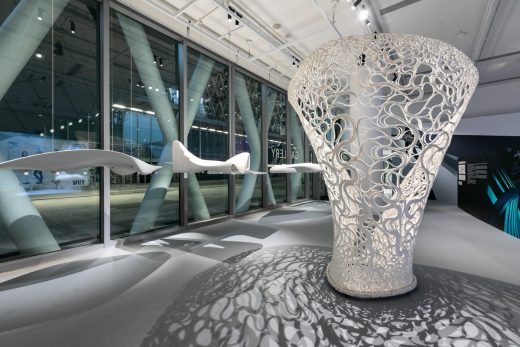 Hong Kong Design Institute (HKDI)
About Hong Kong Design Institute (HKDI) is a member of VTC Group. HKDI was established in 2007 with the mission to be a leading provider of design education and lifelong learning, including architecture, interior and product design, communication design, digital media, and fashion and image design.
With a view to providing professional designers for the creative industries, it promotes the "think and do" approach and encourages interdisciplinary synergy in its broad range of design programmes that cultivates students' cultural sensitivities and sense of sustainability. HKDI maintains a strong network with industry and provides its students with essential practical experience. Overseas exchanges are actively arranged for students to broaden their international perspective.
Website: www.hkdi.edu.hk
The Hong Kong Institute of Vocational Education (IVE)
The Hong Kong Institute of Vocational Education (IVE) is a member of the VTC Group. The nine IVE campuses provide vocational and professional education and training for secondary graduates as well as people in employment.
IVE programmes leading to the award of Higher Diploma and Diploma of Foundation Studies cover various academic disciplines including Health and Life Sciences; Business; Childcare, Elderly and Community Services; Design; Information Technology; Engineering, as well as Hospitality. Interdisciplinary Programmes are also offered to nurture a diversity of talent with professional knowledge.
Website: www.ive.edu.hk
Shenzhen OPPO Headquarters, China, design by ZHA ; Shenzhen Tower C, China, design by ZHA: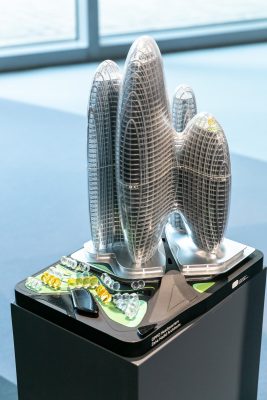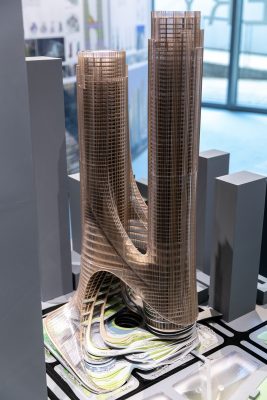 HKDI Gallery
Affiliated to Hong Kong Design Institute (HKDI), HKDI Gallery is a dynamic exhibition space with unique vision, with a track record of engaging with parties at home and abroad, including internationally acclaimed museums, designers and curators. With contemporary design as the cornerstone, HKDI Gallery presents a series of top-notch exhibitions every year ranging from graphic design, architecture, fashion, product design, multimedia and so on.
Shows include the retrospective for the Pritzker Prize-winning Spanish architect Rafael Moneo, the solo exhibition for the renowned Japanese designer Dai Fujiwara, the solo exhibition for the Oscar-winning artist Tim Yip, the retrospective for Hong Kong design legacy KAN Tai-Keung, the Asian debut largest solo exhibition for one of the most influential German industrial designer Konstantin Grcic, the exhibition of Japanese posters in 20th century, etc. Conjoining the design expertise of Hong Kong Design Institute, HKDI Gallery inspires tomorrow's creative talents and promotes design education & creativity to everyone by staging museum-standard exhibitions and education workshops.
Website: www.hkdi.edu.hk/hkdi_gallery
Project Team
Organiser: HKDI and IVE Lee Wai Lee
Co-Organiser: Zaha Hadid Architects
Project Management and Education Engagement: 
Exhibition Team, Hong Kong Design Institute & Hong Kong Institute of Vocational Education (Lee Wai Lee)
Exhibition Curation: Zaha Hadid Architects (ZHA)
Principal of Zaha Hadid Architects: Patrik Schumacher
Exhibition Design and Graphics: Zaha Hadid Architects (ZHA)
ZHA Overall Exhibition Design and Curation: Melodie Leung, Manon Janssens, Ceren Tekin, Nastasja Mitrovic, Nica Sabet, Alex Turner, Elena Castaldi 
ZHA Local Coordination: Simon Yu, Sara Klomps, Bianca Cheung, Marisa Carvajal, Kelvin Ma, Steven Chung, Ivan Suen
ZHA Multimedia: Henry Virgin
ZHA CODE: Shajay Bhooshan, Henry David Louth
ZHVR: Helmut Kinzler, Aleksandra Mnich-Spraiter
ZH AI (Analytics + Insight): Philipp Siedler, Uli Blum
ZH SOCIAL: Tyson Hosmer, Ziming He, Baris Erdincer
Translation: Creatus, ZHA: Gigi Ho with Tim Yeung, Hazel Wu, Steven Chung, Ivan Suen, Jinqi Huang 
Production and Assembly: Hattrick Creative Limited
Supporting Organisations:
The British Consulate-General, British Council, InvestHK, Hong Kong Design Centre (HKDC), Design Council Hong Kong (DCHK), Hong Kong Designers Association (HKDA), Hong Kong Federation of Design and Creative Industries (FHKDCI), Centre for Heritage, Arts & Textile (CHAT), AIA Hong Kong, Hong Kong Arts Centre (HKAC), Hong Kong Furniture Association (HKFA), HKGBC: Hong Kong Green Building Council, Hong Kong Institute of Architects (HKIA), Hong Kong Interior Design Association (HKIDA), Hong Kong Institute of Urban Design (HKIUD), RIBA Hong Kong, PMQ
Copyright © Zaha Hadid Architects.
Images courtesy of Hong Kong Design Institute (HKDI)
Zaha Hadid Architects Vertical Urbanism Exhibition images / information received 170222
Zaha Hadid Architects e-architect
Location: Hong Kong Design Institute, 3 King Ling Road, Tseung Kwan O, Hong Kong, China, Eastern Asia
Zaha Hadid Architects Designs in China
Chinese Architecture Designs by Zaha Hadid Architects – selection below:
Tower C at Shenzhen Bay Super Headquarters Base, Shenzhen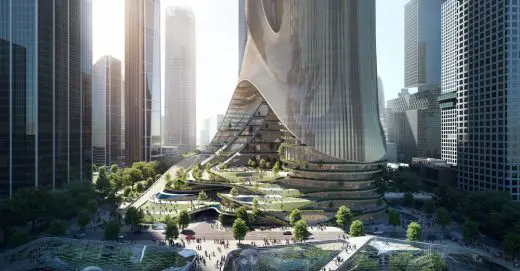 image courtesy of architectural office
Tower C at Shenzhen Bay
Shenzhen Science & Technology Museum, Shenzhen, China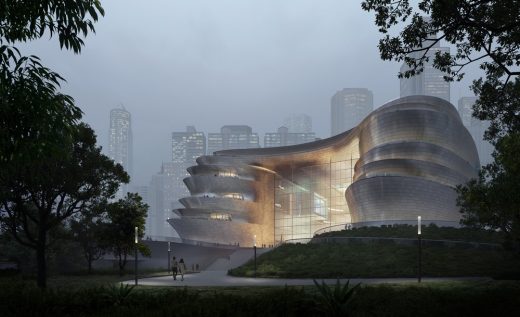 rendering © Brick
Shenzhen Science & Technology Museum
Xi'an International Football Centre, Xi'an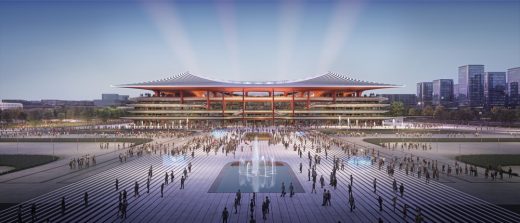 render by Atchain
Xi'an International Football Centre
Leeza SOHO, Lize Financial Business District, Beijing, China
Design: Zaha Hadid Architects (ZHA)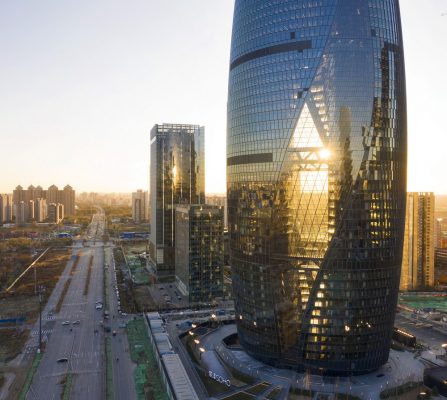 photograph : Hufton+Crow
Leeza SOHO in Beijing
China Architectural Designs
Chinese Architecture Designs – architectural selection below:
Chinese Architecture Designs – chronological list
Changzhou Culture Center
Architect: gmp · von Gerkan, Marg and Partners · Architects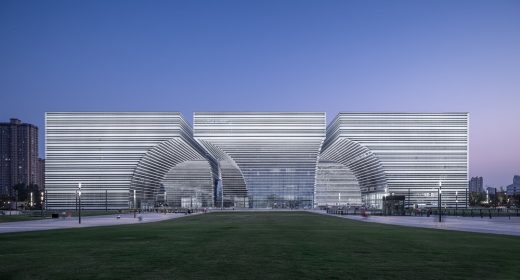 photography © Schran Images
Changzhou Culture Center Building
Gallery at Hongqiao World Centre in Shanghai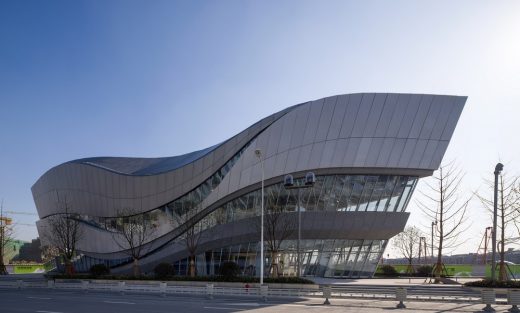 image from architects
Gallery at Hongqiao World Centre in Shanghai
Zaha Hadid Architects – All Projects + Practice Information
Comments / photos for the Zaha Hadid Architects Vertical Urbanism Exhibition page welcome