Hong Kong Building Highlights, HK Skyscrapers, Architects Designs, Tower Projects Photos
Hong Kong Architecture Highlights
The Best HK Architectural Projects, China: Buildings in the Iconic Skyline
20 May 2017
Hong Kong Architectural Highlights
The Best of Hong Kong Architecture
Hong Kong's skyline is one of the most recognisable in the world. With over 1,000 skyscrapers (the most in any city in the world) and a unique mix of Chinese and British influence, Hong Kong's exceptional architecture is sure to impress every visitor.
"Thanks to its iconic skyline, buzzing atmosphere and rich culture, Hong Kong is officially the most visited city in the world" says Dawn Page, Director, UK and Northern Europe. "But if you delve a little deeper, you'll discover so much more within the very floor you're standing on, the walls around you or the skyscraper you are marvelling at. The great thing about Hong Kong is that many buildings have their own story, some with eastern influences, some with western and some with both. Hong Kong truly is a World City – a melting pot of cultures and its architecture only reinforces that."
Highlights of Hong Kong's varied architectural offering include:
Hong Kong \
Designed by acclaimed British architect Lord Norman Foster, this state-of-the-art structure, completed in 1998, was voted one of the Top 10 Construction Achievements of the 20th Century. Located at Chek Lap Kok Chek Lap Kok Airport on Lantau Island, Hong Kong International Airport is linked to the city's urban areas via an impressive chain of highways, railways and bridges. It remains one of the world's largest and most popular airports, having been recognised as the world's best airport approximately 40 times.
Bank of China Tower
The prism-like façade of the 367.4m Bank of China Tower has become one of Hong Kong skyline's most recognisable features. The work of renowned Chinese–American architect I.M. Pei, the 70-storey building's asymmetrical form is pure geometry and has been compared to a bamboo plant, which extends its trunk successively higher with each new burst of growth.
Chi Lin Nunnery
Established in 1934 and renovated in Tang dynasty style (AD 618–907) in 1990, the Chi Lin Nunnery is a large temple complex of elegant wooden architecture, treasured Buddhist relics and soul-soothing lotus ponds. The complex also includes a series of temple halls, some of which contain gold, clay and wooden statues representing divinities such as the Sakyamuni Buddha and bodhisattvas.
HSBC Main Building
HSBC Main Building is the first building of its size in Hong Kong constructed entirely of structural steel without any reinforced concrete in its inner core. Designed by renowned British architect Lord Norman Foster, this hi-tech building in Central is a marvel of modern architectural design. Natural sunlight is the main source of light inside the building, with a bank of mirrors directing it into the atrium. Heat gain is also prevented by sunshades and the building's air conditioning system uses sea water as its coolant. At the time of construction the HSBC Main Building was the most expensive building in the world, with a price tag of over $650 million.
Central Plaza
Built upon reclaimed land in Wan Chai North, the 78-storey Central Plaza stands 374 metres tall. After dusk, the bright neon rods at the top of the building change colour each quarter-hour, making the city's most visible and unique timepiece. The plaza's vast lobby is a palatial picture of marble, paintings and real palm trees. Sky City Church on the 75th floor of Central Plaza is the world's highest church located inside a skyscraper.
Cheung Kong Centre
This 62-storey building at the junction of Queen's Road Central and Garden Road is the headquarters of renowned property tycoon Li Ka-shing's Cheung Kong Group. Designed by acclaimed architects Leo A Daly and Cesar Pelli, the building is enclosed in a sheath of reflective glass interwoven with a rich tapestry of stainless steel. At night, a computer-controlled optic lighting system wraps the 283m building in an ethereal glow.
Tsing Ma Bridge
Unmissable by day and a twinkling stretch of lights by night, the Tsing Ma Bridge is an engineering marvel that links Lantau Island to the rest of Hong Kong. The 2.16km bridge was opened to traffic in 1997 as part of key infrastructure serving the new airport on Lantau Island, and has since become a local sightseeing favourite.As the longest suspension bridge with both rail and road traffic in the world, the Tsing Ma Bridge got its name from the areas at both of its ends: Tsing Yi and Ma Wan.
About Hong Kong Tourism Board
Sophisticated, cosmopolitan with a skyline to rival Manhattan, Hong Kong is Asia's World City. Hong Kong's culture, fusing ancient Chinese traditions with contemporary style, will fascinate, while its hotels, dining and nightlife are the envy of the world.
For more information on Hong Kong please visit: Discover Hong Kong
Hong Kong Architecture Tours
Hong Kong Architecture Tours by e-architect
Major Hong Kong Architectural Designs
Innovation Tower, The Hong Kong Polytechnic University – PolyU
Design: Zaha Hadid Architects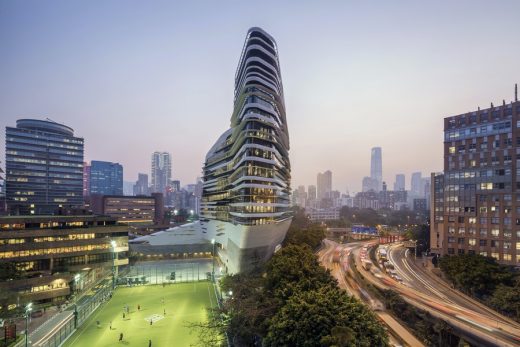 photo : Doublespace
Hong Kong University Building
Il Milione Hong Kong
Architects: Design LSM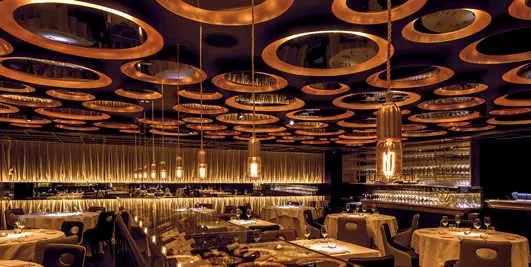 photograph courtesy of architects
MOKO, Grand Century Place, 193 Prince Edward Road West, Mong Kok, Hong Kong
Design: Aedas, architects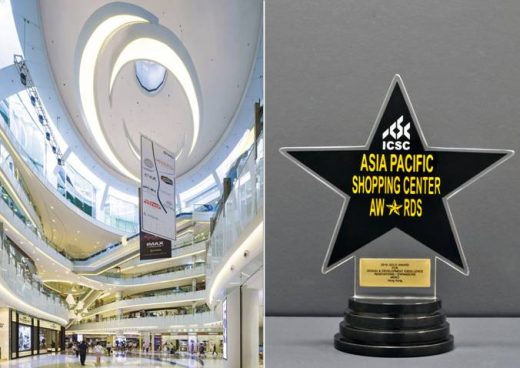 image from architect
MOKO Hong Kong Building
Location: Hong Kong, Eastern Asia
HK Architectural Designs
HK Architectural Design Projects
Hong Kong Architecture Designs – chronological list
Hong Kong Buildings Photos by Andrew McRae
The Hang Hau centre, Hong Kong
Design: Architectural Services Department
i-Square Hong Kong, Tsim Sha Tsui
Architects: Rocco Design Limited / Benoy
CPS Project Central Police Station
Design: Herzog & de Meuron ; Purcell Miller Tritton ; Rocco Design Architects Limited
McKinsey & Company in Hong Kong
Design: OMA
Edouard Malingue Gallery
Design: OMA
West Kowloon Cultural District
Design: OMA
West Kowloon Cultural District
West Kowloon City Park
Design: Foster + Partners
West Kowloon City Park
Chu Hai Colllege Campus – Architecture Competition
Design: OMA
Chu Hai Colllege Campus
The Hong Kong Community College (Hung Hom Bay Campus), Kowloon
Architects: AD+RG
Hong Kong Community College
Hong Kong Architecture – descriptions of key architecture
The British Far East – Architecture & The City : Hong Kong Guide
Comments or building suggestions / photos for the Hong Kong Architecture Highlights page welcome