Laeiszhalle Hamburg Music Hall Building Photos, German Architecture Project Picture
Laeiszhalle Hamburg : German Music Hall Architecture
Historic Music Hall in Hamburg, Germany design by Martin Haller + Erwin Meerwein
9 Aug 2012
Laeiszhalle Hamburg Music Hall
Architects: Martin Haller & Erwin Meerwein
Address: Johannes-Brahms-Platz, 20355 Hamburg, Germany
Contact Laeiszhalle: Phone 040 35766666
English text (scroll down for German):
Laeiszhalle Hamburg – an elegant lady with a fascinating history
Photo © Adrian Welch, posted 2 Sep 2012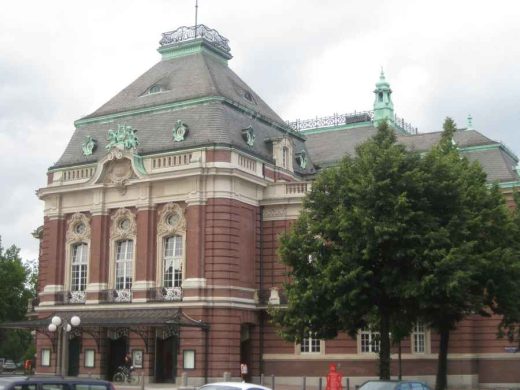 As everyone knows, it is not polite to ask a lady her age, but in this case we are happy to commit such a breach of etiquette in order to hear the exciting tales this fine lady has to tell from her 100-year history. The Laeiszhalle – at that time the largest and most modern concert hall in Germany – was inaugurated on June 4, 1908.
In his will, the well-known Hamburg shipping company owner Carl Heinrich Laeisz stipulated that the company F. Laeisz was to donate the sum of 1.2 million German Marks to fund the construction of »a worthy site for the performance and enjoyment of high-quality art music«. This sum was subsequently increased by his widow, Sophie Christine Laeisz.
Laeiszhalle – Brahms Foyer ; Kleiner Saal ; Studio E:





photos © Maxim Schulz
The architects Martin Haller and Erwin Meerwein, who had already made a name for themselves with their design for the Hamburg Town Hall, were responsible for building the neo-baroque concert hall, which remains one of the finest in Europe. With its distinctive glass roof, the Großer Saal accommodates more than 2,000 visitors, while the Kleiner Saal seats upwards of 600.
Smaller events and concerts are held in the more intimate Studio E. During the interval, concert-goers can stretch their legs in the elegant surroundings of the Brahms Foyer, where refreshments are also served. The centrepiece of the foyer is a Symbolist marble bust of Johannes Brahms, created by Max Klinger in 1909.
The Laeiszhalle made music history from the very beginning: prominent composers such as Richard Strauss, Sergei Prokofiev, Igor Stravinsky and Paul Hindemith played and conducted their own works here. The child prodigy violinist Yehudi Menuhin gave a widely acclaimed guest performance in 1930 at the age of twelve, while Maria Callas's concerts (in 1959 and 1962) were equally unforgettable.
Following World War II, which it survived intact, the Laeiszhalle experienced an unusual intermezzo when the British occupying forces used the space temporarily as a broadcast studio for their radio station BFN, whereby 60,000 shellac jazz records were stored in the foyer. Chris Howland began his career here as a radio DJ for BFN.
To this day, the Laeiszhalle continues to attract a steady stream of international stars of the classical music world, and at the same time it is a popular meeting place for Hamburg's music scene.
Due to its relatively low capacity and stage layout, the Laeiszhalle is particularly suitable for the performance of classical and early romantic repertoire, and less so for staging large-scale twentieth-century works.
Laeiszhalle Elbphilharmonie Hamburg
The concert business of both the future Elbphilharmonie and the renowned Laeiszhalle are under the direction of one company. Christoph Lieben-Seutter became its General and Artistic Director in 2007. Since the 2009/2010 concert season he has also been responsible for the »Elbphilharmonie Concerts« consisting of 100 concerts per year. This concert series takes place mostly in the Laeiszhalle, alongside the concerts of private concert promoters.
The Elbphilharmonie Concerts present a multi-faceted, modern, cosmopolitan programme, which leads its public into the future, anticipating the concert life of the Elbphilharmonie Hamburg and the Music City Hamburg. Information, subscriptions and tickets at www.elbphilharmonie.com and at the Elbphilharmonie Kulturcafé (box office), Mönckebergbrunnen, Barkhof 3, 20095 Hamburg, phone: +49 40 357 666 66, [email protected].
Laeiszhalle – exterior:



photo : Torsten Hemke
German text:
Musikhalle Hamburg – eine Lady mit Geschichte
Eine Lady fragt man nicht nach ihrem Alter. Doch in diesem Fall bereitet es Vergnügen, sich der Etikette zu widersetzen, zu spannend ist, was die prächtige Dame aus ihrer 100-jährigen Geschichte erzählen kann: Am 4. Juni 1908 wurde die Laeiszhalle, damals das größte und modernste Konzerthaus Deutschlands, festlich eingeweiht.
Der bekannte Hamburger Reeder Carl Heinrich Laeisz hatte testamentarisch verfügt, dass die Firma F. Laeisz den Betrag von 1,2 Millionen Mark stiftet und damit den Bau "einer würdigen Stätte für die Ausübung und den Genuss edler und ernster Musik" ermöglicht. Die Summe wurde später von seiner Witwe Sophie Christine Laeisz noch erhöht.
Neobarock
Die Architekten Martin Haller und Erwin Meerwein, die sich bereits mit dem Bau des Hamburger Rathauses einen Namen gemacht hatten, errichteten das neobarocke Konzerthaus, das bis heute zu den schönsten Europas zählt. Über 2.000 Besucher fasst der Große Saal mit seiner einzigartigen Glasdecke, der Kleine Saal bietet heute mehr als 600 Gästen Platz.
Im charmanten Studio E finden kleinere Veranstaltungen und Konzerte statt. In der Pause lädt das mondäne Brahms-Foyer zum stilvollen Lustwandeln und Erfrischen ein. Sein Herzstück ist die symbolistische Marmorplastik von Johannes Brahms, die Max Klinger 1909 schuf.
Laeiszhalle – Grosser Saal:




photographs © Mehmet Alatur
Lebendige Geschichte
Von Beginn an hat die Laeiszhalle Musikgeschichte geschrieben: Prominente
Künstler wie Richard Strauss, Sergej Prokofieff, Igor Strawinsky und Paul Hindemith spielten und dirigierten eigene Werke. Der 12-jährige "Wundergeiger" Yehudi Menuhin gab 1930 ein umjubeltes Gastspiel, und Maria Callas' legendäre Konzerte (1959 und 1962) sind unvergessen.
Nach dem Zweiten Weltkrieg, den sie unversehrt überstand, erlebte die Laeiszhalle ein ungewöhnliches Intermezzo: Die britischen Besatzer nutzten ihre Räume vorübergehend als Funkhaus für ihren Militärsender BFN und lagerten im Foyer 60.000 Jazz-Schellackplatten. Chris Howland startete hier als Radio-DJ seine Karriere.
Über 400.000 Besucher
Auch heute geben sich die internationalen Stars der Musikwelt in der Laeiszhalle die Klinke in die Hand, zugleich ist sie Treffpunkt für das Hamburger Musikleben. Hier sind auch die renommierten Orchester der Stadt – Philharmoniker Hamburg, NDR Sinfonieorchester und Hamburger Symphoniker – sowie das Ensemble Resonanz als "Ensemble in Residence" beheimatet. Das Publikum weiß die hochkarätigen musikalischen Ereignisse zu schätzen: Über 400.000 Besucher kommen jedes Jahr in die Laeiszhalle.
Auf Grund des relativ geringen Raumvolumens und der Anordnung der Bühne ist die Laeiszhalle hervorragend für das klassische und frühromantische Orchesterrepertoire, jedoch weniger für die groß besetzten Werke des 20. Jahrhunderts geeignet.
Information zur Namensgebung
Mit der feierlichen offiziellen "Taufe" auf den Namen Laeiszhalle wurde im Januar 2005 etwas nachgeholt, was schon zur Einweihung 1908 hätte passieren sollen. Lange Zeit war der Name "Laeiszhalle" neben der schlichten Bezeichnung "Musikhalle" in der Öffentlichkeit präsent. In der zweiten Hälfte des 20. Jahrhunderts setzte sich der Name Musikhalle durch und wurde mit der Etablierung der m-Konzerte 2002 auch zum Markenzeichen.
Der altehrwürdige hamburgische Name Laeisz bindet das Konzerthaus noch enger an die Stadt und erinnert an die lange Tradition bürgerlichen Engagements von Hamburgern für das Kulturleben der Hansestadt. Als Stifter der Laeiszhalle bekennt sich die Reederei F. Laeisz zu einer langfristigen Sponsoring- Partnerschaft.
Laeiszhalle – Musikhalle Hamburg images / information received 010212 + 180909
Website: https://www.elbphilharmonie.de/en/laeiszhalle
Location: Johannes-Brahms-Platz, 20355 Hamburg, Germany, Europe
New Architecture in Hamburg
Contemporary Hamburg Architecture
Hamburg Architecture Designs – chronological list
Hamburg Architecture Tours by e-architect
Hamburg Building – Selection:
Elbphilharmonie Building
Design: Herzog and de Meuron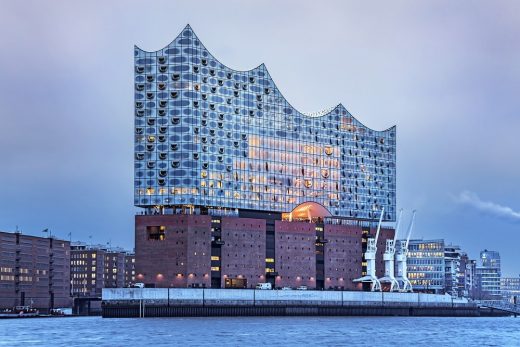 photo : Thies Rätzke
Elbphilharmonie Building
Hamburg Innovation Port Master Plan
Design: MVRDV with morePlatz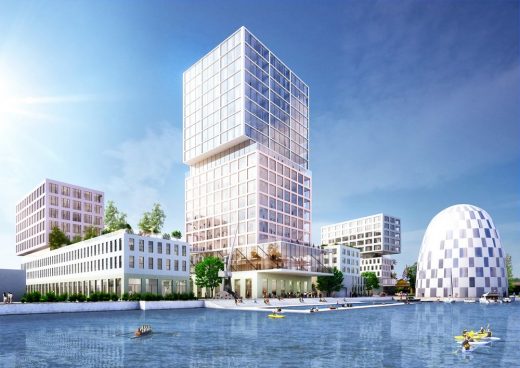 image : MVRDV
Hamburg Innovation Port
Empire Riverside Hotel
David Chipperfield Architects
Empire Riverside Hotel
Comments / photos for the Laeiszhalle, Musikhalle Hamburg Architecture page welcome