Yes is More Exhibition, BIG Architects Book, Architecture, Design, Publication, Monograph, Image
Yes is More Exhibition, Arc en Rêve, Bordeaux
First Monograph on BIG – Bjarke Ingels Group – Architecture Comic Strip Book
14 Jun 2010
Yes is More Exhibition
Exhibition Opening – YES IS MORE – 17th June at Arc en Rêve, Bordeaux, France
Opening Event
17 Jun 2010
Exhibition
18 Jun – 30 Sep 2010
YES IS MORE – An Archicomic on Architectural Evolution produced in collaboration with the Danish Architecture Center
Time: Thursday 17th June 2010, 18:00
Place: Arc en Rêve, Entrepôt 7 Rue Ferrêre, 33000 Bordeaux, T +33 (0)5 56 52 78 36
Opening speech by Bjarke Ingels, BIG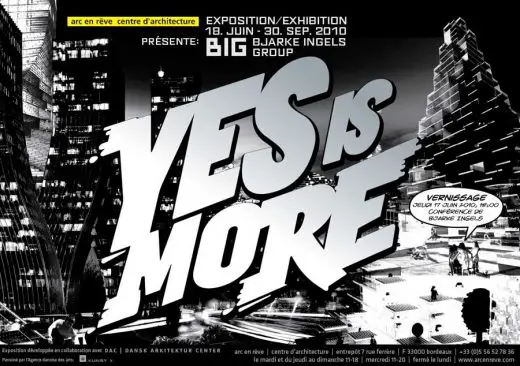 As part of arc en rêve's long-term ambition, this event aims to call attention to a young European agency that considers architectural projects in an incisive, innovative way that does not exclude a sense of humour. With projects such as the Copenhagen Harbour Baths (2003), the Orestad residences (2008) built on a gigantic sloping slab resembling an urban mountain, and a bike track spiralling through the Danish pavilion at Expo Shanghai (2010), BIG's completed projects offer profound architectural experiences at a far remove from minimalism, political correctness and digital formalism.
Set up in arc en rêve's main gallery, the exhibition takes the form of a huge, 130-metre-long comic strip occupying the entire 450 square metres of the space and complete with 30 models – one of them an astonishing LEGO construction – and 19 animated films. As a manifesto project accompanied by a book, Yes is More is an invitation to update our vision of architecture and the city in a return to modernity and its utopias. This is BIG's first solo exhibition in France which was inaugurated earlier this year at the Danish Architecture Center. Previously:
BIG ARCHITECTS PRESENT THEIR FIRST MONOGRAPH "YES IS MORE – An Archicomic on Architectural Evolution"
THROUGH TASCHEN's EVERGREEN PRESS
BIG Architects



photograph : Iwan Baan
Yes is More Book – Summary

YES IS MORE is the first monograph of its kind devoted exclusively to the trailblazing practice of BIG – Bjarke Ingels Group, a Copenhagen based group of architects, designers and thinkers operating within the fields of architecture, urbanism, research and development. Unlike a classic architectural monograph, this book is more of a manifesto of popular culture, in which BIG's methods, means, processes and approach to the concept of architecture are revealed as being as unconventional, unexpected and result-producing as the world in which it exists, continually reaffirming its mission with a resounding YES.
"YES IS MORE is a popular and easily accessible manifesto for architecture as one of the most relevant aggregates of the 21st century in which we may epitomize and answer many of the global agenda-setting questions. In the book, BIG shows how they conceptualize the polymorphous demands, complex rules and highly specialized knowledge of society, creating tangible solutions through artistic processes; solutions which time and again attract the interest of the population at large as well as the respect of global aficionados.
YES IS MORE is a communication created in this very spirit – combing elite and popular elements – allowing the sublime to shine through in the commonplace. Thus the reader is invited into BIG's processes, methods and results using the most approachable and populist means of communication available – the cartoon." – Kent Martinussen, CEO, Danish Architecture Centre.





Please order your books at your local bookstore or through TASCHEN by fax, e-mail or phone.
TASCHEN
Hohenzollernring 53
50672 Koeln
Germany
Tel.: +49 (0) 221 20180 216 [email protected]
Location: Arc en Rêve, Entrepôt 7 Rue Ferrêre, 33000 Bordeaux, France, western Europe
Formgiving. An Architectural Future History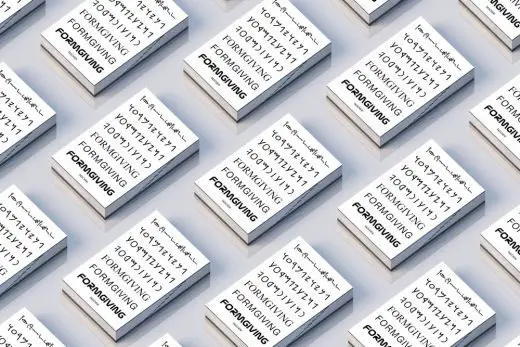 Formgiving. An Architectural Future History : news from 29 Nov 2020
Key Design by BIG:
National Library in Astana, Kazakhstan



picture from architect
Kazakhstan National Library
Exhibitions – chronological list
Comments / photos for the Yes is More Exhibition Bordeaux by BIG Architects, Denmark, page welcome