Exhibition noAarchitecten. Encounters, Antwerp Architecture Show, Belgian Architectural Design
Exhibition noAarchitecten. Encounters News
Flemish Architecture Institute – VAi – Vlaams: deSingel International Arts Campus, Belgium
25 Nov 2014
Exhibition 'noAarchitecten. Encounters' 2014
Flemish Architecture Institute Show
Exhibition by Flemish Architecture Institute and deSingel
A contemplative study room for students in Hasselt turns out to have been a prison cell. A facade introduces reading into the city and gives the Plantin-Moretus Museum collection a (protective) face. In their projects, noAarchitects try to go beyond the visual experience to arrive at an all-round spatial experience.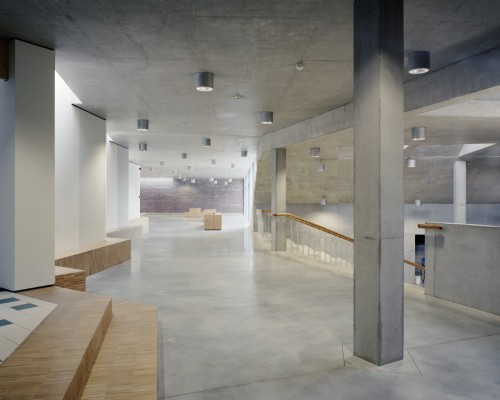 NoAarchitects have been able to create a form profile for themselves from the very beginning, with both notable small buildings and several large-scale public buildings including the Petrol electricity cabin in Antwerp and the spatial metamorphosis of Menen town hall.
In the course of time a seemingly intuitive design approach transformed into a proper design strategy. noAarchitects takes up a position subtly reconciling the principal, the building/assignment and the future user. The firm sometimes even opts for different approaches within a single building. The result is contradiction and complexity. An ambiguity which this collective explores by means of a meticulous plan and a precise selection of colours and materials. This architecture is never neutral. It is intended to uplift, but never becomes pedantic. It is specific, offers a tailormade location and gives an almost ritual dimension to everyday actions.
The exhibition is an installation that invites the visitor to walk, see, feel, study and think.
Practical information:
Open from Wednesday until Sunday from 2 until 6 p.m., closed on Monday and Tuesday.
Entry price: 5 euro
Tickets for sale at entrance of the exhibition.
Curator: Katrien Vandermarliere, Christoph Grafe (Flemish Architecture Institute)
Production: noAarchitects, Flemish Architecture Institute, deSingel International Arts Campus
Exhibition noAarchitecten. Encounters image / information received Nov 2014
Exhibition noAarchitecten. Encounters
Datum: 26.09.2014, 14:00 to 04.01.2015, 18:00
Locatie: deSingel International Arts Campus, Belgium
Architect: noAarchitecten
Organisator: Flemish Architecture Institute and deSingel
Straat: Desguinlei 25
Postcode: 2018
Gemeente: Antwerp
Contact persoon: Katrien Vandermarliere
Info tel: +32 3 242 89 70
Info e-mail: [email protected]
Trefwoorden: Tentoonstellingen
Location: Desguinlei 25, B-2018 Antwerp, Belgium, western Europe
Architecture in Antwerp
Architecture in Belgium
Belgian Office Building Design
Exhibition by Flemish Architecture Institute and deSingel
Comments / photos for the Exhibition noAarchitecten. Encounters page welcome
Exhibition noAarchitecten. Encounters : page
http://www.desingel.be/en