Rolex Mentor and Protégé Arts Initiative 2014, Architects + Designers, News
Rolex Mentor and Protégé Arts Initiative 2014
Architecture + Visual Arts News
19 May 2014
2014 Rolex Mentor and Protégé Arts Initiative
Rolex Arts Initiative Names Seven Major Artists as Mentors
Olafur Eliasson, Alejandro González Iñárritu, Michael Ondaatje,
Alexei Ratmansky, Kaija Saariaho, Jennifer Tipton and Peter Zumthor
select talented protégés for year of creative collaboration
Seven emerging artists to be paired with renowned mentors through Rolex Arts Initiative
Geneva, 19 May 2014 – The Rolex Mentor and Protégé Arts Initiative today announced the seven talented young artists from all over the world who will each benefit from a life-changing, year-long collaboration with one of the world's greatest artists.
The young artists, named as protégés for the 2014-2015 cycle of the Rolex Arts Initiative, have each been personally selected by the mentor in their discipline – Olafur Eliasson (visual arts), Alejandro González Iñárritu (film), Michael Ondaatje (literature), Alexei Ratmansky (dance), Kaija Saariaho (music), Jennifer Tipton (theatre) and Peter Zumthor (architecture) – after a global talent search and selection process conducted by Rolex.
Gloria Cabral, protégée. Haldenstein, Switzerland, 2014: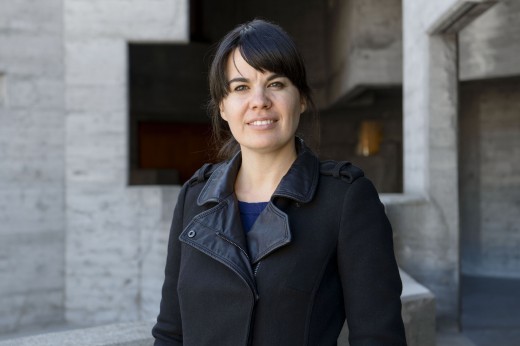 photograph © ROLEX / MARC LATZEL
The protégés – from Paraguay, Portugal, Mexico, Bulgaria, the Democratic Republic of Congo, the U.S. and Israel – are adding substantially to the diversity of the programme. So far, 36 young artists from nearly every continent have benefited from a year's mentoring by leading artists, including David Hockney, Mira Nair, Jessye Norman, Youssou N'Dour, Martin Scorsese and Wole Soyinka.
The seven new protégés, chosen from 25 finalists in 21 countries, are:
Architecture: Gloria Cabral (Paraguay)
Selected by Mentor Peter Zumthor (Switzerland)
Driven by a profound belief in a collaborative approach to her work, Paraguayan architect Gloria Cabral, 32, is a partner in the firm Gabinete de Arquitectura. Her architectural philosophy reflects her originality as she interacts with fellow architects on projects that are informed by strong environmental and social concerns and the creative use of local materials.
Peter Zumthor, mentor and Gloria Cabral, protégée. Haldenstein, Switzerland, 2014: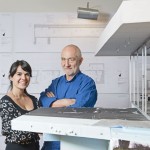 photograph © ROLEX / MARC LATZEL
Dance: Myles Thatcher (United States)
Selected by Mentor Alexei Ratmansky (Russia)
Acknowledged for his versatility and talent as a rising star of classical ballet, American dancer and choreographer Myles Thatcher, 24, trained at the Harid Conservatory, Ellison Ballet and San Francisco Ballet, which he officially joined as part of the corps de ballet in 2010. Thatcher will now choreograph a piece for the San Francisco Ballet's 2015 repertory season.
Film: Tom Shoval (Israel)
Selected by Mentor Alejandro González Iñárritu (Mexico)
Obsessed with films since childhood, Israeli film-maker and screenwriter Tom Shoval, 32, graduated from Jerusalem's Sam Spiegel Film & TV School and has continued making short films that have garnered awards at international film festivals. His debut film, Youth (2013), premiered at the Berlinale and won Best Film at the Jerusalem Film Festival.
Literature: Miroslav Penkov (Bulgaria/United States)
Selected by Mentor Michael Ondaatje (Canada)
Dedicated to giving a voice to his countrymen by examining the history and culture of Bulgaria in his work, author Miroslav Penkov, 31, earned an MFA in Creative Writing at the University of Arkansas and is an Assistant Professor of English in the Creative Writing Program at the University of North Texas. Winner of the 2012 BBC International Short Story Award, Penkov writes in both English and Bulgarian.
Music: Vasco Mendonça (Portugal)
Selected by Mentor Kaija Saariaho (Finland)
Portuguese composer Vasco Mendonça, 36, has begun to attract international attention for such works as his recently completed chamber music piece, The Boys of Summer (2012), and an hour-long chamber opera, The House Taken Over (2013). Both were co-commissioned by the Aix-en-Provence International Opera Festival, which has premiered several of his compositions. Mendonça premiered Ping (2013) in the UK. He also teaches Analysis and Composition at Lisbon's Lusiada University.
Theatre: Sebastián Solórzano Rodríguez (Mexico)
Selected by Mentor Jennifer Tipton (United States)
Using painting and experimental cinema as references when he designs light, Mexican lighting designer Sebastián Solórzano Rodríguez, 28, has created stage lighting for the Centro de Producción de Danza Contemporánea (National Contemporary Dance Company of Mexico) and Luz Y Fuerza: Cine Expandido (Expanded Cinema), an interdisciplinary group he co-founded that makes hand-made light devices for art installations and live cinema performances.
Visual Arts: Sammy Baloji (Democratic Republic of Congo)
Selected by Mentor Olafur Eliasson (Denmark, Iceland)
Using photography as a tool of observation to write on his society, Congolese artist and photographer Sammy Baloji, 35, has been widely exhibited in Europe, the U.S. and Africa. He works between Belgium and the Democratic Republic of Congo, where he creates haunting photomontages of his homeland. Winner of the Prix Afrique en création (2007), the Prince Claus Award (2008), and the Spiegel Prize (2012), Baloji founded the Lubumbashi Biennale and the Picha Art Centre.
Peter Zumthor, mentor. Haldenstein, Switzerland, 2014: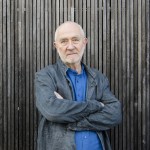 photograph © ROLEX / MARC LATZEL
"Rolex is proud to sponsor such an extensive programme in support of young artists. There are no geographical limits imposed on the search for the brightest talents worldwide. We're delighted that this year's selection of protégés shows, yet again, such a diverse range of nationalities," said Rebecca Irvin, head of philanthropy at Rolex. "The year of mentoring presents each of the seven protégés with a remarkable opportunity to learn and grow under the guidance of some of today's most distinguished artistic masters. We at Rolex look forward to seeing what artistic surprises this new cycle of the Arts Initiative will bring," she added.
For the 2014-2015 cycle, international nominators invited 154 artists from six continents to apply for mentorships, and from that group three or four artists from each discipline were chosen as finalists. These finalists were then interviewed by the respective mentors, who each chose one protégé for the 2014–2015 mentoring year. The pairs will work together in any way they choose. At the end of every cycle, the Rolex Arts Initiative hosts an international gathering of artists at which the mentors and protégés share highlights from their year together.
In support of their participation, the protégés will each receive a grant of 25,000 Swiss francs and are eligible for an additional 25,000 Swiss francs for the creation of new work after the mentoring year. These gifted young artists are given the time to learn, create and grow outside the financial and commercial demands artists face in the early years of a professional career.
Peter Zumthor, architect: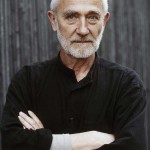 photograph : Gerry Ebner
About The Rolex Mentor and Protégé Arts Initiative
The Rolex Mentor and Protégé Arts Initiative is a biennial philanthropic programme created by Rolex to ensure that the world's artistic heritage is passed on from generation to generation, across continents and cultures. Since its launch in 2002, the initiative has built a remarkable artistic community that connects artists around the globe. Some of the world's most distinguished artists have served as mentors.
They are: Margaret Atwood, John Baldessari, Tahar Ben Jelloun, Trisha Brown, (the late) Patrice Chéreau, (the late) Sir Colin Davis, Anne Teresa De Keersmaeker, Brian Eno, Hans Magnus Enzensberger, William Forsythe, Stephen Frears, Gilberto Gil, Sir Peter Hall, David Hockney, Rebecca Horn, Sir Anish Kapoor, William Kentridge, Jiří Kylián, Lin Hwai-min, Toni Morrison, Walter Murch, Mira Nair, Youssou N'Dour, Jessye Norman, Martin Scorsese, Kazuyo Sejima, Peter Sellars, Álvaro Siza, Wole Soyinka, Julie Taymor, Saburo Teshigawara, Kate Valk, Mario Vargas Llosa, Robert Wilson, Zhang Yimou and Pinchas Zukerman.
Past protégés include: Naomi Alderman, Sahel Al-Hiyari, Antonio García Ángel, Aditya Assarat, Edem Awumey, Nahuel Perez Biscayart, Michał Borczuch, Selina Cartmell, Josep Caballé-Domenech, David Aaron Carpenter, Alejandro Cesarco, Dina El Wedidi, Sara Fgaier, Lara Foot, Ben Frost, Eduardo Fukushima, Nicholas Hlobo, Masanori Handa, Annemarie Jacir, Sang Jijia, Julia Leigh, Federico León, Mateo López, Aurelio Martínez, Josué Méndez, Celina Murga, Susan Platts, Anani Dodji Sanouvi, Junaid Jemal Sendi, Lee Serle, Tracy K. Smith, Jason Akira Somma, Matthias Weischer, Tara June Winch, Maya Zbib and Yang Zhao.
Further information about the Rolex Arts Initiative is available at rolexmentorprotege.com.
Rolex Mentor and Protégé Arts Initiative images / information received 190514
Location: Switzerland, central Europe
Rolex Mentor and Protégé Arts Initiative
Rolex Arts Initiative Names Seven Major Artists as Mentors
Kolumba Diocesan Museum, Germany by Peter Zumthor:



photograph : Hélène Binet
Rolex Mentor and Protégé Arts Initiative 2013
Rolex Learning Center Lausanne
Design: SANAA


photo © Nelson Garrido
Rolex Learning Center Switzerland : main page with images
Rolex Learning Center Building : further information



image © EPFL
Photos for the Rolex Mentor and Protégé Arts Initiative page welcome