e-flux Architecture New York, NY Design Events, Manhattan Buildings Discussion
e-flux Architecture New York City Events
NYC Architectural Resource News – 311 East Broadway, Manhattan, NY, USA
Feb 20, 2017
e-flux Architecture New York City Events in 2017
e-flux Architecture News in 2017
Dheisheh Refugee Camp: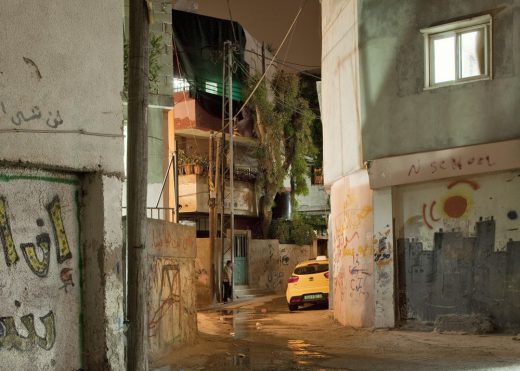 photo : Luca Capuano
Refugee Heritage, a new project by DAAR
The Architecture of Exile IV. B: February 24, 7pm, with Suad Amiry, Thomas Keenan, Jorge Otero-Pailos, and Alessandro Petti and Sandi Hilal; moderated by Nikolaus Hirsch
e-flux, 311 East Broadway, New York, NY 10002
e-flux Architecture – Refugee Heritage
February 20, 2017 – Refugee camps are established with the intention of being demolished. As a paradigmatic representation of political failure, they are meant to have no history and no future; they are meant to be forgotten. The history of refugee camps are constantly erased, dismissed by states, humanitarian organizations, international organizations and even self-imposed by refugee communities in fear that any acknowledgement of the present undermines a future right of return.
The only history that is recognized within refugee communities is one of violence and humiliation. Yet the camp is also a place rich with stories narrated through its urban fabric. In tracing, documenting, revealing and representing refugee history beyond the narrative of suffering and displacement, Refugee Heritage is an attempt to imagine and practice refugee-ness beyond humanitarianism.
Contemporary notions of heritage and conservation are buttressed by institutions of great power, which are often oriented towards cultural expropriation. UNESCO's "Format for the nomination of properties for inscription on the World Heritage List (Annex 5)" is a monumental building built during a colonial era. Over the course of two years, organizations and individuals, politicians and conservation experts, activists, governmental and non-governmental representatives and proximate residents gathered to discuss the implications of nominating Dheisheh Refugee Camp as a World Heritage Site. Refugee Heritage seeks to deploy the potential for heritage to be mobilized as an agent of political transformation.
Over the course of the next four weeks, an edited version of the Annex 5 nomination dossier for the inscription of Dheisheh Refugee Camp as a World Heritage Site will be published according to the first four parts of the nomination: Identification, Description, Justification, and Conservation.
On February 24 at e-flux, a panel event featuring Suad Amiry, Thomas Keenan, Jorge Otero-Pailos, and Alessandro Petti and Sandi Hilal (moderated by Nikolaus Hirsch) will seek to address the potential for practices and institutions of conservation to be understood as a force capable of mobilizing the political constitution of built space. The panel will streamed live here:
e-flux Architecture New York City event live stream
Author: Alessandro Petti (DAAR)
Editors: Nick Axel, Nikolaus Hirsch, Anton Vidokle
The UNESCO nomination dossier was originally prepared by DAAR (Alessandro Petti, Sandi Hilal, Sandy Rishmawi, Elsa Koehler, Isshaq Al Barbary, Mais Musleh) in consultation with Campus in Camps, Dheisheh Camp Popular Committee, Finiq Cultural Center, Ibdaa Cultural Center, Riwaq Center for Architectural Conservation and Centre for Cultural Heritage Preservation in Bethlehem. Special thanks to the Odah and Al Saifi families. Produced with the support of the Foundation for Art Initiatives and 5th Riwaq Biennale.
This publication was made possible by the Decolonizing Architecture course at the Royal Institute of Art in Stockholm, Sweden.
311 East Broadway, New York, NY 10002, USA
e-flux Architecture New York City Event – external link
Location:311 East Broadway, New York, NY 10002, USA
New York City Architecture
NYC Architecture Designs – chronological list
New York Architecture



photo © Tim Collins
Storefront for Art and Architecture NYC Events


photo from mansilla & tuñón arquitectos
56 Leonard Street building news : Herzog & de Meuron, architects



image © Herzog & de Meuron, Basel, 2008
Museum of Contemporary Art New York Extension, Manhattan : SANAA architects



photo from architect
Public Art + Architecture New York : Center for Architecture Exhibition
Comments / photos for the e-flux Architecture New York page welcome
e-flux Architecture New York City