365 Modern Living Cocktail Receptions Texas, Dallas Architecture Forum Event
365 Modern Living Cocktail Receptions in Dallas
Texan Home Visits News – Architecture Event Information USA
May 19, 2018
365 Modern Living Cocktail Receptions in Dallas, TX
365 Modern Living Cocktail Receptions by Dallas Architecture Forum
The Dallas Architecture Forum Presents
365 MODERN LIVING COCKTAIL PARTIES
Modern Living Every Day of the Year
Join The Forum for three great evenings at some of the most significant modern residences in Dallas.
June 5, June 11, June 19, 2018.
Each evening will include a cocktail reception with hors d'oeuvres, and the chance to see the residence and hear from some members of the design team while enjoying the company of fellow design enthusiasts.
Each cocktail party will be from 6 to 8 pm with remarks by the design teams at approximately 6:45 pm.
Valet parking will be provided. Business or cocktail attire is suggested.
Attendance is limited. Early purchase of admission is recommended.
See below for admission pricing.
See Information below and at the following link about each reception. http://www.dallasarchitectureforum.org/365_2018.html
Tuesday, 5 June 2016, 6 to 8 pm
Urban Reserve Residence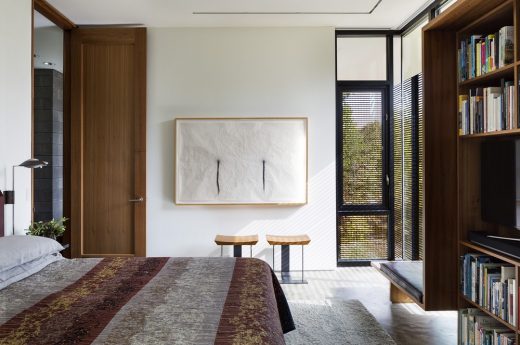 photo by Michael Moran
Urban Reserve Residence, situated at the entrance of its neighborhood of fifty sustainably designed contemporary homes in North Dallas, has been described by its architect, Billie Tsien, as having the plan of a private city condominium sited in the woods. It incorporates both urban and natural edges and exemplifies the stringent sustainable design standards set by the developer for this community, who with her husband is also the owner of the residence.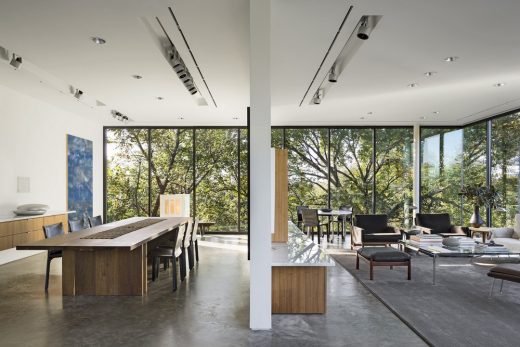 photo by Michael Moran
Tsien and partner Tod Williams, whose many high-profile projects include the Obama Presidential Library, were engaged to design the residence after the owners learned more about their deep mutual respect for design when Billie and Tod spoke for The Dallas Architecture Forum.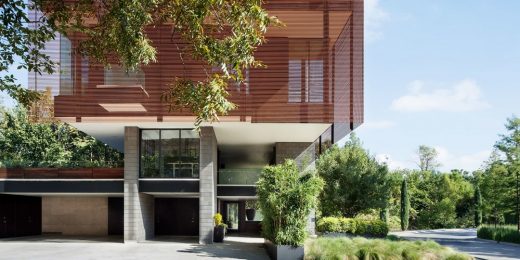 photo Courtesy Urban Reserve
The first level of the residence, which contains two guest rooms, is clad in sandblasted concrete block and anchors the house to the site. Guests are treated to views of the wooded ravine and are able to enjoy a koi pond and Japanese garden.
A second-level terrace functions to entertain guests and provide the owners with an outdoor kitchen, lap pool, and connection to the tree canopy that surrounds them. An expansive metal screen wraps the south and east sides of the house, and shades the home and the exterior stair. The owners' love of cooking drove the placement of the kitchen at the center of the third level. Living and dining rooms flow to the north, while the office, library and master bedroom are located to the south.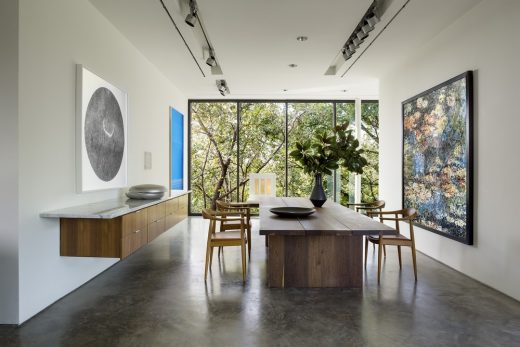 photo Courtesy of Joshua Rice Design
The entire floor is linked by a circulation corridor that displays the owners' dramatic contemporary art collection.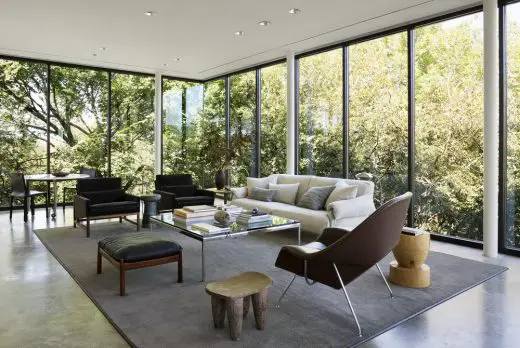 photo Courtesy of Joshua Rice Design
Interior Designer Joshua Rice collaborated with the owners to select furniture and design elements that complemented their relaxed but sophisticated lifestyle. A 'Chat' sofa by Carlo Colombo was chosen for its combination of comfort and design, and the dining table in custom fumed oak was designed by John Pawson.
The living room lounge chairs are by Bassam + Fellows, and the custom leather headboard in the master was designed by Rice. Mario Bellini 'Cab' leather seating is used throughout the house to embody the combination of beautiful design with durability that exemplifies the owners' way of living,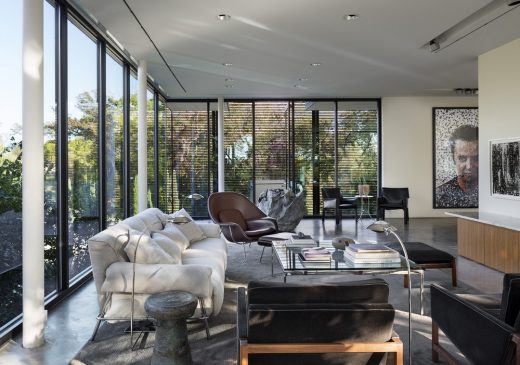 photo by Michael Moran
– Architecture
Tod Williams, FAIA; Billie Tsien, FAIA; Project Architect James Chavel
Tod Williams Billie Tsien Architects | Partners
– Interior Design
Joshua Rice, RID
Joshua Rice Design
– Landscape Architecture
Suzie Thompson
Thompson Landscape Design
– Contractor
Diane Cheatham
Urban Edge Developers, Ltd.
Monday, 11 June 2016, 6 to 8 pm
Rock Cliff Residence
Rock Cliff Residence was originally designed by renowned Dallas architect Harwood K. Smith, founder of the firm HKS. Built in 1952, Smith's architecture was grounded in early modern Texas vernacular inspired by O'Neil Ford. Set on a spacious one acre site, the original one-story house was carefully located among lush topography with many floor-to-ceiling windows and a façade clad in historic St. Joe brick.
The current owners purchased the property with a vision to maintain the heritage of the residence while carefully increasing its size. Renovation architect Josh Nimmo utilized a natural 30-foot slope in elevation to add a 1,500-square-foot bi-level wing that transitions seamlessly with the rest of house.
Architectural elements already present in the original design, including vaulted ceilings, skylights, and steel rafters were incorporated into the addition. Original interior spaces were redone with white walls suitable for hanging art, serene white-oak floors, and white marble slabs in the baths. The original monumental carved-wood front door designed by Harwood K. Smith was kept, and a massive pivoting door in white oak was designed to separate the master bedroom wing from the living areas.
Interior designer Brant McFarlain was commissioned to create interiors reflecting a clean and refined aesthetic to defer to the owners' major contemporary art collection that includes museum worthy paintings by Damien Hirst, Maya Hayuk, Joseph Havel, Richard Phillips, Adam Ball, Marc Quinn, Dan Rees, and Kai & Sunny. A custom white Hollywood Regency credenza and Schonbek crystal chandelier in the dining room are balanced with a sculptural dining table designed by Pritzker Prize-winner Norman Foster and classic Knoll Saarinen chairs covered in deep red mohair. Sleek mid-century modern furnishings throughout the home including Minotti chairs and a gondola sofa from Emily Summers Studio complement cherished family antiques.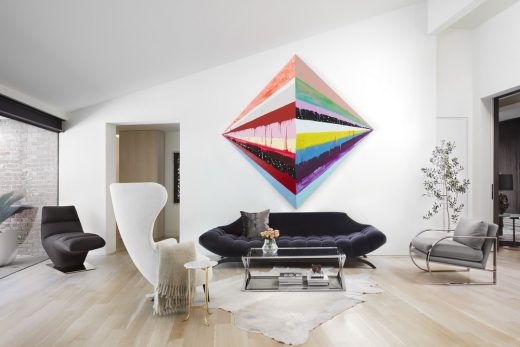 For the home's exterior, Studio Outside designed a boardwalk that traverses the water and backyard steps to the garden below. A relaxing infinity pool can be viewed from glass window walls throughout the residence. Completing the landscape, a canopy of tall oaks shades the lushly terraced, rolling grounds where a soothing fountain bubbles from a modern Japanese-style courtyard.
– Architecture
Joshua Nimmo, AIA, LEED-AP
NIMMO Architecture
– Interior Design
Brant McFarlain
R Brant Design
– Landscape Architecture
Tary Arterburn, FASLA; Amy Bartell, ASLA; Mark Thomas, ASLA
studioOutside
Tuesday, 19 June 2016, 6 to 8 pm
Surrey Circle Residence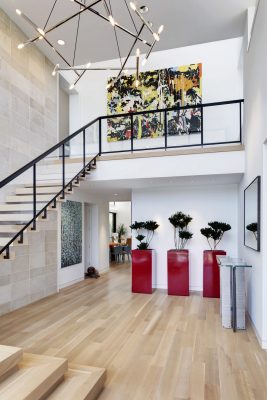 photos by Charles Davis Smith, FAIA, Courtesy of Bernbaum-Magadini Architects
The Surrey Circle Residence has a strong connection between indoor spaces and outdoor living. The contemporary design includes large moveable glass walls that open the main living areas to an 800 SF screened living room. The screened living area, with a large stone fireplace, outdoor kitchen, dining area and radiant ceiling heaters allow this active family to enjoy the outdoors most of the year. The contemporary design uses a simple palette of exterior materials, brick, smooth cut limestone, stucco and Resysta siding accents.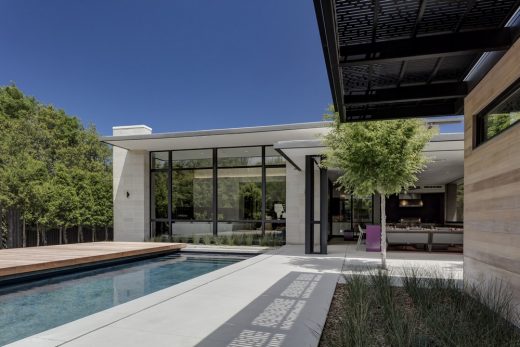 Throughout the landscape Silvermist stone was used for the hardscape material, gravel and cobble are in the entry courtyard and a boulder wall encompasses the motor and entry courtyard. An ipe' wood deck runs along one side of the pool, and a single allee' elm tree emerges through the deck. An organic path of bluestone slabs surround the remainder of the pool and wood deck and is carried through the spa at the end of the pool. The site consists of a landscape palette of only drought tolerant, low maintenance plants; no grass was used for this sustainably designed project.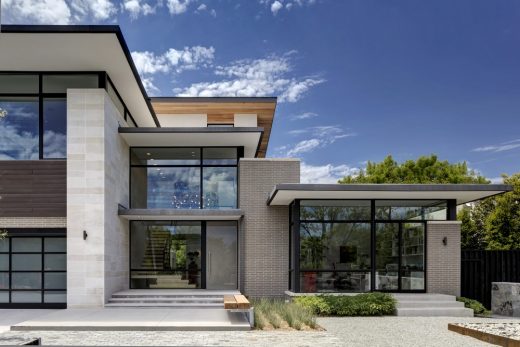 Large walls of glass allow the interiors to be washed with natural light and provide beautiful views from the second floor playroom and deck. To compliment the expanse of windows and light, earth and water were two primary elements driving the interior design and selection of materials and colors – wood, concrete, steel and stone secure this natural palette. The neutral furnishings add warmth with a large splash of black, blue and white in the custom family room rugs. One of the most impressive features is the family room fireplace which incorporates a single horizontal cold rolled steel slab that spans the full width of the room.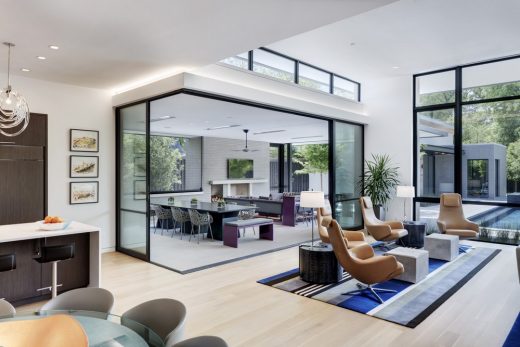 A significant part of the success of Surrey Circle was a result of the collaboration between the Bernbaum / Magadini architects, designer Robyn Menter and landscape architect David Hocker throughout the design process. This allowed for fluid teamwork with the contractor during construction and a cohesive design that complimented the extraordinary architecture.
– Architecture
Patricia Magadini AIA Design Architect; Bruce Bernbaum AIA and Dan Typaldos AIA Project Architect
Bernbaum/Magadini Architects
– Interior Design
Robyn Menter
Robyn Menter Design Associates
– Landscape Architecture
David Hocker, ASLA
Hocker Design Group
– Contractor
Barry Buford
BufordHawthorne Builders LP
Admission is $85 per person for Forum members, or $100 for non-members per person per event.
Admission for the Series of three events for Forum members is $215 for one person or $340 for two people. Non-member Series pricing is $250 for one person or $395 for two people.
Purchase can be made by credit card at the link provided, or by check, payable to "Dallas Architecture Forum" and mailed to P O Box 596119, Dallas, TX 75359.
Those who purchase admission will receive confirmation from The Forum, including address and valet parking information.
365 Modern Living Cocktail Parties in Dallas images / information from The Dallas Architecture Forum
May 15, 2018
Dallas Architecture Forum
The Dallas Architecture Forum Panel Discussion
The Dallas Architecture Forum
Continues Its 2017-2018 Panel Discussion Series With
"Design Inspirations"
Part Three – May 15, 2018
Free and Open to the Public!
The Dallas Architecture Forum, a non-profit organization dedicated to providing public education about architecture, design and the urban environment, continues its 2017-2018 Panel Discussion Series on Tuesday May 15, 2018 with "Design Inspirations Part Three," moderated by Kate Aoki, Architect at DSGN Associates.
Kate Aoki, Architect: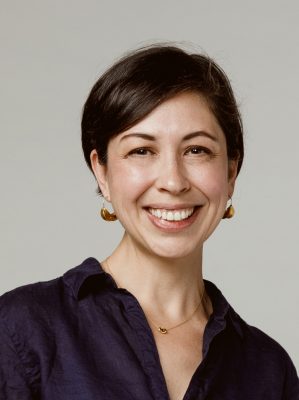 Dallas Architecture Forum Events
Location: Dallas, Texas, USA
US Architecture
USA University Architectural Events – Selection
Rice Design Alliance Events, Texas
SCI-Arc Architecture Events, LA
Center for Architecture in New York Events, NYC
UB School of Architecture & Planning Buffalo Event, NY
Comments / photos for the 365 Modern Living Cocktail Parties in Dallas page welcome
Website: Dallas Architecture Forum