The Market Hall of 1887, Architectural Archaeology in Kingston upon Hull, Images
The Market Hall of 1887 in Kingston upon Hull
Architectural Archaeology, England, UK – article by D.H. Evans
22 Aug 2016
The Market Hall of 1887
Article: D.H. Evans
Sir William Alfred Gelder (1855-1941) was the last of Hull's celebrated Victorian architects, and established one of the largest architectural practices in the city; he went on to be Lord Mayor of Hull five times.
One of his first major design projects was Clarence Mills, begun for Joseph Rank in 1883; but, he is perhaps better known today for his work after 1892, when Llewellyn Kitchen joined him first as an assistant, and then later as a full partner; together, they were responsible for many public buildings in the city, as well as prominent mills, factories, breweries, and places of worship.
Pevsner was relatively dismissive of his designs, stating that Gelder was responsible for many indifferent chapels and business premises in a debased Italianate style, but other commentators have been rather more charitable – particularly in regard to his later work with Kitchen.
Perhaps inevitably our view of Gelder's legacy today tends to be coloured by those buildings which have chanced to survive (e.g. Paragon Arcade of 1892, Gelder & Kitchen's Hepworth's Arcade of 1894, or Alfred Gelder Street of 1899-1900); but, some of his other celebrated buildings perished during the war. One of these was the Market Hall which he developed in collaboration with the Borough Engineers. This building once stood on Queen Street, but was destroyed during the air-raids of early May 1941.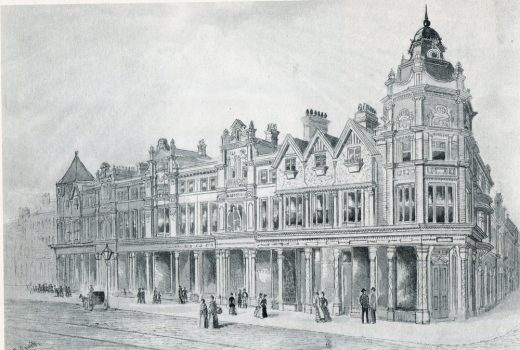 F.S. Smith's view of the Queen Street frontage of the Market Hall, and the corner with Blackfriargate, seen from the east end of Blanket Row. This view was reproduced in Browns' Illustrated Guide to Hull, published in 1892.
The Market Hall occupied a large rectangular block of land in Kingston upon Hull. Bounded by Market Place and Queen Street to the west, by Fetter Lane to the north, by Blackfriargate Alley to the east, and by Blackfriargate to the south.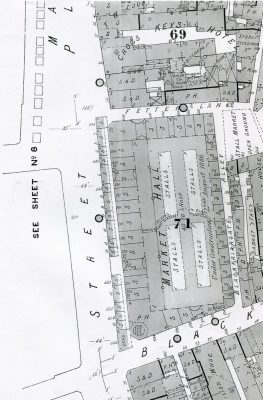 The ground-plan of the Market Hall, as depicted on a Goad Fire Insurance Map, surveyed in November 1892.
Gelder's new building replaced the earlier Butchers' Shambles of 1806-7, and opened on 20th June 1887 (the day of the Queen's Jubilee). It was a three-storied block, comprising a long rectangular central hall containing two parallel rows of stalls, and surrounded on each side by rows of shops at ground-floor level; there were more shops and offices in the upper floors. A public house was situated at its south-western corner. A contemporary description states that:
"The building is designed in the Flemish Renaissance style, with a septagonal pavilion tower at the south-west corner, and an octagonal tower at the north-east corner. It is faced with red brick, with Ancaster stone dressings. The Queen Street frontage consists of fourteen shops, which have also a frontage to the west side of the interior of the Market Hall. The north, south and east sides are occupied by butchers' shops, lined with white glazed bricks. The central hall, access to which is gained by five public entrances, is 196 feet by 86 feet, and is covered by a large-span lattice girder and wrought-iron roof. It is lighted from the top and at spandrill ends. For artificial lighting, four large 12-light gas coronas are provided. In this hall provision is made for 64 open stalls, and about 256 feet of stands for dairy produce. The building was designed, and plans were partly prepared in the Borough Engineer's office, and after transferred to Mr W.A. Gelder for completion. The total cost was about £20,000. Mr E. Starr, MSA, acted as clerk of the works" (Wrigglesworth 1892, 53).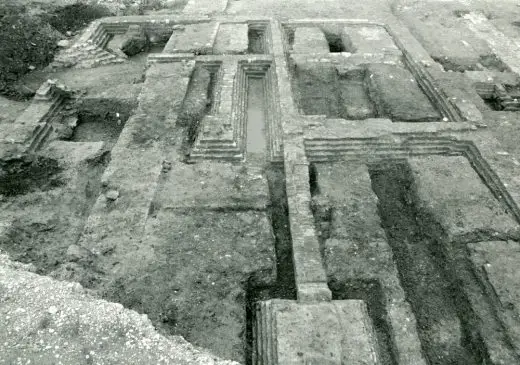 Part of the north-eastern corner of the Market Hall, exposed in late October 1994, and seen from the south. Blackfriargate Alley is the narrow lane visible on the right-hand side of the photo, whilst Fetter Lane runs along the top edge of the photo, just beyond the ranging-pole. The stepped brick footings of the walls and column bases are clearly visible.
Because this building was destroyed by bombing, it does not feature in Goldthorpe's detailed survey of the city's Victorian architecture (2005), and for a long time our best record of this structure was the drawing by F.S. Smith (Aldridge 1989, no. 59); however, its north-eastern corner was partially exposed in 1994 during the excavations on the proposed site of the new Magistrates Courts complex.
Whilst all of the above-ground remains had been levelled and cleared away after the war, the massive brick foundations of the Market Hall had survived the bombing remarkably well. The two entrances from Fetter Lane could be identified, and the strip footings for the outer walls of both the northern and eastern rows of shops were found to be stepped outwards in descending tiers of projecting brickwork.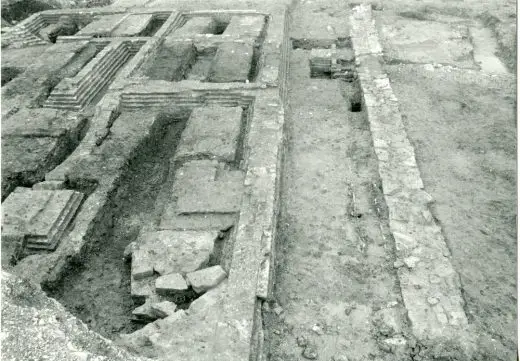 Looking westwards along Fetter Lane, which runs just to the right of the centre of this photo. The footings of the Market Hall lay to its left. The street frontage was lined with a row of shops; the beginnings of the central hall lay behind this. The stepped brick footings of the internal walls and column bases are clearly visible.
This form of construction made for very stable, wide brick footings, which were set in broad construction trenches, and provided a firm base to bear the weight of the massive three-storey building, with its large iron and glass roof. Given the relatively poor load-bearing qualities of the ground conditions in this part of the Old Town, this type of foundation design was very pragmatic Poplarheightsfarm.
Towards the north-east corner, a massive brick stairwell foundation was presumably intended to provide access to the octagonal tower, mentioned in the 1892 account – as well as to the upper floors. The northern side of the central hall was marked by an east-west line of column bases, and a similar arrangement seems to have existed along the eastern side of the central hall. Both these column bases and the stone stairwell had substantial stepped brick footings. In between these columns were set shallow, inverted brick relieving arches – instead of conventional strip wall footings.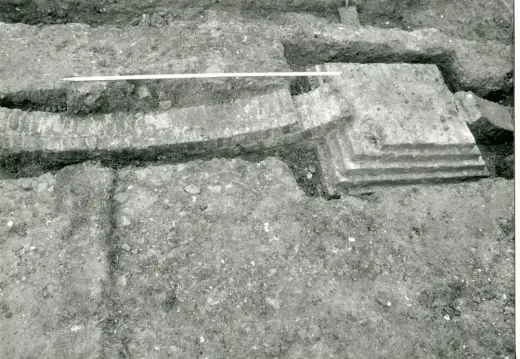 One of the massive brick column bases which supported the roof of the central hall; note its stepped foundations. On either side, it was supported by shallow brick, inverted relieving arches.
The use of inverted relieving arches is sometimes seen in large Victorian public buildings – particularly in locations where a significant load is expected to have to be borne (e.g. where a large open space has to be spanned by a roof vault, or beneath a large window in a church). It is also a technique which may be adopted where poor ground conditions are present.
In Hull, this style of construction has recently been observed in the excavated footings for Christ Church in Worship Street (pers. comm. Ken Steedman, Humber Field Archaeology); this church was consecrated in 1822, and extended in 1863. Another example has been noted in the Victorian crypt at Holy Trinity church.
Further afield, examples have been noted in Victorian public buildings in Liverpool, and in the base of one of the London docks, whilst smaller-scale examples have been recorded in textile mills in Leeds (e.g. Marshall's Mills of c. 1815, and Victorian Mill, Hunslet, of c. 1835: pers. comm. David Hunter, West Yorkshire Archaeological Service).
About Dr Dave H Evans
Dave has worked as an archaeologist for over 40 years in many different parts of the United Kingdom, but from 1995 to 2015 was the Archaeology Manager for Kingston upon Hull and the East Riding of Yorkshire. He has worked extensively in urban archaeology since the late 1970s, and since1995 has served as a delegate to the Luebeck Colloquium on Urban Archaeology in the Hanseatic Region [Luebecker Kolloquium zur Stadtarchaeologie im Hanseraum]. He has published a wide range of books and articles on various aspects of both archaeology and history, and is currently he editor for the East Riding Archaeological Society. He has been a Fellow of the Society of Antiquaries since 1986, and holds a PhD in Archaeology and History from Cardiff University.
The Market Hall of 1887 in Kingston upon Hull article / images received 220816
Location: Hull, Eastern England, UK
English Architecture
Contemporary Architecture in England
English Architecture Design – chronological list
Humberside building : ARC Hull
Kingswood Academy Hull



photo © Rob Parrish
Hull Fruit Market : main page
Comments / photos for the The Market Hall of 1887 in Kingston upon Hull – Humberside Architecture page welcome