Teesside Power Station, English Energy Production Building Project, Picture, News, Design Proposal Image
Teesside Power Station, northeast England
BEI-Teesside, UK – design by Heatherwick Studio
25 Mar 2010
Teesside Power Station Development
Planning permission approval for this innovative design for a biomass fuelled power station in northeast England
22 Dec 2009
INNOVATIVE DESIGN FOR A NEW AGE IN POWER
• Leading British designers, Heatherwick Studio to create biomass power station
• The landmark building will stand on the banks of the River Tees and provide power for over 50,000 homes
• Combining innovative technology and design, the power station will reduce carbon emissions by up to 80%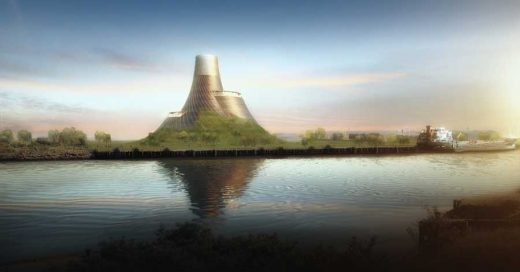 image from Heatherwick Studio
A Planning application has been submitted by Bio Energy Investments Ltd (BEI) for a 49MWe biomass fuelled power station in Stockton-On-Tees, Teesside. The project, known as BEI-Teesside, will bring £150 million of investment to the region. It will reinvigorate a brownfield site on the bank of the River Tees, and create hundreds of jobs during the two-year construction period and beyond.
This project is an innovative step for Teesside, which prides itself on its understanding of technology and industry, and would place it among the leading producers of green energy in Britain. But BEI-Teesside has even greater ambitions for the region.
They have chosen leading British designer Thomas Heatherwick and his team to create a unique building which reflects the scale and spirit of the Tees Valley Regeneration. Matthew Day, project director for the development said:
'Iconic in stature, this building is sure to become an exemplar of modern power station design; a local landmark, and also a national symbol of Britain's strategy for Renewable Energy. We needed an ambitious design team capable of understanding and responding to the practical complexities of the project. The Heatherwick studio has brought a level of design and artistic thinking rarely associated with this typology of building and we are looking forward to working with the local community in developing the plans.'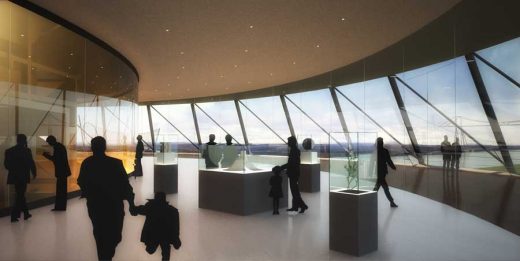 image from Heatherwick Studio
Rising from the flat industrial landscape of Clarence Works, at first sight it looks more akin to an art gallery than a power station.
Constructed entirely of organic sweeping curves, Heatherwick has created a striking building unlike any other power station in existence which is sure to become an iconic landmark on the Tees Valley skyline.
With a structure that reflects its purpose the building is, in places, literally green. For a visitor approaching, the building will seem to rise indistinguishable from the surrounding landscape. The exterior is composed of panels, which will be planted with indigenous grasses. The power station occupies only a third of its brownfield site, with the remaining four hectares to be landscaped to form natural grassland. The site is currently barren with little or no ecology, and the project will create a suitable habitat for the rare flora and fauna that return to industrial sites such as this.
Engineered with the latest technology it will also contain offices, a visitors' centre and an education resource centre for Renewable Energy offering stunning views across the Tees Valley. A work of art in itself, it will reflect the ambitious redevelopment plans for Middlehaven just a few hundred meters across the river and provide an important development for Stockton linking it to the Middlehaven development.
Thomas Heatherwick, founder of Heatherwick Studio, said:
'Over recent decades we have neglected the cultural contribution industrial infrastructure can make to our society. Power generation is now one of the most hotly debated aspects of our political futures. With growing urbanization and more power stations being built at a local level, we need to find new ways to incorporate these buildings into our lives and make them of benefit to society.
Britain has a heritage of building amazing power station buildings. Bankside and Battersea weren't just boxes to house machinery – they had a richness of material and scale that celebrated power generation. Now, with the impetus of alternative energy production we have an opportunity to make new power buildings updated to fit this age. It is exciting to be working with BEI to redefine this type of building and celebrate energy production again.'
BEI-Teesside will be powered by palm kernel shells – the leftovers, or by-products, of the palm oil plantations. The benefits of this are that no land will be diverted from food production or from forestry for the fuel. It will also provide the palm growers with additional revenue and clears away a waste product that they cannot use themselves.
The location of the project, on the river Tees, allows for all fuel to be delivered by ship, ensuring no lorries will be used in the delivery of fuel. This will significantly reduce the impact on local roads when the plant is in operation.
The planning application was submitted on Thursday the 17th of December. It has been chosen to be a pilot project in the recently announced Planning Performance Agreement by the housing minister John Healy, to help deliver on the urgent need for low carbon communities.
Teesside Power Station images / information from Heatherwick Studio
Heatherwick Studio designers, London, UK
Location: Stockton-On-Tees, Northeast England, UK
Teesside Buildings
Selection of Key Buildings in the Teesside area
Middlehaven Development
Design: Studio Egret West
Cleveland building
mima – Middlesbrough art gallery, County Durham
Design: Erick van Egeraat Associated Architects
Middlesbrough Art Gallery
Information/cafe building, Teesside Retail Park, Stockton on Tees
Design: Walker Bushe Architects
Teesside Infocafe
Middlehaven Campus Teesside University
Comments / photos for the Teesside Power Station English Architecture page welcome