Middlehaven Regeneration, Image, Architect, Buildlings, English Partnerships, News
Middlehaven Development : Architecture
Major development for BioRegional Quintain Limited, England, UK
20 Dec 2007
Middlehaven Regeneration
BioRegional Quintain signs development agreement for £200m regeneration project
It was announced today that BioRegional Quintain Limited has signed a development agreement with English Partnerships for the next phase of a development at Middlehaven, and which has been coordinated by Tees Valley Regeneration.
BioRegional Quintain Limited is a joint venture between BioRegional Properties Limited and Quintain Estates and Development PLC. This 40 acre, £200 million phase of the Middlehaven development is expected to provide up to 1,000 new jobs and will combine public and private sector investment.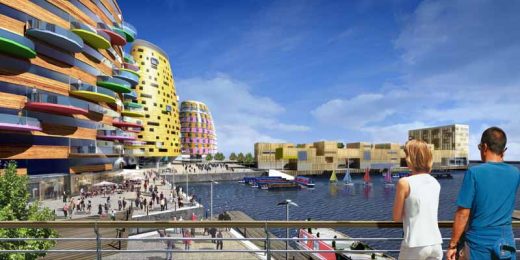 image courtesy of architecture office
The development is centred around waterfront land at the former Middlesbrough docks. It will include 750 homes, significant office space and leisure facilities, including a hotel, destination retail, bars and restaurants.
Masterplanned by Will Alsop, the award-winning architect, the site is planned to be at the cutting edge of contemporary architecture and will combine world-class design with the highest standards in sustainable development.
Nick Shattock, Deputy Chief Executive of Quintain Estates and Development PLC, commented: "This development agreement is an important milestone for both Quintain and BioRegional Quintain. Middlehaven will become a European exemplar in the field of zero carbon development and BioRegional Quintain is one of the few companies which has both the experience and the ability to deliver a zero carbon scheme of this size."
Speaking at the announcement ceremony in Middlesbrough, Pete Halsall, BioRegional Quintain's Managing Director, said: 'BioRegional Quintain is delighted to have signed the development agreement for Middlehaven. We are also delighted by the positive and supportive approach taken by our public sector partners. We will bring our long experience in the world of sustainable development to this exciting project, which is planned to become a model of best practice for regeneration.
We anticipate that this project will provide a quality living and working environment to Middlesbrough, as well as new jobs and investment very much suited to the emerging economic confidence of the region. Our aim is for this new place to become a focal point for the town and for the Tees Valley region.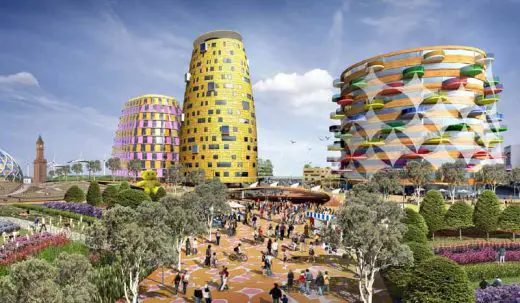 image courtesy of architects practice
"This one million square foot phase of Middlehaven will be the largest zero carbon development in the UK, and combined with our strong emphasis on design quality, Middlehaven represents a dramatic leap forward for regeneration in the UK.
Joe Docherty, Chief Executive of Tees Valley Regeneration, which commissioned the original Alsop masterplan and has facilitated the development agreement, is delighted to welcome BioRegional Quintain to the team.
"This will be a spectacular head-turning development that will live up to – and perhaps even exceed – the expectations we created when we unveiled the masterplan.
"Middlehaven will include a collection of iconic structures conceived by the most talented and creative architects working today. There will be no other place in Europe with so many daring and exciting, yet sustainable and practical buildings standing side-by-side.
"Imagine the different perception of Middlesbrough visitors will take away. It will speak volumes about an area in ascent and a town brave enough to take huge steps into the future," said Joe.
Ray Mallon, elected Mayor of Middlesbrough, said; "Well now the sceptics have their answer. Work will soon be underway transforming the redundant waterfront into a thriving community.
"We set our standards high – some say too high, but in BioRegional Quintain we have a company internationally renowned for its innovative approach to sustainable development and I welcome them to the town.'

Steve Gawthorpe, English Partnerships Northeast area director said: "Middlehaven is one of English Partnerships' National Strategic Sites and its importance in the regeneration of Middlesbrough and the wider Tees Valley cannot be over emphasised. As owners of the site we are delighted to have signed a development agreement with Bioregional Quintain for such an exciting and innovative scheme, a major coup for the area. The regeneration will put Middlehaven firmly on the national map and following so closely after the start on site of the new Middlesbrough College, it signals an exciting future for Tees Valley."
BioRegional Quintain is working with English Partnerships, the national regeneration agency, which owns the land and has invested £40m in the overall project. Construction of a new Middlesbrough College began in September 2006 and will bring 20,000 students to the development.
BioRegional Quintain Limited expect to begin construction in 2007. The initial stages of the development will include innovative residential properties focussed on the first time buyer, professionals, empty nesters and investors. Marketing to secure a hotel operator has begun. Leisure developments such as waterfront bars and restaurants will also be included in the early construction work.
Middlehaven Masterplan designer : Will Alsop
BioRegional Quintain Limited
BioRegional Quintain Limited aims to lead in the creation of sustainable communities throughout the UK by combining the comprehensive application of 'One Planet Living' principles to a dynamic and innovative approach to property development.
The company is owned 50:50 by Quintain Estates and Development PLC and BioRegional Properties Ltd. BioRegional Properties Ltd is a company which was co-founded by eco-entrepreneurs and the BioRegional Development Group, a registered charity. The charity benefits from a share of profits mechanism to support continued cutting edge sustainability research and development work.
Quintain Estates and Development PLC
Quintain Estates and Development PLC is a leading property investment and development company specialising in strategic property acquisition, redevelopment and asset management across the UK. Quintain is responsible for the regeneration of 70 acres of land surrounding the new Wembley Stadium.
The scheme has outline planning consent for 6.2m sq ft of mixed-use development, with the potential to increase this up to 8.0m sq ft. With their partner, Lend Lease, Quintain is also leading the £5b regeneration of the Greenwich Peninsula. Quintain is listed on the London Stock Exchange and is a member of the FTSE 250.
Tees Valley Regeneration
Tees Valley Regeneration, which is leading the Middlehaven project, is one of the Government sponsored Urban Regeneration Companies. Its role is to spearhead major physical regeneration and bring inward investment to the Tees Valley.
The company is owned by the national regeneration agency English Partnerships, One NorthEast and the five local authorities whose districts make up the Tees Valley – Darlington, Hartlepool, Middlesbrough, Stockton and Redcar and Cleveland.
It has five key development projects that will bring several billion pounds in investment to the region. They are Middlehaven, Middlesbrough; the £1bn Victoria Harbour scheme at Hartlepool; Central Park a £170m mixed used project at Darlington which is also the base of a brand new college; the £300m North Shore development at Stockton and a huge project at Durham Tees Valley Airport.
English Partnerships
English Partnerships is the national regeneration agency helping the Government to support high quality sustainable growth in England.
We have five core business areas and deliver our objectives through: – Developing our own portfolio of strategic projects – Acting as the Government's specialist advisor on brownfield land – Ensuring that surplus public sector land is used to support wider Government objectives, especially the implementation of the Sustainable Communities Plan – Helping to create communities where people can afford to live and want to live – Supporting the Urban Renaissance by improving the quality of our towns and cities
Contemporary English Architecture welcome: info(at)e-architect.com
Location: Middlehaven, Tees Valley, England, UK
Studio Egret West : Middlehaven Masterplanners
SMC Alsop : Middlehaven Development
mima – new Middlesbrough art gallery, County Durham, northeast England
Erick van Egeraat Associated Architects



photo © Christian Richters
Middlesbrough Art Gallery + Middlesbrough Institute of Modern Art
Timber Hut Architecture Competition – Middlehaven Docks Contest



picture from organisers
Timber Hut Competition Middlehaven
Middlehaven Campus at Teesside University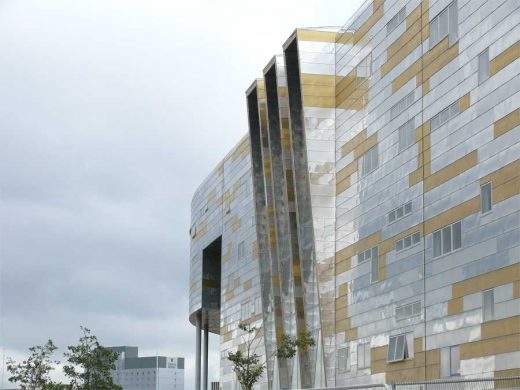 image from ArcelorMittal
Middlehaven Campus
Buildings / photos for the Middlehaven Architecture page welcome